Toronto Blue Jays: 5 Positives from the 2012 Season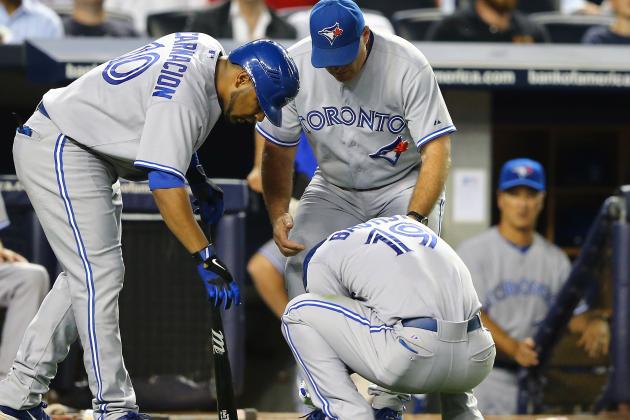 Al Bello/Getty Images
Injuries have ensured 2012 is a season to forget
What to make of this Blue Jays season? It seemed to hold some promise as late as July 30, but the injury-decimated roster could not hold up.
Injuries to key position players Jose Bautista, Brett Lawrie, Adam Lind, Colby Rasmus and J.P. Arencibia—on top of those to the starting rotation—ensured that the Jays would be on the outside looking in for the wild-card race.
Most fans would say that there is little to be taken from a year that more closely resembles a slasher film than a baseball season. However, there were some welcome aspects that should not be overlooked.
Begin Slideshow

»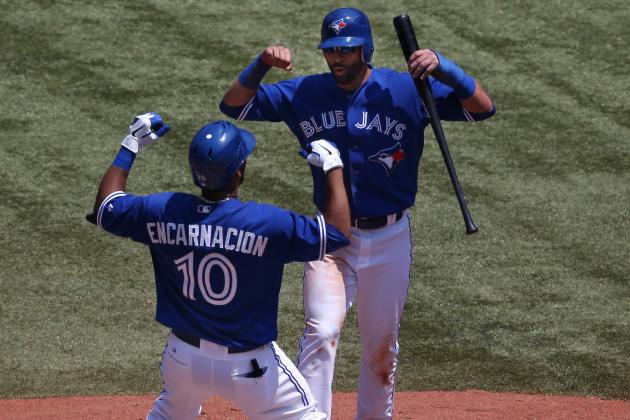 Tom Szczerbowski/Getty Images
More of this in 2013?
He has carried the Jays for the whole year.
The man derisively known as E5 for his iron glove at third base is the star of the team now that Jose Bautista is done for the year. Even when Bautista was healthy, he was outshone by EE for most of the season.
He sports a sparkling .282/.381/.944 slash line and is a lock to hit 40 HR and 100 RBI. With a three-year, $29 million extension with a fourth-year option, Encarnacion has the opportunity to be the long-term cleanup hitter the Jays have lacked for quite some time.
A pairing of Bautista and Encarnacion in the 3-4 spots has the potential to be the best in the league if everything falls the Jays' way in 2013. As an added bonus, he actually looks like he can play 1B.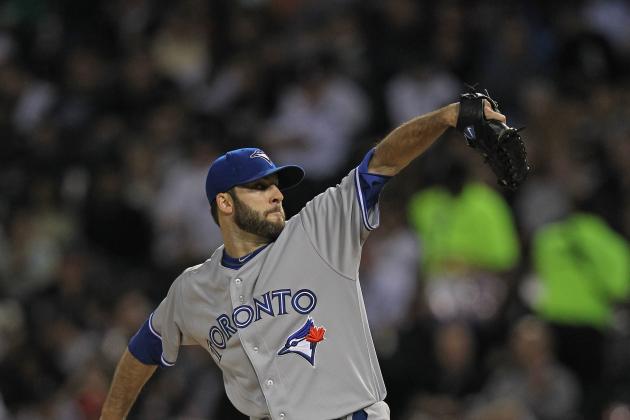 Jonathan Daniel/Getty Images
Is a healthy and productive 2013 in store for Morrow?
Morrow has been lights-out when he's healthy. A strained oblique kept him out for several weeks, but he returned to form at the end of August.
Paradoxically, this has been a down year for Morrow—his strikeouts are down, his base-on-balls are down, his WHIP is down, his BAA is down and his ERA is down.
He has ceased trying to overpower pitchers with the high-90s heat and has managed to work more efficiently by mixing up the off-speed, breaking and power pitches. His BAA is abnormally low, so there is some risk of an unwanted correction. But it looks like Morrow has finally come into his own.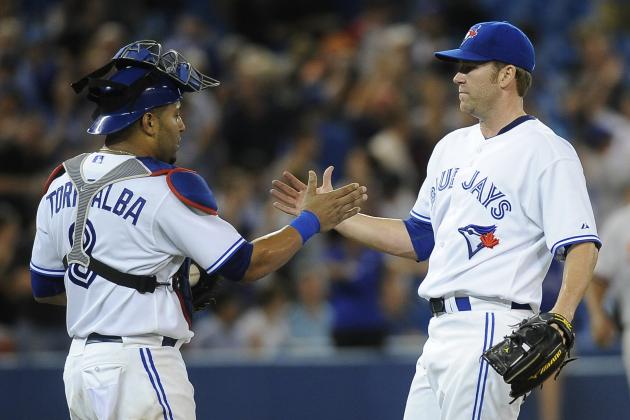 Brad White/Getty Images
Can Janssen fend Sergio Santos off in 2013?
Janssen has taken the closer role and run with it. Always a serviceable reliever, he has matured into a rock-solid closer who is seemingly unaffected by the pressure of the late innings.
From April 14 to August 12, he sported a blown save record of exactly one while recording 15 saves and keeping his ERA in the low twos. The last few weeks he's blown two more games, but he has still given the Jays the best numbers by a closer since BJ Ryan's 2008 season.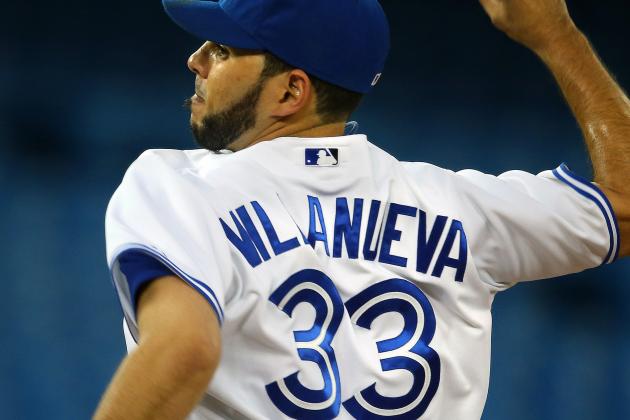 Tom Szczerbowski-US PRESSWIRE
Will he be back next year?
In the midst of an injury-ravaged season, Carlos Villanueva stepped up and provided the Jays with quality pitching when it was most needed.
With eight quality starts from June 29 on—along with a number of good five-inning outings—many fans and pundits have called for an extension for the soon-to-be free agent.
So far GM Alex Anthopoulos has resisted the temptation, and appears willing to let the market dictate the value of Villaneuva. Time will tell if the Jays brass' concerns about his future as a starter is well founded.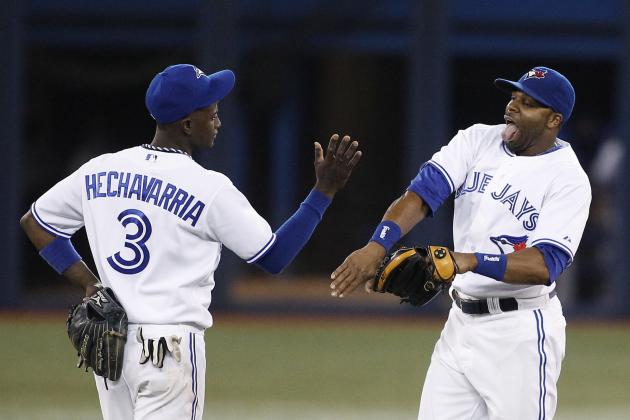 John E. Sokolowski-US PRESSWIRE
2013 Second Baseman?
The revolving door from Las Vegas and New Hampshire due to the disabled list has given a lot of young Jays their first taste of the big leagues.
There is the chance that this will prove a detriment to development, but many of the Jays' prospects doubtlessly have a better understanding of what areas they need to improve to become everyday players.
There has been no shortage of struggles of course, with Adeiny Hechavarria and Anthony Gose in particular looking lost at the plate upon being called up. They have improved though, and there is optimism that they can contribute regularly next year.
Hechevarria is likely the Jays 2013 answer for 2B, either in moving Yunel Escobar over from SS or taking the position himself.