Auburn Tigers and 10 College Football Teams Playing Much Worse Than Expected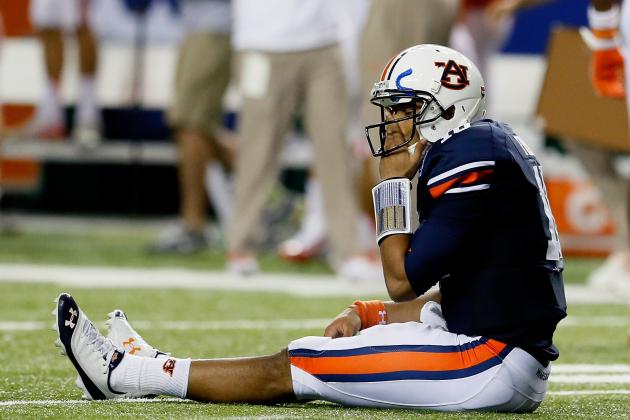 Kevin C. Cox/Getty Images

Only two weeks of the college football season are in the books, and already multiple teams with high preseason expectations are struggling.
Is it time to jump ship on these teams? Of course not, but it may be time to evaluate the talent and performance of these squads and possibly lower some of their expectations.
Not every team is a BCS or national championship contender, and some of these teams have proven that in two short weeks.
Here are 10 teams that have not impressed like we all thought they would have.
Begin Slideshow

»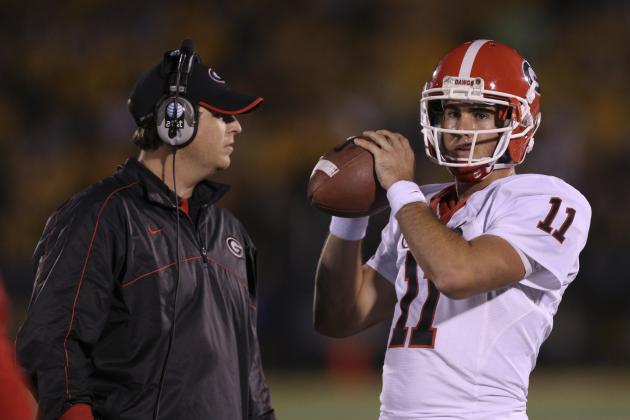 Ed Zurga/Getty Images

AP Poll Rank: No. 7

Record: 2-0
Georgia may be undefeated, but they have yet to play the way they are capable of playing. I had picked the Bulldogs to win the SEC a few months ago, and that prediction is not looking too good right now.
About the only thing I can be happy about is the fact Georgia is still a top-10 team in the polls and have not lost a game yet.
The offensive line is still horrible, as Georgia has already allowed six sacks on the year. Quarterback Aaron Murray has yet to take that next step in his career, as he has barely completed 60 percent of his passes in the first two games.
And the defense is ranked 11th in the SEC—allowing a total of 359 yards a contest—which will not get it done in this league.
Hopefully getting a few players back from suspension will fix some of these issues, as the Bulldogs aren't looking like SEC contenders right now.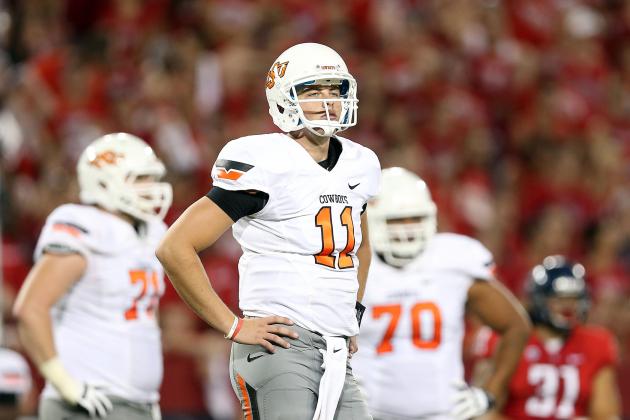 Christian Petersen/Getty Images

AP Poll Rank: N/R

Record: 1-1
After an 84-0 victory over Savannah State in Week 1, it looked like Oklahoma State had enough pieces in place to remain relevant in the Big 12.
That was until the Cowboys traveled to Arizona and lost to the Wildcats.
The defense is still an issue with this squad, and the amount of penalty yardage (103.5 a game, which is 121st in the entire country) is simply inexcusable.
This team has also turned the ball over six times, which is the most of any other team in the conference by far.
The running game is on fire, led by Joseph Randle, but with the depth of the Big 12, the Cowboys have their work cut out for them this season—especially with the number of times this team shoots themselves in the foot.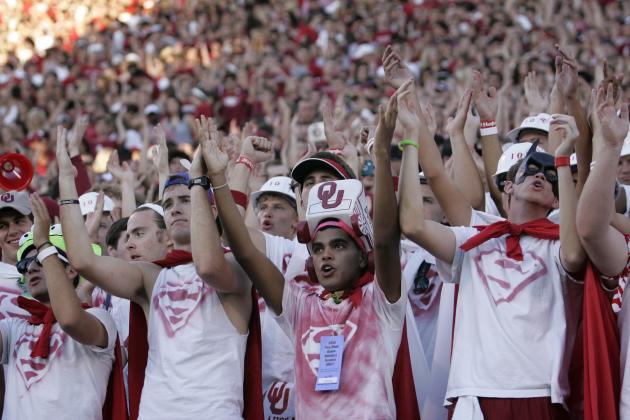 Brett Deering/Getty Images

AP Poll Rank: No. 5

Record: 2-0
We will find out exactly how good this Oklahoma team is in a couple of weeks when the Sooners host the Kansas State Wildcats.
If Bob Stoops' club's performance in the first two games is any indication, his team's BCS title hopes may suffer a huge blow.
Sure, the Sooners are undefeated, but they haven't played anybody worth mentioning. On top of that, they have allowed six sacks—the most of any other Big 12 team.
The Sooners are also only converting 46.15 percent of their third downs, which won't get the job done against some of the high-scoring offenses the Sooners will play this year.
With a tough schedule ahead, Oklahoma will have to play better. Otherwise, their season could end as early as last year's did.
Thearon W. Henderson/Getty Images

AP Poll Rank: No. 21

Record: 2-0
We all expected Stanford to take a step back once Andrew Luck left the program, but I'm not sure anybody expected the Cardinal to barely sneak by San Jose State.
I don't think allowing over 350 passing yards to Duke was expected either.
The Cardinal managed to win both games, but does anybody expect Stanford to be competitive in this week's matchup against USC?
The defense's 287 yards allowed per game ranks them at No. 10 in the Pac-12, and there seems to be no running back depth behind Stepfan Taylor. It seems like Stanford will fall out of the rankings for the first time since the beginning of the 2010 season.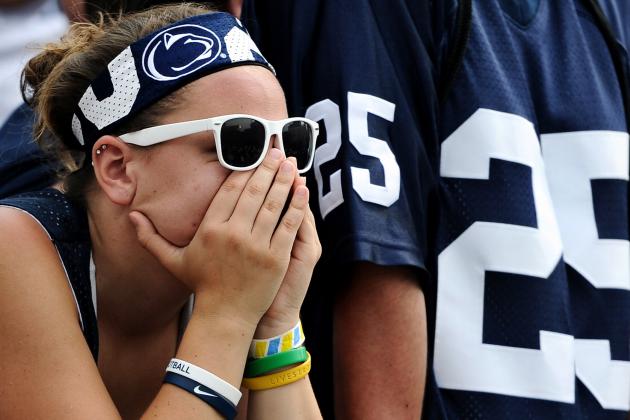 Patrick Smith/Getty Images

AP Poll Rank: N/R

Record: 0-2
With a new head coach and everybody that walked out on Penn State during the offseason, we knew that the Nittany Lions were going to struggle this year. Actually, the next several years are going to be difficult for a program banned from a bowl game the next two seasons.
Losing to Ohio in Happy Valley, though, was kind of a shocker. Losing on the road to Virginia because your field-goal kicker missed four kicks and an extra point is devastating.
Head coach Bill O'Brien still has enough talent to remain competitive this season, but winning at least six games this year may be pushing it now.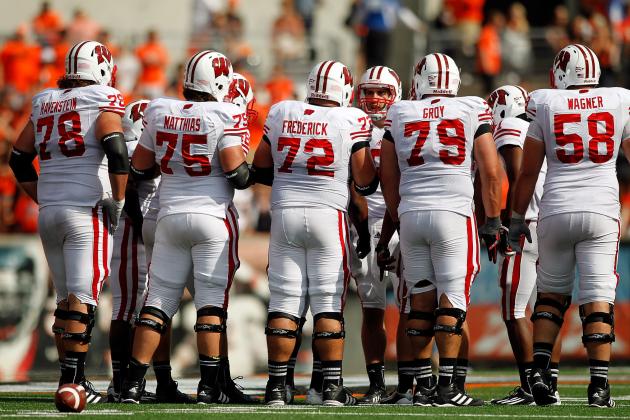 Jonathan Ferrey/Getty Images

AP Poll Rank: N/R

Record: 1-1
Remember when it was supposed to be a clear path for Wisconsin to the top of the Leaders Division?
After losing to Oregon State and barely knocking off Northern Iowa, things aren't looking good for the Badgers. Although Wisconsin has a terrific offensive line and great running backs, the Badgers are averaging less than three yards a carry, which is 11th in the Big Ten.
The defensive line is generating very little pressure up front, and the offense is only converting 36 percent of their third downs.
It would still be shocking if Wisconsin did not return to the Big Ten title game, but at this point you just don't know.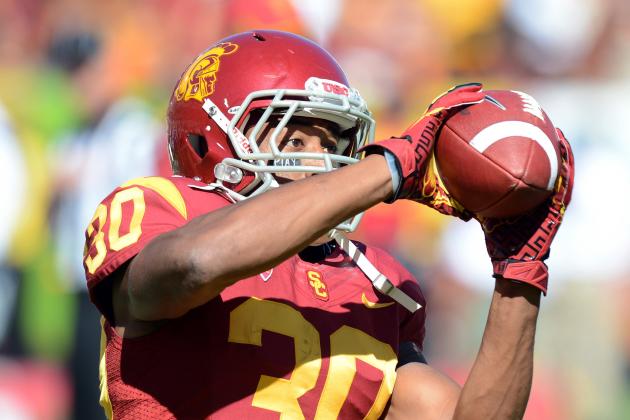 Harry How/Getty Images

AP Poll Rank: No. 2

Record: 2-0
Many considered USC to have the best team of any other squad outside of the SEC. Lane Kiffin's club is 2-0, but has many issues the head coach should be concerned about heading into the bulk of his schedule.
First, the team is averaging 10 penalties a game, which is tied for 115th in the entire country. The secondary is also allowing 265 yards in the air, as many receivers are running around wide open in the defensive backfield.
The offense hasn't been executing as well as we thought it would, as only 38 percent of third downs have been converted so far this season.
It's way too early to write the Trojans off at this point, but things have to be worked on before that huge date with Oregon takes place.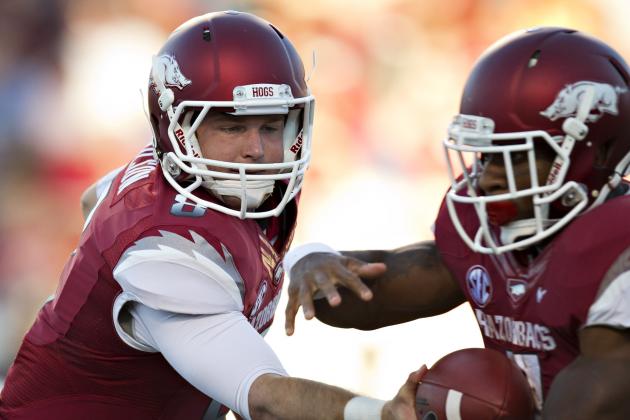 Wesley Hitt/Getty Images

AP Poll Rank: N/R

Record: 1-1
I was never really high on this Arkansas team, and a recent loss to Louisiana-Monroe knocked the Razorbacks out of the AP Poll altogether.
Running back Knile Davis is averaging less than four yards a carry (so much for being the best back in the SEC), the passing defense is dead last in the SEC, and the front seven is allowing over 100 yards on the ground.
Did I mention that the Razorbacks lost to Louisiana-Monroe in Little Rock?
With the Hogs' last two performances, I think it's safe to say the SEC West will come down to Alabama and LSU once again.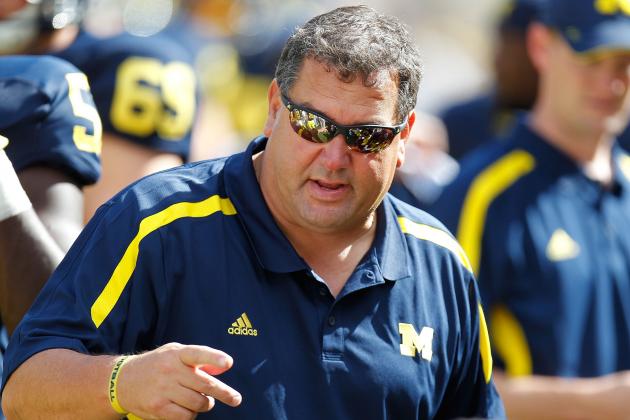 Gregory Shamus/Getty Images

AP Poll Rank: No. 17

Record: 1-1
After all of the hype in Michigan following last season, some were bold enough to consider the Michigan Wolverines the best team in the country heading into the 2012 season.
After receiving a beatdown at the hands of Alabama, the Wolverines also struggled with Air Force, as it was only a three-point game halfway through the fourth quarter.
Michigan has the worst turnover margin in the Big Ten at minus-1.50, the pressure on the defensive side of the ball is nonexistent, and they're allowing over 250 yards on the ground and averaging 72 yards in penalty yardage.
If it wasn't for quarterback Denard Robinson pulling off a Superman performance, this team could easily have started the season with two consecutive losses.
Michigan must improve quickly before the meat of the Big Ten schedule kicks in.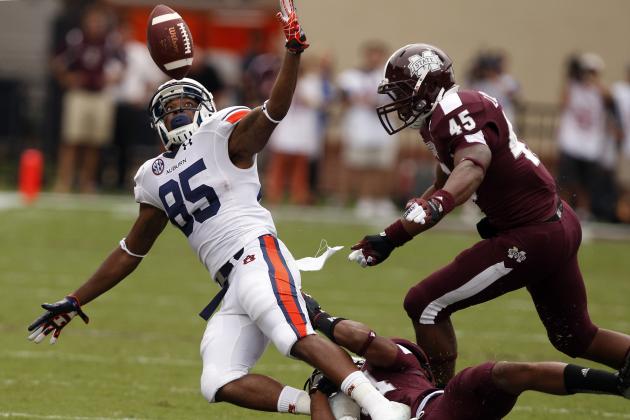 Butch Dill/Getty Images

AP Poll Rank: N/R

Record: 0-2
So much for returning the majority of last year's starters and having an improved defense from last season.
Auburn is dead last in the SEC, allowing 458 total yards a game, which includes three plays over 30 yards.
Offensively, the Tigers have turned the ball over seven times already and settled for four field goals on five of their red-zone trips, and they are only converting on 24 percent of their third-down attempts.
I think it's safe to say the Tigers will not be competing this season in the SEC. They are still a year or two away from actually becoming national championship contenders.