Bethune-Cookman vs. Miami: Complete Game Preview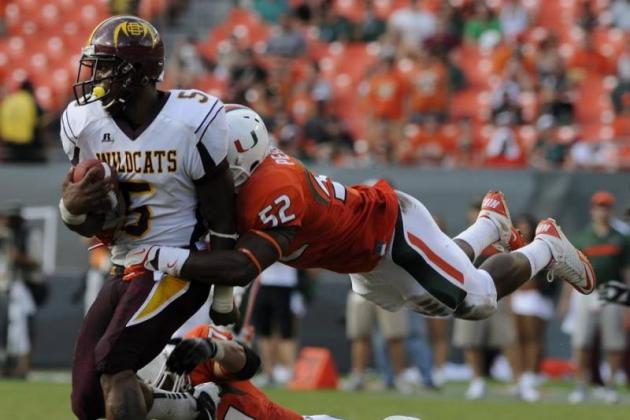 After a couple of long road games, the Hurricanes will play their home opener against the Bethune-Cookman Wildcats.
The Hurricanes beat the Wildcats 45-14 last season, but the game wasn't as lopsided as the final score—the Hurricanes were actually losing 0-7 after the first quarter and up just 14-7 at halftime.
The Hurricanes enter this contest with a 1-1 record while the Wildcats are undefeated at 2-0.
Here is a full preview of the game between Miami and Bethune-Cookman.
Begin Slideshow

»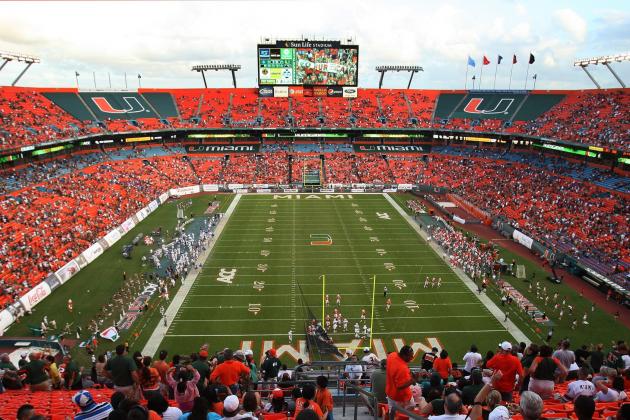 Robert Mayer-US PRESSWIRE

Who: Bethune-Cookman vs. Miami
When: Saturday, noon ET
Where: Miami Gardens, Fla.
Stadium: Sun Life Stadium (75,540)
TV: ESPN3
Radio: WQAM 560 AM, WELE 1380 AM
Internet Stream: Canes All Access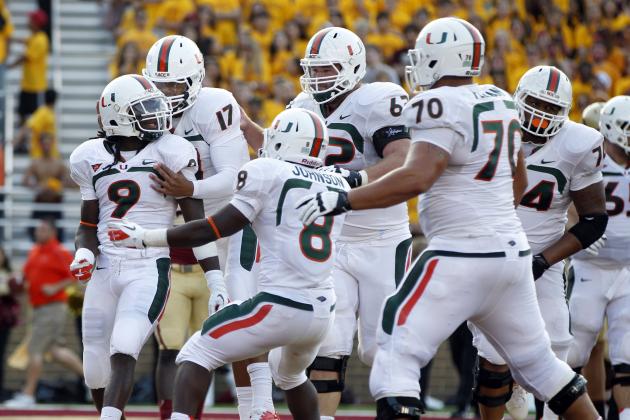 Greg M. Cooper-US PRESSWIRE

Position: Starter, Backup (as of Sept. 10, 2012)
OFFENSE
QB: Stephen Morris, Ryan Williams
FB: Maurice Hagens, Sean Harvey
RB: Mike James, Duke Johnson, Eduardo Clements
TE: Dyron Dye, Clive Walford, Asante Cleveland
WR: Phillip Dorsett, Davon Johnson
WR: Malcolm Lewis, Kendal Thompkins
WR: Rashawn Scott, Herb Waters
LT: Malcolm Bunche, Ben Jones
LG: Jon Feliciano, Jeremy Lewis
C: Shane McDermott, Jared Wheeler
RG: Brandon Linder, Jermaine Johnson or Daniel Isidora
RT: Ereck Flowers, Seantrel Henderson
DEFENSE
DE: Anthony Chickillo, Jelani Hamilton
DT: Darius Smith, Earl Moore, Jalen Grimble
DT: Olsen Pierre, Corey King
DE: Shayon Green, Kelvin Cain or Tyriq McCord
OLB: Eddie Johnson, Thurston Armbrister, Gabe Terry
MLB: Denzel Perryman, Gionni Paul
OLB: Tyrone Cornelius, Jimmy Gaines
CB: Thomas Finnie, Tracy Howard,
CB: Brandon McGee, Antonio Crawford
S: A.J. Highsmith, Rayshawn Jenkins
S: Deon Bush, Kacy Rodgers II
SPECIAL TEAMS
P: Dalton Botts, Jake Wieclaw
FG: Jake Wieclaw, Matt Goudis
KO: Jake Wieclaw, Matt Goudis
H: Dalton Botts, Ryan Williams
LS: Sean McNally, Paul Kelly
SS: Sean McNally, Paul Kelly
PR: Phillip Dorsett, Malcolm Lewis
KR: Phillip Dorsett, Duke Johnson
Injury Report:
Out: Ramon Buchanan (season), Allen Hurns (concussion), Vaughn Telemaque (knee), and Raphael Kirby (knee)
Questionable: Gionni Paul (knee), Curtis Porter (appendix surgery), Seantrel Henderson (concussion)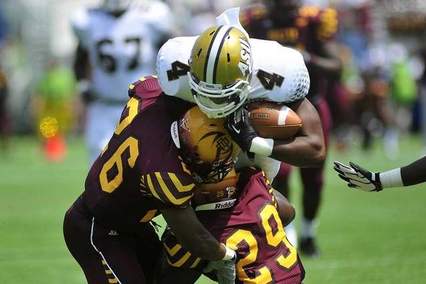 I searched high and low for a depth chart for the Bethune-Cookman Wildcats but was unable to locate one—I even went as far as contacting the athletic department to no avail.
What I do have is the roster for the Wildcats and you can see that here.
What I can also give you are some stats of notable players the Wildcats have, starting with junior running back Isidore Jackson who is their leading rusher with 42 carries for 204 yards and three touchdowns.
The backup running back, Rodney Scott, has carried the ball 22 times for 147 yards and two touchdowns.
The Wildcats run a two-quarterback system with Brodrick Waters and Jackie Wilson. So far on the season Waters has completed 10 of 17 passes for 165 yards, three touchdowns and no interceptions. Waters also has carried the ball 15 times for 109 yards and a touchdown.
On the season, Wilson has completed 14 of 26 passes for 199 yards, zero touchdowns, and has thrown no interceptions. Wilson also has 11 rushes for 29 yards.
The Wildcats leading receiver is senior Eddie Poole, who has seven receptions for 157 yards and a touchdown. Sophomore Jhomo Gordon has caught the only other receiving touchdown for the Wildcats.
The defense is led by cornerback Dion Hanks who had two interceptions in the Wildcats' comeback victory last week over South Carolina State. Those interceptions earned Hanks, MEAC's Defensive Player of the Week.
The Wildcats don't list any players with injuries and should be at full strength.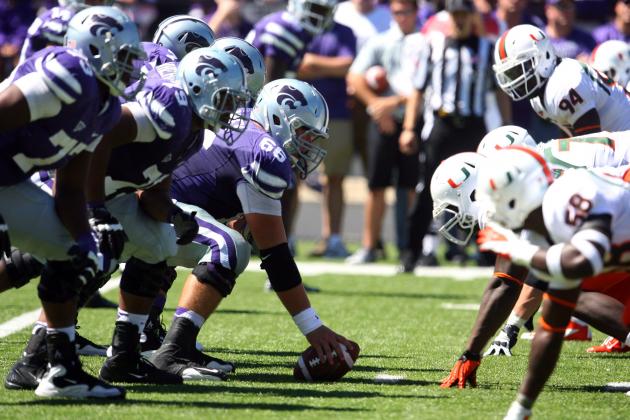 Scott Sewell-US PRESSWIRE

Plain and simple, the Miami Hurricanes got destroyed by the Kansas State Wildcats, 13-52. The Hurricanes defense were unable to stop the Wildcat run game as Kansas State rushed for 288 yards.
Miami gave up 498 yards of total offense to the Wildcats. The good news for the Hurricanes is they were able to create a turnover (Brandon McGee interception) for the second straight game.
The offense didn't do any better as the Hurricanes finished with just 262 yards of total offense.
Stephen Morris was one of only a few bright spots for the Hurricanes as he completed 19 of 26 passes for 215 yards.
Duke Johnson and Mike James couldn't get it going on the ground as they rushed for a combined 46 yards on 15 carries.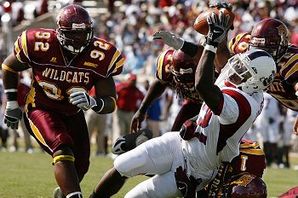 Isidore Jackson ran for 81 yards on 21 carries and a touchdown as Bethune-Cookman beat South Carolina State, 27-14, last Saturday.
The Wildcats were down 0-14 before going on a 27-0 run sparked by an interception by Dion Hanks in the second quarter. Hanks would go on to pick off another South Carolina State pass later in the game.
Bethune-Cookman finished the game with 343 yards of total offense while holding South Carolina State to just 236.
The Wildcat defense created four turnovers in the win.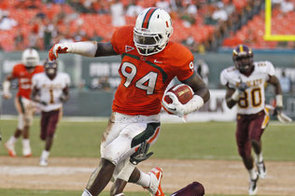 Obviously this game is huge for both teams. The Hurricanes look to rebound off of an embarrassing loss to Kansas State, while Bethune-Cookman, an FCS college, is looking for revenge from last year's 14-45 loss.
Miami can not let up against the Wildcats as Bethune-Cookman has plenty of talent on its roster. In last year's game the Hurricanes came out flat, resulting in an 0-7 hole after one and held just a 24-14 lead heading into the fourth quarter.
The Hurricanes will need to come out strong and show that they aren't as bad as the 13-52 showing they had last week against Kansas State.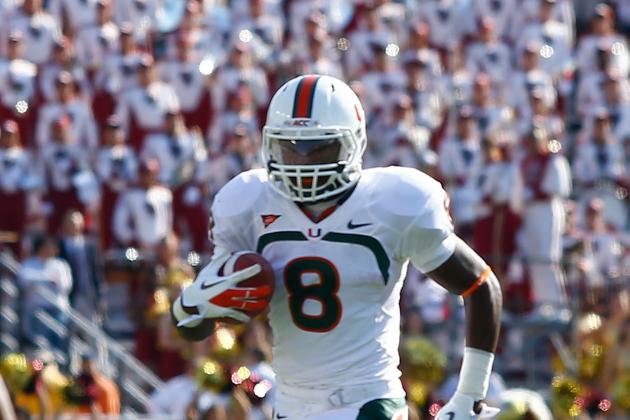 Jared Wickerham/Getty Images

Stephen Morris was the key player for the Hurricanes last week and it didn't matter as the defense got thrown around like rag dolls in the loss to Kansas State.
So I decided to change the key player and put it on true freshman Duke Johnson.
Johnson needs to get the ball in his hands and make big plays. He had opportunities last week but dropped at least three balls, if not four.
I believe the Hurricanes need to get the ball into Duke's hands and let him do what he does best—make big plays.
Duke had two long runs of 56 and 54 yards against Boston College and has the ability to do a lot more. With bigger games coming up this season, Miami needs to figure out a way to give Duke the ball.
This game would be a perfect opportunity to showcase the freshman.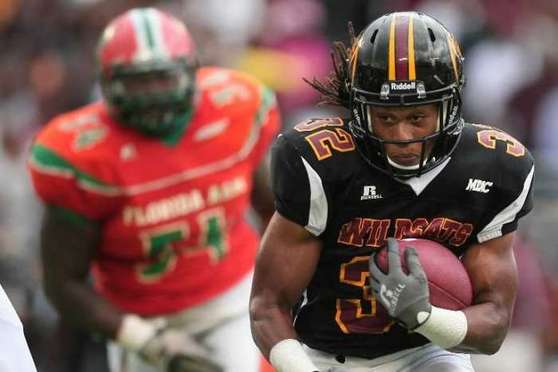 So far this season, Isidore Jackson has rushed 42 times for 211 yards and a touchdown. The Wildcats will need for him to do even better if they want any chance of upsetting the Hurricanes.
The good thing is, he may be able to do just that. The Hurricanes defense has proved it can't stop the run as Kansas State rushed for 288 yards last weekend against Miami.
If the defense can keep Miami off the field, Jackson will have opportunities for big yards.
Jared Wickerham/Getty Images

The Hurricanes will win if they control their turnovers.
Let's face it, Bethune-Cookman isn't really much of a danger for this young Hurricanes team but that doesn't mean Miami will blow them out by any means.
There are too many holes in Miami's game to predict this as having blowout potential. Then again, Miami struggled last year against the Wildcats and still managed to win 45-14.
Either way, the Hurricanes will need to work on scoring and playing much better defense. Win or lose, Miami needs to use this game as more of a scrimmage and try to open things up for the upcoming weeks.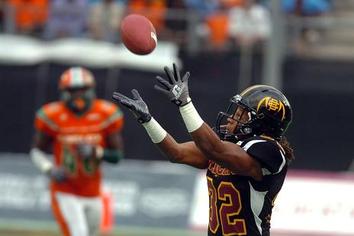 The Wildcats will win if they can create about eight turnovers and rush for about 400 yards, other than that, Bethune-Cookman doesn't stand that much of a chance against the Hurricanes.
Running back, Isidore Jackson, is the key to the Wildcats, and if he can somehow rush for record-setting numbers, the Wildcats could potentially pull off a major upset.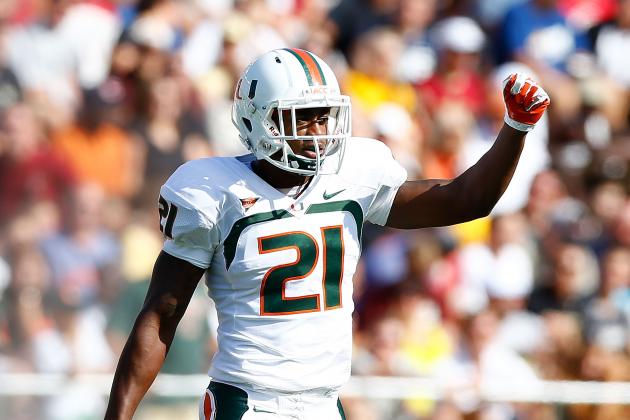 Jared Wickerham/Getty Images

Miami has far too many superior athletes and even though they struggled in the first two games of the season, they should be able to beat Bethune-Cookman.
It will really depend on how motivated the Hurricanes are, after last week's disaster, you have to think that the Hurricanes are out to prove their worth this Saturday.
If Miami plays to its potential, the Hurricanes win by 50.
If last week's Hurricanes show up, the Wildcats can get within 20.
Final Prediction: Miami 42, Bethune-Cookman 21