Djokovic vs. Murray: Score and Highlights from US Open 2012 Men's Final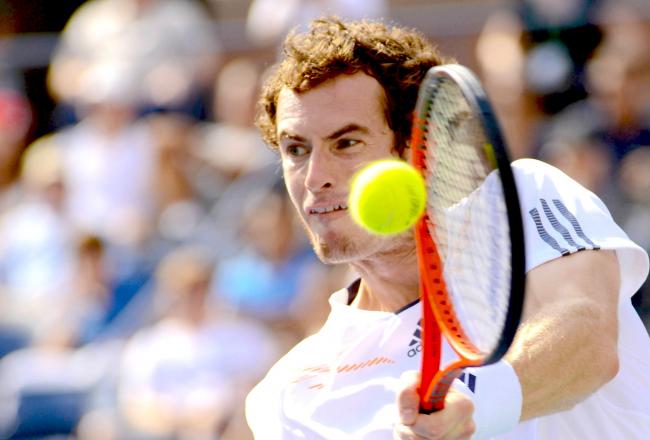 Andy Murray defeated Novak Djokovic in an epic five-set U.S. Open final to win his first Grand Slam title.
Scroll down for updates from throughout the match.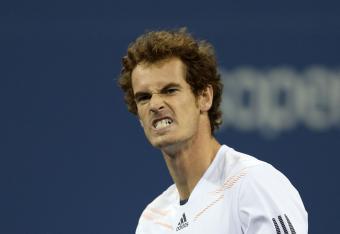 Andy Murray defeats Novak Djokovic 7-6 (10), 7-5, 2-6, 3-6, 6-2 in the 2012 US Open.
Clearly relieved, Andy tied the longest US Open final in history (in which his coach, Ivan Lendl, lost in five sets). He is now a member of the elite "Major Club" and who knows where he will go from here.
I hope you enjoyed the coverage and, more importantly, the match itself.
Jeff Cohn—out.
Novak Djokovic has called the trainer and called for a medical timeout, even though this is the game before Andy's serve.
This is a very unsportsmanlike tactic although Andy is expected to give him the loss he may deserve—fair and square.
Here comes the moment of truth. Andy Murray just secured a double break, is up 5-2 and will now serve for his first Major title.
With this win he would be in contention with Roger Federer for "Man of the Summer". At this point, I see no chance of Djokovic inching back, even with a mental lapse from the oft-losing Scot.
Andy holds at love to move up 4-2 and make an incredibly emphatic statement.
Nole fights off a break point on his serve (boy, I've said that a lot tonight, haven't I?) to bring the match to an even tighter 3-2.
Andy only needs to hold serve three more times, but it isn't that simple.
Stay tuned for the dramatic outcome of this match!
Novak gets one break back to make the score 3-1.
Is this a repeat of the second set?
It is official—Novak Djokovic has the worst overhead of all time (but if you follow me on Twitter, you would have already seen that).
Andy gets the double break and goes up 3-0 in this grand finale.
Defensive Murray! At least he won the game, though...Andy Murray leads Novak Djokovic 2-0 in this fifth and final set.
AM gets the early break! By working the backhand slice to the middle of the court, he was supposed to get punished but luckily hit the net cord and threw off his opponent's timing.
Andy up 1-0—let's see how he handles the pressure moments.
These two have been on the court for four hours and nine minutes.
What's the longest match you've been a part of? Nobody really cares if you're not Djokovic or Murray right now.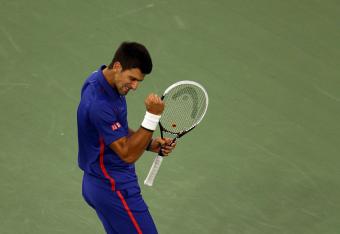 Andy Murray couldn't take it anymore! Novak Djokovic broke again, stealing the set quickly with a score of 6-3.
Update: The scoreline from Nole's point of view is 6-7 (10), 5-7, 6-2, 6-3.
Novak has only come back from two-sets-down three times in his career. Will this be a fourth?
The Scot holds comfortably—Novak leads 4-3, up a break.
Even after winning a 30-shot rally that sent Novak toppling to the hard-court ground, Murray was unable to break a rock-solid and unwavering opponent.
He is serving down 4-2.
Andy holds in under two minutes and it is 3-2 to the Serb.
What do you think of this potential comeback? Let me know in the comments section below or on Twitter (@jeff_cohn).
Nole pumps his fist once again as he holds off another break point on his serve.
Up 3-1, he looks to be incredibly inspired to come back for the W.
AM is now hanging on by a thread, but he fights off a break point and is now trailing 2-1 in the fourth.
Novak plays back-to-back brilliant volleys at the net to break in the first game! He is now up 1-0 and appears to have the momentum.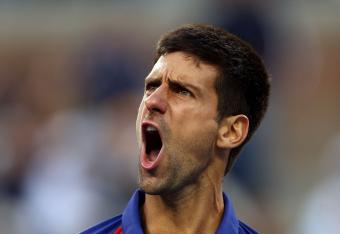 Andy plays two brilliant points to give himself a small chance of resurfacing in this set, but it is to no avail.
Novak Djokovic won four straight points from there to secure the set 6-2.
Current Score: Andy Murray leads Novak Djokovic two-sets-to-love, 7-6 (10), 7-5, 2-6.
A deep ball from Novak leads Murray right into a cave of trouble. Novak is up a double break and will serve for the third set at 5-2.
Andy Murray fails to convert on two break points and Novak moves up 4-2.
Two service holds and Djokovic is still up a break, but the score is 3-2 in the third set.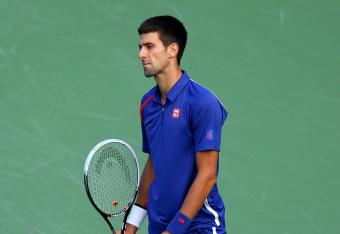 Nole breaks! 2-1 to the Serb.
Novak is pumped up after a stretch drop volley to secure a service hold. 1-1.
Djokovic has a look at two break points at this early stage in the set but Andy fires a huge forehand and two even bigger serves.
What a statement! AM leads ND 1-0 in this set.
Novak misses a sitter just wide and Andy is about to secure his first Major title (though it does not feel like a heavyweight fight at the moment).
Andy is up 7-6 (10), 7-5.
This article is
What is the duplicate article?
Why is this article offensive?
Where is this article plagiarized from?
Why is this article poorly edited?