US Open Tennis 2012: 5 Keys to a Victory for Andy Murray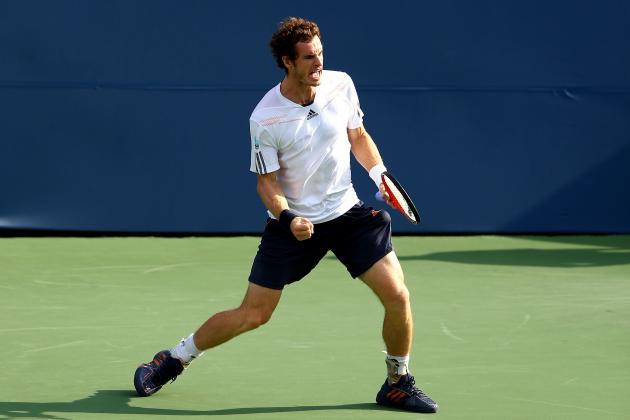 Al Bello/Getty Images

The 2012 U.S. Open men's final will come down to Andy Murray and Novak Djokovic. For anyone who has watched this tournament unfold in the past couple of weeks, the final pairing should not come as much of a surprise to anyone.
Possibly the two best hard court players in the world will meet later today in the final match of the greatest hard court tennis tournament in the world.
Djokovic is the defending champion and is seeking to capture his fifth Grand Slam title in the past two years. If he can accomplish this feat, he will take a huge step forward towards being considered one of the all-time greats.
Standing in his way will be Andy Murray, the man who beat him at the 2012 Olympic Games. It was Murray's 7-5, 7-5 win over Djokovic a little over a month ago that propelled Murray to eventually win the gold medal in London. Djokovic, deflated by the defeat, failed to medal at the 2012 Olympic Games.
For Murray, this will be his fifth chance to try and capture a Grand Slam title. He has fallen short on all four prior occasions. But his gold medal performance in London seems to have filled Murray with the confidence that he will need to defeat a champion like Djokovic.
The two men seem evenly matched. They have split the past four meetings with each other. But Djokovic won the last time that the two men played on hard courts, and according to USA Today, Djoker has been an unreal 27-0 on hard courts in Grand Slam events the past two years.
Can Murray break through and become the first British male to win a Grand Slam event since 1936?
I believe he can, but it will not be easy.
Here are five keys that will lead to a historic triumph for Andy Murray at the 2012 U.S. Open.
Begin Slideshow

»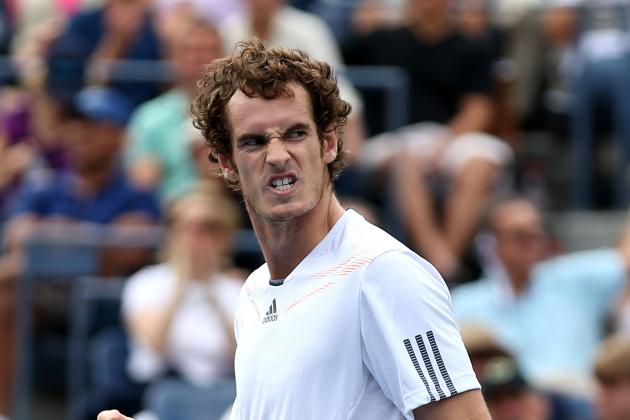 Clive Brunskill/Getty Images
Andy Murray will have to go out and take the title away from Novak Djokovic
To beat a champion like Novak Djokovic, Andy Murray will need to be aggressive.
I am not saying that he needs to be reckless, but he will absolutely need to be aggressive.
It will be essential for Murray to not allow Djoker to play his game, especially if Djokovic is on his game, as he was once his semifinal match with David Ferrer resumed after having been suspended a day earlier.
One of the keys here will be for Murray to not engage in long sustained rallies with Djokovic. Djokovic thrives on that and his ability to go from playing defensively along the baseline to going on the attack in the blink of an eye.
Murray must therefore keep rallies at about three to eight shots at most. Anything longer than that would favor Djokovic.
Part and parcel of that strategy will be for Murray to get to the net as early as he possibly can without sacrificing good position and overall strategy. While Djokovic is excellent at the net, Murray is every bit his equal in this department. To capture his first Grand Slam title, Murray will need to be a bit better than Djoker, as far as net play is concerned.
When Murray beat Djokovic at the Olympic Games, he held a slight advantage in points won at the net. As per Lorenzo Arguello of the Business Insider, Murray won 78 percent of his points at the net while Djokovic won 73 percent. For Murray to again defeat Djokovic, he will need to see a similar result.
Novak Djokovic is not the type of player who will hand Murray the title.
For Murray to finally break through, he will need to take that title from him.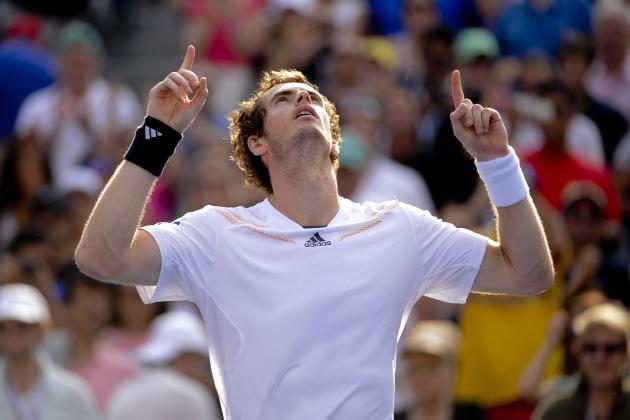 USA TODAY
Murray will have to be patient and pick his shots carefully.
In the previous slide, I indicated that for Andy Murray to win this showdown he would have to be aggressive without running the risk of being reckless. What I mean by this is that he will have to pick his shots and spots carefully and make the most of the opportunities that are presented to him.
In their clash at the Olympic Games, the two men played almost mistake-free tennis as they committed a combined 29 unforced errors.
What put Murray over the top on that day was how he was able to take advantage of the very few opportunities that Novak Djokovic gave him. In that match, Murray was able to break Djokovic just twice, once in each set.
It was all he needed to capture the 7-5, 7-5 win.
One has to figure with these two men being as good as they are at playing defense that we will see another tight match decide the U.S. Open. Opportunities for one man to capitalize on the mistakes of the other may be few and far between.
This is why Murray must be patient while at the same time trying to press Djoker into making perhaps a few more mistakes than he might otherwise commit. To a great extent, he must repeat what he did at the Olympic Games—namely minimize his own errors and wait for Djokovic to make his.
In my opinion, this will be the key to the match. Has Andy Murray learned enough about himself and his own game to be able to play to his strengths and be aggressive while at the same time being able to scale back that attack when necessary and just try and wait Djokovic out?
If Djokovic is on his game, this task will be very difficult to say the least.
If Djokovic is not quite on his game though, then Murray must pounce on the opportunity and not let up for a moment.
It is unlikely that a seasoned veteran and great player like Novak Djokovic will present Andy Murray with too many opportunities.
For Murray to win, he will have to patiently wait for these mistakes to be made and then take advantage as often as he can.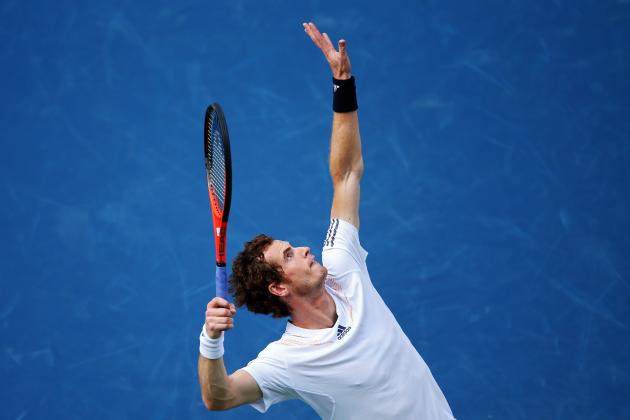 Elsa/Getty Images
Andy Murray's first serve will be a big reason why he wins or loses
When Andy Murray beat Novak Djokovic at the Olympic Games in August, his serve was a big reason for the upset.
Time and time again, whenever Murray needed a big play or to win a big point, his serve would come to his rescue.
He was never broken by Djokovic when they met at the Olympic Games. A repeat performance today would go a long way towards Murray finally capturing that elusive Grand Slam title.
If you look at what Murray did in the quarterfinal and semifinal rounds of the U.S. Open, you will see just how effective his first serve has been and how he has been using it to great advantage.
In the quarterfinals against Marin Cilic, Murray won 70 percent of his first serve points as he rallied from a set down. This was an important reason for why he was able to win this match, as his second serve was not effective, with Murray being able to only win 49 percent of his second serve points.
In the first set of that match, Murray only won 58 percent of his first serve points. But when he got that percent up to 73 in the second set, things turned around. Coincidence?
In the semifinals against Tomas Berdych, Murray prevailed, in large part due to a 73 percent success rate on his first serve for the match. Even during the first set, which he lost, Murray kept his percentage of first serve points won up at around 68 percent.
In the third set, Murray was perfect and won all 12 of the points played off of his first serve.
While I do not believe that Murray will have to be perfect to beat Djokovic, being able to rely on his first serve to dictate play will be essential. If Murray can win at least 65 percent of his first serve points—and something over 70 percent would be even better—he will have a great chance of winning this match.
An effective first serve will enable Murray to stay aggressive, get to the net more often and keep rallies short. All of those goals and objectives will be key for him to win his first Grand Slam championship.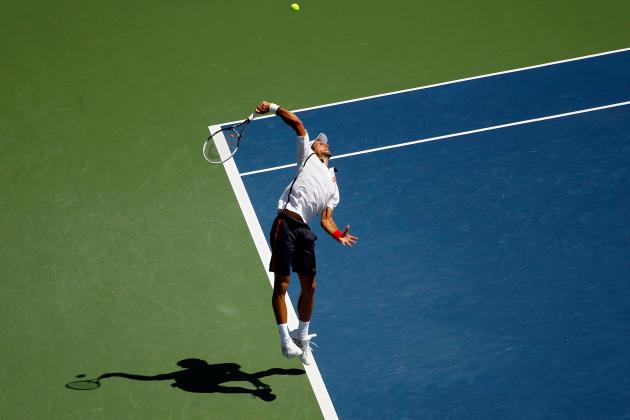 Mike Stobe/Getty Images
Andy Murray must take advantage of Novak Djokovic's second serve if he is to win
In his semifinal win over David Ferrer, Novak Djokovic lost the first set. True, much of that was due to the weather. But once the match resumed, Djokovic looked like a different player. He was the Djoker, and Ferrer could not match his skill or intensity.
Djokovic absolutely manhandled Ferrer to win the second set 6-1. But it was in this second set that Ferrer lost a golden opportunity to really take control of the match—an opportunity that Murray cannot afford to let slip by if he hopes to win.
Djokovic was struggling somewhat with his first serve in the second set. He would only get 52 percent of his first serves in. That means that Ferrer was facing a second serve from Djokovic almost as often as his first serve.
To beat someone like Novak Djokovic, you have to be able to excel against his second serve. It is really the only way to effectively gather break point opportunities against him, unless he is just completely off his game.
Ferrer did not do this at all as Djokovic won 69 percent of his second serve points. Ferrer, despite the opportunity, never forced a break point. The opening, slim to begin with, was now gone completely.
Now, to be sure, one of the marks of a great player is his ability to succeed with his second serve, and Djoker is one of the best at it.
But, as stated previously, if Andy Murray is going to win then he has to take advantage of any and all opportunities. To capitalize on Djokovic's second serve would open up such an opportunity.
If one looks at Murray's win over Djokovic at the Olympic Games more closely, you will see there is some validity to this being a key point for Murray.
In London, Djokovic was pretty accurate with his first serve, getting it in 62 percent of the time. Murray took advantage of this, as Djokovic then only won 56 percent of his second serve points. This lengthened games and helped to create the very few break point opportunities—four of them in all—that Murray enjoyed.
Ultimately Murray would convert two of those four opportunities and that was enough for him to claim victory.
In a match like this, any opportunity, no matter how slight, must be pressed to its full advantage if Andy Murray is to upset Novak Djokovic.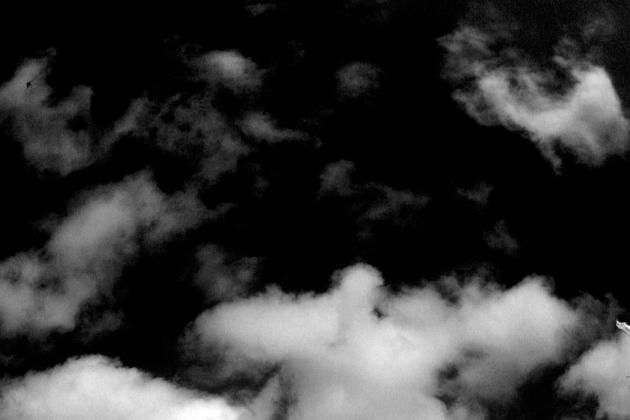 Al Bello/Getty Images
Will weather play a role in the outcome of this match?
Weather has already had an influence on this battle as for the fifth consecutive year the men's final of the U.S. Open has to be played on a Monday.
But will the weather for the actual match itself have an impact on its outcome?
On Saturday, Murray had to weather the elements during his semifinal match with Tomas Berdych. Murray seemed to handle the rough conditions better than Berdych, as he won in four sets, according to ESPN.
On the other side of the fence, Novak Djokovic and David Ferrer only made it through seven games of their first set before the match was suspended with Ferrer leading 5-2. Djokovic seemed to struggle with the gusty and blustery conditions and looked slower than he usually is. Unable to use his speed and mobility to their maximum advantages, Djokovic would ultimately drop that first set.
But once play resumed on Sunday, and the weather improved, Djokovic was able to play his game to perfection, and Ferrer never had a chance.
The weather forecast for Flushing Meadows today calls for winds to be out of the northwest at 13 mph at 4 pm eastern standard time, according to weather.com.
While certainly not as severe as the conditions on Saturday—when tornadoes actually touched down in Queens of all places—13 mph winds are still going to be strong enough to, perhaps, have some impact on the match.
If the windy conditions can impact the way in which Djokovic is able to play his game, much as they did on Saturday, and if Murray can better adjust to those conditions, as he did against Berdych on Saturday, then this could create another of those limited opportunities that I have been harping on about in this article.
And if all this falls into place then maybe, just maybe, the sun will finally shine down on Andy Murray at a Grand Slam final.