Handing out Week 1 Awards for the Buffalo Bills
Jeff Zelevansky/Getty Images
The expectations for the Buffalo Bills coming into the season were higher than any season in recent memory. After a dismal season opener against the New York Jets, those expectations may need to be tempered a bit by fans of the team.
There wasn't much to like about the 48-28 thrashing at the hands of the Jets. The defense played poorly. The offense played poorly. Special teams played poorly. The team was prepared by the coaching staff poorly. There was no phase of the game untouched by boneheaded plays and ghastly errors, which ultimately led to the ugly final score.
The Bills needed to come out in Week 1 and punch a division opponent in the mouth to show that they meant business in 2012. Instead they came in like a lion and left like a battered bison with its tail tucked between its legs.
After taking some time to process the game for what it was, it is time to hand out some mostly unwanted awards for the Bills Week 1 efforts versus the Jets.
Least Valuable Player
It is fitting to start this segment with the least valuable player of the day for the Bills due to the nature of the defeat. There are plenty of players to choose from, but one takes the prize for being a step below the rest.
Ryan Fitzpatrick received a much-talked about pay raise in the middle of last season after Buffalo's hot start, including a thrilling win over the vaunted Patriots. Since then, Fitzpatrick has done anything but lived up to his payday, winning only three games out of the thirteen he has started. For those doing math at home that is a 3-10 record, which is one of the five worst records for any current NFL starting quarterback during that same span.
To put things in perspective, here is a tweet from NFL columnist Bob Glauber of Newsday:

The critics of Fitzpatrick have gotten louder with every loss and turnover. To stop that talk, Fitz needed to come out and play a mistake-free game while leading the Bills to victory. Sunday afternoon was anything but that.
Fitzpatrick's first two interceptions, to Darrelle Revis and Kyle Wilson, were telegraphed passes that any NFL quality defensive back would have jumped on. Both turnovers also directly led to points for the Jets.
As bad as the first two picks were, the last one was what delivered the LVP trophy to Mr. Fitzpatrick.
Buffalo got the ball to start the second half and needed a scoring drive to spark some kind of rally against the Jets. C.J. Spiller had two solid runs to grab a first down across the 30 before Fitzpatrick called his first passing play of the half. Fitzpatrick stared down Donald Jones for three good seconds and hit Antonio Cromartie square in the numbers.
Cromartie had been sitting in front of the route the entire time and was so taken aback by the throw that it might not have been surprising to see him drop it. No NFL quarterbacks gift-wrap pick sixes like that. Well we do know of one now, Ryan Fitzpatrick.
Runners-up: defensive end Mario Williams, cornerback Aaron Williams, coaches Chan Gailey and Dave Wannstedt
Most Valuable Player
The best player for the Buffalo Bills on Sunday would be easy to spot from a mile away. A comment was made to me during the game that he was the only player that actually showed up to play in the Meadowlands.
That player was C.J. Spiller.
Spiller displayed the speed and decisiveness that made him the No. 9 overall pick in the 2010 draft. His forgettable rookie season was followed up by a strong sophomore season when he led the NFL in rushing over the final four weeks of 2011.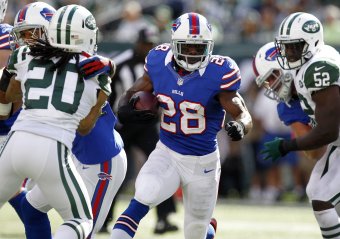 Jeff Zelevansky/Getty Images
With starter Fred Jackson succumbing to another early injury, Spiller took the reins of the Bills offense and attempted to keep the team in the game. After the Bills went down 21-0 following a Jeremy Kerley punt return for a score, Spiller broke off a long 56-yard touchdown run. He broke at least two tackles in the process and displayed a burst that could rival almost any other speedy player in the league.
Spiller later added a 49-yard run that should have ended up as a score if not for David Harris making a shoe-string save.
The former Clemson back ended the day as the NFL's rushing leader with 169 yards on the ground. He also added a few catches for 25 yards.
Runners-up: wide receiver Stevie Johnson, NFL RedZone Network
Best Rookie
The only player that comes to mind for this award is left tackle Cordy Glenn, and this is for what he didn't do: give up a sack.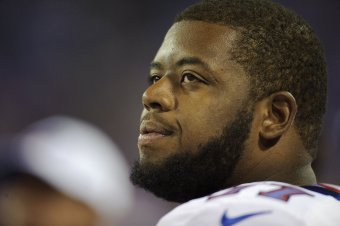 Hannah Foslien/Getty Images
Glenn's name was never called as far as I can remember, and for a rookie starting against a solid defense in his first career start, this is a good thing.
I have been on the "Glenn is a better run-blocker than pass-blocker" bandwagon since Buffalo took him in the second round of April's draft. While this may be true, Glenn has showed his ability to pass-block efficiently in the midst of the learning process.
Fitzpatrick and Gailey like to run a quick-release pass offense, which will help Glenn keep his quarterback standing upright, but he was doing just fine on his own today.
The multiple interceptions today was a quarterback problem and not a left tackle problem.
Runner-up: John Potter by default
This article is
What is the duplicate article?
Why is this article offensive?
Where is this article plagiarized from?
Why is this article poorly edited?

Buffalo Bills: Like this team?