The 15 Best 25 or Younger MMA Fighters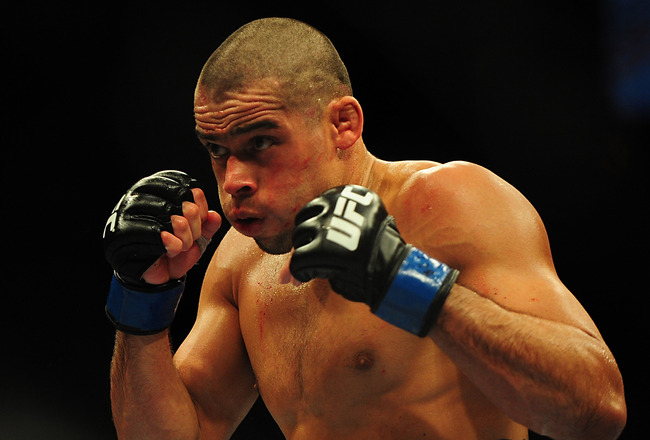 Anne-Marie Sorvin-US PRESSWIRE
With the way the UFC is going, the young guys can't come up fast enough.
Rampant injuries, suspensions, personality deficits, the fading of the Golden Age fighters and all sorts of other wacky stuff has probably left MMA matchmakers wishing for a fast forward button, not to mention a gallon or 12 of the establishment's finest rotgut.
The good news is, with the way the sport is growing and changing, the cavalry is coming. More than a few very promising young guns already dot the MMA landscape. The bad news is, if you define "young gun" as someone 25 years old or younger, as we've done here, the best one is Jon Jones. Just kidding. Jon Jones is the awesomest.
These are the 15 best fighters in the sport today who have a quarter century or less of livin' under their belts.
Happy Birthday, Jose Aldo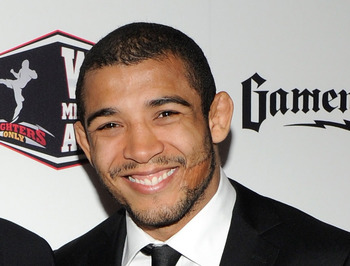 Ethan Miller/Getty Images
Before you even ask, Jose Aldo turned 26 (and thus fell off this list) on September 9, just four days ago. Want to send him a gift? I heard he could use a helmet.
15. Paul Sass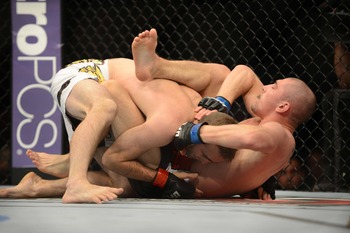 Ron Chenoy-US PRESSWIRE
Age: 24
Promotion: UFC
Record: 13-0
"The Sassangle" still hasn't shown that he's more than a one-trick pony. But in the meantime, it's still one hell of a good trick. Anyone who thinks it's not is welcome to beat him. So far, it hasn't happened.
14. Jordan Mein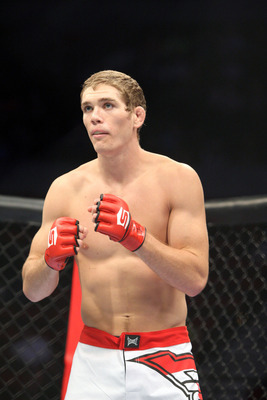 Scott Olmos-US PRESSWIRE
Age: 22
Promotion: Strikeforce
Record: 25-8
The young welterweight can claim some of the sharpest standup in his entire promotion. He ate Tyler Stinson alive back in July to get back in the win column and pick up his seventh win in eight contests.
13. Patricio Freire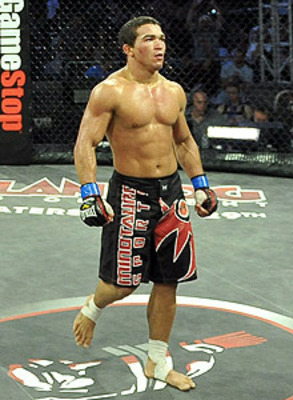 Photo credit: Bellator
Age: 25
Promotion: Bellator
Record: 17-1
Patricio Freire is waiting for Bellator featherweight champ Pat Curran to heal up so they can finally fight for the strap. If "Pitbull" can stay off the mat, he's a tough out for just about anyone.
12. Dustin Poirier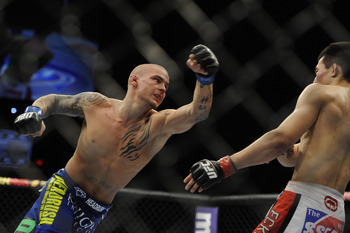 Rafael Suanes-US PRESSWIRE
Age: 23
Promotion: UFC
Record: 12-2
Dangerous in any phase and fiercely committed to the sport, Dustin Poirier is 4-1 so far in the UFC and just gave The Korean Zombie his toughest Octagon fight to date. Not bad for a guy who barely two years ago hadn't fought outside his native Louisiana.
11. Khabib Nurmagomedov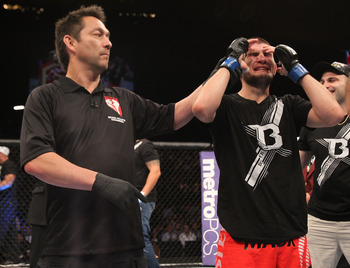 Photo credit: Josh Hedges/Zuffa LLC/Zuffa LLC via Getty Images
Age: 23
Promotion: UFC
Record: 18-0
Nurmagomedov made his UFC debut in 2012 and is already 2-0. As he showed in his last fight against Gleison Tibau at UFC 148, "The Eagle" is fearless, even when someone throws him off his game plan. He is a little small in there, though. Might he stand a better chance of standing out as a featherweight?
10. Eduardo Dantas
Age: 23
Promotion: Bellator/Shooto
Record: 14-3
Eduardo Dantas lost some momentum last month. That'll happen when you're the Bellator bantamweight champion but get knocked the eff out at a Shooto Brazil event by some guy who doesn't even have a Wikipedia page.
And yet, he's still here. That's a result of him not having previously lost in more than three years. Despite the setback, Dantas is still pretty stone cold. At least when he's not out cold. BOOM!
9. Erik Koch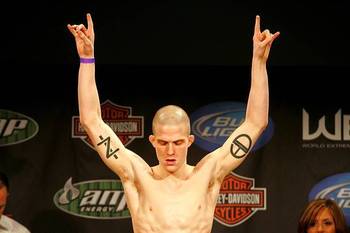 Photo credit: Las Vegas Sun
Age: 23
Promotion: UFC
Record: 13-1
Yes, maybe Frankie Edgar was an upgrade. And yes, maybe Erik Koch receiving the title shot against Jose Aldo in the first place did indicate a bit of shallowness in the featherweight division. But Koch is still a very good fighter, and he belongs solidly on this list.
8. Pat Curran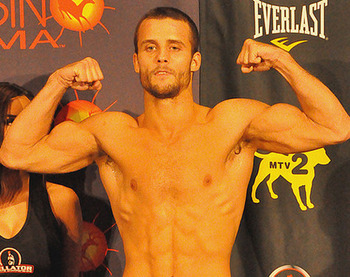 Photo credit: The Score.com
Age: 25
Promotion: Bellator
Record: 17-4
He's been dormant since erupting against Joe Warren in March. He's got the wrestling and the power in his limbs to handle Freire and pretty much anyone else in Bellator's featherweight division, and maybe beyond.
7. Rory MacDonald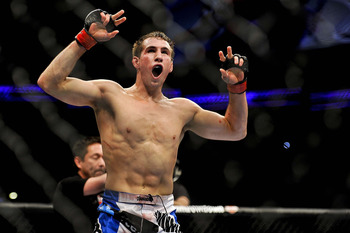 Paul Abell-US PRESSWIRE
Age: 23
Promotion: UFC
Record: 13-1
B.J. Penn is under Rory MacDonald's skin. An irritated MacDonald has said he might end up "killing" Penn if/when they meet in December. Death threats, real or implied, are never cool. But I'm not sure this is a threat so much as a simple statement of fact.
A win would mean Rory's first big-name victim and perhaps a shot up this list.
6. Michael McDonald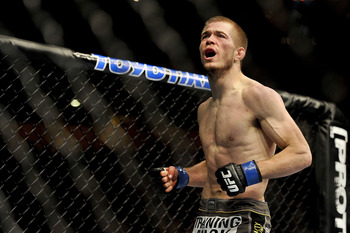 Paul Abell-US PRESSWIRE
Age: 21
Promotion: UFC
Record: 15-1
"Mayday" gets the nod over "Ares" for having more wins and a better strength of schedule, and at a younger age at that.
5. Anthony Pettis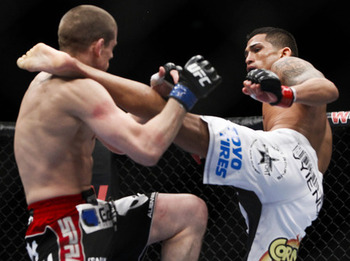 Photo credit: Esther Lin for MMAFighting.com
4. Chan Sung Jung "The Korean Zombie"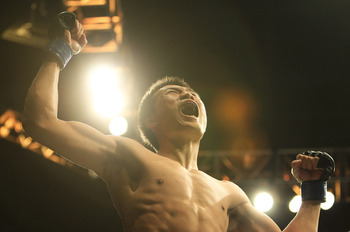 Tom Szczerbowski-US PRESSWIRE
Age: 25
Promotion: UFC
Record: 13-3
I was a little surprised to learn the Zombie is still just 25 years old. In this photo, Zombie is a little surprised to learn that his recent shoulder surgery probably cost him a spot in the main event at UFC 153.
3. Alexander Gustafsson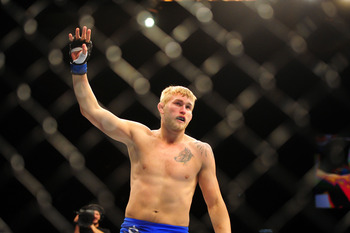 Mark J. Rebilas-US PRESSWIRE
Age: 25
Promotion: UFC
Record: 14-1
After Alexander Gustafsson beats Shogun Rua at UFC on Fox in December, he should be next in line to fight Jon Jones for the light heavyweight title.
2. Renan Barao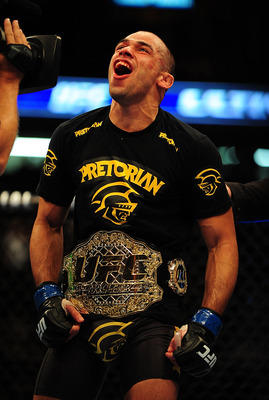 Anne-Marie Sorvin-US PRESSWIRE
Age: 25
Promotion: UFC
Record: 29-1-1
A little disappointing—if not shocking—that he of the mile-long win streak chose not to defend his interim bantamweight title. Instead, he'll languish on the shelf waiting for champ Dominick Cruz to return from injury. So what was the purpose of the interim thing?
1. Jon Jones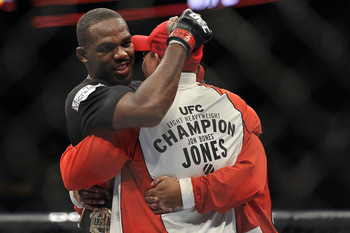 Paul Abell-US PRESSWIRE
Age: 25
Promotion: UFC
Record: 16-1
Nothing going on up here. Jon Jones is still the best.
Follow Scott Harris on Twitter @ScottHarrisMMA.
Keep Reading