Comparing Each MLB Team to a Type of Food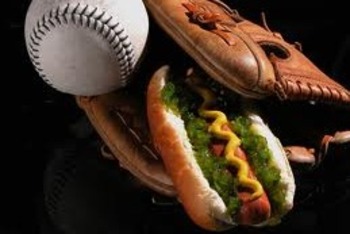 photo credit of stilettosetsports.com
Though I love visiting different baseball stadiums to take in each venue's various quirks and history, I also love sampling their unique cuisines even more. From Yankee Stadium's famous garlic fries to the Polish sausage at Chicago's U.S. Cellular Field, watching baseball at different stadiums is a great way for one to unleash their inner fat kid and spend outrageous amounts of money on food they may not be able to get at home.
However, while I love watching baseball both at home and on the road, living with my girlfriend has also led to my latest guilty pleasure: reality cooking shows. From Cupcake Wars to Worst Cooks in America to my personal favorite, Masterchef, some of these shows have various quirky themes such as creating a cupcake that is all about the hit TV show I Love Lucy to a challenge in which one must make a perfect souffle, it's quite easy to get sucked into this seemingly mindless entertainment.
That said, I hereby present the challenge to both myself and all of you loyal readers out there. Looking at each MLB team, which food defines them the best? Is it a regional dish or not? Is it delicious or disgusting?
Either way, strap on your aprons and bring your appetite, b/c we're about to dive in, Man v. Food style!
Arizona Diamondbacks: Sonoran Hot Dog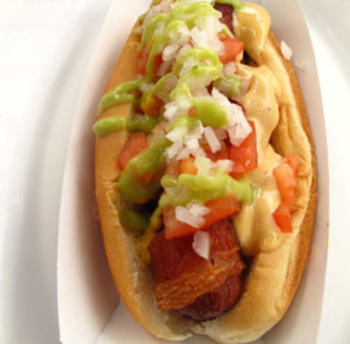 photo credit of finecooking.com
The most popular food at any ballpark is a hot dog, and Arizona knows how to do one right. The Sonoran hot dog, quite popular in various parts of the state, features a bacon-wrapped hot dog (a million bonus points on that aspect alone) covered with tomatoes, onions, cheese, salsa, beans and sometimes mayonnaise. Long story short, it's a food coma waiting to happen.
Much like the Arizona Diamondbacks, it is something that's bound to be slow at some point, but it's also got one hell of a kick to it. If you haven't tried one, I highly suggest you do so!
Atlanta Braves: Pop Rocks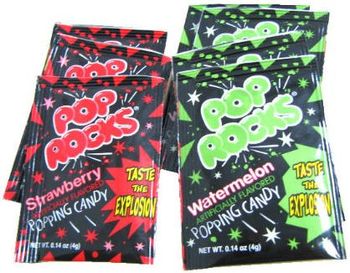 photo credit of candyaddict.com
Much like the Atlanta Braves, Pop Rocks have been around for quite a while. Popular or not, they're almost like a timeless classic. Even if you leave them around for a while, maybe even a few years, you can crack them open and they'll STILL make your mouth dance with that great popping sound.
The same can be said for the Atlanta Braves, who have some fine young talent along with some key veterans like Chipper Jones and Tim Hudson. Every once in a while, these older dogs just come out with a pop (no pun intended) and make all of the fans smile.
Baltimore Orioles: Spicy Wings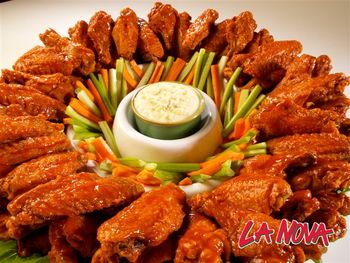 If you're not into hot dogs, chances are you're definitely into hot wings and when it comes to the Baltimore Orioles, there's no other food that represents the team better. Just think about wings for a second. Sure, they may look small and not intimidating but as Man v. Food has taught us, some chicken wings pack one mean punch that can knock even the best of us flat on our butts.
The 2012 Baltimore Orioles have ridden a similar mantra all season long. They may not look like that great of a team on paper, but some of their starters could write books on smacking the ball out of the park and as a result, the team is second in total home runs this season.
Boston Red Sox: Boston Cream Doughnuts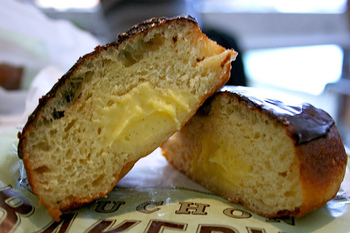 photo courtesy of thewanderingeater.com
I love Boston Cream doughnuts with a passion and I don't mean to sound like a hater, but what they are is almost exactly like this year's Boston Red Sox. Much like the team, this doughnut has a firm and rich exterior, but is soft and sweet (ish) in the middle.
Chicago Cubs: Brussels Sprouts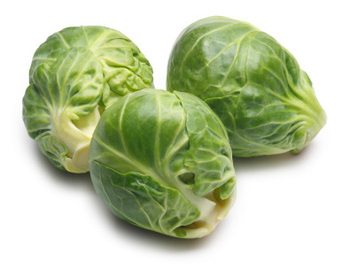 photo courtesy of babyfood101.com
Remember when you were a kid, there was always one vegetable you hated that your parents made you eat and you couldn't leave the table until you finished it? In my case, that vegetable was brussels sprouts. To date, I can't eat one of these bitter things without gagging.
And yet, this year's Chicago Cubs have become just like brussels sprouts. The team is so bad and almost painful to watch, but the North Side's loyal fans just keep taking games in because they know it's the right thing to do.
Chicago White Sox: Chicago Hot Dog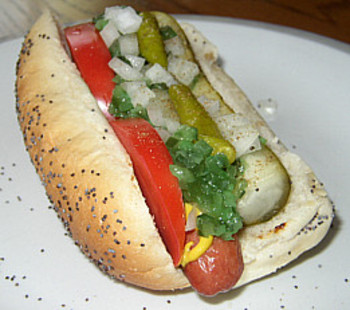 photo courtesy of hotdogchicagostyle.com
After trading talented players like Sergio Santos and Carlos Quentin last offseason, it looked as though this year would be a rebuilding season for the White Sox. Instead, they have fought and clawed their way to the top of the AL Central, being a soft and sweet team with plenty of punch.
Thus, it's only right that the ideal food for the ChiSox be this variation on the hot dog, and my personal favorite, the Chicago Dog. The best part about this meal is that it's a hot dog, but has all of the aspects one would expect from a hamburger.
Take a poppy seed bun and a beef hot dog, then put the following on it: tomato, white onion, relish, two pickle spears, chopped hot peppers, mustard (no ketchup...EVER) and salt. At that point, put on your Paul Konerko jersey (or whoever your favorite player may be), sit back, and enjoy!
Cincinnati Reds: Red Hots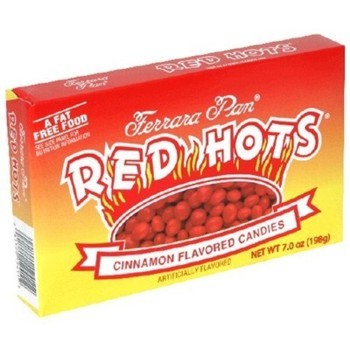 photo courtesy of tvgasm.com
The Reds knew this season was going to be a big one for them. With Albert Pujols and Prince Fielder both out of the NL Central, the division was the team's to lose. Very fittingly, the team really came together and has been on fire all season long, currently owning the second best record in the majors.
That said, to keep the positive vibes going, perhaps manager Dusty Baker should put this spicy candy in everyone's locker.
Cleveland Indians: Oatmeal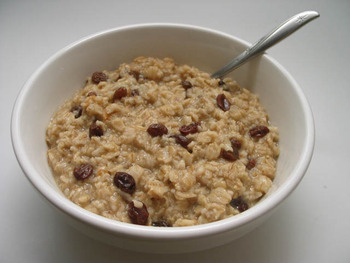 photo credit of fitness.com
For the past two seasons, the Indians have gotten off to good starts, only to completely collapse once the second half of the year begins. It kind of reminds me of how some people eat oatmeal. They start eating quickly with a bounce in their step, but then the heaviness of the food takes over. By the time they're done, they just move very sluggishly.
Colorado Rockies: Rocky Mountain Oysters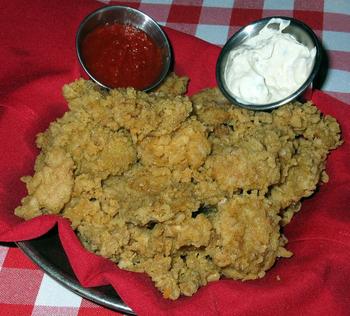 photo courtesy of visitrenotahoe.com
Using a four-man rotation and limiting starters to 75 pitches per appearance? Those Colorado Rockies sure have some...well, you do the math with this one.
Detroit Tigers: Cheeseburger with Fries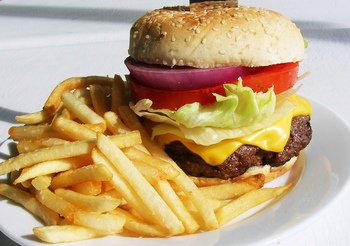 photo courtesy of pomodorospizza.net
When I think of Detroit, I think of the beating heart of America. It's a blue-collar city with some proud people and devoted fans of the city's sports teams.
That said, seeing as how the Detroit Tigers are a motivated blue collar team that almost always have up-and-down seasons, they get America's ultimate entree: a juicy burger with a side of fries.
Houston Astros: Canned Beef Stew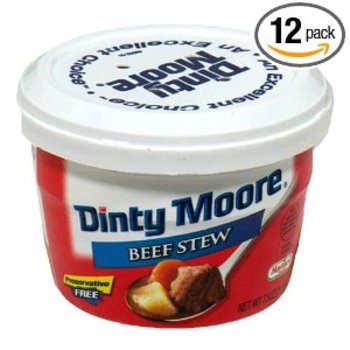 photo courtesy of aproverbswife.com
Whenever I'm in Texas, I be sure to go someplace where I can get an amazing steak. I mean, come on. What better place to get a fine piece of meat than the state in which the animals are raised?
Yet, if the 2012 Houston Astros were to open a restaurant, I wouldn't go anywhere near it. This team has been just plain awful this year and if they were in the food industry, or even a food itself, I'd bet my life savings that all of their inventory would be cheap and processed crap that one would normally find at Walmart.
Kansas City Royals: Salisbury Steak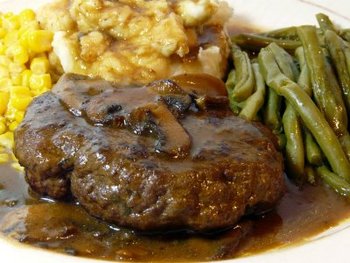 photo courtesy of thibeaultstable.com
Kansas City is the home of fine barbecue, from fall-off-the-bone ribs to savory brisket to phenomenal pulled pork. Yet, while this year's Royals squad certainly has some bright spots, the team will once again finish with a losing record, though the future does indeed look bright.
Thus, while nowhere near capable of matching a fine slab of ribs or another fine smoked meat, I'm going to go ahead and label the 2012 Royals as Salisbury Steak. Sure, it's not a great cut of beef, but it gets the job done if you're hungry.
Los Angeles Angels: Fried Oreos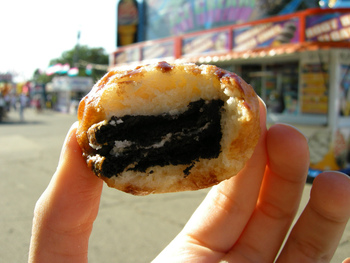 photo courtesy of ilovetogossip.com
The Angels had so much to play for this season, particularly since they landed two of the top free agents on the market last offseason in first baseman Albert Pujols and pitcher C.J. Wilson. Yet, in spite of that hype, the team has looked sluggish all season thanks to a slow start by Pujols (though he has since gotten quite back on track) and inconsistency from Wilson.
As of now, Los Angeles currently sits six games out of first place in the AL West. Barring a miracle, they will almost certainly be out of the playoffs. Thus, rather than a delicious California treat, they get labeled as this Jersey Shore favorite that is bound to make one quite slow on their feet.
Los Angeles Dodgers: Baja Fish Taco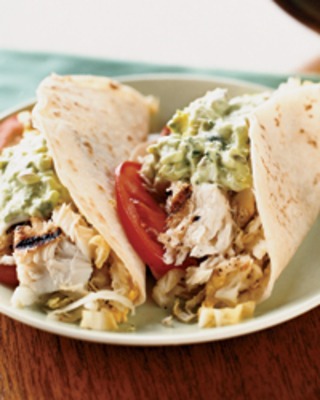 photo courtesy of foodandwine.com
The Dodgers got off to a hot start this year, but are now struggling due to a multitude of injuries that have plagued the roster. Still, this is a young team with a bright future and come 2013, they will take a fresh step in the right direction.
That said, in Los Angeles, what is the freshest food one can enjoy on a sunny day? Well, how about some hot-off-the-grill fish tacos?
Miami Marlins: Gross Macaroni and Cheese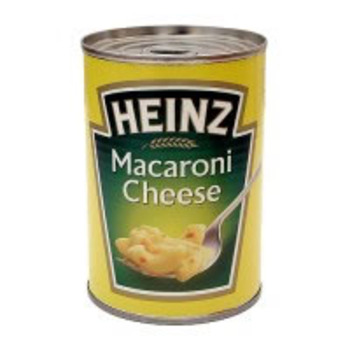 Like the aforementioned Angels, the Marlins had a lot of hype going into the new season thanks to free agent acquisitions Jose Reyes, Mark Buehrle and Heath Bell. While Buehrle has been good, Reyes has been fairly disappointing compared to his 2011 success and Bell lost the closer's job months ago.
Combine that with manager Ozzie Guillen shooting his mouth off, per usual, and Miami has become the hotbed of the grossest type of stale cheese. That's right, I'm talking about the one from the can that you only buy when you're out of food and need to be on a budget until payday.
Milwaukee Brewers: Bratwurst and Sauerkraut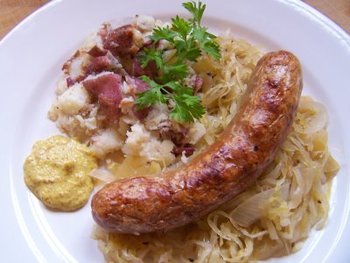 photo courtesy of wizardrecipes.com
The Brewers won't make the postseason this year, but they are a young team with a lot of heart and gusto. Give them one more reliable power bat or solid pitcher, and they can definitely go far.
Thus, it is only right that this team be defined by a hearty meal that many people in the region enjoy and hold dear. I'm talking about a plate full of potatoes, sauerkraut and a fresh off the grill bratwurst with a side of mustard!
Minnesota Twins: Juicy Lucy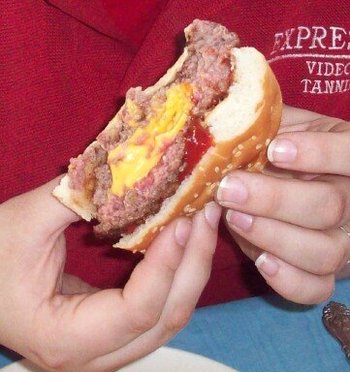 photo courtesy of wellsphere.com
Much like the Boston Red Sox, the Twins are a team where looks can be deceiving. Yes, there are some tough hitters in the lineup, but the team as a whole tends to be soft and nonthreatening.
Still, I'll let the team have some dignity in comparing them to the Juicy Lucy, a Minnesota staple. Just imagine a cheeseburger, but with the cheese INSIDE the burger.
New York Mets: Dirty Water Dogs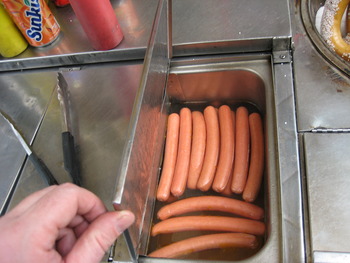 photo courtesy of wikipedia.org
I've spoken to lots of Mets fans over the past few years and while they have an undying love for their team, getting them to explain just WHY they like the boys in Flushing is a tougher task. When push comes to shove, they can't really do much better than "because my parents like them."
Seeing as how the Mets are a team becoming harder and harder to support due to multiple futile seasons and owner Fred Wilpon's known association with convicted felon Bernie Madoff, they get a food association that is very uniquely New York. That's right, folks. I mean fresh from the pushcart dirty water hot dogs.
They may taste good and seem appealing, but eating them probably isn't a good idea.
New York Yankees: Authentic New York Pizza
photo courtesy of intobolivian.com
With all due respect to Chicago, there's only one city that knows how to make the perfect pizza. New York City pizza is simply the best and can be enjoyed year-round, anytime and anywhere. The best part about it is that each pizzeria makes it differently, so the debate is always active: whose pizza is the best?
The Yankees are far from perfect, but they are so uniquely New York that it would be a crime to not compare it to pizza. They're a diverse group of players, each with their own unique skill that they bring to the table. Every fan has a different favorite player, much like many have different favorite toppings for a pizza.
Either way, I'll take a Yankee pie to go, please!
Oakland Athletics: Chinese Combination Lunch Special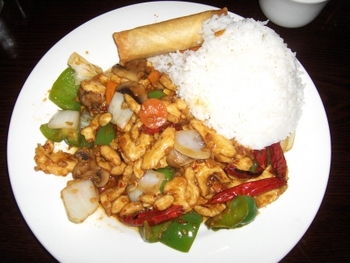 photo courtesy of eskimo.com
I live in New York City and if there's one thing we New Yorkers love, it's Chinese food. Personally, I'm a fan of the old school Chinese places where there are pictures of the food on the walls and the setting is almost like McDonald's. You order your food, wait for it, pay and then either sit at some rickety table to eat it or take it to go. The best part is that the food comes in those old school styrofoam containers, adding onto the authenticity of New York Chinese cuisine.
That said, whenever I look at my local Chinese restaurant's lunch menu and see the specials, I can't help but think of the Oakland A's. For $5-$7, one can get an entree with a side of fried rice, a small soup or egg roll, and a soda. Sounds a bit like Moneyball, don't you think?
Philadelphia Phillies: Philly Cheesesteak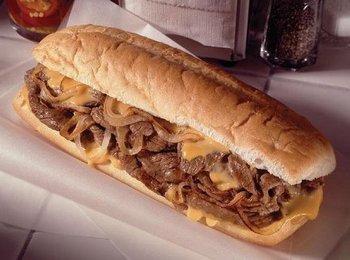 photo courtesy of whatscookingamerica.com
An old team whose age is starting to slow it down, and a city's sandwich that makes all who eat it move a bit slower for a while. Who knows? Maybe the Phillies would play better baseball if the players stopped eating so many of these.
Pittsburgh Pirates: Milk and Cookies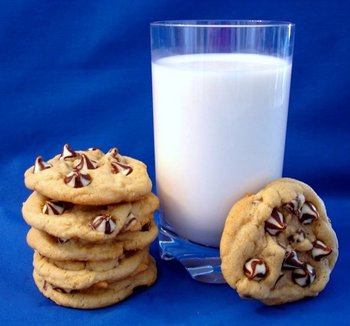 photo courtesy of ecowomen.net
Though the Pirates do have some seasoned veterans on their roster, they are still a very young team as a whole. That said, with all of the 20-somethings he has to work with each day, wouldn't it be hilarious if manager Clint Hurdle had milk and cookies waiting in the clubhouse each day after batting practice?
Given the youth of the team, it's pretty fitting!
San Diego Padres: Melon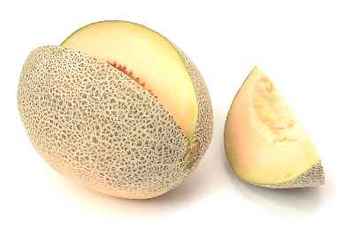 photo courtesy of foodsubs.com
The Padres play in Petco Park, a ridiculously large ballpark that is so pitcher friendly that it borders on the ridiculous. That said, the Padres need to be a food that takes forever to get used to and is just a wide expanse of something.
Simply put, melon is the perfect choice. The taste takes forever to acquire and once you start eating melon, it takes forever to finish a piece. Don't believe me? Try it yourself.
San Francisco Giants: A Mission Burrito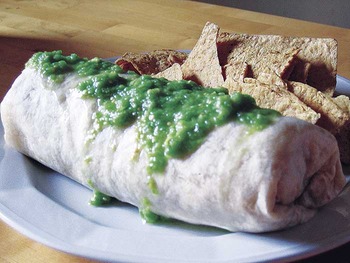 photo courtesy of blog.mobissimo.com
One food that I love probably more than anything in the world is burritos, be they from Taco Bell or from a roadside stand in Mexico. For those of you who haven't been to San Francisco, the mission-style burritos there are simply AMAZING. From a simple flour tortilla to a boatload of rice combined with various meats and all the fixings, this is something you need to try before you die. The marriage of flavors, be them spicy or sweet, just works perfectly.
Seeing as how the Giants are a team with some flavor of their own (thanks, Brian Wilson!) and some great talent to boot, this local culinary phenomenon is a great representation of both the team and the city.
Seattle Mariners: Old, Stale Sushi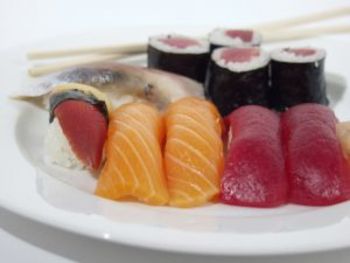 photo courtesy of 2lazydogs.wordpress.com
Seattle has a good working relationship with many of the teams of Nippon Professional Baseball, not surprising considering how the team is owned by Kyoto-based Nintendo. This is a team that has brought over many Japanese stars, including Ichiro Suzuki and former AL Rookie of the Year Kaz Sasaki. Team management hoped that by combining these international talents with some home grown ones, a perenially-winning team could be put together.
Unfortunately, that was not the case as the Mariners have yet to appear in a World Series and have not seen the postseason for over a decade. Given how much I love Japanese food (and culture, as a whole), I feel it's safe to tell you just how disappointing some bad sushi can be. It's so bad that it can ruin your day.
Thus, seeing as how bad the Mariners have been as of late, this food comparison seems quite fitting.
St. Louis Cardinals: Wheaties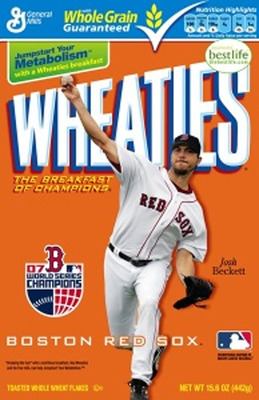 photo courtesy of sawxblog.com
The Cardinals may be struggling a bit this year, but they're still the defending World Series champions. Thus, I think we all know what they're having for breakfast each morning.
Tampa Bay Rays: Tall Glass of Orange Juice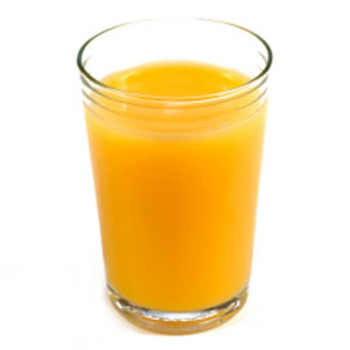 photo courtesy of canigivemybaby.com
The Rays are a young team that are chock full of spunk, so you know these boys are eating right. My best guess is that they get plenty of Vitamin C, which would account for all of their energy.
Oh, and let's not forget that they play at Tropicana Field.
Texas Rangers: T-Bone Steak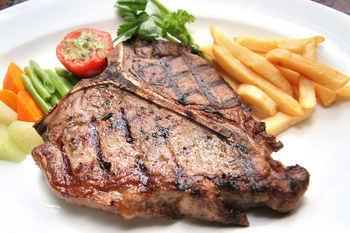 photo courtesy of evernewrrecipies.com
The Rangers have been a dangerous team for a few years now, having been to the World Series each of the past two seasons. The team has also become famous for its powerful lineup, full of home run hitters that can change games with one swing.
Lots of Texas' hitters are well-built, which means they've been eating their protein. Thus, while the Astros run the joke restaurant, the Rangers own the high-class steakhouse where everyone dines on the Texas T-Bone.
Toronto Blue Jays: Poutine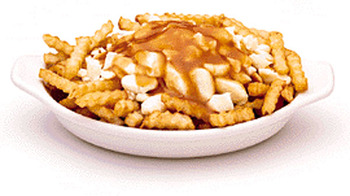 photo courtesy of crumbscraper.com
French fries, gravy and cheese curds. This is the kind of snack where you start off thinking that it's going to be delicious, and it is. Then, about halfway through, you're in utter food coma agony and just want to stop, but the gravy is just too good.
Then again, that sounds a lot like watching the Toronto Blue Jays, who have some hot bats but pitching that makes one's skin crawl.
Washington Nationals: Apple Pie a La Mode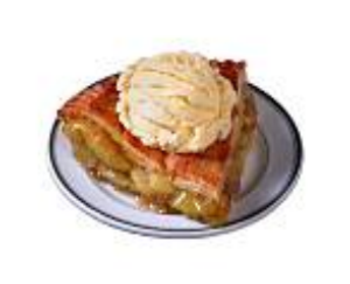 photo courtesy of bulkoils.com
We've come to the team that plays in our nation's capitol as well as the team that happens to be the best in baseball right now. That said, the Washington Nationals shall get the ultimate American food: apple pie a la mode, just like mom used to make!
Seriously, ladies and gentlemen. If you don't enjoy apple pie OR ice cream, then your taste buds must need an adjustment. This dessert is probably the best ever invented and though I'm not a Nationals fan, I'm honored to have them represent it.
Keep Reading