New Orleans Saints' Heroes and Zeros vs. Redskins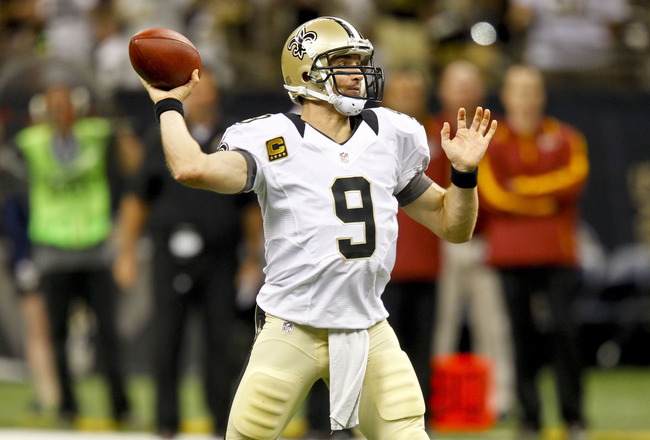 Derick E. Hingle-US PRESSWIRE
It was supposed to be a time of rejoice.
The NFL bans of Saints players were lifted. It seemed that luck would be turning for the Saints organization. A new defensive coordinator, a new defensive look. Same high-octane offense. The start of the football season was supposed to be a sort of salvation from all the hoopla surrounding the Saints.
Fans wearing the black and gold colors of the New Orleans Saints all packed into the Mercedes-Benz Superdome filling the air with Who Dat chants, in anticipation of their football team. A football team that stood strong as they withstood all their scandals, and was ready to take the NFL by storm this season.
The odds were good, and the Saints would get off to an excellent start, going against the Redskins and their rookie quarterback. At home, where the Saints went 9-0 last season.
Heisman Trophy winner Robert Griffin III changed that mood in New Orleans. He led the Redskins to an impressive victory over the Saints. The Redskins and their quarterback outplayed the Saints in all phases.
Alas, it's only the first game of the season, but the Saints can take in and learn a lot from this loss.
Even with a loss, there were some players who stood out and picked up where they left off last season, and others who weren't too impressive and need to pick it up.
Let's take a look at the Saints' heroes and zeros from today's game against the Washington Redskins.
Zero: Drew Brees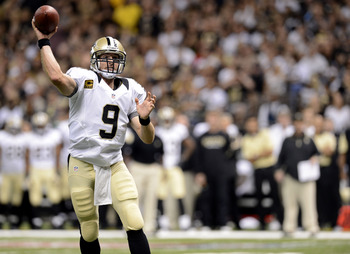 John David Mercer-US PRESSWIRE
As much as I hate doing this, and it seemed all wrong putting Drew Brees in this not-so-pleasant superlative, Brees was not on his game today.
His numbers weren't awful and probably would have been enough to pull off a win if it weren't for RGIII's performance—and his stats would have been good for any other quarterback, but not for the Saints quarterback.
Brees completed 24-of-52 passes for 339 yards, three touchdowns and two interceptions that came in the fourth quarter. He completed only 46 percent of his passes.
Not something you'd expect from Drew Brees, but he was out of sync in this game.
Hero: Martez Wilson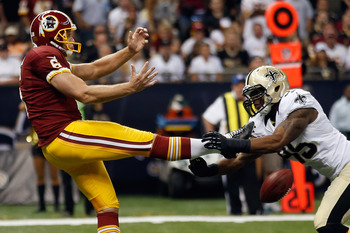 Chris Graythen/Getty Images
Defensive end Martez Wilson used his strength and speed to blow past the middle of the Redskins punt unit to block a punt, leading to a Courtney Roby four-yard touchdown return, closing the Redskins lead to 20-14.
The play was huge in getting the team closer, but the Saints offense showed rust and couldn't take a hold of the game.
Zero: Marques Colston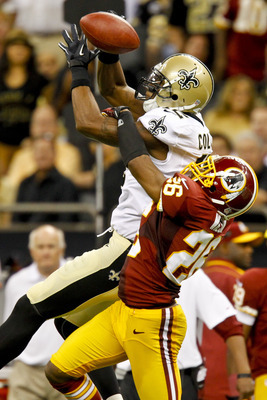 Derick E. Hingle-US PRESSWIRE
The wide receiver, who did not play much during the preseason due to injury, ended with four receptions for 71 yards. Not too impressive. He also had a sure-fire touchdown knocked out of his hands for a fumble at the 3-yard line.
The catch that was supposed to be a touchdown ended up a turnover, and it could've been huge for the Saints.
Colston also had a huge drop at the opening drive of the second half that would've been for a first down, but instead the offense stalled out.
Hero: Darren Sproles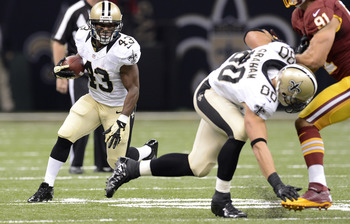 John David Mercer-US PRESSWIRE
The explosive running back did not get a carry in this game. The Saints barely ran the ball, which was a mistake.
Darren Sproles did most of his damage on special teams and through the air. He returned three kickoffs for 103 yards, breaking a long run for 48 yards, setting the Saints up with nice field position.
Sproles also had five receptions for 35 yards and a score. He's the ultimate all-around player who can do it all.
Zeroes: Saints Defense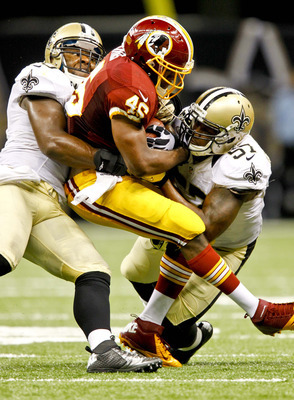 Derick E. Hingle-US PRESSWIRE
There were some nice individual performances, like Cameron Jordan's career-high 11 tackles, but collectively the defense was a sad bunch.
The Redskins outgained the super-powered Saints offense 464 yards to 358 yards. Rookie quarterback Robert Griffin III looked good as he torched the Saints for 320 yards and two touchdowns. The Saints did not do a good job of containing him and only sacked him once, and did not generate much pressure.
The defense failed to slow down the Redskins offense and couldn't get them off the field. The Redskins controlled the clock, having possession for 39 minutes.
Hero: Lance Moore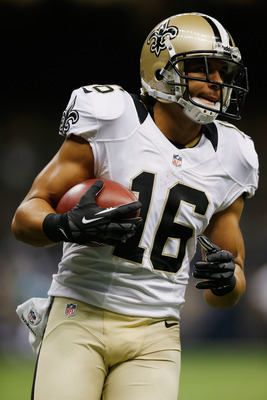 Chris Graythen/Getty Images
In a game where the Saints' No. 1 receiver had an off game, someone had to step up. Wide receiver Lance Moore did just that.
Moore contributed to the Saints' offense by racking up 120 yards on six receptions and a touchdown. Moore was effective and dangerous, and he may be a serious threat and can take some heat off of Colston and tight end Jimmy Graham.
Make sure to follow me on Twitter for more Saints news and other NFL updates: @ItsJPeralta.
Keep Reading

New Orleans Saints: Like this team?