LA Dodgers: How Will Newly Formed Roster Change with a Full Season?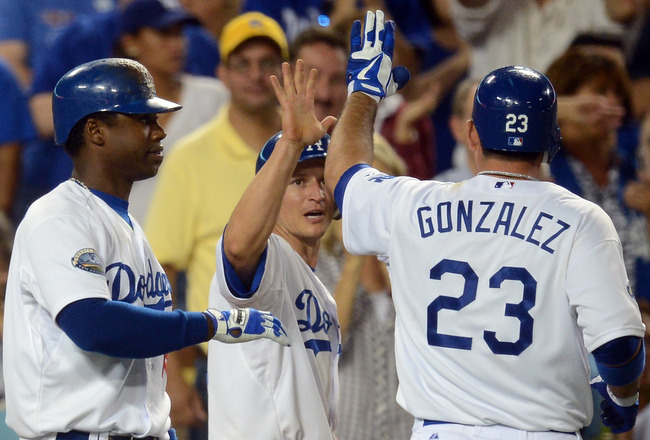 Harry How/Getty Images
Having the right personnel on a sports team doesn't necessarily guarantee success. It's true in nearly all professional sports, and especially true in baseball, a sport that relies heavily upon a collective effort.
We've seen this on multiple occasions recently in the MLB: the past two seasons with the Boston Red Sox, this season with the Los Angeles Angels, and most recently with the Los Angeles Dodgers.
The Blue Crew had high hopes for a playoff run when it added Hanley Ramirez, Shane Victorino, Josh Beckett and Adrian Gonzalez all in one season—but those hopes are beginning to dissipate as the Dodgers struggle to encroach upon first place in the National League West.
While the Dodgers still have an outstanding chance to make the playoffs this season as they grind out their last 20 games in hopes of overcoming the Giants in the pennant race, let's take a look forward at what the team will look like next year after a spring training together and a full season to look forward to.
What will change next season? How will the new additions transform?
Team Chemistry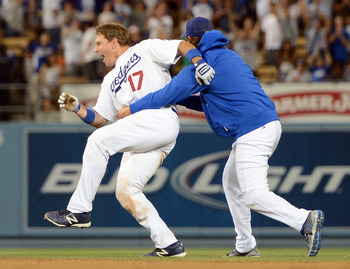 Harry How/Getty Images
It isn't a secret that team chemistry is something that improves over time, and sometimes can only improve over time.
Adding superstar players like Ramirez, Gonzalez and Beckett in the middle of the season changes the face of the ball club and throws off the vibe in the clubhouse.
Whereas Kemp, Ethier and Kershaw were previously the main faces of the franchise, new additions like Ramirez and Gonzalez change the dynamics of the team.
Thankfully for the Dodgers, the team seems to have warmly accepted the new additions—at least on a superficial level—so there don't appear to be any clubhouse conflicts.
Although the players may not be bumping heads, a proper spring training and a full season will help them gel more as a team, and specifically help them learn one another's on-field habits.
Manager's Knowledge of Players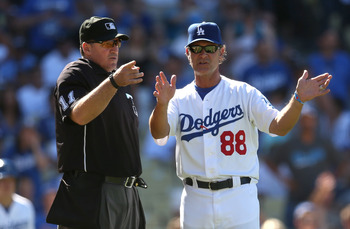 Stephen Dunn/Getty Images
Don Mattingly has a problem that any manager would love to have: how to make a batting lineup with four of the best power hitters in baseball.
It may seem like you could just throw those guys in any lineup and they would succeed, but as we've seen this season, it unfortunately doesn't work that way.
Baseball is a very mental game and some hitters do better in certain slots or situations, and Mattingly will have the chance to better understand where to put each player in the lineup after seeing them in action for a while.
As it stands, the lineup is: 1) Mark Ellis 2) Shane Victorino 3)Adrian Gonzalez 4) Matt Kemp 5) Hanley Ramirez 6) Andre Ethier 7) Luiz Cruz 8) A.J. Ellis 9) Pitcher.
Mattingly has swapped around his power hitters from the No. 3 to No. 6 spots, and will settle on a more concrete batting lineup by next season after some trial and error this season.
As all teams, the Dodgers may undergo some changes in the offseason and will also have to adjust to the addition of currently injured Carl Crawford (who has yet to wear Dodger blue), which may chase Shane Victorino out of L.A.
However, the core group of Dodgers should remain in L.A. and the management should have a much better understanding of its players next season, which can only prove beneficial.
Media Scrutiny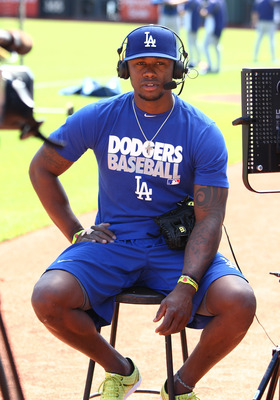 Tony Medina/Getty Images
As with any major trade, there is an intense amount of media scrutiny that follows a "blockbuster deal"—which the Dodgers' deals with the Marlins and Red Sox were tagged as.
While increased media attention is beneficial to the team in many ways, it can be ultimately detrimental to the team if its players are negatively affected by it.
Professional athletes know that media attention, both negative and positive, comes with the territory; but they sometimes struggle to ignore it when it is so prevalent.
Hanley Ramirez and Adrian Gonzalez understood the expectations of the Dodgers organization when they were traded and felt the pressure of those expectations from the get-go.
Adding pressure from the media, especially in their failure to produce runs, does not help, even though the players would ideally be able to tune out the media commotion.
However, when a player is grilled by reporters after a rough game and forced to focus on his shortcomings, there is no way to avoid the negativity.
Fortunately for the players, things should calm down next season, when a playoff run isn't at stake and the media has grown more accustomed to this Dodgers team.
Less pressure from the media allows the players to be more relaxed and focus more on simply playing baseball and not becoming mentally entangled in the game.
Conclusion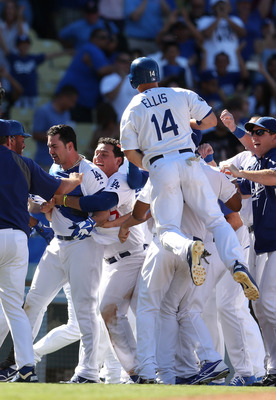 Stephen Dunn/Getty Images
With prospective improved team chemistry, manager Don Mattingly having a better understanding of the players and less media scrutiny, the Dodgers will be much better off.
Of course, there are numerous factors that play a role in a team's success, but the Blue Crew will be a force to be reckoned with next season not only in the NL West but to win its first World Series since 1988.
We won't know if this team is capable of coming together as a cohesive unit until we see it happen; and perhaps Don Mattingly will never get a grasp of his new players and the media may never lay off, but an offseason can only help this team.
However, before we look ahead to that offseason, we have a very exciting pennant race to follow.
Keep Reading

Los Angeles Dodgers: Like this team?