Wisconsin Football: 3 Reasons Why Oregon State Upset the Badgers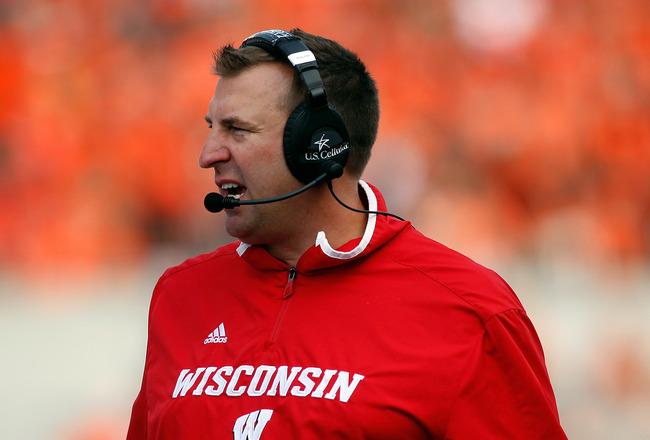 Jonathan Ferrey/Getty Images
Were there more than three reasons why the Wisconsin Badgers were upset by Oregon State on Saturday? The short answer is "yes." The long answer is "yesssssssss."
But some of these reasons go hand-in-hand. A few are obvious, such as the fact that Wisconsin only scored seven points. Credit has to go to the Oregon State defense for completely dominating the Wisconsin offense up until late in the fourth quarter, but the Badgers lost this game a lot more than the Beavers won it. And who knows what would have happened if the Badgers weren't robbed of the opportunity to put together a late, game-winning drive.
Those are a few reasons that didn't crack the list. Continue on to find out the ones that did.
Matt Canada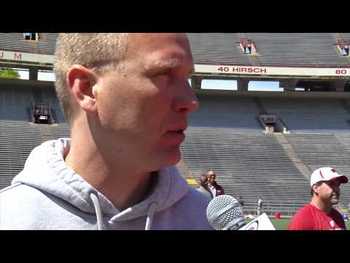 Matt Canada is the new Badgers' offensive coordinator. This is a problem.
Prior to being hired as the man who would replace Paul Chryst, Canada was the offensive coordinator at Northern Illinois. What kind of offense did the Huskies run? A spread attack with a dual-threat quarterback behind center.
For those of you familiar with Wisconsin football, the Badgers run a pro-style offense with a one-dimensional QB, and yet they decided to hire an offensive coordinator who had not previously run such an offense.
It's interesting that so few people pointed out this issue, as it is rather glaring. While many were expecting Danny O'Brien to relive his successful freshman year at Maryland because he was returning to a pro-style offense, he is under the tutelage of a man who is rather oblivious to its characteristics.
It doesn't bode well for O'Brien, and I think that was a key reason why he struggled against Oregon State on Saturday after having his way with an FCS opponent Week 1.
How to fix this problem? It won't be easy, but either Canada needs to figure this thing out quickly, or else the Badgers may have to adapt more of a spread offense. Curt Phillips was thought to be a dual-threat QB who would fit that bill better than O'Brien, but multiple knee surgeries haven't helped his mobility, and I don't foresee Phillips taking over the reigns anytime soon; it's a next-to-impossible scenario.
Or Canada could be fired—also very doubtful. Is it too late for Chryst to come back?
The Offensive Line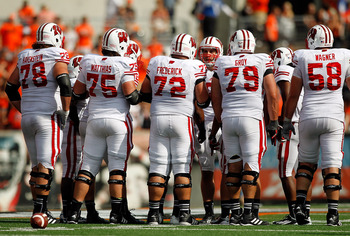 Jonathan Ferrey/Getty Images
See those names in the picture? Only Rick Wagner and Travis Frederick should be recognizable, and that alone has spelled trouble for the Badgers thus far in 2012.
Year after year, the Badgers have lost offensive linemen to graduation—with some entering the NFL—and year after year, the next man in line has stepped up and done the job.
It's something Badger fans have grown accustomed to, which makes the first two games of the 2012 season rather eye-opening.
Heisman hopeful—or at least at one point—Montee Ball has been held to under four yards a carry so far this season, and a large part of that is due to the new faces up front who are attempting to clear a path for Ball to run.
In comparison, Ball ran for just under 6.5 yards a carry in his first two games of 2011. On Saturday against Oregon State, Ball only managed 61 yards on 15 carries.
One beacon of hope for Montee Ball's Heisman dreams comes from the following statistic: through two weeks of play in 2011, Ball had 181 rushing yards—a relatively slow start compared to how he performed the remainder of the year. This season, Ball also has 181 yards on the ground.
Getting back to the offensive line, it's tough to tell if the unit is having difficulty adjusting to new blocking schemes (the Badgers also have a new O-line coach in Mike Markuson), or if these guys just aren't that good.
Who knew that the departure of two coordinators would create such havoc in Madison?
UPDATE: Markuson was reportedly fired Sunday night (via BadgerBlitz.com)
Jared Abbrederis' Injury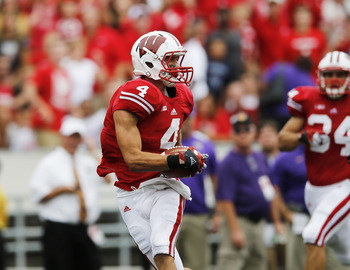 Tom Lynn/Getty Images
The Badgers' bona fide No. 1 receiver, Jared Abbrederis, left Saturday's game against Oregon State in the second quarter with a chest injury.
One of the only proven threats in the Wisconsin passing game, this left Danny O'Brien with inexperience galore at wide receiver, and he struggled mightily as a result.
Abbrederis brings a lot to the table for the Badgers, and while it's impossible to know what kind of impact he would have had if he avoided injury, I'm willing to bet that it would have been a positive one that would have put Wisconsin in a much better position to win the game.
The Badgers were never out of this game despite their horrendous performance on offense, and had Abbrederis been available, it would have made the comeback effort easier and a victory more obtainable.
We can only hope for a speedy recovery, and it's possible the following tweet from Abbrederis means just that.
Appreciate all the thoughts and prayers! I will be back asap.Can't make any excuses just got to get back to work and get our offense rolling

— Jared Abbrederis (@abbrecadabra) September 10, 2012
Keep Reading

Wisconsin Badgers Football: Like this team?