Week 3 College Football Conference Power Rankings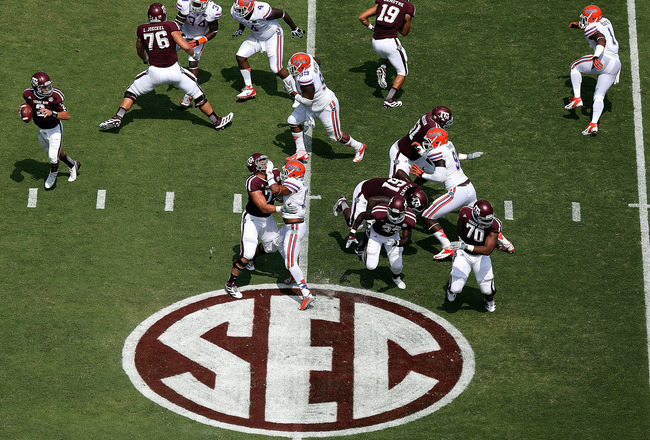 Ronald Martinez/Getty Images
After two weeks of hard-hitting, exciting, shocking and exhilarating college football, it's time to power rank the conferences.
Texas A&M and Missouri fans were able to chant "SEC" for the first time this year, the Pac-12 had a marquee week for most of its programs and the Big Ten had a week that it would rather forget.
However, not everything was rosy even for the mighty SEC in Week 2. That's why we love college football.
How do the conferences stack up going into Week 3? Read on.
12. Conference USA
Scott Halleran/Getty Images
Conference USA is one of only two FBS conferences that doesn't have an unbeaten team after just two weeks of the 2012 season.
Six conference members (Southern Miss, UAB, Memphis, Houston, UTEP and Tulane) have yet to win a game in 2012. To put that in perspective, all of the Sun Belt teams have at least one victory.
It's not like a lot of these losses are against Top 25 teams either. For example, Houston lost to new FBS program Texas State, and Memphis lost to FCS Tennessee-Martin.
To top it all off, C-USA has only one win against a team from an AQ conference: Rice's 25-24 win over Big 12 bottom-dweller Kansas.
11. Mountain West Conference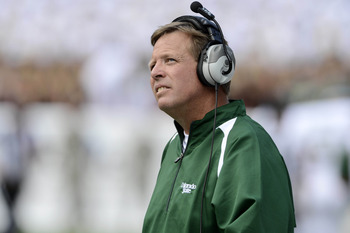 Ron Chenoy-US PRESSWIRE
My, how the mighty have fallen.
The MWC used to be the fifth- or even the fourth-best conference in the FBS when it had BYU, TCU and Utah. Can you imagine what the MWC would be if it had managed to hold on to those three teams and pick up Boise State?
Alas, it was not meant to be.
There are no undefeated teams left in this conference and no real quality wins for this conference to hang its hat on. The MWC only has two victories over AQ conferences: Nevada over California and Colorado State over Colorado. However, Colorado State managed to lose to FCS North Dakota State the very next week, while Nevada lost to South Florida.
Ah, what might have been.
10. Mid-American Conference
Andrew Weber-US PRESSWIRE
Ohio has the marquee win for the MAC, as it managed to take down Penn State at Beaver Stadium, but it should be said that the Nittany Lions' program is a mere shadow of what it used to be before the events of the last year.
The Bobcats are the last remaining unbeaten team in the conference, and they just might go undefeated and bust the BCS.
The rest of the conference? Well, Bowling Green put up a good fight at the Swamp Week 1. However, the MAC also has probably the worst team in the FBS in UMass.
9. Western Athletic Conference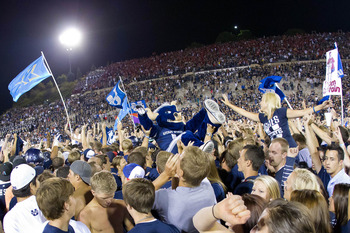 Russ Isabella-US PRESSWIRE
This may be the final year for the WAC, but so far it seems that these teams are determined to send out the conference with a bang.
Utah State upset in-state rival and Pac-12 member Utah for the first time since 1997. UTSA has already won its first two games as a member of the FBS, but to be fair they were against fellow new FBS team South Alabama and Division II program Texas A&M-Commerce.
Everyone else has won at least one game except poor Idaho. It's no coincidence that the Vandals are one of only two teams that haven't found a new home for next season after the WAC flies apart.
8. Sun Belt Conference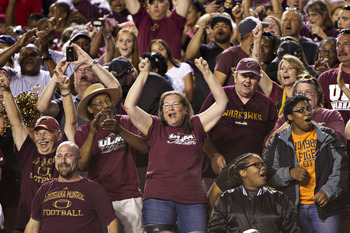 Wesley Hitt/Getty Images
Don't look now, but the Sun Belt is rising from the bottom.
Louisiana-Monroe pulled off the upset of the young college football season by upsetting Arkansas in Little Rock. Sure, it isn't technically the Razorbacks' home stadium, but it really is the closest thing to it.
Louisiana-Lafayette is still unbeaten, and all of the Sun Belt teams have at least one win.
And let's face it: More Sun Belt teams would still be undefeated at this point if they weren't playing the sacrificial lamb for elite programs like Oregon and LSU.
7. FBS Independents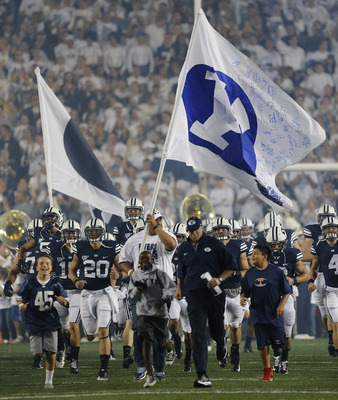 George Frey/Getty Images
BYU and Notre Dame are both ranked in the Top 25. Interestingly, BYU is the only team that's not in an AQ conference other than Notre Dame to be ranked in either major poll this week.
However, we're still not quite sure how good the Cougars and Fighting Irish really are. BYU has a solid victory over Washington State, and the Fighting Irish destroyed Navy and scraped by Purdue.
We'll find out just how good these two teams are as they face the meat of their respective schedules, beginning next week as the Irish take on Michigan State and BYU faces Utah in the Holy War.
Navy's still a bit of a mystery. We know that the Midshipmen aren't great—their season opener proved that much.
However, I think we already know how long of a year it is going to be for Army. It got steamrolled last week by SDSU to the tune of 42-7.
6. Big East Conference
Andy Lyons/Getty Images
The Louisville football program is trying to keep pace with its basketball program by at least trying to break into the Top 16. The Cardinals are the only ranked team in the conference at No. 19/20 in the AP/coaches polls.
However, the Big East also has probably the worst team in an AQ conference in the Pittsburgh Panthers. Pitt is 0-2, and neither one of those games was really that close.
The most embarrassing part? One of those losses was to FCS Youngstown State.
5. Big Ten Conference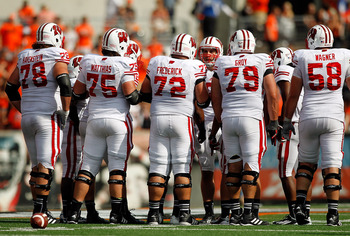 Jonathan Ferrey/Getty Images
Week 2 wasn't kind to the Big Ten.
Both Nebraska and Wisconsin lost to Pac-12 teams on the road and subsequently fell out of the AP poll, although both the 'Huskers and Badgers are still ranked in the coaches poll. Penn State is now 0-2 in the post-Joe Paterno era, and it doesn't look like Happy Valley is going to have much to be happy about this season.
Oh, and don't forget Illinois getting torched at Arizona State and Iowa dropping to in-state rival Iowa State.
Still, not all is doom and gloom for the Big Ten. Michigan State has the best win of the year thus far over Boise State in Week 1, Ohio State looks formidable under Urban Meyer and lowly Northwestern managed to take down an SEC team.
Sure, it was Vanderbilt, but still...
4. Atlantic Coast Conference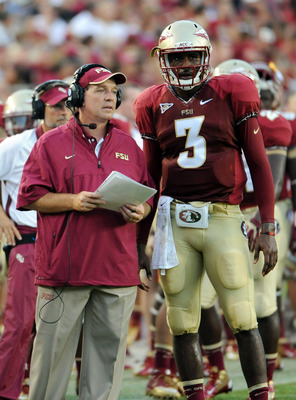 Melina Vastola-US PRESSWIRE
So far, so good for the ACC.
Florida State remains a national championship contender, Clemson beat Auburn in Week 1, Virginia beat Penn State and so far the ACC really doesn't have any real embarrassing losses.
Well, the Duke Blue Devils did have their rear end handed to them against Stanford, and Miami (FL) got annihilated by Kansas State, but other than that...
3. Big 12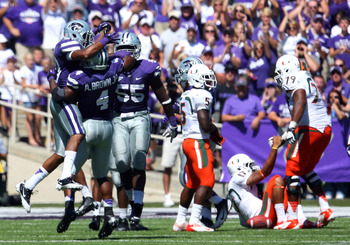 Scott Sewell-US PRESSWIRE
Eight of the 10 members of the Big 12 (I just can't get over the irony) are still undefeated after two weeks of football.
However, when you look at who this conference has played, it's really not impressive.
Iowa State beat Iowa, and Kansas State destroyed Miami (FL), but I gotta say I'm not jumping up and down over those wins. The only real marquee matchup thus far for the Big 12 was Oklahoma State vs. Arizona, and it was the Wildcats that came away with the W.
Still, this conference has too many really good programs to ignore, even if they haven't been properly tested yet this season.
2. Pac-12
Jaime Valdez-US PRESSWIRE
The good: Oregon looks as explosive as ever, Oregon State upset Wisconsin, Arizona took out Oklahoma State, UCLA came out victorious over Nebraska and USC still looks like a national championship contender.
The bad: California lost to Nevada, Washington got embarrassed by LSU (but to be fair, how many teams wouldn't be?) and Washington State lost to BYU and only just got by Eastern Washington.
The ugly: Pac-12 newcomers Colorado and Utah. The Buffaloes are 0-2 with their losses being against Colorado State and FCS Sacramento State, while the Utes fell to Utah State for the first time since the '90s.
1. Southeastern Conference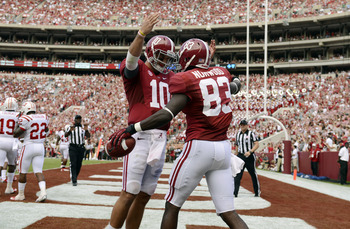 John David Mercer-US PRESSWIRE
While most of the SEC's teams have been carrying the conference's banner well, Arkansas dropped it entirely by losing to a Sun Belt team.
Louisiana-Monroe's shocking upset of Arkansas aside, this conference still has two legit Top Five teams in Alabama and LSU.
Besides, the SEC does have the most impressive list of nonconference wins of any conference thus far. The victims include Michigan, NC State and Washington.
I'm not quite sold on the high rankings for Georgia, South Carolina, Tennessee and Florida just yet, but there's no question that through two weeks of college football the SEC still reigns supreme.
Keep Reading