Dallas Cowboys: Handing Out Awards After Week 1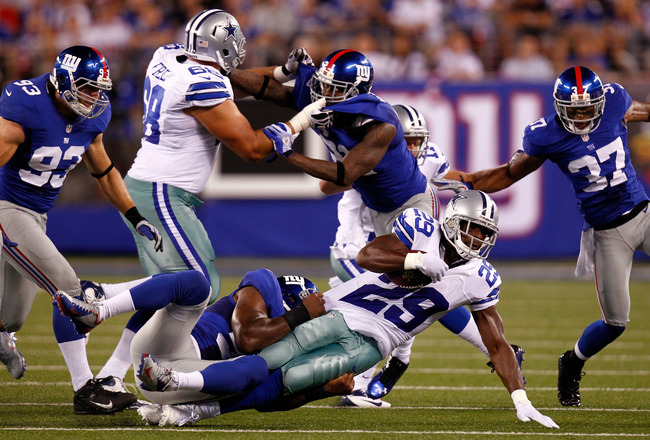 Jeff Zelevansky/Getty Images
The Dallas Cowboys are undefeated for the 2012 season. After Wednesday night's 24-17 victory against the Giants, Dallas moved to 1-0 and now sits atop the very tough NFC East—but so will the Philadelphia Eagles and Washington Redskins after their victories on Sunday.
Ahhh, to the victor go the spoils.
That is why we are giving out awards after the Cowboys' performance in Week 1. If the Cowboys go undefeated, we may have to do this each week.
We will give an award to the player with the most passing yards in Week 1 (wink, wink), the best pass rusher (wink, wink) and whoever cleans Jerry Jones' eyeglasses the best.
Let's get into it!
Most Valuable Player: Tony Romo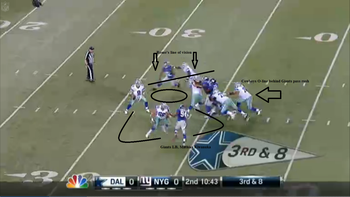 We will keep it simple with this one. Which player deserves to be named MVP after Week 1?
Let's see...
Wide receiver Kevin Ogletree had a career night with two touchdowns and 114 receiving yards.
Running back DeMarco Murray burned the field up with a 48-yard dash and 140 total yards.
But for the night, I believe the award should go to the man who threw two touchdowns behind a scary offensive line. And when I say scary, I mean bad scary.
Tony Romo's full stat line included a rating of 129.5, 307 passing yards and a completion percentage of 75 percent.
One of the most impressive things that I saw was Romo's ability to maneuver and work behind the Cowboys' new offensive line. Romo lost center Phil Costa after about three plays and worked with newly acquired center Ryan Cook.
He was sacked twice and threw an interception to Giants linebacker Michael Boley after he was blitzed and saw a tremendous amount of pressure through his facemask.
The picture above diagrams the interception.
There is a lot going on in this play, and I will give a brief breakdown as to what Romo saw when he threw his first interception of the season.
After calling "hike," the Giants rushed for and immediately got in front of the Cowboys offensive line. As Romo is attempting to go through his progressions, his pocket collapses as he has Giants defensive ends Osi Umenyiora and Mathias Kiwanuka on his left and right sides.
His largest problem comes up the middle, as his line of vision is compromised due to Ryan Cook being bull-rushed by Giants lineman Justin Tuck. When Romo gets pressure directly in his face, he usually makes mistakes.
He steps up in the pocket, sees the pressure from the middle, releases the ball and never sees Boley skating across the field to intercept the ball.
His one turnover in the game illustrates the type of offensive-line play he worked behind.
With all of that, Romo still had one of his most efficient days and two touchdown passes.
He was the game's most valuable player.
Second-Most Valuable Offensive Player: Kevin Ogletree
I couldn't leave receiver Kevin Ogletree out of the awards show.
The 'Tree was in danger of being cut this offseason and turned in a career performance against the Giants.
He was targeted 11 times, caught eight balls for 114 yards and stepped into the end zone twice for 12 points.
He put on a show—all of this from a player I did not expect to make the opening-day roster.
Keep it going, Mr. Ogletree.
Defensive Player of the Game: Cowboys Secondary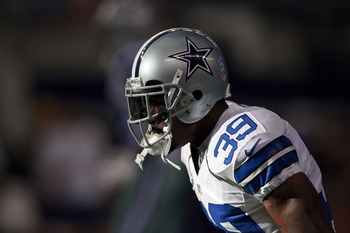 Ronald Martinez/Getty Images
This one is a little tough because the Cowboys played so well as a unit.
Defensive end Jason Hatcher recorded a sack, Sean Lee held down the middle with 12 tackles and Anthony Spencer had seven tackles of his own.
But I'm headed in another direction. I loved the way the defensive line set the tone and pressured Eli Manning, who was sacked twice by DeMarcus Ware, but this night belonged to the Cowboys secondary.
Cornerbacks Brandon Carr and Morris Claiborne stole the show by holding the Giants' receiving corps to just 10.1 yards per reception.
Receiver Victor Cruz led his team with six receptions, but he had just 58 yards and no touchdowns.
The keys for the Dallas secondary were that they gave up just two long plays and that Claiborne and Morris held Cruz, Hixon and Nicks to zero touchdowns.
The season is just one game young, but this is a good start for Jones' new financial investments.
Biggest Disappointment: Cowboys Offensive Line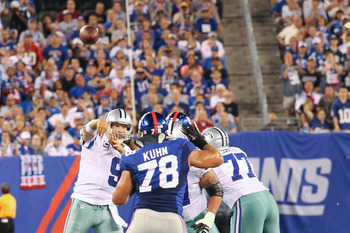 Anthony Gruppuso-US PRESSWIRE
Tyron Smith, Doug Free, Phil Costa, Ryan Cook, Mackenzy Bernadeau and Nate Livings all saw time on the field Sunday. It is a little tough to develop or gel when there are so many moving parts coming in and out for just one game.
The numbers may suggest that the Cowboys offensive line played well because the team won.
Yes, DeMarco Murray rushed for 131 yards with 6.6 yards per carry, but before his 48-yard scamper, he had just 35 yards on 11 carries.
Romo was scrambling and sidestepping defenders for most of the night. He was sacked twice, the line was flagged four times for false start penalties and they missed their fair share of assignments.
They have a long way to go before their unit moves beyond disappointing.
Best Moment of the Night: Rob Ryan and Jerry Jones
I have two nominees for this category.
The first one goes to Cowboys defensive coordinator Rob Ryan. The Giants were faced with a tough decision at one point during the contest last Wednesday.
New York was on the goal line and could have either gone for it on fourth down or kicked a field goal.
It seems as though Mr. Ryan urged the Giants to do something in his favor by yelling an expletive at the Giants sideline.
Because this is a family site, I will not repeat the line.
Next up is Jerry Jones. The NBC cameras caught Jones having his glasses cleaned by another gentleman sitting in the owner's box.
According to the Star-Telegram, Jones says that it was his son-in-law and he offered to clean them during the game.
It's cooler to think that Jones has hired a professional hand solely to clean his glasses.
Check out the video here.
I can't pick just one, so I'm going to go with both.
Ryan can be the team's comic relief, and Jones just throws his money around like...well...like it's his money.
Keep Reading

Dallas Cowboys: Like this team?