Handing Out Game Balls for This Weekend's NFL Games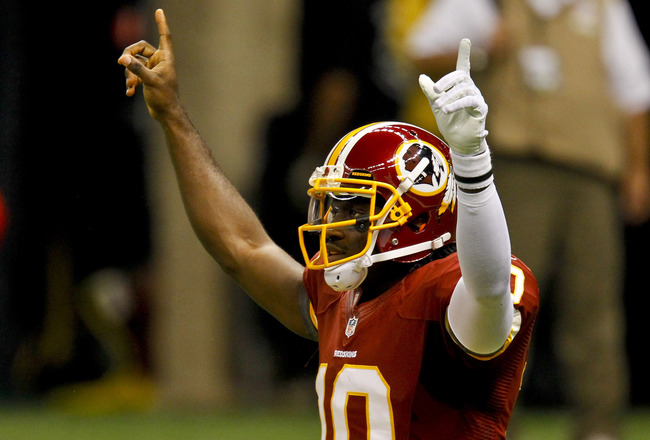 Derick E. Hingle-US PRESSWIRE
Aside from Monday night's doubleheader, the first week of the NFL season is in the books. There have been great plays, terrible plays, chalk wins and wacky upsets. Some players have backed up the media hype, while others have fallen way, way short.
Of the rookie quarterbacks, who excelled and who struggled? Which teams looked vulnerable, and which teams looked unbeatable? Which teams took their first step toward the playoffs, and which teams are still standing on the starting line?
Which players have earned a game ball this weekend?
Here they are.
Dallas Cowboys at New York Giants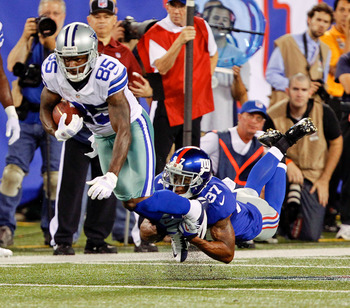 The Star-Ledger-US PRESSWIRE
Laurent Robinson Deja Vu Game Ball: Kevin Ogletree, Cowboys WR
Ogletree was the breakout star, hauling in eight balls for 114 yards and two touchdowns. Where do the Cowboys keep finding these guys?
Tiki Barber Butterfingers Game Ball: David Wilson, Giants RB
Wilson struggled with fumbles in college, and it looks like he hasn't made much progress. When he put the ball on the turf, coach Tom Coughlin put him on the bench.
St. Louis Rams at Detroit Lions
Andrew Weber-US PRESSWIRE
Tim Tebow "I Was Just Making It Close So I Could Come Back" Game Ball: Matthew Stafford, Lions quarterback
After throwing three first-half interceptions and falling behind in the fourth quarter, Stafford engineered back-to-back 80-yard touchdown drives to tie and then dramatically win a game that never should have been close.
Indianapolis Colts at Chicago Bears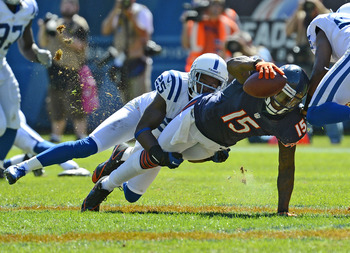 Mike DiNovo-US PRESSWIRE
Romy and Michelle's High School Reunion Game Ball: Jay Cutler and Brandon Marshall, Bears quarterback and wide receiver
Reunited in Chicago, Cutler and Marshall look like they're back and better than ever. Cutler completed 21 of 35 passes for 333 yards and two touchdowns, and Marshall caught nine of those for 119 yards and a score.
Leroy Hoard Touchdown Vulture Game Ball: Michael Bush, Bears running back
Matt Forte had 80 rushing yards and a touchdown on just 16 carries, a perfect five yards per tote. Michael Bush had just 42 yards on 12 carries—but he also had two one-yard touchdown runs. Fantasy owners, despair (or rejoice!).
Miami Dolphins at Houston Texans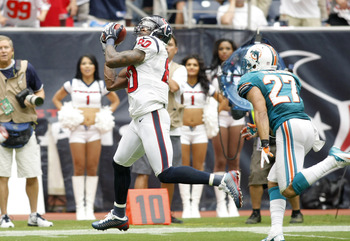 Brett Davis-US PRESSWIRE
Murphy's Law Game Ball: Ryan Tannehill, Miami Dolphins
After one quarter, Tannehill and the Dolphins led the Texans 3-0. After an apocalyptic second quarter that saw three Tannehill interceptions and a lost fumble, the Dolphins trailed 24-3.
Philadelphia Eagles at Cleveland Browns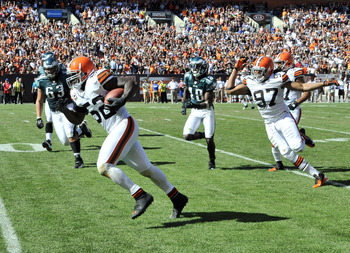 David Richard-US PRESSWIRE
If You Want Something Done Right, You've Got to Do It Yourself Game Ball: D'Qwell Jackson, Browns LB
During a miserable performance by the Browns offense, with the game still within reach, Jackson took matters into his own hands with a fourth-quarter go-ahead pick six. But it wasn't enough to overcome...
Mother Teresa Selflessness Game Ball: Brandon Weeden, Browns quarterback
...Weeden giving the ball to the Eagles four times. That's a very charitable act, giving a whole football game away!
Atlanta Falcons at Kansas City Chiefs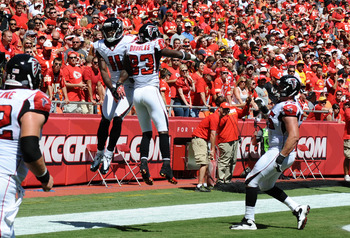 John Rieger-US PRESSWIRE
Barry Sanders, You Cannot Stop Him, You Can Only Hope to Contain Him Game Ball: Julio Jones, Falcons wide receiver
Jones followed up an impressive rookie season with an outstanding preseason, and he's shown absolutely no signs of slowing down now that it counts. Six catches, 108 yards and two touchdowns almost doesn't do his performance justice. He's now, officially, on pace for 96 catches, 1,728 yards and 32 touchdowns.
Those numbers actually sound kinda low.
Jacksonville Jaguars at Minnesota Vikings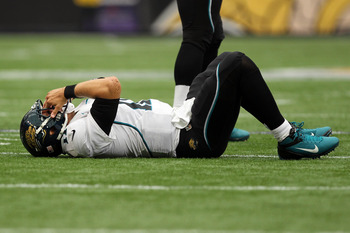 Brace Hemmelgarn-US PRESSWIRE
Only in Horseshoes and Nuclear Warfare Game Ball: Blaine Gabbert, Jaguars quarterback
For maybe the first time in his career, Gabbert looked like a first-round talent; his tremendous 39-yard touchdown pass to Cecil Shorts put the Jags ahead with seconds left in the game.
But that and the ensuing two-point conversion weren't enough to prevent the Vikings from tying the game and winning it in overtime.
Too bad close doesn't count.
Jerry Rice Lightning-Fast Rehab Game Ball: Adrian Peterson, Vikings running back
Incredibly, just eight months after blowing out his knee, the man they call "All Day" proved he can carry the rock just like he always does. He had 17 carries for 84 yards and two scores on a knee mere mortals would barely be able to walk on.
Washington Redskins at New Orleans Saints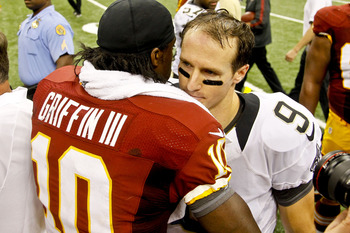 Derick E. Hingle-US PRESSWIRE
A Really Tall David Beats a Really Short Goliath Game Ball: Robert Griffin III, Redskins quarterback
Physically, RGIII has every advantage over Drew Brees: height, weight, speed, agility and hair. But in quarterback skill, nobody stands taller than Brees.
That Griffin, as a rookie, squared off against Brees in the Superdome and flatly outpassed him is astounding. That his team won in the process is even more so.
Buffalo Bills at New York Jets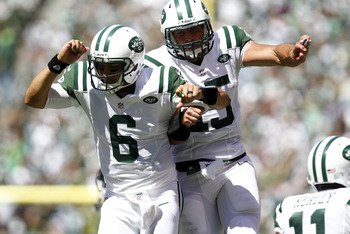 Jeff Zelevansky/Getty Images
The 2008 Detroit Lions "Preseason Don't Mean Nothin'" Game Ball: Mark Sanchez, Jets quarterback
Sanchez and the Jets offense took a ton of heat for their miserable, nearly scoreless effort in the preseason. But they put a 48-28 whipping on the unsuspecting Bills, answering a lot of questions (and raising a few about the Bills).
New England Patriots at Tennessee Titans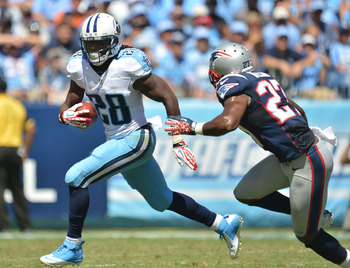 Don McPeak-US PRESSWIRE
So Much for the Afterglow Game Ball: Chris Johnson, Titans running back
After many tabbed CJ2K for a bounce-back year, Johnson gained just four yards on 11 carries. He didn't have much running room, and the Titans fell behind quickly, but a runner of his talent should produce more than that with no offensive line at all.
Father Knows Best Game Ball: Tom Brady, Patriots quarterback
Brady again proved that he is one of the best in the business, and one of the best ever.
Seattle Seahawks at Arizona Cardinals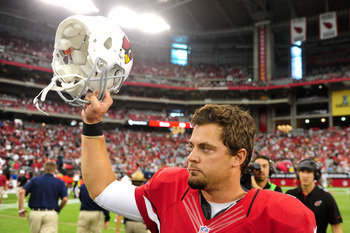 Matt Kartozian-US PRESSWIRE
If You Have Two Quarterbacks, You Don't Have One Game Ball: Kevin Kolb and John Skelton, Cardinals quarterbacks
After yet another wretched, drama-filled preseason, John Skelton won the Cardinals' quarterback job by a hair. Predictably, Skelton went down with an ankle injury during the opener. Predictably, Kolb was relatively outstanding in relief, completing six of eight passes for 68 yards and a score.
What are the Cardinals going to do now?
San Francisco 49ers at Green Bay Packers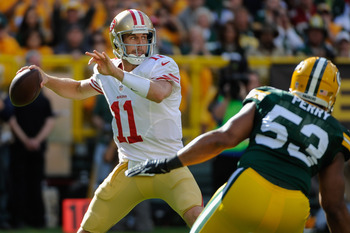 Benny Sieu-US PRESSWIRE
Pinocchio Finally Became a Real Boy Game Ball: Alex Smith, 49ers quarterback
Smith looked every bit the franchise quarterback against the Packers. He went 20-of-26 for 211 yards, two touchdowns and no picks. Not only did he look like the No. 1 overall pick he once was, you could no longer see the strings attaching him to head coach Jim Harbaugh.
Carolina Panthers at Tampa Bay Buccaneers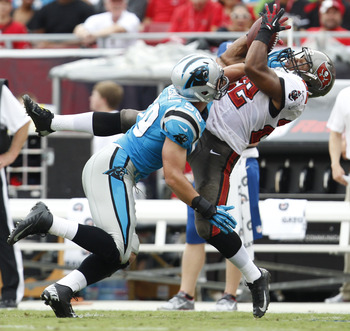 Matt Stamey-US PRESSWIRE
Rookie of the Year Game Ball: Doug Martin, Buccaneers running back
Martin was clearly the straw stirring the Bucs' drink in the season opener. He was arguably the best player on the field. With 24 carries for 95 tough yards, Martin helped keep the Bucs on schedule and quarterback Josh Freeman productive.
Pittsburgh Steelers at Denver Broncos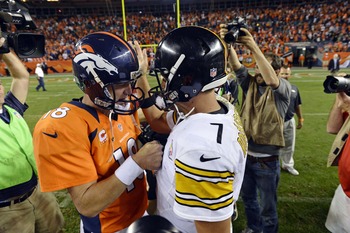 Ron Chenoy-US PRESSWIRE
This is Peyton Manning's Permanent Game Ball Game Ball: Peyton Manning completed 73 percent of his passes for 9.73 yards per attempt, two touchdowns and no picks. Yup, he's still Peyton.
Keep Reading