USA vs. Jamaica: Complete Preview for World Cup Qualifier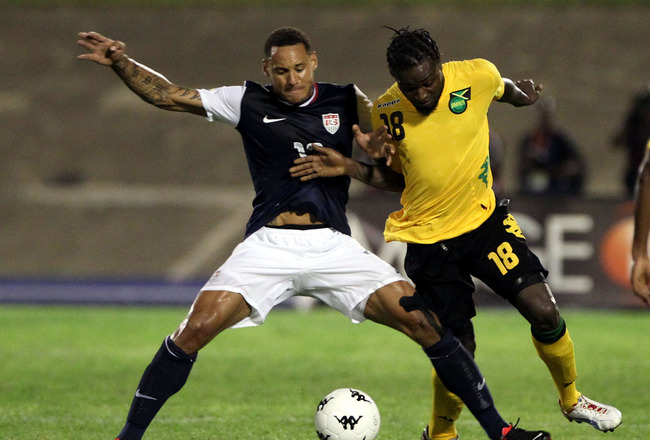 Marc Serota/Getty Images
Tuesday's CONCACAF World Cup qualifier between the United States and Jamaica was thought be an easy win for the USA.
But, after the outcome of Friday's match in Kingston between the two clubs in which Jamaica won 2-1, this match has gained a higher level of importance.
Jamaica are the surprise team on top of Group A with seven points and could clinch a berth in the final round of qualifying with a win.
The United States will be playing the most important match of the Jurgen Klinsmann era.
Plenty of criticism has surrounded the Americans since their loss on Friday, and they will be under plenty of pressure in Columbus, Ohio, on Tuesday night.
Here are the key things to watch on Tuesday night during this crucial Group A match.
How Will the Americans Respond to Friday's Loss?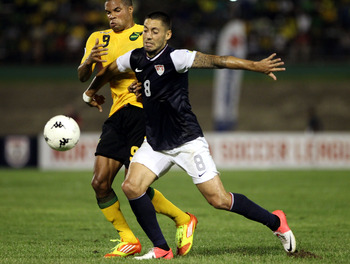 Marc Serota/Getty Images
The United States have been one of the most up-and-down teams over the past few years, and Friday's result in Kingston solidified that reputation.
In 2012, the Americans have responded well to losses with positive results in each game after the loss.
After being blown out by Brazil in May, the Americans were able to respond with a draw against Canada and then a win over Antigua and Barbuda in their first qualifying match.
After a loss to Guatemala in their second match of qualifying, the Americans were able to beat Mexico in a friendly in their next match after the loss.
If this recent trend continues, the Americans should be able to deliver a victory on home soil.
Will Emotions of 9/11 Inspire the Americans?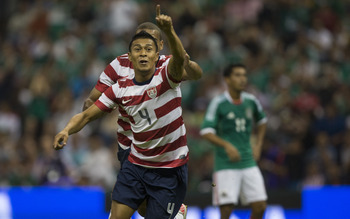 Miguel Tovar/Getty Images
September 11th is a day that will be remembered forever in American history.
Ever since that dreaded day in 2001, Americans have a higher sense of patriotism on that day.
It just so happens that Tuesday match will be played on 9/11 on American soil.
With the fans already behind the Americans in the first place, the sense of American patriotism will be even higher on Tuesday.
With those factors combined and the match being a must-win, the United States will no doubt have a bit more inspiration than usual for this match.
Jamaica Will Once Again Play with No Pressure on Them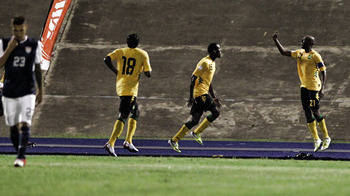 Marc Serota/Getty Images
Unlike their opponents on Tuesday, Jamaica comes into the match as underdogs and will not have the same amount of pressure brought upon them.
Jamaica will also play with no fear and will have plenty of momentum on their side after winning on Tuesday.
The Reggae Boyz are on top of the Group A table and just need one win to advance to the final round, and that win can easily come against Guatemala or Antigua and Barbuda in the final two matches of group play.
Injuries to Bradley and Donovan Will Hurt Americans Yet Again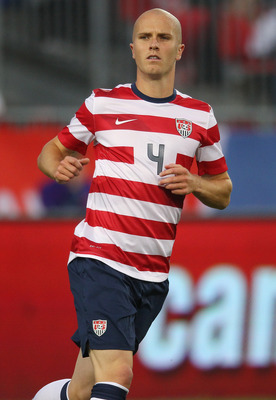 Tom Szczerbowski/Getty Images
It was clear on Friday that the United States missed their rock in midfield and one of their best goal scorers.
Jurgen Klinsmann can not find a valuable replacement for Bradley in midfield when he is out of the lineup.
Maurice Edu is a solid player but when he is paired with players like Kyle Beckerman and Jermaine Jones, he is unable to thrive as much as he does when he and Bradley patrol the American midfield.
The absence of Donovan makes the same impact on the Americans.
Finding consistent attacking players has always been a problem for the Americans, and without Donovan, Clint Dempsey is the only player Klinsmann can trust in attack.
One thing is for certain about the American lineup without Bradley and Donovan: it is in a state of constant change.
Projected American Lineup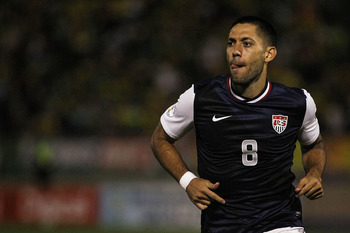 Marc Serota/Getty Images
GK: Tim Howard
DEF: Fabian Johnson, Carlos Bocanegra, Geoff Cameron, Michael Parkhurst
MID: Maurice Edu, Kyle Beckerman, Jermaine Jones, Clint Dempsey
FW: Jozy Altidore, Herculez Gomez
Friday's American lineup saw some unusual changes with Bocanegra and Steve Cherundolo being excluded from the back four.
Bocanegra should be back in the lineup but if Cherundolo's injury is serious enough, Parkhurst will get the start again.
In midfield, Klinsmann has no choice but to start Beckerman, Edu and Jones in the center of the pitch as there are no other strong options.
Dempsey will play behind the two forwards in the 4-3-1-2 formation.
Altidore seems to have a starting spot locked up and Gomez has been a starter for most of the Klinsmann era as well, but do not be surprised if Terrence Boyd gets a chance to start.
Projected Jamaican Lineup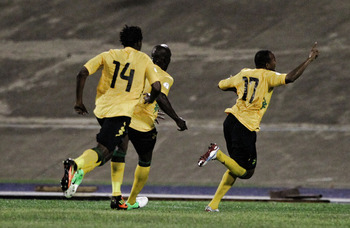 Marc Serota/Getty Images
GK: Dwayne Miller
DEF: Adrian Mariappa, Lovel Palmer, Nyron Nosworthy, Jermaine Taylor
MID: Jason Morrison, Jevaughn Watson, Rodolph Austin
FW: Luton Shelton, Kavin Bryan, Ryan Johnson
Look for the Jamaicans to field the same lineup as they did on Friday.
The speed of the Jamaican attack has always provided problems for their opponents, and that did not change at home on Friday.
If manager Theodore Whitmore did want to switch up the lineup, he has plenty of options on the bench that includes Dane Richards, Darren Mattocks and Omar Cummings.
Prediction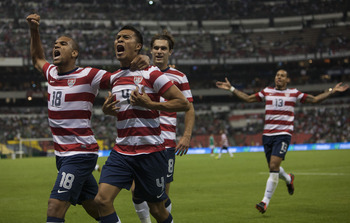 Miguel Tovar/Getty Images
United States 2
Jamaica 0
The United States are facing a must-win situation to stay safe in Group A and they should have no problem with winning the match.
The Americans always play well at home and they will find some way to control the speed of their opponents, especially if they have more experienced defenders like Bocanegra back in the lineup.
Look for the Americans to try and get on top early because if they do not, they will most likely fall behind before halftime and will have to play with even more pressure.
In the end, Klinsmann will have his team ready to play, and on an emotional night in Columbus, the Americans should come away with a win.
Keep Reading