Cleveland Browns: 7 Thoughts on Browns' Loss to Eagles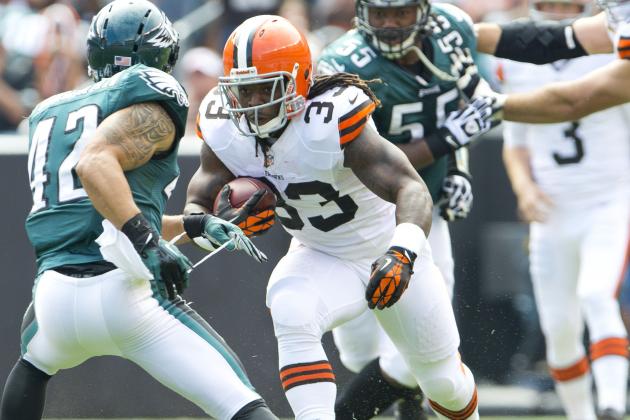 Jason Miller/Getty Images

Despite an absolutely horrendous performance out of the Cleveland Browns offense Sunday afternoon, the Browns came extremely close to upsetting the Philadelphia Eagles, losing 17-16.
The Browns, almost predictably, could not take advantage of the many opportunities they had to put the Eagles away. There are some reasons for concern as well as reasons for optimism for the rest of the 2012-13 NFL season.
Here are my seven thoughts on the Browns' 17-16 loss to the Eagles.
Begin Slideshow

»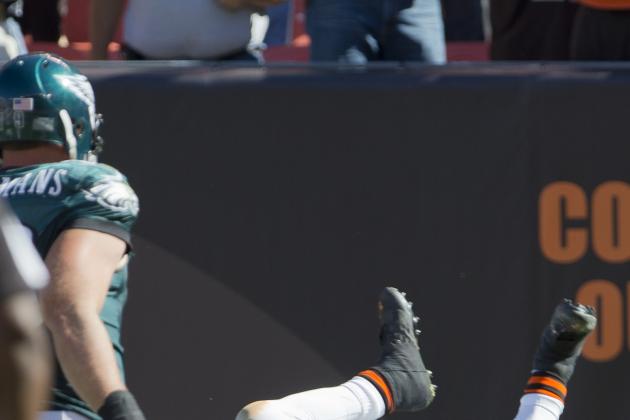 Jason Miller/Getty Images

The Browns' defense was the only reason the team had a chance to win. Defensive coordinator Dick Jauron drew up a master gameplan against the Eagles, and it was apparent that Vick was confused and rattled for the majority of the game. Vick was picked off four times and hit 11 times.
CB Joe Haden, S T.J. Ward and LBs D'Qwell Jackson, L.J. Fort and Craig Robertson all forced turnovers. They gave up a fair share of rushing yards, allowing Eagles RB LeSean McCoy to run for 110 yards on 20 carries.
The bottom line, though, is that they only gave up 17 points to a potentially explosive offense like the Eagles. Also, remember they did all of this with three starters out of the lineup in LBs Fujita and Gocong, as well as DL Phil Taylor.
It looks as though the rookies on this defense, such as DL Billy Winn, DL John Hughes, LBs L.J. Fort and Craig Robertson, will help this defense be a lot better than expected.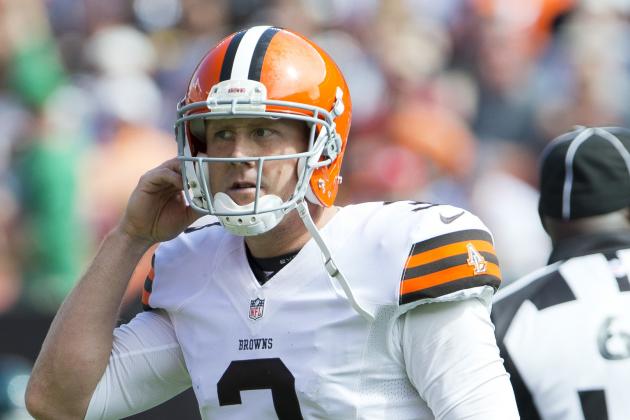 Jason Miller/Getty Images

QB Brandon Weeden did everything in his power to keep the Browns from winning against the Eagles. Weeden threw four interceptions and had a QB rating of 5.1—a rating one point higher than the number of interceptions he threw. I think that says it all.
Weeden consistently made bad decisions with the football. He held on to the football way too long and looked completely lost on several plays. He missed two potential touchdown passes—both TE Alex Smith and WR Mohamed Massaquoi were wide open in the end zone and Weeden overshot them both by a lot.
To be fair, he didn't get much help with a nonexistent running game, and a deflected ball off of WR Greg Little's hand in the red zone, which resulted in an interception. Understandably, many Browns fans are really doubting Weeden right now, but he deserves a couple more games to bounce back from this game before the fans start clamoring for QB Colt McCoy.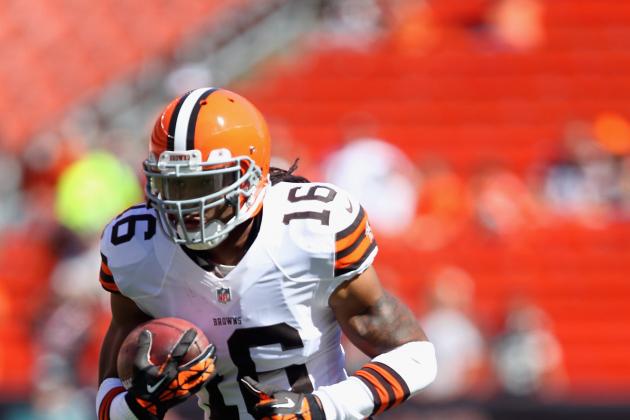 Matt Sullivan/Getty Images

While Browns returner Josh Cribbs didn't turn out any big plays, he showed that he will be very effective in the return game this year. Cribbs had three kickoff returns for a total of 91 yards for an average of 30.3 yards a return. He proved that he can still make something out of nothing when he repeatedly made defenders miss.
He had six punt returns for an average of 13 yards a return and 78 yards total. He almost had more yards than the Browns' entire offense—169 to 210.
Cribbs looked a little slimmer, faster and more agile than last year. He will not be contributing much on offense this year, so he will have more energy for his returns. The special teams unit as a whole looked much improved from last year, and it will benefit Cribbs greatly.
Big returns are soon to come.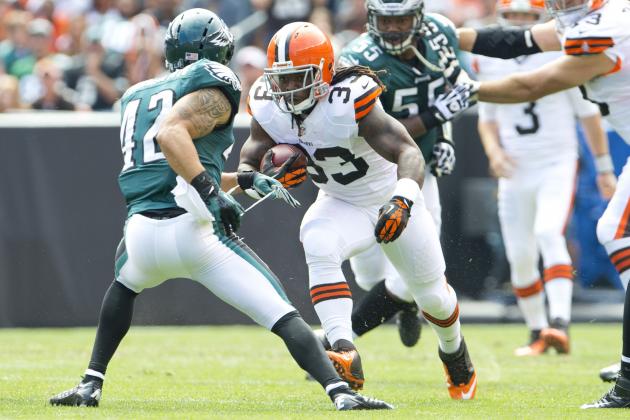 Jason Miller/Getty Images

Yes, Browns RB Trent Richardson didn't fill up the stat sheet as he only had 39 yards rushing on 19 carries. However, he was able to show flashes of his signature power running. On a nine-yard carry, Richardson bulldozed Eagles S Kurt Coleman, knocking Coleman's helmet off in the process.
He did lack some of the burst that we saw out of him at Alabama, but that is to be expected after missing several weeks. He will get that back real soon.
The offensive line didn't help out Richardson at all, as he never had holes to run through. He rarely was able to even get off the line of scrimmage and have an opportunity to get some momentum. The Browns offensive line was dominated by the Eagles in the running game.
He was also able to get out of the game healthy after not playing in the preseason. This should ease some fans concern a little over his durability concerns.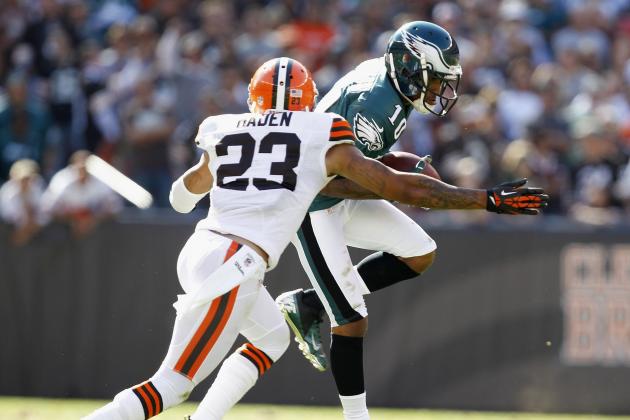 Matt Sullivan/Getty Images

Before Sunday's game, Eagles QB Michael Vick told the media that he thought CB Joe Haden was a top-five corner in the NFL. Haden took one big step in proving he was worthy of that nomination.
Eagles WR DeSean Jackson was quiet the whole game, and that is directly related to Joe Haden. Jackson was held to four receptions with a total of 77 yards. Haden also came away with an interception, which is already more than he had all of last year.
The Eagles only had three gains of more than 25 yards receiving, and Haden was the main reason. Haden has always done a good job covering his man, he just had a knack of giving up one or two big plays a game. He was beat by WR Jeremy Maclin for a touchdown just before halftime, but he had a tremendous game overall.
If he can keep up this caliber of play, he will be nationally recognized as a top-five corner.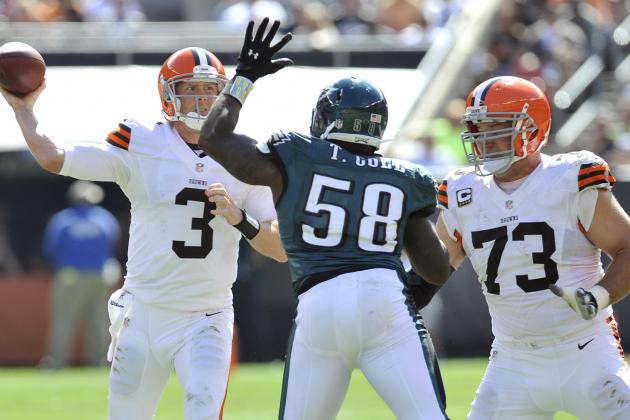 David Richard-US PRESSWIRE

A big reason for the offensive incompetence, besides Weeden's bad decisions, was the play of the offensive line, particularly in the run game. The Browns should not have had to rely so heavily on Weeden like they did.
Trent Richardson averaged only 2.1 yards a carry, but it didn't matter who was going to run the ball because no running back would have been able to gain any significant yards behind the Browns O-line yesterday. They could never get any push and establish a lane for Richardson to run through. It wasn't as if one lineman was obviously struggling. The line as a whole was just man-handled physically at the point of attack.
The O-line should be a team strength this season, and fans should not be worried that this will carry on through the entire season.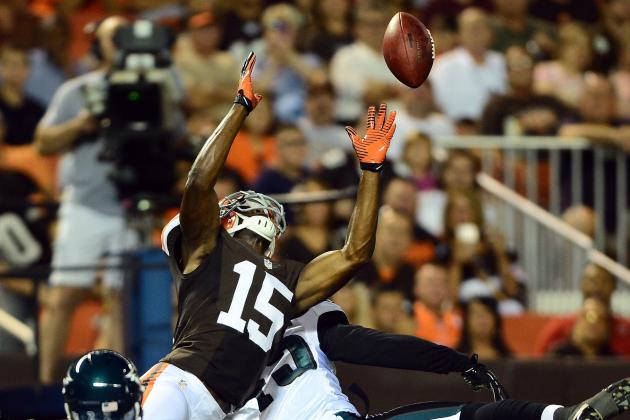 Andrew Weber-US PRESSWIRE

Browns WR Greg Little doesn't seem to have any chemistry with QB Brandon Weeden. He was only targeted four times with zero catches. One of those balls went off his hands in the red zone, resulting in an interception.
Little had problems with drops last season, so this was not a sight Browns fans wanted to see out of him.
Besides WR Josh Gordon, who is obviously not ready yet, Little is the most physically imposing receiver and needs to establish his game in the middle of the field. His strength is supposed to be running after the catch, which the West Coast offense is built on, so they need to find a way to get Little the ball consistently throughout the game.
If the Browns want to take a step forward on offense, Little will have to be a big time contributor.