What We Learned from Week 1 in the NFL
Chris Humphreys-US PRESSWIRE
After a seven-month hiatus from regular season football, Week 1 has now officially come and gone.
A new season with new teams, coaches and even referees has 16 weeks left until the postseason begins.
There were plenty of story lines to follow in opening week of 2012, but there were a few things that really stood out. Here is a list of headlines that we NFL fans have come to learn in the aftermath of Week 1.
Mark Sanchez Shuts Up All Critics...for Now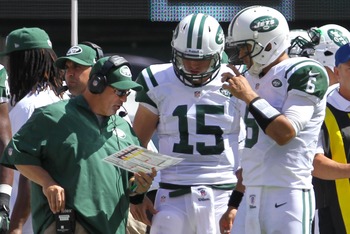 Ed Mulholland-US PRESSWIRE
In the preseason we only ever heard one of two things in regards to the New York Jets.
The first story we all kept hearing was about the Jets starting offense and how they didn't score any touchdowns. People started to panic and the blame was laid on the shoulders of one man.
That man is Mark Sanchez, which brings me to the second thing we heard in regards to the Jets in the offseason. Every analyst in the NFL was discussing which week Tim Tebow would take over and how long it would take Sanchez to struggle.
At least we know that struggle didn't come as early as Week 1.
Sanchez went 19-for-27 for 266 yards and three touchdowns, plus an interception. He looked confident as he led the offense to finally score some points. Rookie wide receiver Stephen Hill emerged as a huge playmaker as Sanchez connected with him on two scores.
The best part of all this for the current starting quarterback for the Jets? He played well, the fans in New York got a win, and Tebow didn't attempt one pass in the game.
There is only one quarterback in the Jets offense...for now.
Veterans Can Still Play the Game
Jeff Hanisch-US PRESSWIRE
Multiple veteran players we have seen for years now are still playing major roles in the league. One thing we learned in Week 1 is that these men may be seasoned, but they can still play ball.
He hasn't played the game in a year and the last time he did, he was going from team to team. It seemed his career was done, but signing with the San Francisco 49ers changed things. Being named the starting wideout during game week also changed things. Moss had four catches for 47 yards and a touchdown that silenced the fans in Green Bay. Look for the 'Freak' to continue his success this season.
You can't mention veterans without noting Peyton Manning. He also was off last year due to neck injuries, and nobody was sure how he would fare in regular season action. It was clear that Peyton Manning was Peyton Manning—one of the greatest quarterbacks of all time. He completed 19 of 26 passes for 253 yards and two touchdowns and, most importantly, it looked like his neck was not an issue at all. Did I mention he threw his 400th career touchdown in this game?
Tony Gonzalez
After Week 1, he is now ranked number 10 on the all-time receiving yards list. The 36-year-old tight end was on the verge of retirement last season but decided to give it another shot. Having Matt Ryan as his quarterback made that an easy choice as he hauled in five catches for 53 yards and a touchdown in the 40-24 win over the Kansas City Chiefs.

Of the 5 Starting Rookie Quarterbacks, Only 1 Shined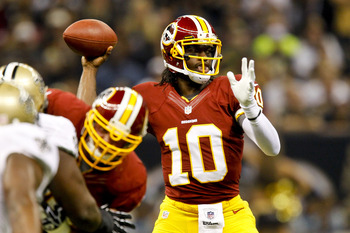 Derick E. Hingle-US PRESSWIRE
A lot of anticipation of how all the starting rookie quarterbacks would fare is now over. There was only one that stood out and got a win for his team. As for the others...
Ryan Tannehill struggled against the Houston Texans' stout defense. He completed just over 50 percent of his passes with zero touchdowns and three interceptions. Lack of true threats at receiver aren't helping his cause however.

Brandon Weeden is the oldest of the rookies at 28 years old. He also struggled, completing just 38 percent of his passes. He, too, had no touchdown passes, but four interceptions showed the decision-making is a skill Weeden will have to develop.

Andrew Luck had Indianapolis fans ready for a new era. The No. 1 overall pick in the draft went 23-for-45 and 309 yards passing. He even had a touchdown pass, but the three interceptions would end up hurting as the Indianapolis Colts, who kept this game close in the first half, lost to the Bears by 20 points.

Russell Wilson, who wasn't even considered the starter two weeks ago, had a lot to prove. After wowing in the preseason, he went 18-for-34 for a measly 153 yards. He did have one touchdown, but one interception as well. The Seattle Seahawks are more of a running team these days anyways, and the QB battle continues in Seattle.

Robert Griffin III seemed to be the one rookie quarterback ready to come out and play. Not only was he the only one of the five to win his game, but he was the only one to not throw an interception. He looked poised in the pocket and showed his scrambling abilities in key situations. He was able to keep his team ahead after taking an early lead and gave Washington Redskins fans everywhere hope for the future.

Some Bad Teams from Last Year Surprised All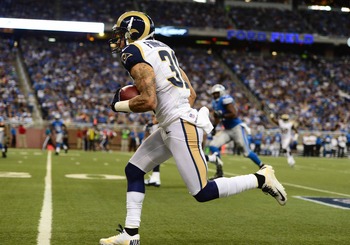 Andrew Weber-US PRESSWIRE
St. Louis Rams
Although they didn't get the win, the St. Louis Rams (who lost in the last 10 seconds) looked surprisingly strong against the Detroit Lions. At least the newly revamped defense did.
New addition Cortland Finnegan had 10 total tackles, one tackle for a loss, and one interception returned for a touchdown. Disregard one lucky heave to Calvin Johnson for 51 yards and he only gave up 60 to Megatron.
The rest of the defense looked alive as well. Picking off Matt Stafford three times, you have to give the Rams defense credit for keeping their team in the game since the offense could only connect for a touchdown on one drive, and connecting on three field goals. Most people were looking for the blowout in this game, but it just wasn't happening.
Dallas Cowboys
By no means a horrible team last season, the Dallas Cowboys finished 8-8 and third in the NFC East.
Going head-to-head against the reigning Super Bowl champs was no easy feat in Week 1. But they came out and got the job done.
Tony Romo is 'in the hot seat' this season and he did not disappoint. He truly looked like a premier quarterback connecting on 22 of 29 passes and 307 yards while beating the New York Giants in the national spotlight.
Their secondary, which was a problem last season, was as crisp as ever. Rookie Morris Claiborne looked great alongside Brandon Carr as they held their own and have now made a huge statement in their division and the league as a whole.
Some Good Teams from Last Year Surprised in a Different Way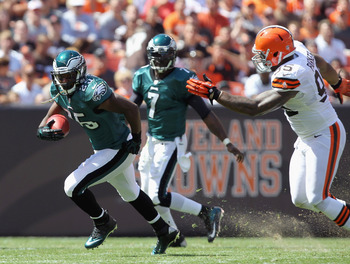 Matt Sullivan/Getty Images
Philadelphia Eagles
Nobody thought going into this game that the Cleveland Browns had a legitimate chance. Michael Vick looked dreadful as he threw a whopping 56 passes, connecting on 29 of them. Looking like one of the current rookie quarterbacks, he threw four interceptions in the game, one of which was taken back for a score.
LeSean McCoy eventually got things going and DeSean Jackson was actually part of the passing game after a struggle in 2011. The fact is the Browns were playing with a starting running back and quarterback against an Eagles teams who are looking to be playoff-bound this season.
Philadelphia was definitely surprised in this very close one-point win toward the end of the fourth quarter.
New Orleans Saints
We've already been over the great play of Robert Griffin III and how he tore up the New Orleans Saints defense. But did anybody really expect this to happen? Drew Brees, who broke the single-season passing yards record last season, threw two uncharacteristic interceptions.
They went 13-3 in 2011, won their division, and didn't lose to the 49ers by much in the second round of the playoffs. But going up against the Washington Redskins was supposed to be an automatic win for Who Dat nation. Playing from behind early, the Saints had no running game whatsoever. It was nonexistent with their two running backs gaining a net of 32 yards.
Costly turnovers, playing from behind, and a whirlwind of an off season for New Orleans affected the team negatively in a game many thought would be a cinch.
The Packers and 49ers Are the Two Best Teams in the NFC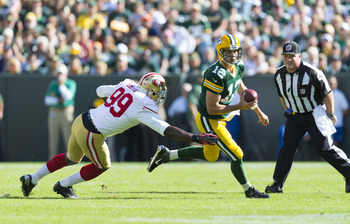 Jeff Hanisch-US PRESSWIRE
Say what you will about either of these two teams, but they are still some of the favorites in the NFC.
After the San Francisco 49ers pulled ahead, the Green Bay Packers still made a game out of it, but ended up losing, 30-22, in the end. Either way you look at it though, both of these squads are the top dogs in the conference.
Alex Smith got it going as he seemed to just rack up the yardage with his new weapons on offense that just seemed to move the chains at will. The extremely versatile defense pressured Aaron Rodgers enough and they sacked him three times while forcing a pick.
Green Bay fell behind, but starting working out their kinks in the second half. Rodgers finally got the offense rolling and the defense started to force some punts. It just seemed to be a little too late although the outcome of the game could have gone either way.
Even though it is only Week 1, these two teams coming off huge seasons last year and doing nothing but becoming stronger in the off season, still put them in my top NFC teams.
If only the San Francisco defense could team up with Packers offense. This would quite possibly be one of the best teams in NFL history.
Replacement Referees Are...Definitely Replacement Referees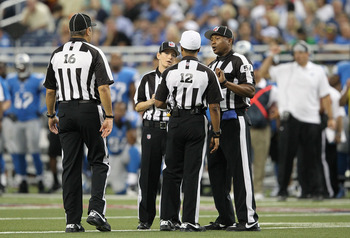 Leon Halip/Getty Images
You know how when you watch your favorite team play on Sunday, those referees seem to miss a lot of easy calls and have it out for your team? But your friends hate on you and say you're just being a bad sport.
Well this year, with the replacement referees currently taking over (for now), those 'missed calls' you usually see weren't just because you're biased for your team. Calls were actually being missed all over the field and on numerous types of plays.
I can't even tell you how many penalties I saw that weren't called. Easily noticeable false starts and facemask flags are just the tip of the iceberg on this one.
They slowed the game down by deliberating calls that none of them seemed to be watching. They gave extra timeouts to teams. They called personal fouls on penalties that weren't at all personal and the clips and holds were ever-present—yet no flags were thrown. Don't think the players don't realize the officials won't see everything. They are taking full advantage of it.
I don't want to sit here and abuse these replacement referees because they are trying to do the job the right way. Most of them are coming from Division II and III college levels and just aren't used to the game speed of the NFL. However they've done a good enough job that they have been named referees for Week 2 as well. Let's just hope the real referees can get a deal done with the NFL very soon.
These are the things we have seen and learned from Week 1. There is only one thing that is for certain, it is going to once again be an exciting season in the NFL.
Keep Reading