Buffalo Bills vs. New York Jets: Final Report Card, Player Grades for Jets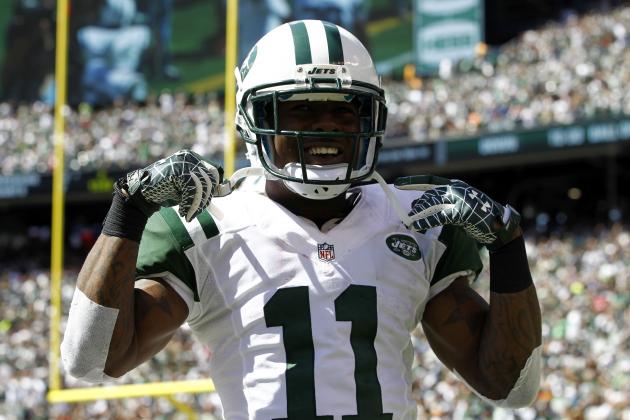 Jeff Zelevansky/Getty Images

Well, Rex Ryan was wrong again!
On August 20, he said the team's offense was a "work in progress."
So either they made a lot of progress over the past three weeks, or the team has just been playing coy in the national spotlight.
Either way, the 48-28 thrashing of the Buffalo Bills is one of the most satisfying opening-day wins in recent franchise history.
With seemingly the whole NFL world picking the Jets apart in every aspect of their organization but their defense, the Jets steamrolled a Bills team that many picked not just in this game, but picked to supplant the Jets as the top threat to the Patriots in the AFC East.
The 48 points was the most ever scored by the Jets in their opener and the most by any NFL team on opening day since the 49ers dropped 48 on the Bears in 2003 (h/t Rich Cimini).
The game wasn't perfect by any means, and the Jets face a step-up in competition next week when they travel to Pittsburgh, but take a week to enjoy this win and make your opinions known to every Jets hater you know for the next few days.
Here are the individual grades for the key players on opening day.
Begin Slideshow

»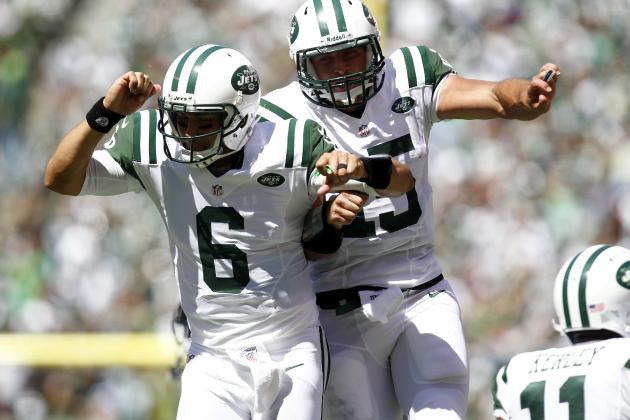 Jeff Zelevansky/Getty Images

Mark Sanchez: A+
There were some outstanding performances by quarterbacks in the NFL in Week 1, and Sanchez's performance was right up there with any of them.
Sanchez answered all critics for one week with an efficient performance in which he showed improved accuracy and leadership.
He led the offense early and was able to get the monkey off the entire team's back with a touchdown strike on the team's second drive.
The best thing to take from this performance was that Sanchez showed no ill-effects of being removed for Tebow at times and was able to bounce back beautifully from a terrible interception on the first drive of the season.
Sanchez finished 19-for-27 for 266 yards, three touchdowns and one interception. His cumulative stats could have been better, but the Jets barely threw the ball after opening a 41-14 lead in the second half.
Tim Tebow: D
Tebow provided no real impact in the running game in either the Wildcat or read-option plays. According to ESPN New York's Rich Cimini, Tebow was in that situation eight times and the Jets gained 22 total yards.
Give Tebow credit at least for recovering an onside kick.
In a complete opposite of what all the "experts" had predicted, Tebow was actually booed when he came on the field, and Sanchez was cheered upon his return.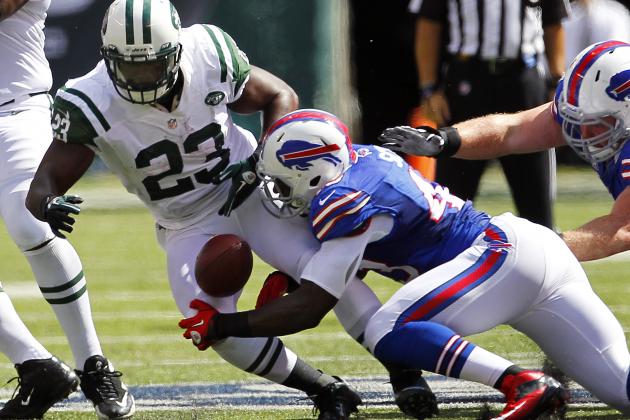 Rich Schultz/Getty Images

Shonn Greene: C+
As usual, Greene took what was given to him and not much else. He had a workman-like 94 yards on 17 carries and scored the game's final touchdown.
There were numerous times that holes were available to Greene on cutbacks, but that simply isn't his game.
When the holes were in front of him, Greene secured the football and made sure he got his four yards.
The one fumble attributed to Greene came on a botched exchange between he and Mark Sanchez.
Greene and the Jets had the chance to run out the clock with a big lead early in the fourth quarter, but failed to do so effectively. This is an area that still needs improving.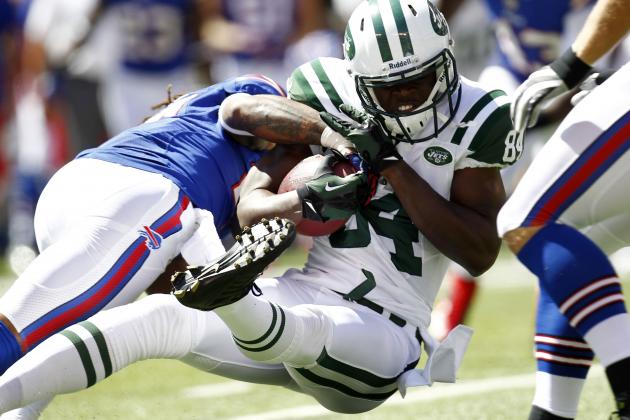 Jeff Zelevansky/Getty Images

Stephen Hill: A+
After spending much of the preseason being questioned about being a No. 2 wide receiver in the NFL, Hill looked more like a No. 1 in his first NFL game. The rookie went for 89 yards on five catches with two touchdowns and, most importantly, no drops.
Hill did a fantastic job to make sure the ball was over the pylon, as he fell out of bounds near the goal line for a touchdown and later made a terrific adjustment on a flea-flicker for a 22-yard catch in the third quarter.
According to ESPN New York's Rich Cimini, Hill was just the fifth player in the last 25 years to score two touchdowns making his debut on opening day. The others were Alex Smith, Charles Rodgers, Randy Moss and Anquan Boldin.
Santonio Holmes: A
Holmes didn't have huge numbers, but provided a number of clutch catches. His best catch may have come on a play that wasn't even a completion. Holmes made an incredible, acrobatic grab for what appeared to possibly be a touchdown.
However, as he was twirling to the ground, his hand hit the turf a split-second before his second foot. It was a tremendous effort and a reminder of the kind of plays he is capable of. Holmes finished with four catches for 68 yards.
Jeremy Kerley: A-
Kerley had a very productive game as the team's No. 3 receiver, hauling in four catches for 45 yards and a touchdown. He had his biggest impact as the Jets were steamrolling out of the gate, recording two catches for 33 yards on the team's first scoring drive.
(Note: This grade doesn't reflect his special teams contribution)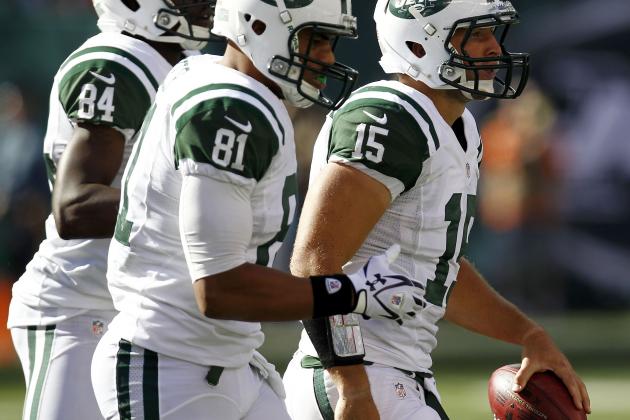 Jeff Zelevansky/Getty Images

Dustin Keller: D
The tight ends didn't do much at all for the Jets as Tony Sparano and Mark Sanchez stuck with their wide receivers as their main weapons. Keller had one early catch for seven yards. Once the game was out of hand, he really didn't see much playing time as he continued to nurse his hamstring.
Smart move.
Jeff Cumberland: B-
Cumberland had three catches for 33 yards and did what was asked of him. There will be bigger days for Cumberland and Keller, but in a game where the Jets wide receivers were running free, there was no sense in changing what was working.
Jeff Zelevansky/Getty Images

Austin Howard: A+
Just about every expert had Mario Williams ready to eat Howard for breakfast, lunch and dinner. At best, they said the Jets might be able to slow Williams down by sliding extra protection his way or giving Howard help with an extra blocking tight end.
The experts were wrong on all accounts. Howard took on Williams alone for much of the afternoon and held the supposed crown jewel of the free agency class to as many sacks as me, and I spent the afternoon on the couch eating pretzels.
It wasn't long after the game that Williams blamed his absentee performance on the replacement officials.
D'Brickashaw Ferguson: A
Just as the Bills couldn't generate any pressure from the left side of their defense, they couldn't get any pressure from the right either. Ferguson looked great in pass protection and did an average job opening some holes in the running game.
Give his grade an extra notch up for jumping on John Connor's fourth-quarter fumble in the end zone.
Nick Mangold: A-
Mangold was solid as usual at center, and should remain that way for the foreseeable future. He did have a rare penalty called on him, so we'll mark him down slightly for that.
Matt Slauson and Brandon Moore: A
Both guards get an A as well here as Sanchez may not have to even put his jersey in the post-game laundry basket. It's funny how effective he can be when the line gives him time to throw.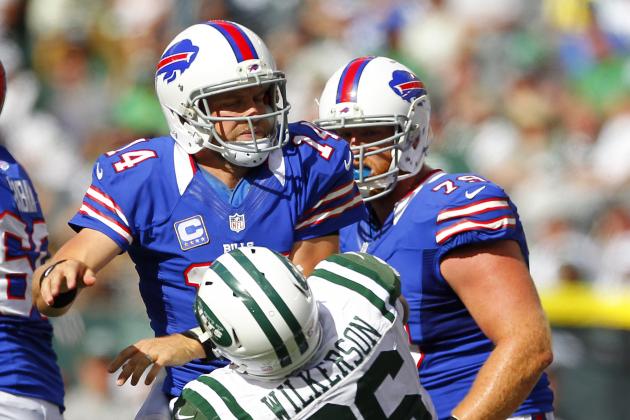 Rich Schultz/Getty Images

Muhammad Wilkerson: D
These grades for the defensive line aren't going to be pretty, and it starts with Wilkerson. For all the talk of Wilkerson making the jump to an elite level this year, he fell flat on his face in the team's opener.
Wilkerson registered just a single assisted tackle and, like his linemates, was a non-factor in the pass rush.
Quinton Coples: D
Coples at least made one play during the game when he dropped C.J. Spiller for a loss in the backfield. Other than that, the only time his name was called was on a roughing the passer penalty for a late hit on Ryan Fitzpatrick.
Mike DeVito: C-
No. 70 popped onto the screen late in the game, chasing Spiller out of bounds near the goal line. Besides that, he didn't have much to contribute. DeVito had one tackle and one assisted tackle.
The Bills gained the lion's share of their 195 rushing yards on the outside, and DeVito, Wilkerson and Coples were largely to blame for that.
Kenrick Ellis: B
Ellis did a decent job jamming the middle in place of Sione Pouha, even if it didn't show up in the stat sheet. He didn't gain much penetration, and the one time he did, he was tackled in the backfield in a non-call by the replacement referees.
He did his job in forcing plays outside, but the Jets need better tackling on the edge going forward.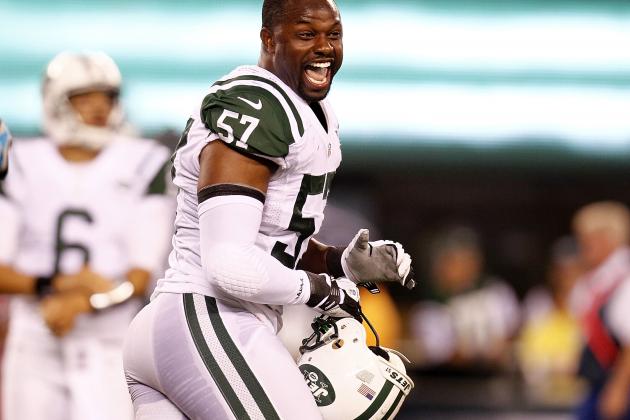 Jeff Zelevansky/Getty Images

Bart Scott: D
So much for the new and improved Bart Scott.
Scott was active with three solo tackles, but he played a big role in two of the game's worse plays on the defense. First, his poor angle and slow pursuit allowed C.J. Spiller to spring for a 56-yard touchdown run.
Then in the fourth quarter, Scott again found himself chasing a running play from behind, when he accidentally kicked Darrelle Revis in the head, giving him a possible concussion.
David Harris: B
Harris played his typical game, minus any real impact plays though. He had four solo tackles and assisted on three others as it appeared his injured ankle held up fine.
He's had better games, but there isn't much to complain about with him
Calvin Pace: B-
Pace too gave his typical performance, again without many big plays though. Pace did record an early tackle for a loss in the backfield, but didn't provide any pressure on Ryan Fitzpatrick.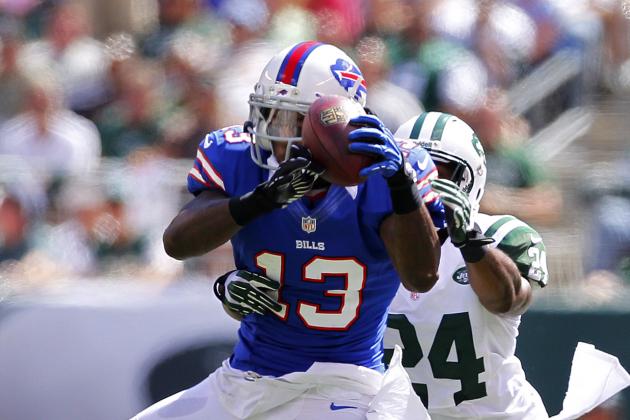 Rich Schultz/Getty Images

Darrelle Revis: A
Ryan Fitzpatrick continued to foolishly try to pick on Revis, and paid for it dearly.
Revis' first-quarter interception took away the momentum the Bills gained from intercepting Mark Sanchez on the game's first drive. Stevie Johnson did catch a couple of passes on Revis, one of which could have gone for big yardage if LaRon Landry didn't make a terrific stop to save him.
It was the usual outstanding performance by Revis, who showed that he remains the elite cornerback in the game. Maybe Fitzpatrick will have learned his lesson by the time the teams meet again in Week 17—assuming he is still the Bills' starting quarterback by then.
Antonio Cromartie: A
Cromartie's pick-six to start the second half was huge, as it clearly burst whatever bubble was left in the Bills' hopes. Even though his high-stepping and flip into the end zone could have been called a penalty, I enjoyed every second of it.
Give him a slight mark down though for his performance on C.J. Spiller's 56-yard touchdown run. If you watch the replay, it looks like Cromartie is running away in the other direction from a swarm of bees as Spiller ran right through the vacated spot.
Kyle Wilson: A-
Wilson's interception was one of the game's early turning points, as the Jets turned it into a touchdown and a 14-0 lead. The Bills do have some speed on offense and can create some tough matchup problems inside.
Wilson did a fine job keeping up with everybody.
LaRon Landry: A
Landry came as advertised, delivering huge hits throughout the secondary. Give him credit, too, for being able to keep the big hits legal. His forced fumble at the end of the second quarter allowed the Jets to tack on three more points as the first half closed.
He had another great play on a tackle on Stevie Johnson. Johnson caught a pass on 3rd-and-13 and appeared ready to run away from Revis. However, Landry flew up and stoned Johnson one-yard short of the first down marker. He finished with seven total tackles to lead the team.
The only thing that keeps his grade from being an A+ were a couple of missed tackles on some key plays.
Yeremiah Bell: A-
As with the rest of the secondary, Bell played a solid game. He did a good job to stay in bounds to recover the fumble caused by Landry at the end of the first half.
You can bet that his ball security and lateral on the return will be addressed though during films this week.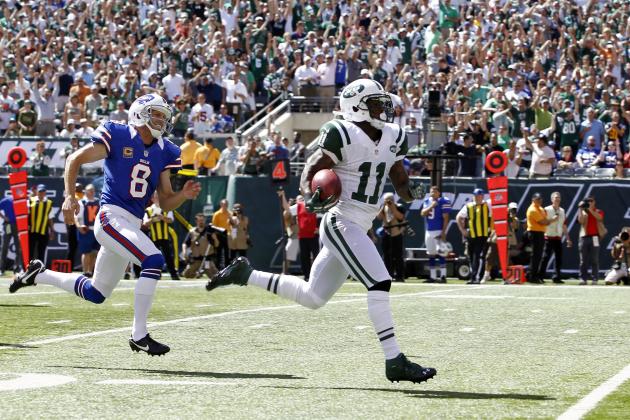 Jeff Zelevansky/Getty Images

Jeremy Kerley: A+
So I'd say it took just one week for Kerley to check out of Rex Ryan's doghouse. His 68-yard punt return touchdown was the Jets' first punt return touchdown in 10 years.
The return broke the game open, giving the Jets a 21-0 lead early in the second quarter.
Nick Folk: A
Folk wasn't challenged too much in this game, but did what he needed to do. He recorded 12 points on two short field goals and six extra points.
The best part of Folk's game was his improved leg on kickoffs. He has consistently been able to nail touchbacks and if he keeps that up, it will improve the Jets' special teams that much more.
Robert Malone: A
By the time the fourth quarter rolled around, who even remembered the Jets had a new punter? Malone didn't get his chance to make his Jets debut until the fourth quarter and did so with a 55-yard punt to the Bills 4-yard-line. He later hit a 48-yarder for good measure.
T.J. Conley doesn't leave big shoes to fill, but Malone has done so admirably already.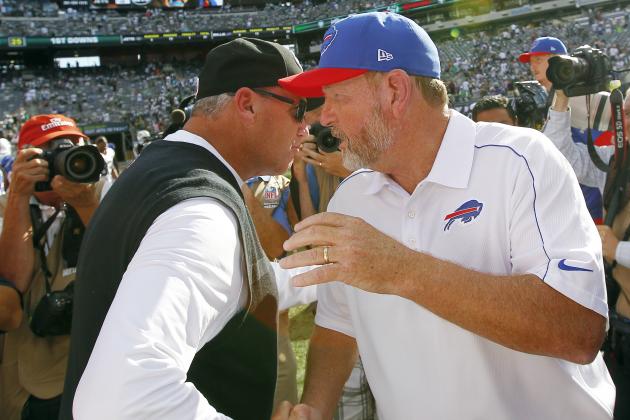 Rich Schultz/Getty Images

Coaching Staff: A+
This was an example of what it would look like if an NFL coaching staff was to coach against a high school staff.
Because of Rex Ryan's decision to eschew preseason success in favor of keeping his offense a surprise, the Bills had no idea what to expect, and it showed.
In fact, it looks like the Bills did so much preparing for the Wildcat that they forgot about the other 98 percent of the playbook.
Tony Sparano's play calling was aggressive when it needed to be, but conservative at the right times too. The Jets were fired up right from the start and didn't look back once they got going.
Even with a big lead, the Jets kept their foot on the gas well into the third quarter, a big change in what Jets fans are used to.
They weren't faced with too many crucial decisions, but made the right choices in a couple of key places. First, Ryan correctly went for the field goal to give the Jets a three-score lead on 4th-and-1 from the eight-yard-line.
If the Bills stopped them there, it would have given them some momentum.
Also, Ryan rightly challenged a spot on a Jeremy Kerley catch, even if the referees didn't reverse the call.
Even though Tim Tebow wasn't productive, the Jets didn't totally abandon it, and that was fine. The Jets were clearly dominating the game anyway, so they might as well tried it in some game action.
Tebow's plays weren't a total bust, they simply just didn't go for big yardage.