Dolphins vs Texans: Miami's Biggest Winners and Losers from NFL Week 1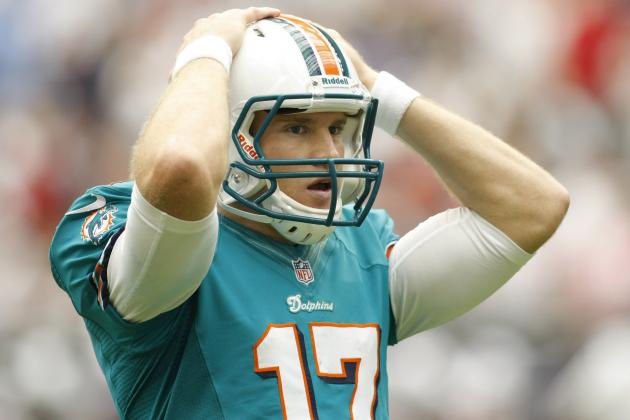 Brett Davis-US PRESSWIRE

What did you expect?
Following unprecedented late offseason roster churning, the Miami Dolphins were dismantled and smacked with a daunting matchup against a Super Bowl contender in Week 1.
Although the Dolphins briefly inspired hope that they weren't the inept team we watched this preseason by holding the Houston Texans to just three points in the first quarter, they quickly collapsed and fell 30-10.
The Dolphins committed turnovers on a whopping four consecutive drives (has to be some kind of record), and the Texans capitalized with 24 unanswered points in the second quarter.
This was disturbing for the Phins, but there were still some positive takeaways.
Here are the winners and losers from Week 1.
Begin Slideshow

»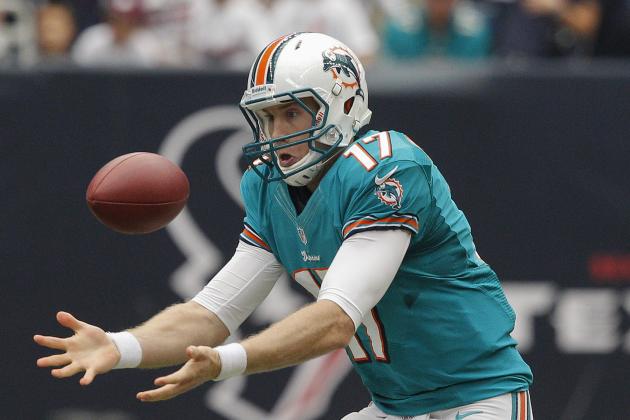 Bob Levey/Getty Images

Ryan Tannehill inspired hope after a promising string of performances in the preseason.
But, there's a reason preseason games don't count.
In his first game against a top-flight NFL defense, Tannehill looked like the raw, inexperienced rookie whom he is. Tannehill had four passes batted down at the line of scrimmage, two of which resulted in interceptions. He threw interceptions on three consecutive drives.
Tannehill finished the game with 20 completions on 36 attempts for 219 yards and three interceptions. His low delivery was a peripheral issue in the preseason, and it's now a paramount one.
Although Tannehill needs to shoulder the blame for much of his struggles, his supporting cast—save Reggie Bush—did little to help him out. Through the first three quarters of the game, Davone Bess was the only wide receiver to register a reception.
If the Dolphins don't get Tannehill some help, then things aren't going to get too much better.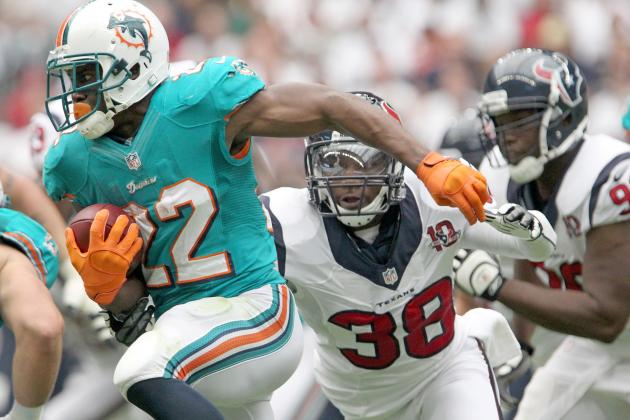 Thomas B. Shea/Getty Images

Reggie Bush was the only bright spot from this dark, depressing offensive performance.
He rushed for 69 yards on 14 carries and tacked on 46 receiving yards on six receptions.
Bush looks like a perfect fit for Joe Philbin's West Coast offense. Not only was he an integral part of the passing attack, but he also did a fantastic job of finding holes and making the one-cut reads necessary in a zone-blocking scheme.
While Ryan Tannehill can't trust any of his wide receivers (except for Davone Bess), he has a safety blanket in Bush. Although Bush might not fulfill his promise of capturing the league's rushing crown, he could definitely earn a Pro Bowl nod if he keeps playing this well.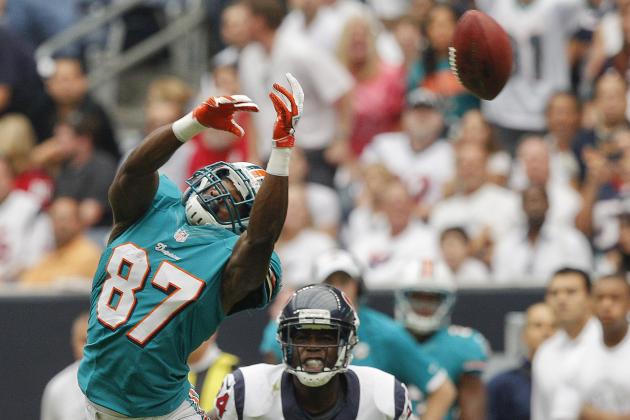 Bob Levey/Getty Images

As I mentioned in slide No.1, Davone Bess was the only Dolphins wide receiver to catch a pass through the first three quarters of the game.
After this game, it's safe to say the Dolphins have the worst wide receiver corps in the NFL.
Legedu Naanee was a ghost, Anthony Armstrong had an inexcusable drop and finished the game with just one catch for three yards and Brian Hartline was a non-factor until the fourth quarter.
Collectively, Miami's wideouts caught just nine passes for 98 yards. Meanwhile, Reggie Bush, Daniel Thomas and Jorvorskie Lane collectively caught eight passes for 102 yards.
A team's running backs should never post better receiving numbers than its wide receivers. Jeff Ireland looks awfully bad for not adding another viable starting wideout this offseason. And, to make matters worse, Brandon Marshall caught nine passes for 119 yards and a touchdown for the Bears.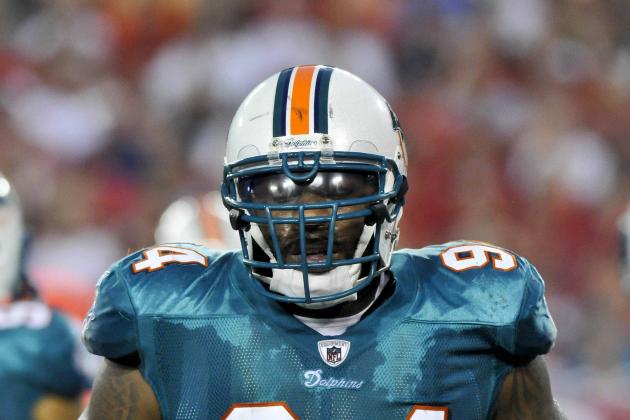 Fernando Medina-US PRESSWIRE

Randy Starks is perennially the most underrated player on the Miami Dolphins. He has been overshadowed by Cam Wake and Paul Soliai, but he outperformed both of them on Sunday.
Starks recorded six tackles and a pair of sacks. This game is a sign of things to come for Starks, who's going to reap huge benefits from playing alongside Soliai in the 4-3.
Opposing offenses have to focus most of their efforts on stopping Wake and Soliai. This has allowed Starks to fly under the radar in the past, but it's only a matter of time before offenses are forced to pay attention to him as well.
Eventually, those offensive lines are going to be overwhelmed.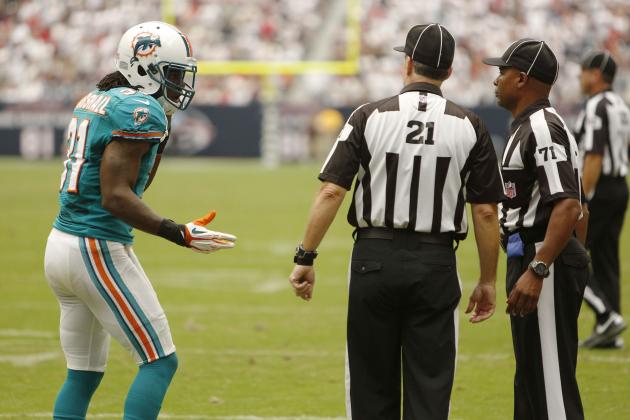 Thomas Campbell-US PRESSWIRE

By trading Vontae Davis, the Dolphins entrusted serious faith into the free-agent signing of Richard Marshall. For those who watched Marshall struggle in the preseason, it was a frightening proposition, and he did nothing to soothe concerns on Sunday.
Marshall nearly surrendered a long touchdown pass to anonymous second-year wide receiver Lestar Jean, but it was ruled incomplete. Had Jean maintained control of the ball, it would've been an embarrassing play for him.
In the second quarter, he was flagged for a pass interference penalty that brought the Texans from Miami's 27 yard-line to Miami's two yard-line.
Andre Johnson caught at least three of his eight receptions with Marshall in coverage.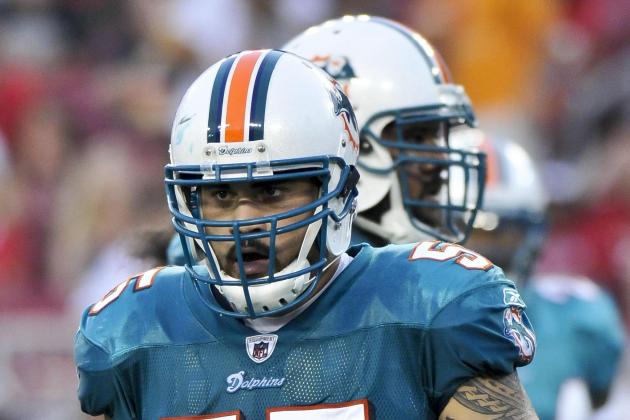 Fernando Medina-US PRESSWIRE

Few Dolphins players are under a brighter spotlight than Koa Misi this season.
After regressing in 2011, Misi is under immense pressure to revive his career in Kevin Coyle's 4-3.
On Sunday, Misi answered the call, leading the team with 11 tackles. Although he was far from perfect—got caught on the wrong end of completions to James Casey and Ben Tate—he stepped up and made plays, most notably breaking up a screen pass that helped stalled a Texans' drive.
Misi racked up a few of his tackles after getting beat to the edge by Arian Foster and yielded those aforementioned receptions, but overall, this game was a very positive development.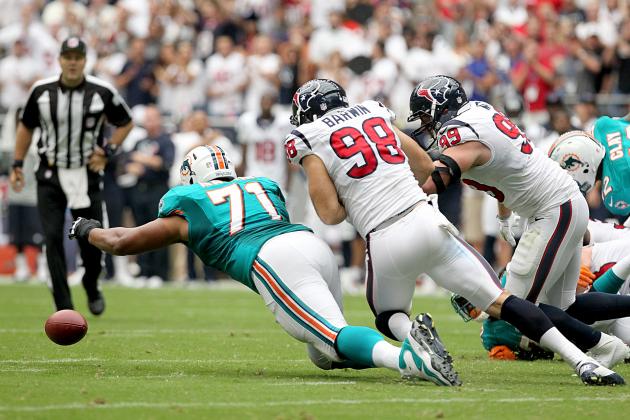 Thomas B. Shea/Getty Images

Given how poorly he played in the preseason, Jonathan Martin fared well in his regular-season debut.
But, of course, he wasn't without his hiccups.
Martin struggled to contain Texans defensive end J.J. Watt, who wreaked havoc on Ryan Tannehill and the Dolphins' offense throughout the game. Watt recorded a pair of sacks and batted down three passes.
Tannehill is mostly responsible for those deflected passes, but Martin is partially responsible as well. Offensive linemen are trained to prevent defenders from getting their hands in the air, which Martin consistently failed to do.
Overall, this might've been a positive step in Martin's development, but he still has plenty of work to do.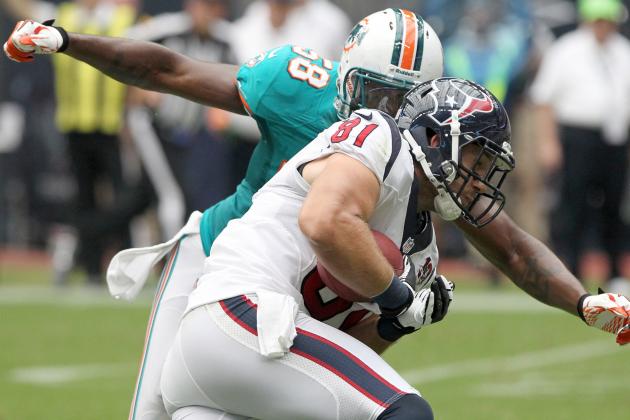 Thomas B. Shea/Getty Images

The Dolphins made Karlos Dansby the highest-paid linebacker in NFL history two years ago. With a five-year, $43 million deal, Dansby should've immediately become one of the league's preeminent players—but he didn't.
Dansby's play in his first two seasons with the Dolphins was respectable but underwhelming. He talked a big game but never backed it up on the field, and after this preseason, questions about his future with the Dolphins came into question.
On Sunday, however, Dansby finally looked like the domineering force that the Phins are paying him to be. He racked up nine tackles, including one for a loss and excelled in coverage which is a refreshing sight.
This Dolphins team needs all of its players to perform at peak levels, and Dansby has answered the call, so far.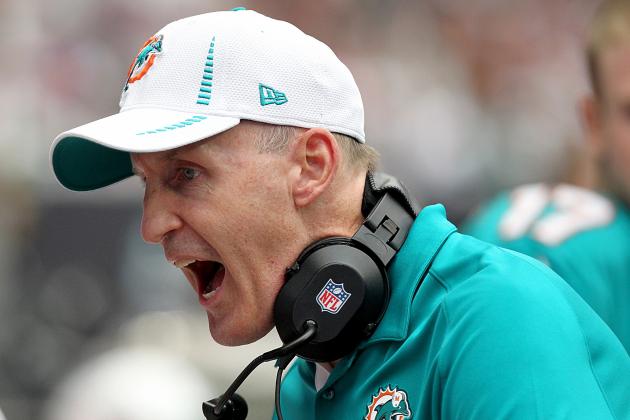 Thomas B. Shea/Getty Images

Firstly, Joe Philbin is a loser because his team imploded in the second quarter. The Dolphins actually looked like the better team after the first quarter, but once the Texans jumped ahead 10-3, things got very ugly.
Philbin clearly didn't get the best out of his players today, and there was little ingenuity in his offensive game-plan. In order to win with this offense, Philbin has to get creative and find ways to utilize the little talent he's given.
After displaying an array of funky offensive formations in training camp, the Dolphins didn't run anything particularly unique, either.
But, ultimately, this all traces back to Jeff Ireland. Philbin can only coach the players Ireland gives him, but Ireland hasn't given him anything to work with. Few, if any NFL coaches could be successful with this wide receiver corps, secondary and inexperienced rookie quarterback.
If Sunday's game was any indication, then the Dolphins are headed for a bottom 10 or bottom five finish. To be be frank, I'll be shocked if Stephen Ross doesn't fire Ireland.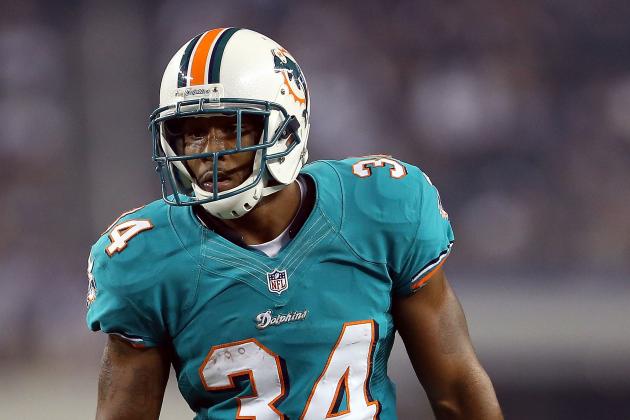 Ronald Martinez/Getty Images

The Dolphins may have discovered another diamond in the rough from the CFL.
Import Marcus Thigpen made his NFL debut with the Phins on Sunday, and he made it a memorable one, returning a punt return for 72 yards and a touchdown.
He's the first Dolphins player to take a punt to the house since Ted Ginn, Jr. did it in 2007.
Thigpen also returned five kickoffs for 137 yards. Averaging 27.5 yards per kickoff return is very respectable, and he only figures to get better as he gains some NFL experience.
It's too early to don him a longterm return-man after just one game, but Thigpen made a phenomenal impression in his debut.