Analyzing Robert Griffin III's Regular Season Debut for the Washington Redskins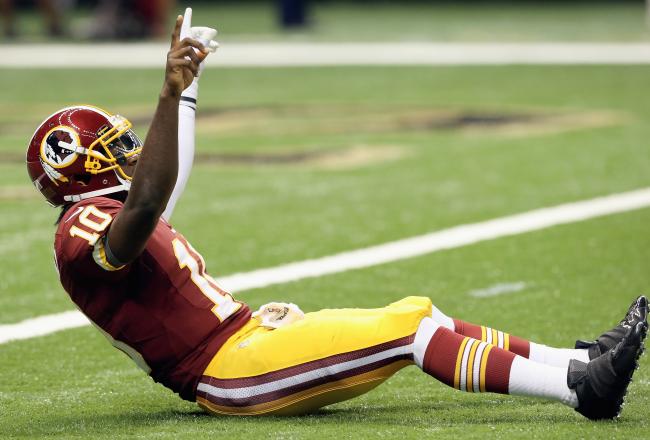 Ronald Martinez/Getty Images
With a completion of 19 out of 26 passes for 320 yards and two touchdowns with no interceptions, no one can doubt how impressive Robert Griffin III was for the Washington Redskins against the New Orleans Saints.
The second-overall pick in the 2012 NFL draft managed to outplay his illustrious counterpart Drew Brees. In doing so, Griffin sparked the Redskins to their 40-32 upset win.
Here are some thoughts on what Griffin got right and wrong in his spectacular trip to the Big Easy:
Griffin's Play-Action Game Is Excellent
Griffin's fakes for the play-action game are excellent. He is decisive with his handoff action and does everything at speed.
That quickness with the ball doesn't give the defense time to spot the deception, and Griffin hides his intent well. He announced these skills in stunning fashion for his first regular-season touchdown pass, an 88-yard connection to Pierre Garcon.
Griffin's superior play-action technique will lead to many big plays for the Redskins passing game this season
Griffin sold the run by expertly replicating a delayed handoff. He briefly paused when pretending to place the ball in the hands of Alfred Morris. As he turned to make the pass, Griffin cleanly shielded the ball with his body.
The play-action game is essential to the offensive design of Mike and Kyle Shanahan. On this evidence, Griffin has the technique to keep defenses guessing and expose them to big plays all season.
Griffin Is Quick to Take Off on the Run
Griffin displayed no hesitation about trusting his ability to make plays as a runner. He ran for 42 yards on ten carries. Some were designed runs, but others occurred when Griffin quickly opted not to test tight coverage and to try and beat the pass rush in the pocket.
As a scrambler, he is clearly a true playmaker. His long-striding style and shifty quickness often take him past the first defender who has a chance to tackle him.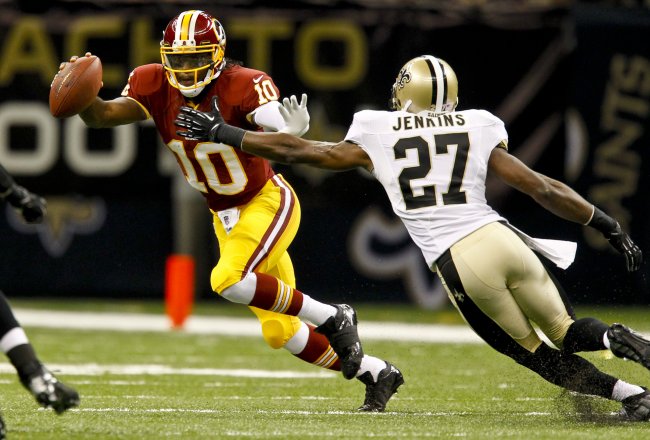 Griffin certainly won't hesitate to try and make a play with his feet
Derick E. Hingle-US PRESSWIRE
However, effectiveness on the run is a fine line, and Griffin is perhaps sometimes a little too quick to rely on his legs. The Saints didn't put him under much pressure and it will be fascinating to see how Griffin reacts to a more swarming pass rush.
The last thing the Redskins want is for their franchise quarterback to be taking off on the run every time pressure closes in or coverage schemes make him hesitate.
Griffin's Arm Strength and Quick Release are Perfect for Shanahan's West Coast Offense
Griffin's arm strength was no secret when the Redskins drafted him. However, that made it no less impressive to see Griffin zip firm strikes to his receivers in regular-season action.
The pace of the ball is always high and the release is quick. Those attributes are perfect for the West Coast passing game Shanahan favours.
The first-half touchdown pass to Aldrick Robinson was a prime example. It was a sharply run slant-curl route, typical in a West Coast playbook. As soon as Griffin worked himself an extra second, he fired the pass into Robinson with tremendous zip on the ball.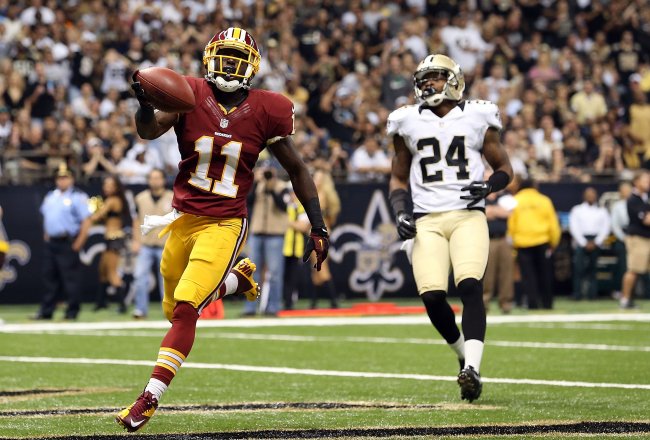 Slant patterns, like the one Aldrick Robinson scored on, can take advantage of Griffin's arm strength
Ronald Martinez/Getty Images
Shanahan requires his quarterbacks to get the ball downfield from a moving pocket. That demands the level of arm strength and decisive mechanics Griffin showed today.
Conclusion
The Redskins simply couldn't ask for more from Griffin in his first regular-season outing. In truth, the Heisman Trophy winner exceeded expectations with a daring display.
The Saints didn't create heavy pressure and it will be interesting to see how Griffin stands up to a more consistent barrage. However, his initial decision-making provides plenty of cause for optimism and he has clearly benefited from Shanahan's efforts to tailor the offense to his strength.
He proved that he can be a playmaker both in the passing game and on the ground. In doing so, Griffin has already made the Redskins a much better team than the one that took the field in 2011.
This article is
What is the duplicate article?
Why is this article offensive?
Where is this article plagiarized from?
Why is this article poorly edited?

Washington Redskins: Like this team?