Bills vs. Jets: 5 Things We Learned from Buffalo's 48-28 Loss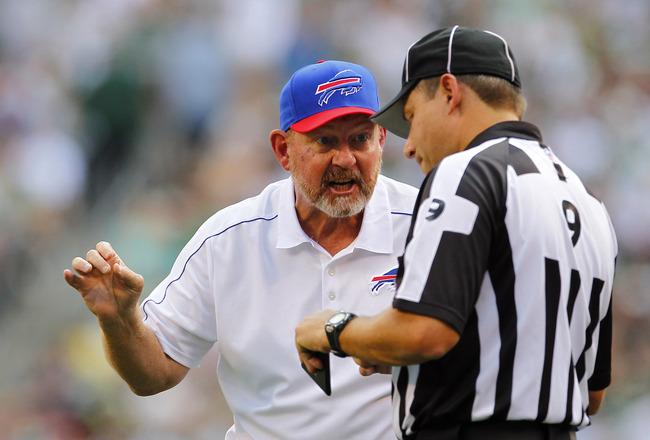 "This isn't a scrimmage?!"
Rich Schultz/Getty Images
This is clearly not the way the Buffalo Bills had hoped to start their 2012 season.
Optimism over the Bills' 2012 squad has been at an all-time high leading up to their matchup with the New York Jets, but the Bills fell on their face in the Meadowlands.
What did we learn after the first week of the season? It's simple—the Bills have plenty of work to do.
Buffalo's Vaunted Defensive Line Created No Pressure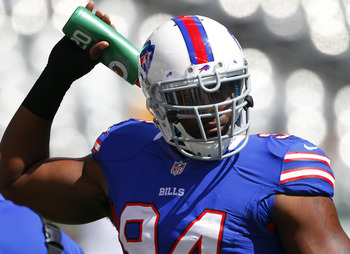 This was the most Mario Williams did all game.
Rich Schultz/Getty Images
In 2011, the Buffalo Bills could not get to the quarterback. Due to this fact, the Bills opened their checkbook and signed Mario Williams and Mark Anderson to large contracts.
In their first audition as Buffalo Bills, neither showed the ability to get to the quarterback.
For the most part, Mark Sanchez threw short, fast passes with great success. However, he also had had plenty of time to throw a few deep passes.
Anderson does deserve credit for causing Sanchez's only interception of the game, as he caused Sanchez to panic and attempt to pitch the ball.
The interior linemen did not have any success getting to the quarterback, either. It's only one week, but if the Bills plan on stopping any team, the defensive line needs to step up.
The Cornerbacks Played Poorly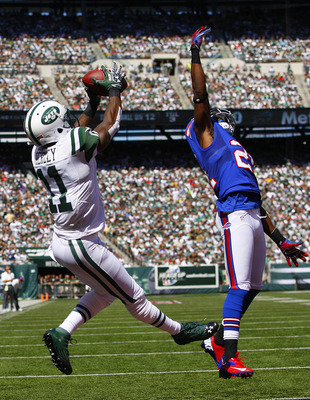 Leodis McKelvin was picked on all game.
Rich Schultz/Getty Images
Heading into the season, my biggest concern was the Bills cornerbacks.
With one game in the books, my concern has risen significantly.
There is a lot of youth at the cornerback position. Aaron Williams is in his second year and is coming off a disastrous preseason. On Sunday, Williams was called for a penalty and beaten numerous times.
Stephon Gilmore, the Bills' first-round pick of the 2012 draft, also had a bad game. Gilmore bit on a Mark Sanchez pump-fake that resulted in a Stephen Hill touchdown. He also was beaten numerous times throughout the game.
Lastly, Leodis McKelvin, the elder statesman of the Bills' starting corners, was picked on all game by Sanchez. McKelvin did a poor job keeping up with wide receivers and gave up numerous first downs. He also was responsible for giving up a touchdown to Jeremy Kerley.
There will be plenty of growing pains with the Bills' starting corners unless the front seven can create consistent pressure on the quarterback.
Ryan Fitzpatrick May Be a $59 Million Mistake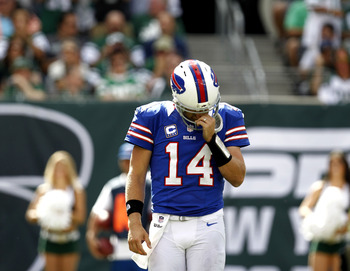 This is how we all felt, Fitz.
Jeff Zelevansky/Getty Images
The Jets always have had a great game plan when playing Ryan Fitzpatrick. It continued into 2012, when the defensive backs seemed to know exactly what Fitzpatrick was going to run before the ball was snapped. Fitzpatrick threw three interceptions, and all of them were his fault.
The Bills were coming off an interception of Sanchez when Fitzpatrick started his first drive. A few plays in, he threw a ball to Stevie Johnson, his favorite target.
Should Johnson have come back to the ball? Absolutely, but Fitzpatrick is at fault for trying to throw the ball that late into Johnson's break. Revis read the play beautifully and simply stepped in front of the pass.
Kyle Wilson, the Jets' slot corner, made a great read of a Fitzpatrick pass. Much like Revis, he simply jumped the route. Fitzpatrick should have seen the tight coverage, but he seemingly believed he could squeeze the pass into the tight coverage. It was simply Fitzpatrick trying to be a gunslinger.
Fitzpatrick saved his worst interception for last.
On a play where Fitzpatrick was looking to find David Nelson, Antonio Cromartie read the play and let Donald Jones run downfield, where he was being covered by one of the Jets' safeties. Cromartie simply followed Fitzpatrick's eyes and was hit in the midsection with Fitzpatrick's third interception of the game. The interception and consequent touchdown were too easy, and the interception was embarrassing.
The Bills have a tendency of giving out contracts a bit too early in seasons. Last year, Fitzpatrick signed a $59 million deal after his strong start, and after receiving his payday, Fitzpatrick's play has plummeted.
The Bills also extended Dick Jauron's contract in 2008 after he had the Bills out to a strong start. Needless to say, that extension didn't work out, either.
Right now, Fitzpatrick has a lot to prove to show that he isn't a $59 million mistake.
The Coaching Staff Had the Bills Completely Unprepared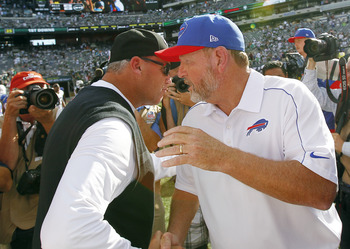 Chan Gailey did not have his squad prepared.
Rich Schultz/Getty Images
The players deserve to be bashed, but so do the coaches.
Every year we seem to be content with the Bills' poor play in the preseason because it's "just the preseason." Bills fans believed it was just a case of Chan Gailey running vanilla plays to not show anything to his regular-season opponents.
Against the Jets, the Bills came out flat in every aspect of the game. On offense we've discussed how poorly Fitzpatrick played. The offensive line struggled to create any holes for Fred Jackson, and the wide receivers did nothing to create separation from the Jets defensive backs.
On defense, there was no pressure up front, and the cornerbacks played miserably. Believe it or not, I thought the linebackers were OK. They had our usual struggle of keeping up with tight ends, but I thought the linebackers were strong against the run.
I can't forget to mention special teams.
The Bills allowed a 68-yard Jeremy Kerley punt return in the second quarter to give the Jets a 21-0 lead. To be fair, Ruvell Martin was tackled by a Jets player, and that helped create a seam for Kerley—but no one else came close to tackling Kerley.
All in all, there was only one bright spot for the Bills...
C.J. Spiller Played Great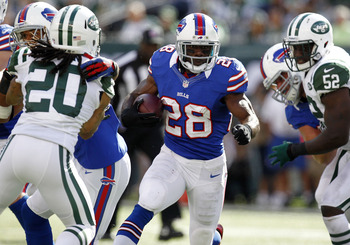 The Bills' lone bright spot.
Jeff Zelevansky/Getty Images
And that bright spot was C.J. Spiller.
When Fred Jackson took a nasty hit on the knee from LaRon Landry, Spiller stepped in and showed that his 2011 performance was no fluke.
On his third carry of the game, Spiller made the Jets defense look foolish. He squeezed through a tight hole, and then made Bart Scott and LaRon Landry miss him simultaneously on his way to a 56-yard run. Spiller also had a big 49-yard run and finished with 14 carries for 169 yards and a touchdown.
Spiller also had two receptions for 25 yards, but this was the only area where Spiller was not mistake-free.
Late in the first half, Spiller was open along the left sideline, where Fitzpatrick hit him with a nicely thrown pass. Spiller made a football move, but was then stripped of the ball.
That said, Spiller was by far the Bills' most valuable player against the Jets. With Fred Jackson getting an MRI on Monday, the Bills may need Spiller to continue his strong play as their starting running back.
The good news for Buffalo is that it was only one game. It is now their job to come back to Buffalo and win their home opener against the Kansas City Chiefs.
Keep Reading

Buffalo Bills: Like this team?