49ers vs. Packers: Final Report Card, Player Grades for Green Bay
The Green Bay Packers lost 30-22 to the San Francisco 49ers in their season opener. After falling behind early, the Packers couldn't complete their rally and started the season with a home loss.
The Packers were lackluster in many areas and were completely outplayed by the 49ers throughout the afternoon.
Let's take a look at the Packers' final postgame grades and evaluations.
Quarterbacks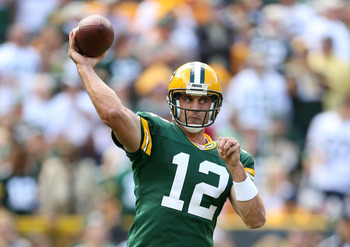 Andy Lyons/Getty Images
Aaron Rodgers – C-
At times, Rodgers looked like the MVP of the league. Other times, he looked below average. The interception was absolutely killer against a stout 49ers defense. Rodgers has created incredibly high standards for himself based on previous play.
Rodgers finished the day completing 30 of his 44 passes for 303 yards, two touchdowns and an interception. On the ground, Rodgers ran the ball five times for 27 yards as the Packers' leading rusher. Without the interception, Rodgers would be looking a pretty good stat-line against one of the top defenses in the league.
Running Backs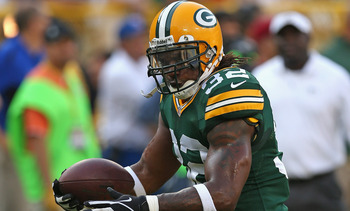 Jonathan Daniel/Getty Images
Cedric Benson – D
There weren't many opportunities for Cedric Benson, but carrying the ball nine times for only 18 yards is unimpressive. The holes weren't there and he didn't consistently get the ball, but the Packers needed Benson to show at least some production.
Benson didn't suffer any huge errors in pass protection, but didn't have that many opportunities. When the Packers went to the no-huddle, they used Randall Cobb in the backfield with Benson on the bench.
John Kuhn – C
Kuhn didn't have much of a role in the game for the Packers. He saw very limited playing time and didn't get a touch offensively. Kuhn was solid on special teams, as usual.
Wide Receivers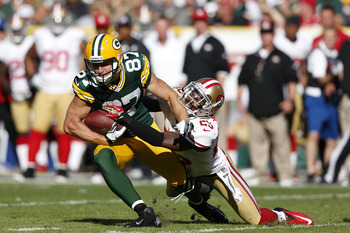 Joe Robbins/Getty Images
Greg Jennings – C+
Jennings came up with five catches on his nine targets, but managed just 34 receiving yards. He finished behind Jordy Nelson, James Jones and Randall Cobb. Jennings saw little action down field with most of his catches near the line of scrimmage. Jennings' longest completion was good for 10 yards.
James Jones – B+
Jones caught four passes on six targets and racked up a team-high 81 yards and finished with a touchdown. Jones was a threat for the Packers and looked great on the Packers touchdown drive which brought them within eight points at 23-15.
Jordy Nelson – B
Nelson quietly had 64 receiving yards on five catches, but didn't impact the game in the way he is capable of doing. He averaged 12.8 yards per catch, but didn't look as dangerous as he has in previous games. Part of this was the 49ers not giving up the long-ball, but Nelson didn't escape many tackles either.
Randall Cobb – A-
Strictly grading his play at wide receiver, Randall Cobb was very effective and made the most of the opportunities that came his way. He caught all nine of this targets for 77 yards on the afternoon. Cobb couldn't find the end zone, but was certainly the focal point of the Packers' offensive attack against the 49ers.
Tight Ends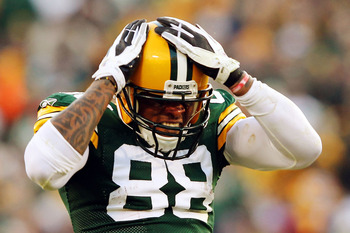 Jamie Squire/Getty Images
Jermichael Finley – C
Finley was a threat throughout the afternoon, catching seven passes for 47 yards and bringing in a touchdown pass. While Finley did make some plays, he also missed some opportunities and hurt the team. He had a huge drop on third-and-three that stalled a Packers' drive and kept points off the board.
Tom Crabtree – C
Crabtree did what he was asked to do throughout the game. He blocked fairly well during his time on the field. He wasn't targeted in the passing game at all. However, he was part of the Packers' four tight end set on the Packers' second quarter touchdown.
D.J. Williams, Ryan Taylor – N/A
Neither player had much of an impact on the game outside of special teams. They didn't do enough either way to earn a grade. They were both part of a the four tight end set, but Finley was targeted and came up with the catch.
Offensive Line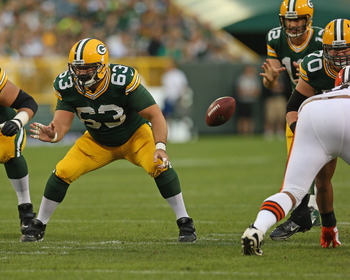 Jonathan Daniel/Getty Images
Marshall Newhouse – D
Marshall Newhouse got off to a rough start but was able to turn it around enough to give Rodgers a chance throughout the afternoon. In addition to getting beat off the edge, Newhouse was also responsible for a false start.
T.J. Lang – C
Lang was fairly solid throughout the afternoon. He didn't allow much pressure on Rodgers, but was responsible for a 10-yard illegal contact penalty. The Packers were able to overcome the penalty, but it's a play that needs to be avoided.
Jeff Saturday – B
Saturday had a solid debut for the Packers. The communication with Rodgers seemed very solid and without problems. Saturday wasn't called for any penalties and did a good job holding up in pass protection.
Josh Sitton – B
Sitton was also very good, continuing his strong play. He held up well against a talented 49ers' pass rush. He wasn't responsible for any penalties during the game.
Bryan Bulaga – C-
Bulaga was sharp at times, but other times committed dumb penalties that hurt the Packers' offense. He was called for a false and a hold. He held up fairly well, but allowed pressure to come through at various times during the game.
Defensive Line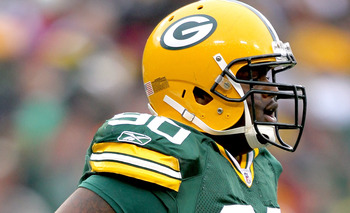 Matthew Stockman/Getty Images
B.J. Raji – C-
After being injured on the first play in the final preseason game, Raji wasn't at his best against a solid 49ers' offensive line. Raji struggled to collapse the pocket and get pressure on Smith. Raji also struggled in the run game as the 49ers ran the ball for 186 yards, averaging 5.8 yards per carry.
Ryan Pickett – C-
When your major responsibility is stopping the run and you give up 186 yards, you're not doing your job. That was the case for Pickett who failed to get any production on the defensive line. The 49ers dominated the battle upfront in large part because of Pickett's struggles.
C.J. Wilson – C
Wilson was more active than Raji and Pickett on the line, but also didn't do enough to impact the game. Wilson hurt his groin the game which impacted his playing time.
Jerel Worthy – N/A
Worthy saw time based on Wilson's injury, but didn't have enough opportunities to earn a grade one way or the other.
Linebackers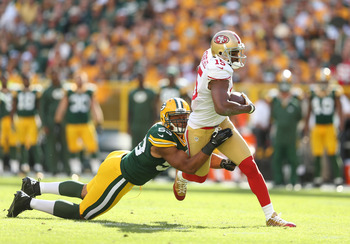 Andy Lyons/Getty Images
Clay Matthews – B+
Matthews was the bright spot defensively, at times getting to Alex Smith and making him pay. There were stretches where Matthews was held quiet, but part of that is that nobody else was doing much. Matthews finished the game with 2.5 sacks and got four hits on the quarterback.
Nick Perry – C
Nick Perry was decent in his debut. He looked rushing the passer, but struggled when he was asked to cover. It's what should be expected for the college defensive end turned NFL linebacker, but it would have been nice to see more pressure with Matthews playing well.
A.J. Hawk – C-
Hawk didn't have a particularly good game, but did come up with a big play on third down and forced the 49ers to punt. It was the biggest play Hawk has made it quite some time. Hawk was active, with 14 total tackles, but plenty came playing clean up duty after a positive 49ers play.
D.J. Smith – D+
After a strong ending to last season and a strong preseason, Smith struggled against the 49ers. He was completely lost when the Packers went to zone, leaving the middle of the field wide open. Usually a sure tackler, Smith missed a tackle inside the 49ers' own 10-yard line that would have been for negative yards. Instead, Gore slipped the tackle and gained seven yards, putting the 49ers in position to pick up the first down.
Defensive Backs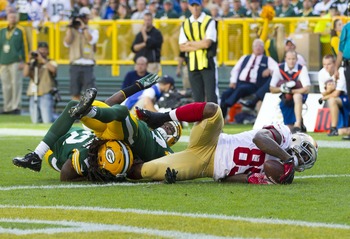 Jeff Hanisch-US PRESSWIRE
Tramon Williams – B
Williams looked much better than when he played last year with nerve damage in his shoulder. Finally healthy, Williams wasn't tested much by the 49ers and was good in coverage. Late in the game, Williams missed a tackle going for the strip instead of wrapping up. That problem plagued the Packers last season and needs to be improved.
Sam Shields – D+
Shields didn't have a particularly good game, but did have a bright moment on a crucial third down late in the game. Shields, knocked for his poor tackling, wrapped up and brought down Frank Gore.
Jarrett Bush – D-
Bush struggled in coverage and looked like a very poor starting cornerback. He just isn't good enough and the Packers desperately need Davon House to get back into the lineup. A third down pass interference was especially bad for Bush, keeping alive a 49ers drive. They then went on to score a touchdown.
Charles Woodson – C
Woodson didn't have his best game for the Packers playing his new safety role. He was a step behind on a few completions and was called for a pass interference on third down. Woodson redeemed himself by coming up with 1.5 sacks on the blitz, but it was at-best, an average game for Woodson.
Morgan Burnett – D
Miscommunication in the Packers' secondary, once again involved Burnett. After Alex Smith found Randy Moss wide open in the middle of the field for a touchdown, Burnett was involved in finger-pointing to place the blame. Burnett also struggled to tackle and an an embarrassing effort on Frank Gore's touchdown run.
M.D. Jennings – D
It was a tough game for Jennings, who came on for the Packers' nickel formation. He struggled in coverage and looked terrible trying to tackle. He was brought to the bench after an especially poor effort in favor of Jerron McMillian.
Jerron McMillian – D
McMillian wasn't any better for the Packers as he also struggled in his first regular season NFL game. He has more potential than Jennings, but failed to have an impact on the game.
Special Teams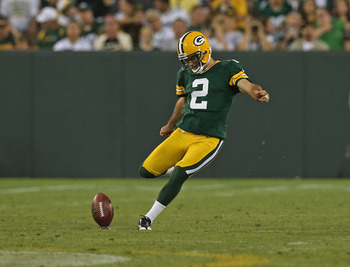 Jonathan Daniel/Getty Images
Randall Cobb – A+
Strictly graded on special teams, Randall Cobb was as good as can be expected. He took the most of his limited opportunities and scored on a 75-yard punt return for a touchdown. While there may have been questionable calls on the play, Cobb showed this aspect of the Packers will be a threat.
Tim Masthay – A-
Tim Masthay was another bright spot for the Packers averaging 48.2 yards on his six punts. He dropped four of his six punts inside the 20-yard line and helped the Packers manage the field position battle. While looked good for most of the afternoon, he did out-kick his coverage on one punt, which helped lead to the 49ers last-second field goal in the first half.
Mason Crosby- C
Crosby did what was asked of him by making his two extra points. His kickoffs were powerful, allowing just one return which went for 31 yards.
Coaching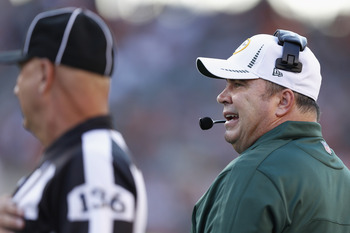 Joe Robbins/Getty Images
Mike McCarthy – C-
In the season opener, the Packers just didn't look as ready to play as the 49ers did. When a team comes out flat, some responsibility falls on the coach. McCarthy did a nice job by placing Randall Cobb in the backfield and utilizing that threat.
Dom Capers – D+
Whether it was a lack of execution or weak play calling, the Packers defense put in a poor performance against the 49ers. The 49ers didn't do anything outside of the norm, but rather what you'd expect out of them. Quick passes to make it easy for Alex Smith and run the ball. The Packers couldn't stop either and failed to get pressure on Smith with their blitzes.
Keep Reading

Green Bay Packers: Like this team?