San Francisco 49ers vs. Green Bay Packers: Live Blog, Highlights & Analysis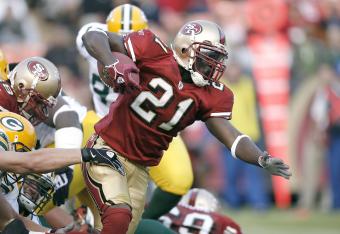 Greg Trott/Getty Images
NFL Kickoff Sunday is underway, with the first slate of 1 p.m. games almost behind us. It's been an exciting day in the NFL to say the least, but it's about to get even better.
The highly anticipated matchup between the San Francisco 49ers and Green Bay Packers is set to kick off within minutes. Aaron Rodgers' Packers will host Patrick Willis' Niners at Lambeau in America's Game of the Week.
A lot of folks are looking forward to the competition of great offense versus great defense. The Packers' O and Niners' D are both atop their craft as potential No. 1 units again in 2012.
However, both teams have made significant upgrades to the opposite side of the ball. Green Bay spent its first six draft selections on defensive players, while San Francisco used the NFL Draft and free agency to add speed and explosiveness to its offense.
In a potential NFC Championship preview, these two titans will clash in a battle for conference supremacy.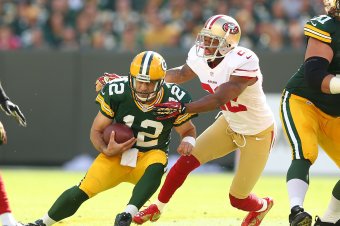 Andy Lyons/Getty Images
49ERS WIN
The San Francisco 49ers come in to Lambeau and pull off the upset. The Niners win a high-andrenaline game to start 2012 with a 1-0 record.
The Final: 30-22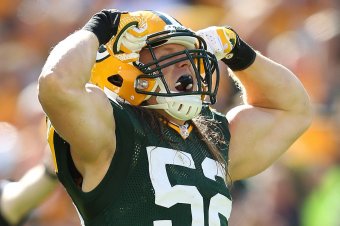 Andy Lyons/Getty Images
2 MINUTE WARNING
49ers maintain an 8-point lead on the Packers.
Aaron Rodgers is leading his team downfield.
Green Bay is limited on timeouts.
There is 2 minutes left to go in this game.
It's 49ers defense vs. Packers offense to decide this one.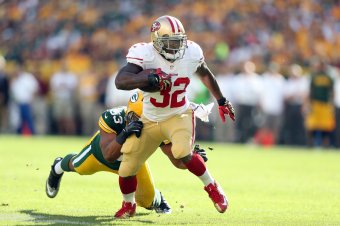 Andy Lyons/Getty Images
First Downs
The Niners just need to keep this drive alive -- first downs are a must. San Francisco is trying to take time off the clock with 4 minutes remaining in the game. The 49ers have an 8-point lead they are trying to protect, and they must be on their guard, offensively and defensively.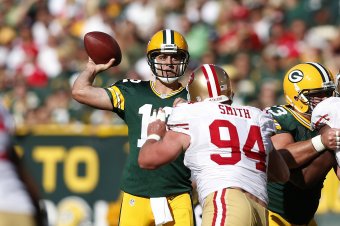 Joe Robbins/Getty Images
Time is of the Essence
The Packers just scored on San Francisco, with a Rodgers to James Jones connection in the Niners' red zone. Rodgers went 5-for-5 on that drive, making it 30-22 with 6 minutes left in the game. The 49ers will receive the ball and should look to run clock on offense.
The Packers will no doubt see this coming. Hopefully, the Niners can push the ball on them regardless.
Green Bay needs to get the ball back with as much time as possible.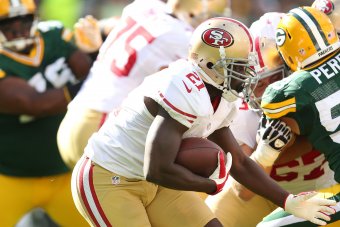 Andy Lyons/Getty Images
MOVE OVER PACKERS, THERE'S A NEW KID IN TOWN
In under a minute, Aaron Rodgers dropped back and and threw his first interception of the day, picked off by NaVorro Bowman. On the very next play, the 49ers handed off to Frank Gore who ripped the the Packers defense for a 25-yard touchdown score.
The Niners made it a two score game again, 30-15 49ers on top.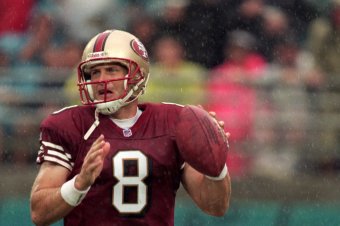 Andy Lyons/Getty Images
Fun Fact
Alex Smith tied Steve Young's 49ers record with 184 consecutive passes without an interception.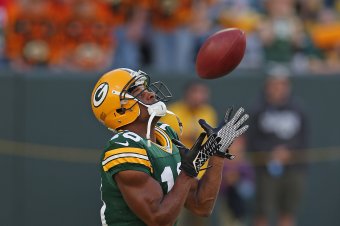 Jonathan Daniel/Getty Images
Scoring Update: Randall Cobb Takes One Back, 23-15
The 49ers punted to Randall Cobb, who returned it 78-yards for a Packers touchdown. There was originally a flag on the play: a blatant illegal block in the back. The refs made the right call but pulled their flag off the field after discussing it and the touchdown stood.
There were at least two illegal blocks; one on Larry Grant and one on Anthony Dixon.
The Packers went for the two-point conversion and got it, to make it a one score game.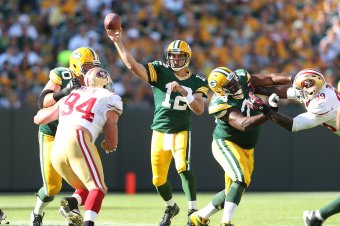 Andy Lyons/Getty Images
Game Status
This football game is in the hands of the 49ers. They have a 16-point lead over the Packers with the 4th quarter underway. Green Bay has not appeared to change their game-plan and their drives seems futile and redundant. The 49ers offense is not complacent right now, still running and throwing -- they know what Rodgers is capable of.
However, this is sizable deficit for them to overcome.
Biggest 4th Q comebacks by GB since 1980: 15, 14, 11 (3x), 10 (5x)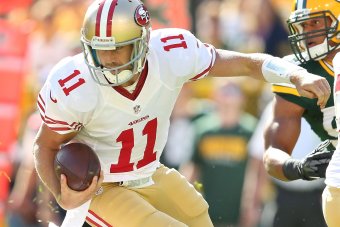 Andy Lyons/Getty Images
Fun Fact
Packers and 49ers combined for 76 takeaways in 2011. Total today: 0.
Andy Lyons/Getty Images
Your Latest Headlines
Clay Matthews Gets His Second Sack
Packers Can't Stop 49ers Run Game
Alex Smith Executing This Niners Offense
Beware: Rodgers in the 4th Quarter
No Turnovers Yet from Niners, Packers
It was easy to think that turnovers were going to effect this game but there haven't been any. Both quarterbacks have been efficient with the football, making good decisions and limiting the mistakes. The 49ers and Packers were No.'s 1 and 2 in the turnover ratio in 2011, and it shows.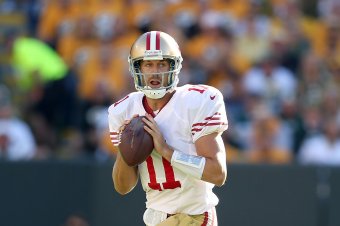 Andy Lyons/Getty Images
Scoring Update: Vernon Davis Scores Touchdown, 23-7 SF
The Alex Smith-Vernon Davis red-zone connection is rekindled. On a third and goal, Smith out of the shotgun found his tight end, who made a tough 4-yard TD catch in coverage. Smith fired it in there, taking risk and came away with the points. This is exactly what we've needed to see from this Niners offense.
The 49ers have a substantial lead on the Packers, halfway through the third quarter.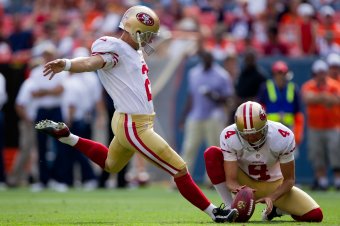 Justin Edmonds/Getty Images
DAVID AKERS MAKES HISTORY
Well, he tied history.
With two seconds left before halftime, the 49ers sent David Akers on to attempt a 63-yard field goal. Akers, cool as a cucumber, booted it, it bounced off the crossbar and over. The record-setting field goal is just another for Akers to add to his book since joining the 49ers. The score put the Niners up 9 before the half.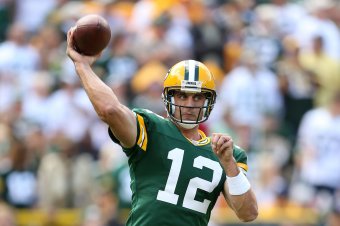 Andy Lyons/Getty Images
First Half Thoughts
The Packers and 49ers are playing hard-fought games, for sure. With the 49ers on top, you have to favor their first half performance over Green Bay's. The Niners are looking good in all phases, but need to pick it up offensively in the second half if they hope to close this one out.
The Packers haven't really tried to establish a balance on offense, and seem comfortable just allowing Rodgers to let it rip. Any potential success they may have had has been hampered by self-inflicted wounds in the form of little yellow flags.
And though Rodgers is the reigning league MVP, this is probably the best defense he'll face all year. The 49ers are extremely talented through every level of their defensive infrastructure.
The cornerbacks have been able to take away his receiving options, which has allowed the 49ers' defensive front time to get after Rodgers. It's been complementary football for San Francisco all day.
On offense, Joe Staley and Alex Smith have had particularly strong performances. The Niners offense has been able to control the tempo of the game with a slow-paced, high-percentage, grind-it-out style of football. Smith has been accurate and smart with his decision-making throughout the first half.
He hasn't allowed the Packers defense to make a play because he knows that's all they'd need to take this game over.
The 49ers go into the locker room with a 16-7 lead over the Packers.
Moss Field Time Update
Randy Moss has been in for 9 of 29 offensive plays. He has definitely been limited like SI's Jim Trotter originally suggested this offseason. But there is still a whole half left of play, so the 49ers could plan to use him more in the second half.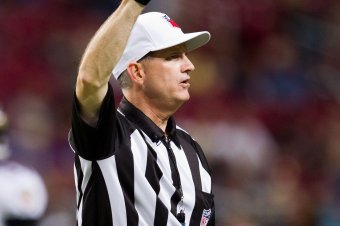 David Welker/Getty Images
Flags, Flags and More Flags
With the first half winding down, the 49ers have 4 penalties for 45 yards and the Packers have 8 for 62 yards. People may want to blame the refs after this one but the truth is it's equally bad for both teams.


<blockquote class="twitter-tweet">
49ers have been in base defense for just one play. They've played 10 snaps of nickel, 14 snaps of dime. Willis comes off for Cox in dime.
— Matt Maiocco (@MaioccoCSN) September 9, 2012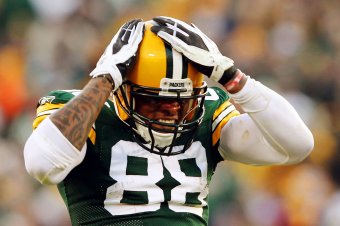 Jamie Squire/Getty Images
Scoring Update: Rodgers Finds Finley, Packers Within 3
Despite a couple of penalties, the Green Bay Packers were able to engineer a scoring drive against the 49ers -- finally getting on the board. Rodgers hit his tight end Jermichael Finley on a quick slant inside. The intensity of the game is beginning to build between the players, as the score gets closer, now a three-point game.
It's 10-7, 49ers over the Packers
Fun Fact
Aaron Rodgers is 0-8 at home when trailing by more than 7 points at any point in the game. 49ers up 10-0.
Randy Moss comes on the field, Randy Moss scores
All of sudden, the San Francisco 49ers are up 10-0 -- YES FOLKS, TWO SCORES -- on the Green Bay Packers at Lambeau. The 49ers are off to a hot start, both defensively and offensively. But this game is far, far from over. If you remember the in NFC Divisional Playoffs against New Orleans, the Niners got off to a great multi-score lead, but it ended up being a close one.
But the first 49er to find the end zone in 2012 is non other than Randy Moss.
The 49ers are up 10-0 on the Pack.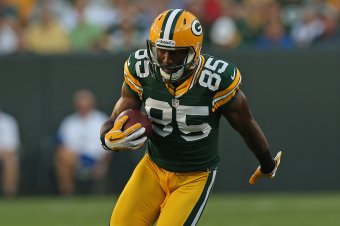 Jonathan Daniel/Getty Images
Thought on the First Quarter
Despite adding all of the weapons, the 49ers have maintained their offensive identity. There was a lot of concern that with all of the additions to that side of the football that the 49ers might diverge from what they truly are. San Francisco has been running the ball on offense and it's limited the damage that Clay Matthews and Nick Perry can inflict if given the opportunity.
San Francisco's defense has done an excellent job of limiting Aaron Rodgers. Justin Smith has been soaking up the offensive line, allowing Aldon Smith to get frequent pressure. A great pass breakup by Tarell Brown, preventing a potential TD, also helped the Niners in the first quarter.
It's 3-0, 49ers on top.
Fun Fact
<blockquote class="twitter-tweet">
#49ers 3, #Packers 0, 1:20 first quarter (Packers were held scoreless in 9 of 64 quarters last year).
— Eric Branch (@Eric_Branch) September 9, 2012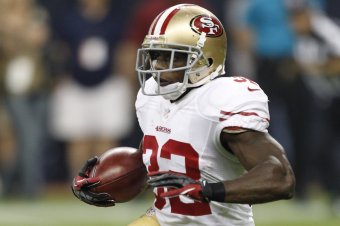 Bob Levey/Getty Images
Niners Run Game
We have to note Kendall Hunter's presence in the run game -- it's about a 50-50 split between him and feature back, Frank Gore. Hunter has looked explosive whether taking a run outside, or manuvering between the tackles.
San Francisco's ground attack showed some good signs and I expect them to grow strong as the game progresses.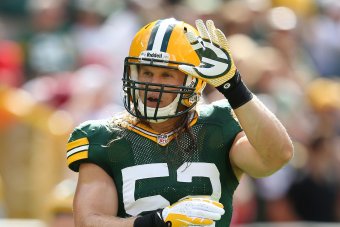 Andy Lyons/Getty Images
Thoughts on Alex Smith and Packers D
Alex Smith has looked fairly sharp for San Francisco when he's provided with good protection. He has been making smart decisions and taking his shots. Some of the designed plays are bothersome. What I mean by that is, on a 3rd and 4, Smith quickly went to Delanie Walker when he had Randy Moss split out wide with one-on-one coverage and never looked to that side.
The Packers defense has remained stiff, forcing the 49ers to settle for a David Akers field goal. They have been able to pressure and even effect NFC Pro Bowl tackle Joe Staley. Against the run, the 49ers have appeared to have an edge. They haven't allowed any big gainers, but the medium chunks aren't helping them any.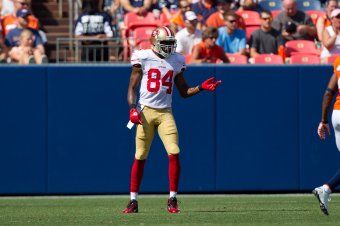 Justin Edmonds/Getty Images
Randy Moss Makes First Catch
The legendary receiver has been coming in on limited downs. But when he finally stepped on the field, he made his first regular season catch as a 49er -- a gain of twenty yards.
This article is
What is the duplicate article?
Why is this article offensive?
Where is this article plagiarized from?
Why is this article poorly edited?

San Francisco 49ers: Like this team?