Rams vs. Lions: Live Game Grades and Player Analysis for St. Louis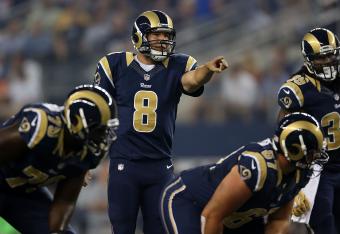 Ronald Martinez/Getty Images
With less than 10 minutes to play, the Detroit Lions trail the St. Louis Rams in the motor city. Matthew Stafford has thrown three interceptions - all in the first half - as the St. Louis defense has played terrific football, especially in the second half, where they have held Detroit to a field goal.
Sam Bradford hooked up with Brandon Gibson for the go ahead touchdown as they try to pull off the upset of the week in the NFL.
Matthew Stafford answered by leading the Lions on a five play, 80 yard drive for a touchdown.
The Rams answered with a nice drive that resulted in a long field goal by rookie kicker Greg Zeurlein, his third of the day.
Detroit answered with an 80 yard touchdown drive. On their last two drives, the Lions covered 160 yards in less than two minutes.
Great win by Detroit. Tough loss if you're a Rams' fan.
Lions 27, Rams 23.
Dilip Vishwanat/Getty Images
FINAL GRADES:
Sam Bradford (17/25, 198 yards, one TD, no INT's, 105.1 QBR) - Bradford played well today. He just doesn't have the same kind of weapons that Stafford has. If you give Bradford one elite receiver like Calvin Johnson, it would make every other reciever on this roster better. GRADE - B+
Steven Jackson (21 carries for 53 yards, 4 catches for 38 yards, no TD's) - Jackson battled hard against a really tough defensive front. It's obvious the Rams have a long way to go if they are going to be the smash mouth running team they hope to be. Jackson was simply above average in this game. GRADE - C+
Rams Receivers - Amendola had five catches for 70 yards. Gibson had a nice second half, catching four balls for 51 yards and the Rams' lone TD. Outside of those two, the Rams best receiver was Steven Jackson. The tight ends managed only three catches on the day, compared to 12 catches on the day from the Detroit tight ends. The highly touted rookies, Brian Quick and Chris Givens, combined for a goose egg on the day. To be fair, Givens did get about seven yards behind the defense only to have Bradford miss him. Quick didn't even get on the field. This group looked only slightly better than the pathetic group the Rams had last year. GRADE - D+
O Line - Considering that the starting center and left tackle went down with injuries, and the starting left guard had to slide over to center mid game, they didn't play that bad. Bradford was sacked three times, and hit a few others, but they did a decent job against a really good defensive front. GRADE - B-
D Line - This group managed only one sack on the day, as the Rams opted to rush three and drop eight for large chunks of the game. It's hard to argue with the strategy, since it worked for three-and-a-half quarters, but the D Line didn't live up to the enormous hype they received in the preseason. The NFL all time sack record looks safe after all. GRADE - C
Linebackers - Dunbar had an interception, and Laurinaitis was all over the field. Since the Rams were in so much nickel, they rarely had three linebackers on the field. They struggled to cover the tight ends, which has been a theme throughout the preseason. Overall, it was a "big play, big miss" type of game from this group. GRADE - C+
Secondary - Sure, they picked Stafford off twice. They also gave up 355 passing yards. The Rams secondary is easily the most improved part of this football team, but I believe they still have miles to go before we really see them play their best football. GRADE - B
Special Teams - Greg Zeurlein made all three of his field goals. Jonny Hekker booted a 57 yard punt that pinned the Lions inside their 10 yard line. Isaiah Pead had a 25 yard kick return. The Rams' special teams is a bright spot on this football team. GRADE - A
Coaching - I love the blueprint for this football team - pound the run, keep it close, play it safe, kick some field goals, and try to steal some wins in the fourth quarter. With 17 rookies on the roster, a paper thin offensive line, and a pedestrian receiving corps, that's throw the Rams are going to have to play. Having said that, when you find yourself against a team with a depleted secondary like Detroit had, I think you have to take some chances in the passing game. The Rams figured this out, just a little too late. The blueprint is spot on for this team. The in game adjustments in today's game should have come quicker. GRADE - B+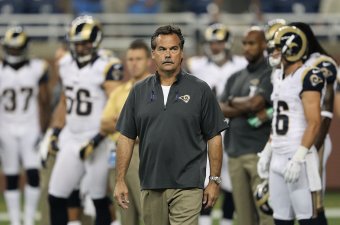 Leon Halip/Getty Images
With 10 seconds to play, it would take a miracle for the Rams to win. The Lions deserve a ton of credit for those last two drives, but you know the Rams are kicking themselves for not taking advantage of a great effort by their defense.
Bottom line, they scored one offensive touchdown today, and that's not going to get it done.
They competed against one of the best teams in the NFC, on the road, but this was a game they could have won.
Dave Reginek/Getty Images
Stafford to Johnson... Stafford to Burleson... Stafford to Scheffler... Stafford to Smith...
The Rams are only rushing with three and covering with eight, and Stafford is having his way with the Rams. The Lions quickly made their way into kicker Jason Hansen's range.
The only thing that might stop the Lions now was the clock.
Then Stafford hit Johnson with a laser to the five yard line. Eighteen seconds left. With no timeouts, the Lions spiked it.
Stafford to Kevin Smith, touchdown. Great play by Stafford, who was getting hit as he threw. Chris Long was right there to make the play, but Stafford never stopped looking for a receiver. He didn't panic.
Lions 27, Rams 23.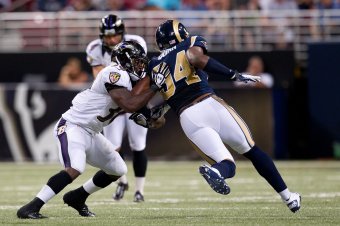 David Welker/Getty Images
After failing to connect on a first down, the rookie kicker, Greg Zeurlein, aka "Greg the Leg," aka "Young G.Z.," aka "the secret weapon" connected from 48 yards.
The Rams lead Detroit, in what would have to be the upset of the week, right?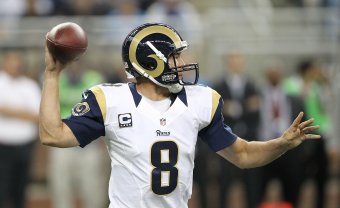 Leon Halip/Getty Images
Wayne Hunter steps in at left tackle for Saffold. Somewhere, New York Jets fans are laughing.
The Rams needed to drive the ball and not just give it back to Stafford. It would help if they could eat some of the clock and get into range for the leg, or even better, score a touchdown.
What happened next was a thing of beauty.
Sam Bradford led the Rams on his best drive as a pro QB. Bradford was poised. He was decisive. The Lions were shutting down the Rams' running game, basically telling Bradford and the Rams, "you're going to have to throw it to beat us."
Bradford rose to the occasion.
He found Amendola for a huge first down. Then he hooked up with Gibson. Then another completion to Amendola. The Rams made their way into Lions territory. With less than three minutes to play, Bradford has put the Rams in a position nobody in the country thought they'd be in.
The Rams might win this game.
Jeff Fisher called a timeout with 2:05 to play, Rams ball, third-and-nine, ball at the Detroit 28 yard line.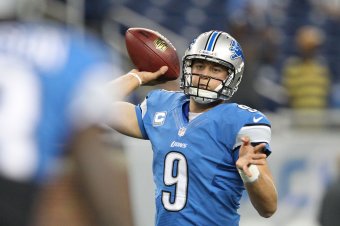 Leon Halip/Getty Images
Matthew Stafford came out guns blazing on this drive. The Lions put Calvin Johnson in motion, and this opened up Brandon Pettigrew for two huge gains. The Lions had over 30 yards in two passing plays.
Next up, Kevin Smith chewed up double digit yards on the ground. After Brandon Pettigrew caught a 24 yard strike across the middle, the Lions were at the Rams' 5. Kevin Smith did the rest, running it in from the five.
Five plays, 80 yards, touchdown.
The Lions made that look easy. Now the Rams need Bradford to do the same thing.
** Note - the injury to Saffold appears to be a head or neck injury. **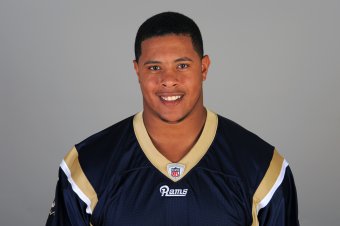 Handout/Getty Images
The Rams starting offense heading into the season: Saffold (LT), ???? (LG), Wells (C), Dahl (RG), and Smith (RT).
We traded Smith to the Jets because he was awful. Wells got hurt in this game (doesn't look too serious), and they just carted Saffold off the field.
That means Harvey Dahl is the only player we have right now in his original spot on the O Line. This doesn't bode well for our "power running game," or for Sam Bradford's health.
Dilip Vishwanat/Getty Images
The Rams got the football inside Lions' territory, meaning that if they just gained about 15 yards, they would be in range for The Leg.
Facing a critical third-and-three, Bradford hooked up with Steve Smith for a nice gain to the Detroit 25. Nice of you to show up, Steve. You're only three quarters late.
Barring a horrible mistake, now the only question would be "will the Rams get a TD or a Field Goal?"
Sam Bradford hooked up with Brandon Gibson on a beautiful throw for a 23 yard touchdown. Gibson made a nice catch.
The Rams lead, 20-13.
** Rodger Saffold was injured on the play and was on laid out on the field for a long time. **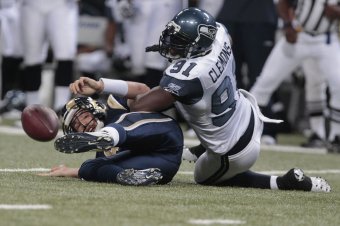 Whitney Curtis/Getty Images
Once again, the Rams' D makes Matthew Stafford look bad. They are really putting pressure on the Detroit QB, and they are doing a great job covering the Lions receivers.
Sam Bradford, you have a chance to be a hero right here. Step up and find a way to win.
** I'll give you a hint - You're going to have to get rid of the football quickly. **
To start the fourth quarter, the Rams were tied with Detroit. That in and of itself is amazing. However, the Rams offense has played pathetic football today, unable to do anything at all with the front four on the Detroit defensive line.
After Bradford was sacked, again, he fumbled the football. The Rams were able to recover, but were so far backed up that they had to punt. Jonny Hekker drilled a great punt, and a penalty on Detroit backed them even more. So the Rams' D will again be asked to save the day.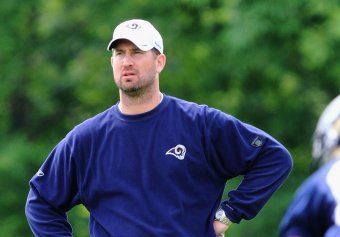 Dilip Vishwanat/Getty Images
The Lions have better receivers than the Rams. That much is obvious. They also have a better offensive line than the Rams. Having said all of that, they also have a better offensive game plan than the Rams.
Did I mention that Scott Linehan is the Lions' offensive coordinator?
Rams fans everywhere just punched their computer screen.
That's right guys, the worst coach in the history of St. Louis Rams' football is calling better plays than our own offensive coordinator, Brian Schottenheimer. The Rams have zero chance to win this game until they trust Bradford to throw the ball to somebody outside the numbers.
Paging Brian Quick? Hello, Brian Quick, are you in the building?
Didn't Jeff Fisher try to tell us they had this guy rated 1B with Justin Blackmon? Seriously?
The Rams D' is holding strong. They forced another punt. Time to watch Brian Schottenheimer call some more two yard passes to Amendola.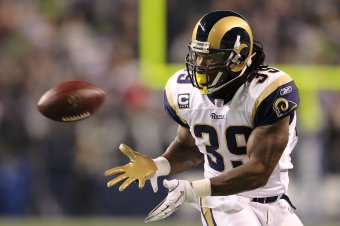 Otto Greule Jr/Getty Images
In fairness to Sam Bradford and the Rams' offense, Robert Turner is now trying to block Ndamukong Suh. We signed Scott Wells for a lot of money, and so far that guy can't stay on the field.
The Rams game plan is pretty simple - keep pounding the run, shorten the game, and hang around.
It's working, but at a certain point they're going to have to try to win.
Bradford has zero time to throw the football (what else is new?), and his outside receivers - Steve Smith and Brandon Gibson - have done next to nothing in this football game (one catch, seven yards). Lance Kendricks has two catches for 16 yards from the tight end position.
That means the Rams passing game has been the short stuff to Danny Amendola and screen passes to Steven Jackson. Eventually, it's going to be hard to beat the Detroit Lions, on the road, without some production from somebody else on this roster.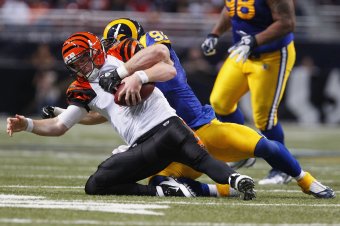 Whitney Curtis/Getty Images
Field position, field position, field position.
You keep going three and out, and they are going to have great field position. You keep giving Matthew Stafford a short field, and he is going to put points on the score board. The Lions are doing whatever they want in this game. If not for the three interceptions by Stafford, this would be a blowout.
The Rams' D held strong, getting a three and out of their own. If the Rams ever develop an NFL caliber offense, they might have a good football team. This defense is competing hard, having been on the field a lot today, and the Rams have some nice weapons on special teams.
It's just hard to play football when you're always playing on a short field because you're offense stinks.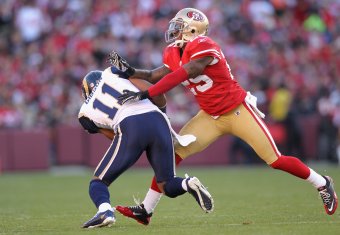 Ezra Shaw/Getty Images
The Rams were moving the ball, with Bradford completing two in a row to Danny Amendola for a first down, only to see a holding call move them back 10 yards.
It should also be noted that starting center Scott Wells is out with a foot injury. Rookie Rok Watkins has come into the game at left guard, while starting left guard has moved over to center.
Not a good sign for the Rams.
Facing a third-and-11, backed up inside their own 20 yard line, the Rams had to make a big play. Instead, they shovel passed to Steven Jackson for a short gain.
Hey, I get it. You don't want to make a big mistake down there, but the Rams are going to have to try to win - instead of trying not to lose - at some point in this game. The Rams have less than 100 yards in this game for crying out loud.
Jeeeeeeeeeez. Different season, new coordinator, same sorry offense. The Lions secondary is a bunch of no name guys for crying out loud. If we can't pass the ball against this group, it's going to be a very long season.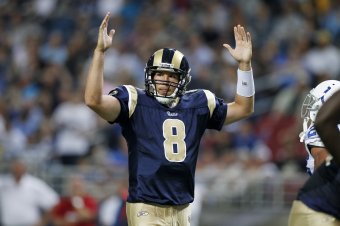 Joe Robbins/Getty Images
The Rams are hanging around. It's fun to see them actually compete against a good team.
Having said that, for them to actually have a chance to win this game - instead of coming away with some moral victory - Sam Bradford is going to have to put this offense on his back. Yeah, they have Suh, and he's a monster in the middle of that line.
But this Lions' secondary is beat up and held together by duct tape right now. Bradford has to put some points on the board right here.
Just as the Lions were starting to get into field goal range, Robert Quinn came off of the edge and picked up a sack. Facing third-and-18, Chris Long did the Lions a solid by jumping early. Now facing third-and-13, Stafford was able to connect on a long pass that came up short of the first down.
Jason Hansen came in and hit a 45 yard field goal to tie it up at 13.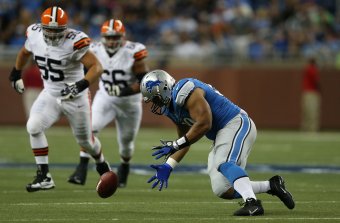 Leon Halip/Getty Images
To start the second half, the Rams got into a third-and-three, only to have LT Rodger Saffold move early and back them up five yards. Facing third-and-eight, Ndamukong Suh and the Lions D Line collapsed the pocket and sacked Sam Bradford.
After watching this happen all of last season, this was discouraging. The Rams O Line backs the offense up far too often, and then in a critical passing down, they allow Bradford to get sacked - again.
I'd also like to see Bradford start to anticipate the rush and get rid of the football.
After a 17 yard punt return, the Lions have great field position.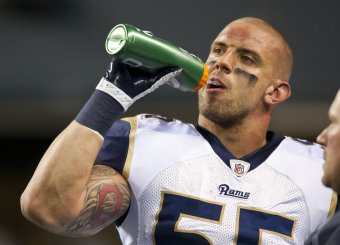 Jay Drowns/Getty Images
A couple of points we should focus on from the first half:
1. Stafford is actually having a monster game outside of the interceptions. He is 17-24 for 172 yards. He's had three passes intercepted, and a fourth one that should have been. So on passes that didn't go right to a Rams' defender, Stafford is 17-20. Wow!!! I mean, the three interceptions are great, but at some point the Rams are going to have to do a better job of slowing down this Lions offense.
2. The Lions have gained more rushing yards than the Rams. The Lions have ran the ball 13 times for 59 yards, while the Rams have rushed 10 times for 30 yards.
3. Sam Bradford has been okay so far. He is 6-9 for 66 yards, no touchdowns, and no interceptions. Bradford missed on a long pass to Chris Givens, a ball he badly under threw, but other than that he has played well. The numbers, in comparison to Stafford, don't look very good at all, but Bradford has made some nice throws.
4. Darryl Richardson (running back) and Chris Givens (wide receiver) have been the first players to come off of the Rams bench for the offense. I called this, saying that Givens - with that pure speed - would be able to provide the Rams with some big play ability every week, while fellow rookie receiver Brian Quick doesn't have one "elite" skill as a receiver yet. Richardson was just fantastic during the preseason, whereas fellow rookie running back Isaiah Pead struggled.
5. The Rams, who are short handed at defensive tackle, have used defensive end Eugene Sims at that DT spot on passing downs in the first half. The Lions rushing total is a reflection of the missing bodies (Michael Brockers) the Rams would normally have up front.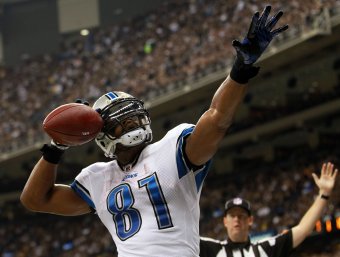 Ronald Martinez/Getty Images
The Lions have the greatest security blanket in the NFL. When Stafford gets in trouble - or throws three interceptions in a half like he has done so far today - he can just throw it as far as he can, because that's where Calvin Johnson lives.
You can not overthrow Megatron. That guy is from another planet, and that planet is called Cybertron.
Stafford chucked one about 50 yards and Johnson came down with it. Just when it looked like the Rams were going to give up another touchdown, Brandon Pettigrew dropped an easy pass. Then Bradley Fletcher did the Lions a favor when he dropped a sure interception in the end zone.
The Lions settled for a field goal. Rams 13, Lions 10.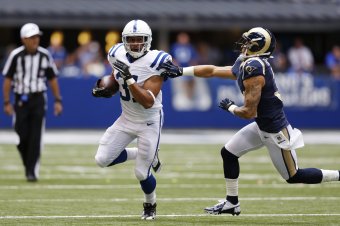 Joe Robbins/Getty Images
Cortland Finnegan picks off Matthew Stafford and takes it TO THE HOUSE! Touchdown St. Louis Rams.
The Rams have now picked off Matthew Stafford three times in the first half, and lead 13-7. This is important for several reasons. Obviously, it's good to have the lead, on the road, when you're a huge underdog like the Rams are in this game.
More importantly, the Rams are a team built to play with the lead. Their best player, Steven Jackson, is irrelevant if the Rams get behind early and have to ditch the running game. Their greatest assets on defense - great cover corners and a terrific pass rush - become even more dangerous as they hold onto the lead deeper into the game.
So the Rams lead the Lions 13-7. If they can hold on, this would no doubt be the upset of the day in the NFL.
Kevin C. Cox/Getty Images
The Rams are riding a strong running game to hang around in this game. I love how the Rams are using Steven Jackson so far (11 touches - 8 carries, 3 receptions). Jackson has 46 total yards in the game.
Also important to note for Rams' fans is that Darryl Richardson - not Isaiah Pead - is the backup running back so far for the Rams. Richardson came in and had a strong run, dragging defenders for an 11 yard gain.
The Rams were able to get the ball all the way to the Detroit five yard line before Nick Fairley sacked Bradford on third and goal. Zeurlein kicked his second field goal of the game.
Lions 7, Rams 6.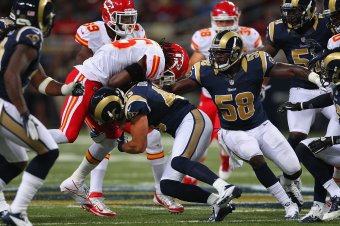 Dilip Vishwanat/Getty Images
Jo Lonn Dunbar picks Stafford off, the second interception by the Rams today. This is huge for the Rams, because the longer they can stay in the game, the longer they'll be able to use Steven Jackson as a viable offensive weapon.
If the Rams can just hang around, eventually Jackson will start to wear down this Lions defense.
Great play by Dunbar. So far the Rams D has been feast or famine.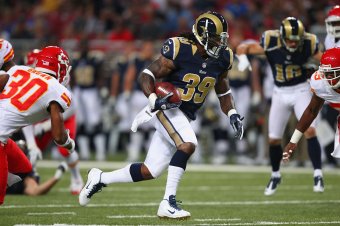 Dilip Vishwanat/Getty Images
After getting the ball back, the Rams were forced to punt. The Lions are doing a good job of keying in on Steven Jackson. Ndamukong Suh made a great play in the backfield, dragging Jackson down with one hand.
I didn't even know that was possible. It just shows how strong Suh is. Dude is a beast.
Bradford missed Chris Givens, who was WIDE OPEN deep down the field, but the ball was badly under thrown. The Rams picked up a penalty (horse collar, Craig Dahl) on the punt return.
So now the defense has to slow this Lions offense down. So far, they haven't been able to do that.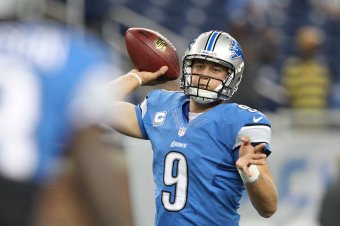 Leon Halip/Getty Images
The Lions have had the ball twice, and twice they've drove the ball 75-80 yard down the field. Think about it this way - in 27 plays, the Lions have gained 13 first downs.
Besides the Janoris Jenkins interception at the goal line, the Rams D has basically been a no show so far.
Lions 7, Rams 3.
End of 1st Quarter, Rams 3, Lions 0
This article is
What is the duplicate article?
Why is this article offensive?
Where is this article plagiarized from?
Why is this article poorly edited?

St. Louis Rams: Like this team?