Tiger Woods at BMW Championship 2012 Tracker: Day 4 Highlights, Updates and More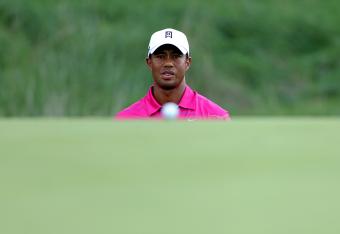 Warren Little/Getty Images
Tiger Woods fell three shots short of Rory McIlroy on the final day of the BWW championship. McIlroy took the tournament shooting 20-under, followed by Lee Westwood and Phil Mickelson at 18-under.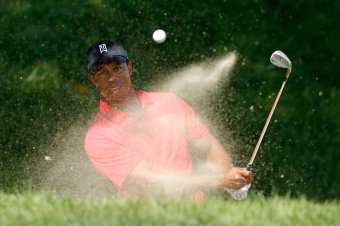 Scott Halleran/Getty Images
TIGERBOARD

| | | | |
| --- | --- | --- | --- |
| POSITION | SCORE | HOLE | TODAY |
| T4 | -17 | 68 | -4 |
Tiger's 14 foot effort misses to the right.
A par to finish and a four-under 68 today.
He came in with a three-under 33, but playing all four par-five's at even par today killed whatever chance he might have had.
Still, a good result all things considered.
He can win the FedEx Cup with a win at the Tour Championship and has played the entire playoff's so far very solidly.
Woods has 179 left.
He tries to fly it to the flag and leaves it in good shape below the hole.
A mid-range birdie put to finish.
The last hole is a 457-yard par-four that has water all the way down the right side.
Tiger has made a birdie and two pars here.
He finds the fairway on the left side 294 yards off the tee.
Woods has 177 to get home and that pin is cut on the right edge.
This putt breaks left.
Tiger plays the right break, but just under hits it.
A two-putt par and has ensured a win in two weeks will win him his third FedEx Cup.
TIGERBOARD

| | | | |
| --- | --- | --- | --- |
| POSITION | SCORE | HOLE | TODAY |
| T5 | -17 | 17 | -4 |
McIlroy has birdied 16 and is up by three at 21-under par.
Tiger has 27 feet left for birdie.
Tiger has found the center of the green.
At 222 yards today, Tiger has close to 30 feet left for a birdie.
The par-three 17th hole has a pin today cut on back-left.
Tiger has a birdie and two pars here this week.
Two putt birdie for Rory.
He has a three shot lead over Tiger and a two shot lead over Westwood.
Rory will have to give one back for Tiger to have a chance.
Three feet and four inches left to get within two shots for the moment.
He sinks it, but McIlroy has an eagle putt coming at 15.
TIGERBOARD

| | | | |
| --- | --- | --- | --- |
| POSITION | SCORE | HOLE | TODAY |
| T4 | -17 | 16 | -4 |
Tiger hits a beautiful cut wedge from 135 that lands left of the hole pin high and spins to three feet below for a real birdie chance.
Tiger drives it past where the fairway narrows and lands it on the center 313 yards off the tee and has 142 to that tight pin.
The 16th hole is a tough driving hole.
On the card at 470 yards, the fairway narrows considerably about 300 yards off the tee.
Water is on the right for the approach and the front pin today certainly puts that water in play.
Seven feet for birdie now for Tiger.
He has to back off with a gust.
He has the line perfect, but hits it too hard and it bounces out.
He fails to score on a par-five today and is three behind McIlroy.
Lee Westwood drops a shot on 14 and Rory is the solo leader.
TIGERBOARD

| | | | |
| --- | --- | --- | --- |
| POSITION | SCORE | HOLE | TODAY |
| T6 | -16 | 15 | -3 |
Tiger hits a brilliant wedge past the hole.
It spun from right to left and finishes pin high above the hole.
Birdie putt coming up.
Tiger chooses to lay up and hits it in front of the green with about 103 yards left to the flag.
Tiger has only 232 to go from the rough.
He should be able to reach this in two.
Westwood has birdied 13 and is tied with Rory at 19-under.
Tiger uses the driver off the par-five 15th tee and loses it left in the rough on the inside of a fairway bunker.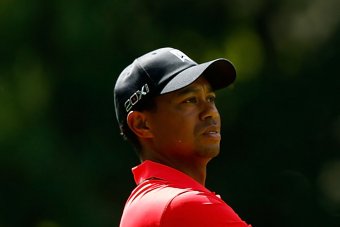 Scott Halleran/Getty Images
Tiger has 13 feet above the hole for birdie.
He played it to break a bit left and it does.
A stealing candy birdie for Tiger and is three back of Rory.
TIGERBOARD

| | | | |
| --- | --- | --- | --- |
| POSITION | SCORE | HOLE | TODAY |
| T5 | -16 | 14 | -3 |
He has 217 left.
Flags gently blowing to the left.
He hits a great shot that finds the back-middle of the green and rolls towards the hole.
Tiger does hit the fairway 280 yards down the middle.
He has 215 yards to a left edge flag.
The 14th hole is the toughest one on the course.
Playing at 4.29 for the week, you can it a full drive down the fairway, but the approach goes 90 degrees the other way.
Tiger plays a right side break into a dead straight putt.
It still will be a tap-in, but he will not be winning this week.
TIGERBOARD

| | | | |
| --- | --- | --- | --- |
| POSITION | SCORE | HOLE | TODAY |
| 6 | -15 | 13 | -2 |
Tiger has 13 feet left for a birdie.
He has made birdie twice here this week so far.
Tiger hits a nine-iron of the 13th tee.
He finds the green left of the hole, but pin high.
On the correct tier, he has a go for birdie.
This article is
What is the duplicate article?
Why is this article offensive?
Where is this article plagiarized from?
Why is this article poorly edited?