Jaguars vs. Vikings: Instant Grades and Analysis for Minnesota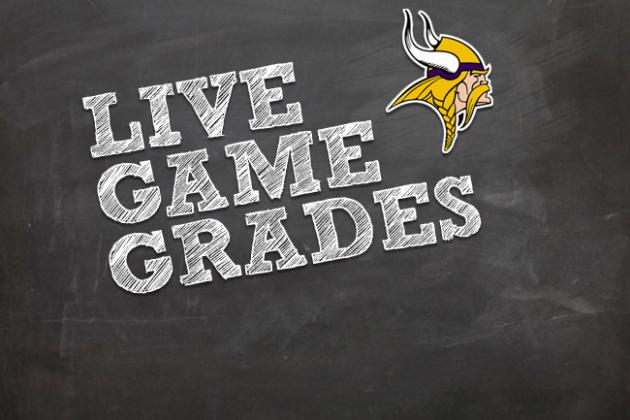 What a difference a year can make.
The Minnesota Vikings, who blew leads in losing their first four games in 2011, blew another one Sunday, giving up 39 yard touchdown pass with just 27 seconds left to fall behind the Jacksonville Jaguars 23-20.
The Vikings didn't quit however and completed two quick passes to set up a 55-yard field goal from rookie Blair Walsh as time expired to send the game into overtime.
Walsh came through again in overtime, converting from 38 yards to put the Vikings up 26-23.
Of course that kick would have ended the game until this year, where rule changes have the other team getting a possession if the other team goes ahead with a field goal. (A touchdown would have ended the game.)
The Vikings held off the Jaguars with rookie Harrison Smith making a nice pass breakup on third down and then Blaine Gabbert threw long on fourth down, ending the game in the Vikings favor.
Final Score: Vikings 26 Jaguars 23
Stay on this page for a quick analysis of the fourth quarter, followed by final grades and analysis.
Begin Slideshow

»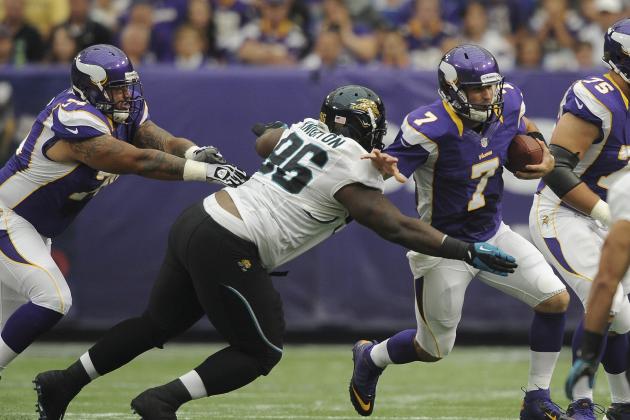 Hannah Foslien/Getty Images

4th Quarter Grade- A
Ponder executed perfectly in the fourth quarter, completing both long and short throws. The Vikings didn't score any touchdowns in the second half, but it certainly wasn't Ponder's fault.
3rd Quarter Grade- B
Closes the quarter with eight straight completions, including a pretty 29-yarder to Kyle Rudolph to put the Vikings in scoring position again. Easily the best series of the game for Ponder, and he needed it after a careless fumble at his own 20 yard line gave the Jaguars an easy three points.
2nd Quarter Grade- C
It took five possessions to get the car out of neutral, but Ponder finally got things going on the Vikings last drive of the half, moving the Vikings quickly down the field for their first touchdown of the season. A pretty dreadful half for Ponder overall, but saved from an F grade on the last drive.
Ponder made a bunch of quick throws on the last drive, getting the ball out of his hands quickly and letting Percy Harvin do the heavy lifting. Ponder's best throw was a quick slant to Michael Jenkins that picked up 14 yards and probably kept the Jaguars from quadruple covering Harvin.
First Quarter Grade- D
Nothing happened on the Vikings two offensive possessions. Ponder left the pocket early on third down on the first possession and came up short trying to run for the first down. You're a quarterback, not a running back.
The second series was a quick three and out, with Ponder throwing what should have been a pick on third down.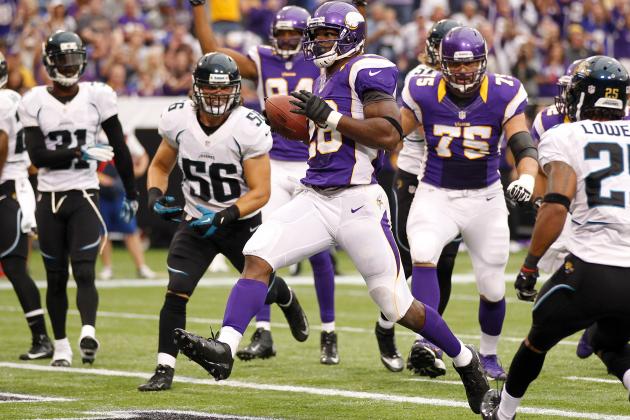 Andy King/Getty Images

4th Quarter Grade-- B
No touchdowns were to be had in the second half, but the offense really started to click in the fourth quarter. Christian Ponder, Percy Harvin, and yes, Adrian Peterson led the way as the Vikings did just enough to pull out the win.
3rd Quarter Grade-- A
Adrian Peterson looks as strong as ever, picking up his second touchdown of the day after a couple of nice runs. Percy Harvin puts the team on his back as both a receiver and a runner to move the ball down field. Ponder then hits Kyle Rudolph with a pretty pass inside the Jaguars five yard line.
2nd Quarter Grade-- C
A pretty terrible first half gets saved by a good drive to close things out with a touchdown. Percy Harvin gets an A grade for the half, while the rest of the group probably deserves a D. 117 yards of offense against a mediocre (at best) defense is nothing to shout about.
1st quarter grade-- D
A whole lot of nothing on two possessions. One first down on a nice throw and catch from Ponder to Kyle Rudolph, but other than that it's been four plays and out and then three plays and out.
Jacksonville's long drive on their first possession kept the Vikings offense off the field for most of the first quarter.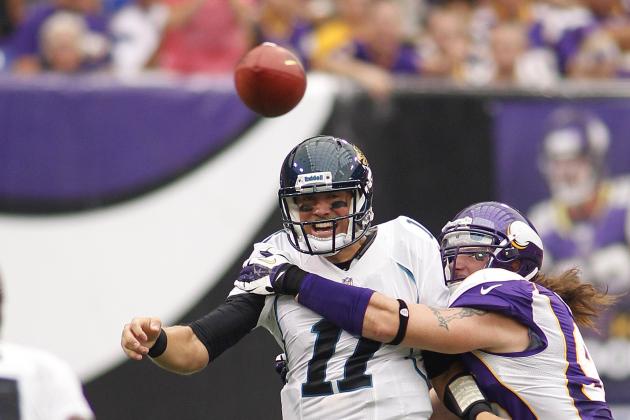 Andy King/Getty Images

4th Quarter Grade-- B
They only broke once, on what could have been a heart-breaking touchdown, when Chris Cook lost Cecil Shorts to give up a 39 yard touchdown with just 27 seconds left. Other than that, the defense played very good down the stretch.
3rd Quarter Grade-- B
Maurice Jones-Drew is getting some tough yards, but other than that the Vikings defense is starting to take over. A huge stop deep in their own territory after a Ponder fumble keeps the Jaguars to just a field goal. Brian Robison with a batted pass that saves a series.
2nd Quarter Grade-- C
Vikings defense made Blaine Gabbert look pretty darn good on the Jaguars scoring drive. Jaguars nickled and dimed their way down the field and held the ball for a long chunk of time. Need to put a hit on Gabbert to get him rattled.
Jaguars had a few drops from receivers, things could have been even worse.
Finally had a good series to get a stop that led to the Vikings last possession.
1st Quarter Grade-- C+
Jaguars put together an impressive first drive, running 17 offensive plays before settling for a short field goal and a 3-0 lead.
Offsides penalties on Jared Allen and Kevin Williams hurt things a bit. Chad Greenway losing Mercedes Lewis on 3rd and 8, for an 18 yard gain hurt more.
Bent but didn't break.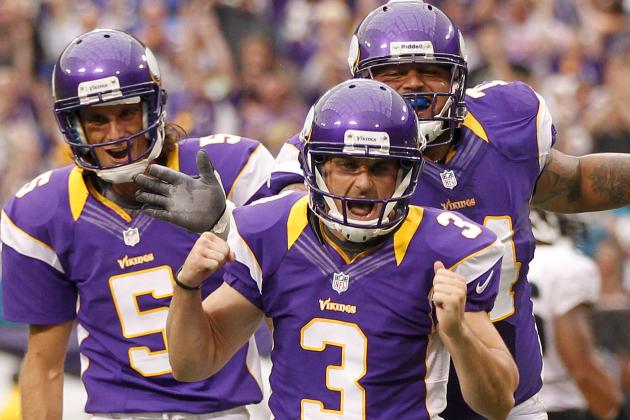 Andy King/Getty Images

4th Quarter Grade-- A+
Blair Walsh comes through big time. A 55-yarder at the gun by a rookie? And it would have been good from 65 yards. Then Walsh takes on the pressure of a 38-yarder in overtime and never blinks while drilling it through the uprights and giving the Vikings the shocking come from behind win.
3rd Quarter Grade-- B
A nice kickoff return by Harvin. Heads up play by Marcus Sherels to let a punt go into the end zone.
2nd Quarter Grade-- B
Big block on PAT by rookie Matt Kalil. Chris Kluwe doing his usual job punting the ball. Pretty mundane first half by both teams on special teams.
1st Quarter Grade-- B
Not a lot happened on special teams in the first quarter. Nice to see Percy Harvin deep on kick returns. Chris Kluwe with a decent first punt with nice downfield coverage.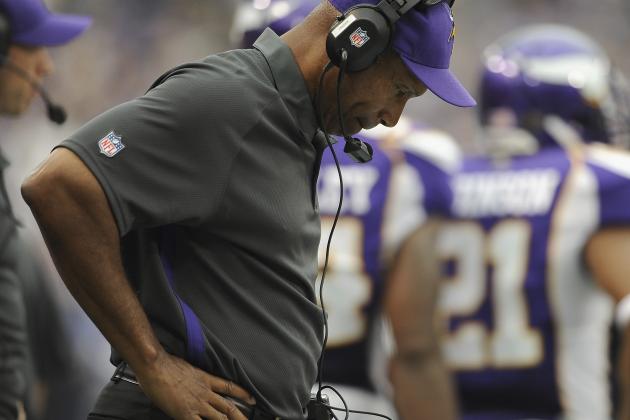 Hannah Foslien/Getty Images

4th Quarter Grade-- C
A win is a win. The Vikings staff would have had to take a lot of the blame if there were no late game heroics. Three runs up the gut that all got stuffed gave the Jaguars the ball back with plenty of time left to score, which they did. The Vikings had been picking off huge chunks of yards throwing the ball and one first down would have iced the game.
Again, a win is a win.
3rd Quarter Grade-- Got out of their own way and started putting the ball in Percy Harvin's hands. Three ugly looking plays inside the Jaguars five yard line limits the Vikings to a field goal.
2nd Quarter Grade-- D
There's really no excuse for coming out this flat in the first game of the year at home against a bad team. Another time out taken right after an injury time out.
The two minute offense worked, nothing else did.
1st Quarter Grade-- C
Kudos for putting Adrian Peterson on the field. Not much offensive imagination on the first two possessions. Two carries to Toby Gerhart to start the second drive didn't accomplish much.
Leaving Antoine Winfield alone in coverage cost them a huge chunk of yards on the Jaguars first drive.