Patriots vs Titans: Final Report Cards, Player Grades for New England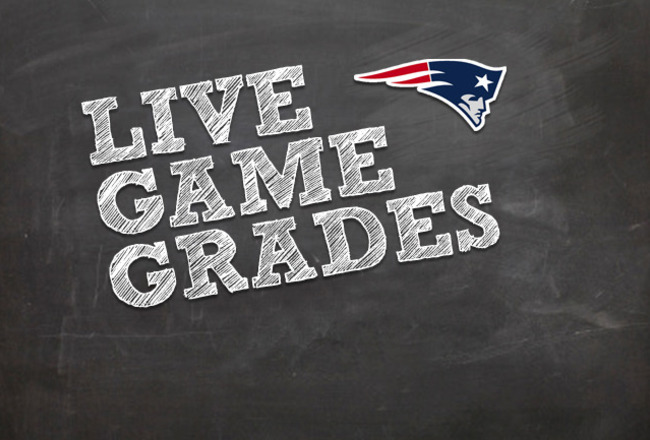 The New England Patriots got the season off to a great start. A complete performance, with strong efforts from their offense, defense and special teams, earned them a 34-13 victory over the Tennessee Titans in Week 1.

Players such as running back Stevan Ridley and rookie outside linebacker Dont'a Hightower stood out in this game, but who else earned top marks, and which players on the Patriots need to get better for the winning to continue? Read through the following slides to find out!
Quarterbacks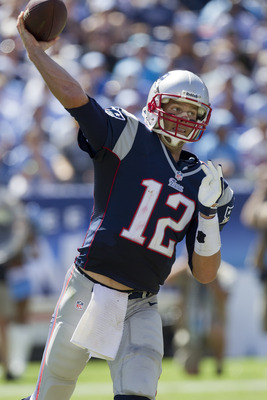 Wesley Hitt/Getty Images
Tom Brady: B+

Overall, Tom Brady had a very solid and strong performance to open his 2012 season as New England Patriots quarterback. Brady completed 23 of 31 passing attempts for 236 yards, and threw two touchdown passes with no turnovers.

Brady was consistently putting very good velocity on his passes. He was accurate for most of the game, but his grade gets docked slightly for throwing a few of his passes low and away, even on completions.

Brady could have even more completions and yards had it not been for a few misplays by his receivers. The most notable came on the Patriots' first drive, where Brady launched a strong ball downfield for wide receiver Brandon Lloyd, who got wide open behind the defense, but decided to turn around for the football rather than stay in stride, and dropped it rather than finishing with a 48-yard touchdown.

Brady did suffer a bloody nose following a big sack by Titans defensive end Kamerion Wimbley in the second quarter, but the injury did not affect his play at all, so Patriots fans should feel very good about Brady's first game of the season.
Running Backs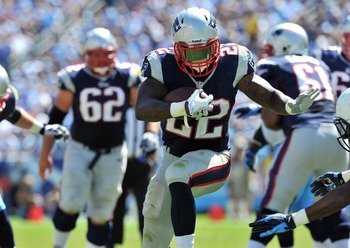 Stevan Ridley
Don McPeak-US PRESSWIRE
Stevan Ridley: A

BenJarvus Green-Ellis was a very solid back for the New England Patriots over the past four years, but there is a good reason why the Patriots let him walk during free agency. The Patriots have a new and improved, more talented feature back in second-year player Stevan Ridley.

Ridley's first start was a tremendous success. Ridley gained 125 yards on 21 carries and a touchdown, and also had two receptions for 27 yards. He used both his power and speed to create explosive plays, gaining 10 or more yards on seven different carries, and also had a 20-yard gain off of a pass out of the backfield.

If Week 1 is any indication, the Patriots appear to have their best and most complete running back since Corey Dillon.

Brandon Bolden: C-

Brandon Bolden was brought in for five straight carries late in the game. While he succeeded at his most important task, which was to run the ball in bounds and not fumble while running out the clock on the Titans, he still was unimpressive.

Bolden managed a 9-yard gain on his first carry, but had a net gain of only two yards on his final four carries. He has not shown the explosiveness to be much of a difference-maker as an NFL back, and at least today, he seemed to be little more than someone who will play just for his durability and reliability as a ball-carrier who does not have fumbling issues.
Wide Receivers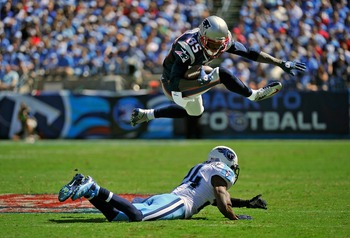 Brandon Lloyd
Frederick Breedon/Getty Images
Brandon Lloyd: B+

Unfortunately for Brandon Lloyd, his first game with the Patriots will be remembered most for the play he didn't make, not the many plays that he did.

Lloyd had an opportunity to start his Patriots career with a huge bang, as he could have scored a touchdown on his first drive with the team. Lloyd used his speed to get completely open behind the Titans' secondary, and Brady delivered a proper pass for a 48-yard touchdown, but Lloyd decided to turn around and try to make a play on the ball that way, and dropped it.

That play was a big disappointment, but it is important to remember how the play became a possibility in the first place. Lloyd made that play happen by getting wide open ahead of the defense, and if he can continue to do that, he will plenty of more opportunities for big touchdowns.

Lloyd played very well the rest of the game. He made a very impressive 27-yard catch, extending to make a catch away from his body while going out toward the left sideline, and still managing to tap both of his toes in bounds.

Another impressive catch came late in the game, when Lloyd caught a back-shoulder throw with two defensive backs draped over his back. He went on to finish the game with five total receptions for 69 yards.

Lloyd led the Patriots in receiving in his first game, and it became clear that he is going to be the team's top downfield weapon.

Wes Welker: C-

It is very rare to assess Wes Welker's performance in a game as being a non-factor, but that was exactly the case against the Titans. Welker only caught three passes for 14 total yards, and one could have watched the game hardly noticing his presence.

Welker also had a first-quarter drop on a crucial 3rd and 8, coming just two plays after Brandon Lloyd's disappointing touchdown drop.

For Welker, this game was simply a bad game, and other weapons in the Patriots' offense played much bigger roles than he did. He should certainly be much more effective in many more games this year, but this was a game to forget for him.
Tight Ends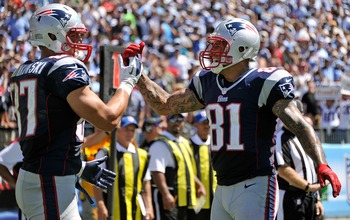 Frederick Breedon/Getty Images
Aaron Hernandez: A-

Aaron Hernandez signed a five-year deal worth up to $40 million this offseason. He started earning it with a strong season-opening game on Sunday.

Hernandez looked as effective as ever as a receiver, making six receptions for 59 yards, including a 23-yard touchdown. Hernandez looked very good running routes. He was wide open on the first touchdown, and also got wide open against in the right side of the end zone late in the game, but Brady missed him high on the run.

Hernandez even showed his versatility in this game by taking a direct snap, which he ran for a 5-yard gain.

Rob Gronkowski: A-

Like Hernandez, Gronkowski also signed a massive contract extension this summer, his for six years and $53 million, and he also gave the Patriots a good initial return on their investment with a strong performance against the Titans.

Gronkowski's first touch of the game came on a short pass on the left side from Brady, and Gronkowski showed his ability to run with the football by gaining 28 yards up the left sideline. In the second quarter, Gronkowski made a good, toe-tapping catch in the right corner of the end zone for a 2-yard touchdown. Overall, Gronkowski caught six passes for 60 yards.

There may not be a more reliable and more difficult weapon to defend on the Patriots' offense than Gronkowski, and that showed right away in 2012.
Offensive Line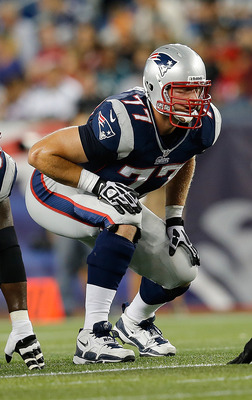 Nate Solder
Jim Rogash/Getty Images
Nate Solder: B-

Left tackle Nate Solder could have become the scapegoat for the Patriots' entire 2012 season. In the second quarter, Solder allowed Titans defensive end Kamerion Wimbley to blow right by on him on an edge rush, and Wimbley finished the play with a hard sack on Brady, which Brady struggled to get up from.

Fortunately, Brady's injuries were limited to a bloody nose, and the star quarterback was fine. Nonetheless, Solder must not allow unprotected pass rushers to get such big hits on his quarterback, and because of that, his play remains a cause for concern.

Overall, however, Solder was solid. He was beaten for pressure a couple more times in the game, but his protection was good for the most part, albeit against a fairly weak pass-rushing defense. He also did a good job lead blocking in the rushing offense, as Ridley often took his runs to the left side.

Logan Mankins: B+

Although the Patriots had much more success running the ball outside than inside, it was a decent game for left guard Logan Mankins. That's about all you can ask of a player who is playing at a high level Week 1, less than seven months removed from surgery to repair a torn ACL.

Mankins is a warrior, and there was no reason to pay much attention to him today, because he did notice make any big mistakes. The Patriots are certainly very glad, however, that he is back, healthy and playing well.

Ryan Wendell: B+

With no return this season from right guard Brian Waters, and a very disappointing camp for veteran center Dan Koppen leading to his release, center duty moved to Ryan Wendell with Dan Connolly being forced to move over to guard. Wendell handled the role just fine on Sunday.

The Patriots did a good job holding off pressure from the Titans' interior defensive line, and there were no exchange issues between Wendell and quarterback Tom Brady. The Patriots did not dominate on the interior offensive line in this game, but they were solid, and Wendell deserves credit for taking on an important role and doing well.

Dan Connolly: Incomplete

With Brian Waters and Dan Koppen no longer members of the Patriots, Dan Connolly has suddenly become one of the Patriots' most important offensive linemen. Connolly has the versatility to play any of the three interior offensive line positions, and for now, he appears entrenched as the starting right guard.

That is, however, assuming Connolly is healthy. Connolly left Sunday's game in the third quarter, and did not return. According to Greg A. Bedard of the Boston Globe, Connolly suffered a head injury, but is expected to be fine for next week.

Sebastian Vollmer: C+

Sebastian Vollmer, who missed three preseason games while recovering from back surgery, started Sunday's game versus the Tennessee Titans, but he did not play all of the game. The Patriots went with a rotation at right tackle on Sunday, and Vollmer was subbed out for much of the game in favor of Marcus Cannon.

Vollmer had a solid game when he was on the field, protecting Brady's right side adequately, but the fact that he did not play the whole game is an alarming sign. For a player who was a second-team All-Pro in 2010, Vollmer should be able to hold down his starting spot over Cannon, who struggled mightily at the position in the preseason.

The decision not to play him a full game was likely a matter of limiting his repetitions as he continues to recover from injury, but this will be an ongoing situation to monitor.

Marcus Cannon: B+

Marcus Cannon's preseason experience at right tackle was often disastrous, as he allowed pressure into the backfield much too often, including many big sacks on the quarterback. When he came in for Vollmer on Sunday, however, he was solid.

Cannon protected Brady's right side well, and did a good job in both pass protection and run blocking. While the Patriots should not yet be comfortable with Cannon as a starting right tackle should Vollmer's back continue to be a problem, he made a big step forward on Sunday.
Defensive Line
Chandler Jones
Kim Klement-US PRESSWIRE
Chandler Jones: A

The Patriots drafted defensive players with three picks in the first two rounds of the 2012 NFL draft, and it appears they may have hit a home run with all three of their picks. The first of those players taken, No. 21 overall selection Chandler Jones, got off to a fantastic start on Sunday.

Jones immediately became the most feared pass-rusher on the Patriots' defense, and as a result, the Titans' offensive line double-teamed him for much of the game. On one occasion that they did not, Jones ripped through Titans left tackle Michael Roos with a big pass-rush, and made a big hit on Titans quarterback Jake Locker, which knocked the ball loose and led to a fumble recovery touchdown.

Jones had five total tackles on the day, but made his biggest impact with that strip sack, which led directly to six points for the Patriots. The fact that he is already being double-teamed as a rookie in his regular-season debut shows how much respect the rest of the league has for him, and it is because of his ability to make big plays happen.

Jermaine Cunningham: A-

Jermaine Cunningham made big strides this preseason, and that positive momentum continued into the regular season. Cunningham did not start, but received considerable playing time as a pass-rusher, and ended up being one of two Patriots to record a sack in the game, and also landed another hit on the quarterback.

Cunningham made a strong case to move into the starting lineup with his performance, but he is very effective in the situational pass-rushing role he played on Sunday.

Rob Ninkovich: D+

The reason why Cunningham's performance may move him into the starting lineup is the contrary disappointing performance by defensive end Rob Ninkovich. Ninkovich made little to no impact on the game, as he was dominated by Titans right tackle David Stewart, and did not record a single tackle.

The Patriots expect Ninkovich to be able to bring pressure opposite Chandler Jones at defensive end, but he did not show that today.

Vince Wilfork: A-

There are few defensive tackles in the NFL who make a bigger impact on the games they play in than Vince Wilfork, and that was the case once again on Sunday.

Wilfork only record one tackle in the contest, but that tackle was a big one. On 2nd down and goal-to-go in the fourth quarter, Wilfork was able to bring penetration through the middle of the defense, then track down speedy Titans running back Chris Johnson going to his right side for a whopping 5-yard tackle for loss. That tackle for loss enabled the Patriots to hold the Titans to a field goal on that drive, which held a 15-point lead.

Even when Wilfork was not making tackles, his presence allowed the defensive ends and linebackers to make plays. Wilfork locked down the middle of the defense in this game, and was a crucial factor in the Patriots holding the Titans to just 20 rushing yards for the game.

Kyle Love: B+

The Patriots have a tremendous duo at defensive tackle, with Kyle Love next to Wilfork, and Love also played well in this game. Love had two tackles, and did a great job holding his gap on the defensive line, playing a big role in shutting down the Titans' rushing offense.

The Titans did nothing running the football up the middle of the defense, and a big reason for that was the rock-solid play of Love.
Linebackers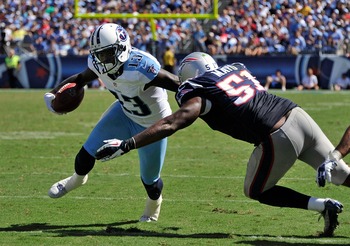 Jerod Mayo
Frederick Breedon/Getty Images
Jerod Mayo: A

Jerod Mayo was everything a star linebacker should be against the Tennessee Titans. Mayo was making plays all over the field throughout the game, whether that be stout tackles in the middle of the defense or getting out in space to make tackles near the sidelines and downfield.

Mayo did draw a pass interference penalty in the fourth quarter, but he also had a pass deflection in the game. Overall, Mayo was making plays all over the field, and was the leader of the defensive front seven effort in the season opener.

Dont'a Hightower: A

On the Tennessee Titans' first drive of the second quarter, Patriots outside linebacker Dont'a Hightower made the Patriots' decision to trade up and select him with the No. 27 overall pick in the NFL draft look very good. One play after making a three-yard tackle for loss on Titans running back Chris Johnson, Hightower was in position to recover a fumble at the 6-yard line and return it for a touchdown.

Hightower has tremendous instincts and athletic ability for a 6'3'', 270-pound linebacker, and those traits allowed him to make both of those big plays. Overall, Hightower had a very good game, finishing with five total tackles.

Brandon Spikes: D+

While Jerod Mayo and Dont'a Hightower certainly made their presence felt in the Patriots' season opener, middle linebacker Brandon Spikes did not. Surprisingly, Spikes was mostly a non-factor in the Patriots' dominance against the Titans' rushing offense, as he made only one tackle in the game.
Defensive Backs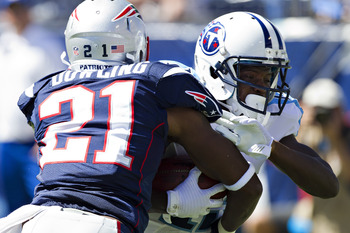 Ras-I Dowling
Wesley Hitt/Getty Images
Devin McCourty: B+

As seems to usually be the case for Patriots cornerback Devin McCourty, he had a day full of ups and downs on Sunday. Fortunately, McCourty's day had more ups than it had downs.

McCourty was partially responsible for both of the big passing plays, a 35-yard completion to Jared Cook in the middle of the field and a 29-yard touchdown pass to Nate Washington, that occurred within two plays of each other on the same Titans drive, as they both occurred on his side of the field. Overall, however, McCourty played very consistently in one-on-one coverage.

McCourty did a good job of staying in front of opposing receivers, and made two pass deflections in the game. One of those was an impressive reach over Titans receiver Damian Williams; the other should have been an interception, but McCourty dropped it right off of his hands.

McCourty finished the game with seven tackles, and also had a smooth 28-yard kickoff return. The Patriots need McCourty to re-establish himself as a No. 1 cornerback after a rough 2011 season, and through one game, he is off to a good start.

Ras-I Dowling: A-

Ras-I Dowling was the Patriots' third cornerback against the Tennessee Titans, but he played on the left sideline in nickel situations, and made a strong case for moving into the starting lineup at some point.

Dowling was very consistent in man coverage, and did a good job locking down opposing receivers. He also showed his ability to make sound tackles, one of which came on a key third-down stop. With the Titans backed up at their own five-yard line, Dowling shut down receiver Kendall Wright off of a short toss for a three-yard tackle for loss.

Dowling has a complete skill set to be a very good cornerback, and if he can stay healthy, he could become a star in their secondary. He showed very good signs of that on Sunday.

Kyle Arrington: B-

Kyle Arrington was easily the Patriots' most solid cornerback in 2011, but he was the worst of the top three on Sunday. Arrington allowed receivers to get ahead of him too often, and gave up some plays.

The biggest example of this came on an early fourth down and inches-to-go play. Arrington was singled out against wide receiver Nate Washington in one-on-one coverage. Titans quarterback Jake Locker decided to pass and looked the way of Washington, who beat Arrington off the line, got ahead of him and made a big catch for a 24-yard gain on what would have been a big early stop for the Patriots.

Arrington did not get exposed for any really big plays, and did deflect a downfield pass at the goal line that allowed teammate and safety Tavon Wilson to make an interception. It was not one of Arrington's better games, however, as he seemed to still be making the adjustment to playing slot cornerback in the nickel defense.

Tavon Wilson: A

The player who intercepted the pass deflected by Kyle Arrington, Tavon Wilson, was another rookie whose Patriots career started off with a huge game. Wilson did not start at safety, but he received considerable playing time, and certainly made the most of it.

His big play, of course, was his diving interception in the end zone on that pass deflected by Arrington. That was one of two pass defenses in the game for Wilson, the other being a big hit on wide receiver Nate Washington on what otherwise would have been a big gain in the middle of the field, but instead took Washington out of the game with an injury.

Wilson also had four total tackles in the game. His play stood out for his aggression, solid tackling and playmaking ability, and he could push for a starting spot very soon.

Patrick Chung: B-

As the strong safety, Patrick Chung is the leadership of the Patriots' secondary. He did not make any big plays to stand out in this game, but was mostly solid as both a tackler and in coverage.

Chung was partially responsible for Jared Cook's 35-yard gain up the right middle of the field, but otherwise did not give up any big passing plays. He also did a solid job tackling, finishing the game with four total tackles.

Chung may be the most solid and consistent defensive back that the Patriots have, and he held true to that in this game.


Special Teams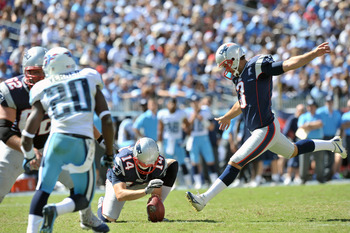 Stephen Gostkowski
Jim Brown-US PRESSWIRE
Stephen Gostkowski: A

Stephen Gostkowski did everything he needed to do in this game. He made both of his field goals, which were relatively easy kicks from 25 and 31 yards, and had three touchbacks on seven kickoffs.

He even made a big tackle to end what could have been a big kickoff return by Darius Reynaud, although the play ended up being brought back due to a holding penalty.

Zoltan Mesko: A

Zoltan Mesko had a great day punting on Sunday. Three of his four punts were pinned inside the 20-yard line, and the other was a touchback.

Mesko's punts gave the Patriots victories in the field position battle, which often led to big plays. One of his punts inside the 10-yard line led to the strip sack and fumble recovery touchdown, while another led to the Patriots ending the Titans' drive at the 2-yard line, and starting their next drive in positive territory on the field.
Coaching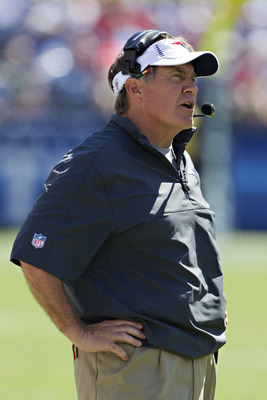 Bill Belichick
Wesley Hitt/Getty Images
Coaching Staff: A

The Patriots' coaching staff clearly had their team prepared and ready to go for Week 1, as the Patriots looked locked in and showed very few flaws in their season opener.

The Patriots' offensive gameplan was tremendous, as it utilized a wide range of players and balanced the passing offense and rushing offense well. They also did a good job of effectively running the no-huddle offense throughout the game, even while killing clock at the end of the game. Josh McDaniels' impact by returning as offensive coordinator showed clearly on this day.

Defensively, the Patriots clearly had their rookies ready to go, as Chandler Jones, Dont'a Hightower and Tavon Wilson all made big impacts. The Patriots rotated defensive linemen effectively up front, and the defense that has now become almost exclusively 4-3 and nickel packages has made massive strides from 2011.

Dan Hope is the Patriots gameday correspondent and an NFL draft Featured Columnist for Bleacher Report. For more Patriots analysis, follow him on Twitter @Dan_Hope.
Keep Reading

New England Patriots: Like this team?