10 Best Video Highlights of Week 2 College Football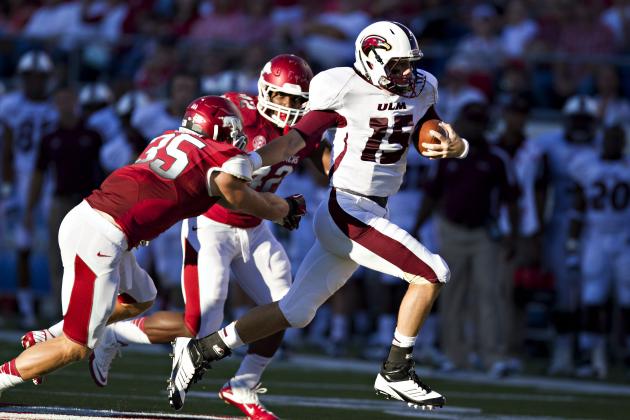 Wesley Hitt/Getty Images

Week 2 of the 2012 college football season featured not a single matchup between ranked opponents, and was supposed to be fairly vanilla.
Yeah, right.
Montee Ball didn't ball, the Big Ten staked its claim to worst conference status and the SEC continued to roll...except Arkansas.
Check out the rest of this list for the top video highlights of a great college football weekend.
Begin Slideshow

»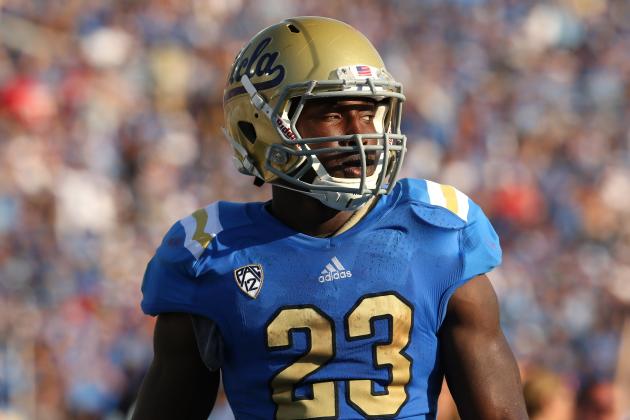 Stephen Dunn/Getty Images

Johnathan Franklin's performance against Nebraska.
Jaime Wilson's one-handed grab.
Oregon State, led by Jordan Poyer, shuts down Montee.
Jake Knott's pick seals the Cy-Hawks Trophy.
Andrew Furney's 60-yarder.
Benton set the ACC record for longest field goal with this kick.
It was 61 yards.
But that's not all.
The man didn't have to kick a field goal all day, he walked on the field at the end of the first half, and calmly booted this record-breaker through.
Auburn was awful against Mississippi State, getting hammered 28-10.
But Onterio McCalebb provided us with this highlight on the opening kickoff of the second half, which put the Tigers ahead briefly.
The blocking was excellent, but McCalebb made a guy miss, broke a tackle, then just flat outran everybody else for this 100-yarder.
Dylan Thompson started this week for Steve Spurrier in place of the injured Connor Shaw.
This play was easily the best one made in this game, and one of the best of the week.
Thompson avoided the rush, got the ball downfield, and then got to watch receiver D.L. Moore make defenders look silly en route to the endzone.
As this video shows, Bowling Green had three players tip this ball around before it was finally picked off in their win over Idaho.
This sideline view is not ideal, but provides an idea of the mayhem on the field during this play.
The announcers apparently thought this was a volleyball game.
Missouri Tigers' defensive tackle Sheldon Richardson learned a very valuable lesson last week.
Keep your mouth shut.
Richardson gave Georgia bulletin board material last week going into the Tigers' SEC opener against the Dawgs, when he said about Georgia's win over Buffalo: "It's like watching Big Ten football. It's old-man football."
After the Dawgs pounded the Tigers, 41-20, the Georgia contingent of fans responded with this chant.
"I got it, I got it...nope, I lied."
Keenan Allen is the most underrated wide receiver in the college game.
He is overshadowed by the talented duo at USC, but Allen is an All-American caliber receiver.
In the Golden Bears' win over Southern Utah last week, he caught five passes for 69 yards and a touchdown, but it was this punt return that showed his speed and ability to make the big play.
Virginia's MVP of this game had to be Penn State kicker Sam Ficken, who missed a ridiculous four attempts in a game that was decided by one point.
But Jake McGee was a close second.
The 'Hoos tight end had four catches for 99 yards, and the score late in the fourth quarter that proved to be the gamewinnner.
But it was this catch, with five minutes left, on 3rd-and-16, that earns him a spot on this list.
The catch, through defensive pass interference, was impressive.
McGee is looking at Gronkowski status if he keeps this up.
Say what you will about Denard's throwing ability, I think we all understand that he is one of the most dangerous open field runners in the game today.
This was the second of two rushing touchdowns for him on the day, the first being a 79-yarder to start the scoring in the first quarter.
This one, just 24 seconds into the third quarter, is so impressive, because he ran much of it with only one shoe.
On his way through the defensive line, he loses a shoe to a would-be tackler, and yet continues to accelerate through the second level of the defense.
Most of us are lucky if we just make it through the day without tripping over our own two feet, and this guy scored 50-plus yard touchdowns wearing only one shoe.
Southern Utah faced Cal last weekend, and the Thunderbirds drew first blood with a field goal with just :22 left on the clock in the first quarter.
Things seriously escalated from there.
Cal scored 20 straight points before this ridiculous "Hail Mary" by Southern Utah that pulled them within 10 at the end of the first half.
Morgan does an incredible job of concentrating, keeping his feet inbounds, fighting off the defender and absorbing the contact.
It's not quite Devin Smith-esque, but it got me out of my seat—that's for sure.
There were plenty of "upsets" over the weekend, but this one was the biggest.
The Razorbacks led 28-7 with 5:40 left in the third quarter.
Then the fireworks started.
Three unanswered touchdowns later, we had overtime, and Arkansas was held to a field goal.
Browning then finished the Hogs' BCS title aspirations with the touchdown run on 4th-and-1 to put it away.
While the SEC has been dominant this season, this game proved that a team could be one injury away from losing to an "inferior" opponent.