Fantasy Football Live Blog for NFL Week 1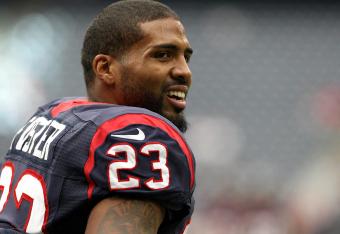 Troy Taormina-US PRESSWIRE
NFL allegiances can be polarizing, but fantasy football unites fans from all over.
Be sure to stay tuned and check back often for last-minute analysis and live updates.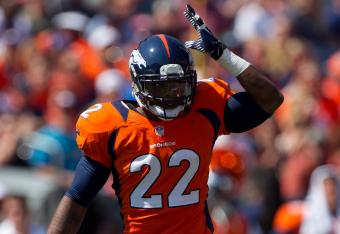 Much like in the Super Bowl against Peyton Manning cornerback Tracy Porter seals Manning's first victory in Denver with a pick-six.
That sticks a fork in this game, an exciting Sunday of football, and this blog.
Hope you enjoyed the ride.
Fantasy owners that drafted Peyton Manning have to be pretty pleased with what they've seen tonight. The numbers may not be eye-popping, but the four-time NFL MVP has looked pretty sharp (that last delay of game call notwithstanding).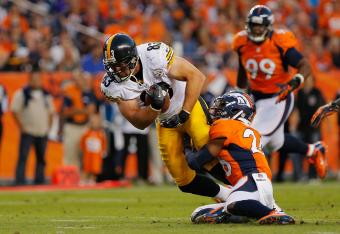 After catching four passes for 50 yards and a score through three quarters Sunday night any number of fantasy owners will probably rush out and grab Pittsburgh Steelers tight end Heath Miller.
Miller will then proceed to not sniff that production in a game for the rest of the season.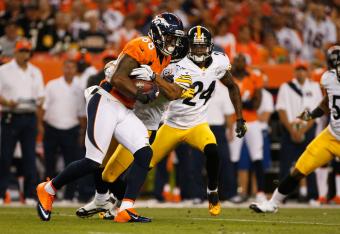 Denver takes the lead on a 71-yard catch and run by Demaryius Thomas.
Great read by Peyton Manning for career TD number 400.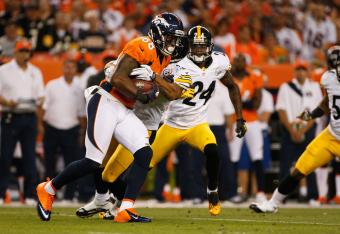 Peyton Manning racks up career touchdown pass number 400 on a 71-yard catch-and-run by Demaryius Thomas that pulls Denver within three.
Finally something happened!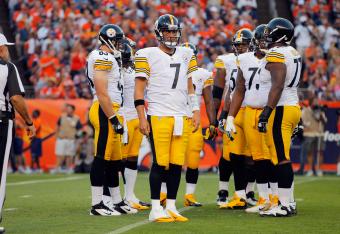 A pretty quiet first half outside of Ben Roethlisberger (120 passing yards, TD) and Antonio Brown (3 catches, 55 yards) posting OK fantasy stats.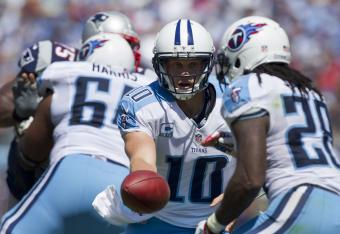 Sunday's fun football fact:
DeAngelo Williams of the Carolina Panthers and Chris Johnson of the Tennessee Titans combined for three yards on 17 carries today.
They also made a combined $828,000 and change.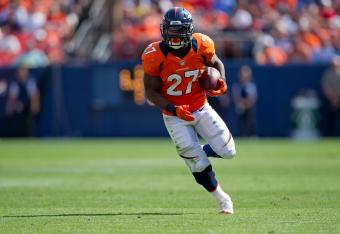 We have our first touchdown of Sunday Night Football and another deliciously infuriating fantasy football moment, as Knowshon Moreno swoops in from the bench to vulture a score for the Broncos.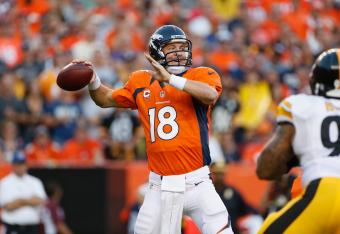 OK, so Peyton Manning scrambled for a first down on the same day that Kevin Kolb led a comeback win.
Get your affairs in order folks. The Apocalypse should be here any minute.
OK, so Payton Manning scrambled for a first down on the same day that Kevin Kolb led a comeback win.
Get your affairs in order folks. The Apocalypse should be here any minute.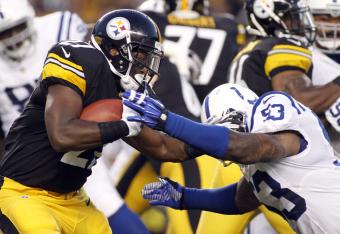 Hard run by Jonathan Dwyer at the the beginning of the second quarter of the Steelers/Broncos game wiped out by a penalty, but Dwyer still looks like the running back in Pittsburgh to own in fantasy leagues right now.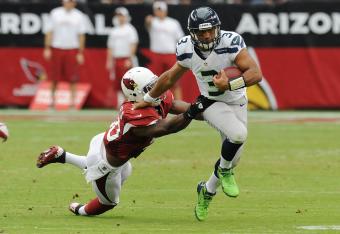 First game of the Russell Wilson era: 18-of-34, 153 yards, one touchdown, one interception.
Cardinals down the Seahawks 20-16.
This is the problem with bandwagons. The regular season starts and "POW"!
A tire blows.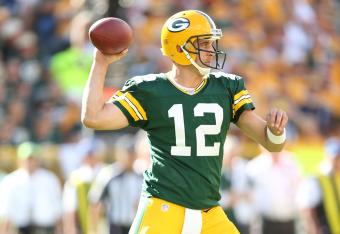 Looks like I made fun of Aaron Rodgers and the Packers a little too soon.
Quick TD, back to within eight, six minutes left.
Rodgers at 272 passing yards now...that's more like it.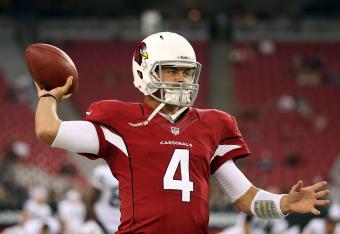 Ken Whisenhunt runs onto the field trying to get a timeout, doesn't get it, and Kevin Kolb hits Andre Roberts with the go-ahead touchdown pass.
Six for eight, 68 yards...are we sure that's really Kevin Kolb?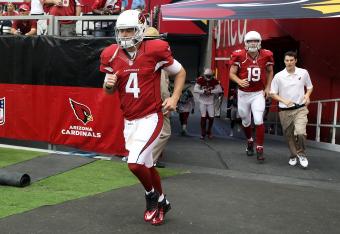 John Skelton out with an ankle injury in Arizona, Kevin Kolb in.
So far he actually looks OK.
This has been a weird week.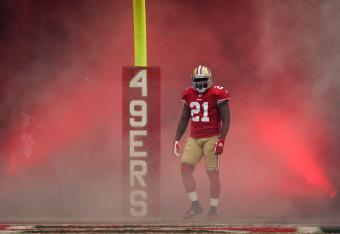 And NaVorro Bowman picks Rodgers!
Frank Gore becomes the fourth back this week to go over 100 yards rushing in Week 1, punches in a dagger, and it appears that there may be some whine to go with that cheese(head) this week.
I'll be here all week folks.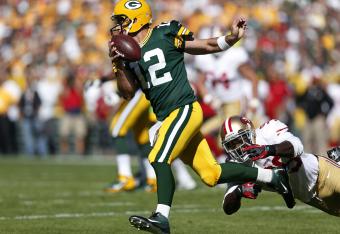 Aaron Rodgers under 200 passing yards with only one score?
Huhwhowhat?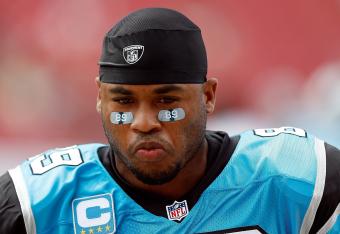 Carolina Panthers wide receiver Steve Smith goes over 100 yards as the Panthers get within 6.
I'm obligated to mention that because I'm afraid if I don't Steve Smith will beat me up.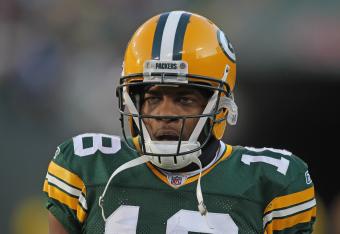 Raise you hand if you thought that Randall Cobb would have twice as many receiving yards as Greg Jennings today (53 to 25).
Now put your hand down you liar.
Very dangerous fantasy option in leagues that award points for return yards, as he just showed.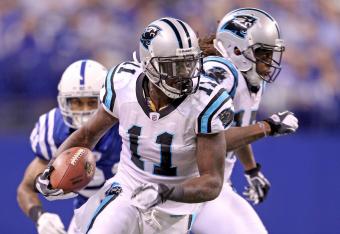 Cam Newton hits wide receiver Brandon LaFell from 22 yards out to get the Carolina Panthers on the board at Tampa Bay.
Names to remember when setting your waiver claims this week:
Brandon LaFell
Kevin Ogletree
Stephen Hill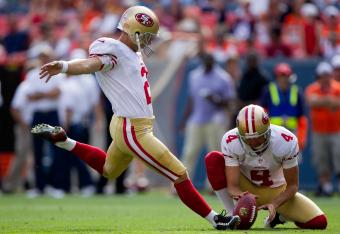 And David Akers Hits from 63 Yards!!!
Only time you'll see me post something regarding kickers.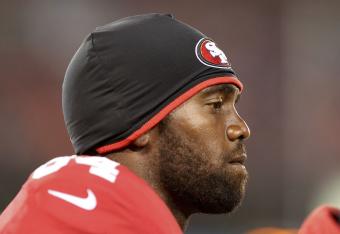 Nice first half in a long while for Randy Moss (three catches, 45 yards, touchdown), even though he's only been on the field for about a third of San Francisco's offensive snaps.
Other than that it's fantasy crickets right now...quiet.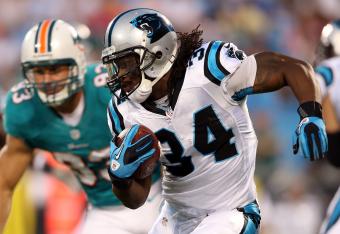 First quarter for Week 1 fantasy sleeper DeAngelo Williams: 3 touches, -2 yards.
He's asleep all right.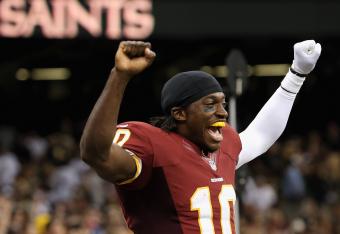 Early Game Fantasy Game Balls:
Quarterback: Rookie Robert Griffin threw for 320 yards and two scores to lead the Washington Redskins to a surprising win at New Orleans.
Running Back: Matt Forte of the Chicago Bears racked up 120 total yards and scored a touchdown in the Bears win over the Indianapolis Colts.
Wide Receiver: It's shaping up to be a long year for defensive backs against the Atlanta Falcons. Second-year wideout Julio Jones began what many think will be a great 2012 season with six catches for 108 yards and a pair of touchdowns.
Tight End: Just another day at the office for Jimmy Graham of the New Orleans Saints, with six receptions for 85 yards and a score in the loss to the Redskins.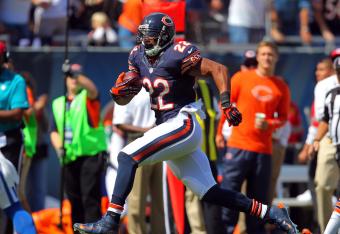 Big day for Chicago Bears running back Matt Forte, who is over 110 total yards with a touchdown in Chicago's rout of Indianapolis.
Could have been that much bigger had Michael Bush not vultured a pair of goal-line touchdowns.
This article is
What is the duplicate article?
Why is this article offensive?
Where is this article plagiarized from?
Why is this article poorly edited?