Andre Ward: 5 Trending Topics That Will Decide Who He Fights Next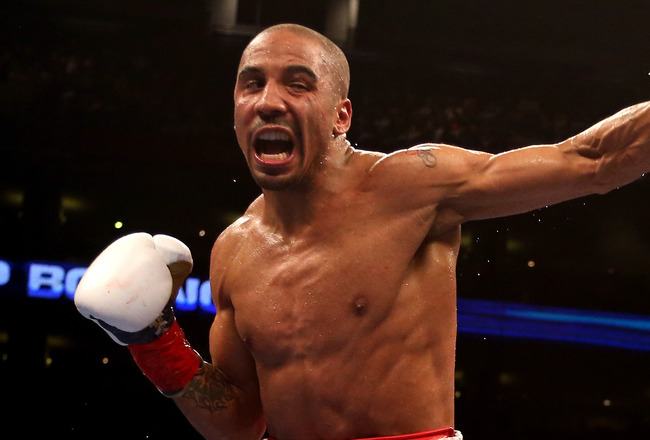 Ezra Shaw/Getty Images
Andre Ward has defeated nearly everyone of circumstance in the super middleweight division. While having no one left to fight is great news to a geezer looking to retire, Ward's just getting started at 28.
This puts him in a position to be celebrated, but it also puts him in a position of concern over who he can find to give him a decent challenge or at least a fight that can be sold as a challenge.
Many fans will support Ward even if he faces a no-name or a bum. However, if he wants paying fans, those who rush to the box office to see the fight live or order pay-per-views, he must face someone who presents not necessarily a challenge, but a narrative.
Storylines such as a young, rising legend vs. a fallen legend looking for redemption or a current pound-for-pound great vs. former pound-for-pound great sell fights.
They generate the interest of fans with more than just change jingling in their pockets. They attract fans with money in the bank willing to pay for a spectacle.
Supportive fans just comment on forums. Paying fans can put a fighter's kids through college, move his family into a mansion and place the fighter behind the wheel of a Rolls-Royce.
In order to find an opponent that fans will pay to see him beat, Ward's next opponent will likely have to come with one of the following angles.
An Undefeated Record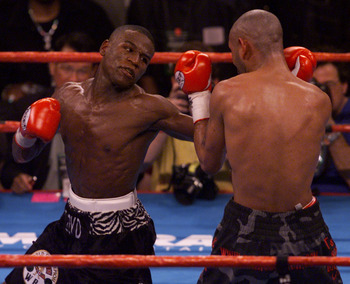 Floyd Mayweather defeated fellow undefeated fighter Diego Corrales over 10 years ago in one of the earliest star-making performances of his career.
Jeff Gross/Getty Images
Yes, everyone loses if they fight long enough against tough enough competition, but an undefeated record still matter to the buying public.
The appeal of two undefeated fighters going at it is the idea that one of these two fighters is going to suffer the first blemish of their career, and people want to witness it like a good car wreck.
Even if the outcome is obvious, everyone still loves to see the mystery revealed as to how an undefeated fighter will look when he finally loses.
Examples: Edwin Rodriguez, Thomas Oosthuizen, George Groves

The entire fight from start to finish, Rodriguez vs. George. Enjoy!

Edwin Rodriguez (22-0, 15 KO) has been all the rage lately with his dominating performance against then-undefeated Jason Escalera (13-1-1, 12 KO).
Rodriguez also has notable wins over the likes of then-undefeated Will Rosinsky (16-2, 9 KO) and hard-punching Donovan George (23-2-1, 20 KO).
He's an action fighter with decent skills and could be sold as a hungry 27-year-old with the drive to beat Ward.
Thomas Oosthuizen (20-0-1, 13 KO) is also a bright new talent, but he's faced slightly weaker competition. He needs a bigger breakout victory before entering the same conversation as Rodriguez.
George Groves (15-0, 12 KO) is a fantastic British talent, but his handlers aren't likely to take the chance of sending him to the U.S. for a fight with Ward, and the fight's not big enough for Ward to go to England.
Pound-for-Pound Credentials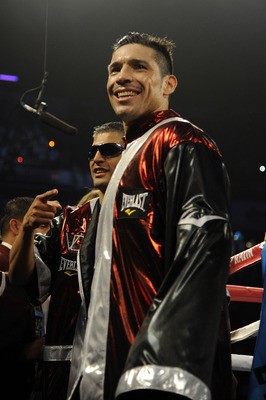 Sergio Martinez
Jeff Bottari/Getty Images
Fighters who have either been near the top of pound-for-pound lists or are currently appearing on pound-for-pound lists by are the perfect opponents to market against Ward.
When Ward faced Chad Dawson, the fight was pitched as the best facing the best.
Ward was already rated as being in the top five of most pound-for-pound lists, while Dawson was either on the cusp of entering the top 10 or No. 9 on lists by mainstream boxing critics.
The word "pound-for-pound" insinuates that both fighters are elite and worthy of a massive amount of attention. It also brings a certain level of historic value to the match-up so fans will feel they have to there.
Examples: Jermain Taylor and Kelly Pavlik

Kelly Pavlik's HBO career highlights.

Jermain Taylor (30-4-1, 18 KO) used to be near the top of pound-for-pound lists before being dethroned by Kelly Pavlik (40-2, 34 KO), also a former pound-for-pound fighter.
Taylor lost by brutal knockout the last two times he fought at super middleweight, but Ward could easily pull him into a fight with the right type of money.
Taylor defeated super middleweight Jeff Lacy using a 166-pound catchweight. Team Ward could negotiate what number to settle on.
Pavlik has currently fought at super middleweight four times in a row against mediocre competition. Pavlik is a fighter who needs an elite fighter to bring out the best of him.
If he wants the big money vs. the brightest possible star on the biggest possible stage, Ward is the man to talk to.
Title Unification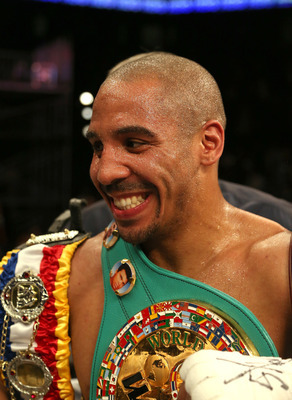 Andre Ward smiles after retaining his unified WBA and WBC titles.
Ezra Shaw/Getty Images
In a world of up to four or five major world titles per weight class, everyone loves to see fighters unify titles to determine who the real champion is.
Ward is the Ring, WBA and WBC world champ. Only the IBF and WBO belts await him at super middleweight. Though unnecessary, his pursuit of those last two belts could be a marketable venture.
Examples: Arthur Abraham and Carl Froch

Here's BoxNation's highlights of Abraham's WBO decision victory over Stieglitz in Germany.

Abraham (35-3, 27 KO) went on a three-fight losing streak in the tournament before finally redeeming himself with a big victory over Robert Stieglitz to capture the WBO super middleweight world title.
Abraham-Stieglitz proved to be an exciting fight worthy of Fight of the Year consideration. If Ward were to face Abraham, this could be used as a selling factor.
Carl Froch (29-2, 21 KO) is a Super Six finalist that was bested by Ward in dominating fashion, but Froch's five-round demolition of previously undefeated Lucian Bute netted him the IBF title.
A Ward-Froch unification taking place in Oakland or England will sell well. The only problem will be convincing either to go into each other's hometown.
Unfinished Business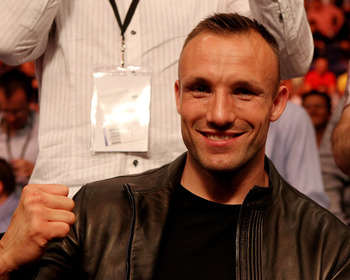 Mikkel Kessler could look for a rematch with some of his greatest foes in 2013, including Carl Froch and Andre Ward.
Scott Heavey/Getty Images
Settling a matter that was never fully settled to begin with is one of the best ways to pitch a fight to a bloodthirsty public.
Old grudges or long-delayed match-ups can build and erupt with anticipation as the opening bell finally sounds.
Examples: Andre Dirrell and Mikkel Kessler

Mikkel Kessler's dramatic fourth-round knockout of Allan Green brought him back into the discussion of Who's Who at 168.

Andre Dirrell (20-1, 14 KO) was supposed to meet Ward in the ring during the third round of the Super Six Tournament in 2010, but backed out claiming a brain injury from his previous bout.
Dirrell and Ward just so happened to be friends, making some writers suspect that may have been the real reason the fight never went down.
At this desperate point in Dirrell's career after finding himself unable to find any elite fighters willing to face him, he should jump at the chance to face Ward.
After dominating every other Super Six participant, Dirrell is the only member of the Super Six Ward didn't get the chance to defeat.
This could serve as a good finishing touch to his career at super middleweight before moving up in weight.
Mikkel Kessler (45-2, 34 KO) suffered cuts from headbutts during his fight with Ward. The fight went to a decision after 11 rounds due to how bad the cuts were.
Kessler has since dismissed the loss due to the headbutts. Ward's style in recent fights as resulted in few or no headbutts as well as more decisive victories in fights against Dawson and Froch.
If Ward takes on Kessler again, he could use his more crowd-pleasing style to go for a stoppage from punches rather than headbutts.
New Weight Class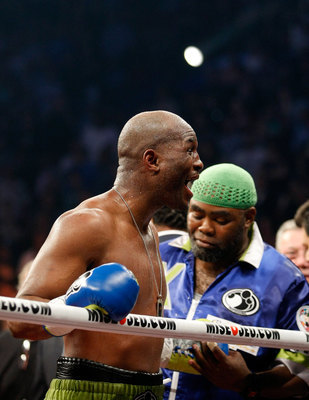 Bernard Hopkins' career was only boosted by his reign as a light heavyweight after his legendary middleweight run.
Richard Wolowicz/Getty Images
A new weight class can breathe life into a career. In the case of Ward, moving up to 175 can bring new challenges and new questions that result in renewed interests in his future fights.
Examples: Jean Pascal and Tavoris Cloud

HBO Highlights of Tavoris Cloud vs. Glen Johnson.

Jean Pascal (26-2-1, 16 KO) and Ward have one thing in common; they've both defeated Chad Dawson. If Ward moves up to 175, Pascal is an obvious opponent, especially given his Canadian fanbase.
But with Ward's growing Oakland fanbase, it'll be a battle to agree on where to fight.
Tavoris Cloud (24-0, 19 KO) is undefeated, a heavy hitter, the IBF champ and fights a very exciting style.
If anyone can be sold as a new threat to Ward that's worth watching, it's Cloud. Champ vs. champ, somebody's 0 has got to go. HBO's 24/7 could potentially sell this fight as a PPV.
The winner could become the next American PPV seller.
For more news and analysis, follow me on Twitter @justindavidtate.
Keep Reading