Pittsburgh Steelers vs Denver Broncos: Live Score, Highlights & Analysis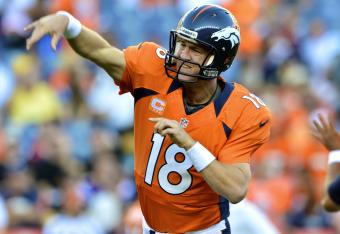 Peyton Manning returned to the NFL in style with a spectacular debut against one of the top defenses in the league.
Manning led the Denver Broncos to a 31-19 win over the Pittsburgh Steelers, but had some help from former nemesis—Tracy Porter—who's pick six helped seal the game for the Broncos.
The win puts the Broncos ahead of the game in the AFC playoff race and gives them plenty of momentum as they try to establish themselves as Super Bowl contenders.
Meanwhile, the Steelers will be disappointed with the loss, but faced plenty of obstacles in the opener. It was clear that they were impacted by the altitude and injuries to the defense. They are a quality team, but have plenty of work to do.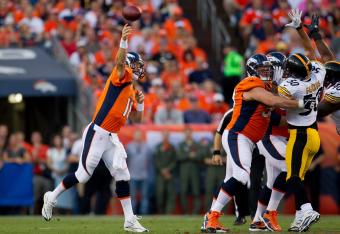 Final Thoughts:
Denver
Peyton Manning is back and looks very good. As long as the Broncos let him control the offense they will go a long way. Denver has a number of playmakers on defense who finally showed up late in the fourth quarter to help seal the game. After just one game, the Broncos should definitely be a favorite in the AFC West.
Pittsburgh
The offense is a work in progress, but can develop into a good unit if the offensive line can get healthy. Injuries hurt the Steelers chances and Roethlisberger could be a bit more efficient. After the game I was surprised to see he has so many incompletions. The defense was disappointing after a hot start. They did not make many plays on the ball and the rush was slowed. Despite the loss, the Steelers should still be in for a very good season.
Final Score: Denver 31, Pittsburgh 19
Final Stats Leaders:
Pittsburgh
Roethlisberger 22/40 for 243 yards with 2 touchdowns and 1 interception
Dwyer 9 carries for 43 yards
Brown 4 receptions for 74 yards
Foote 8 tackles 1 sack
Denver
Manning 19/26 for 253 and 2 touchdowns
McGahee 16 carries for 63 yards
Thomas 5 receptions for 110 yards
Woodyard 10 tackles 1 sack
Miller 5 tackles 2 sacks
Team Stats
Plays: Steelers 71 Broncos 55
Passing Yards: Steelers 243 Broncos 253
Rushing Yards: Steelers 75 Broncos 93
Penalties: Steelers 8/51 Broncos 6/50
Possession: Steelers 35:05 Broncos 24:55
Turnovers: Steelers 1 Broncos 1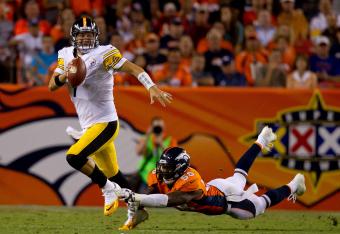 Von Miller welcomes Mike Adams to the NFL with a big sack of Roethlisberger and then follows it up on the next play going inside to beat Legursky for another sack.
1:58 remaining in the 4Q:
Porter completes his outstanding game with a pick six of Roethlisberger. Officials make a mistake and take the two-minute warning prior to the conversion attempt, which failed.
Denver 31, Pittsburgh 19
Injury to Chris Harris means that there is someone on the field for Roethlisberger to go after. That would be Tony Carter.
3:00 remaining in the 4Q:
Manning was excellent on that drive, but as good as he was he was unable to get into the endzone.
Broncos convert on a field goal.
Denver 25, Pittsburgh 19
Replacement refs call absolutely everything when it comes to pass interference. I disagree with about half of them, including that last one on Keenan Lewis.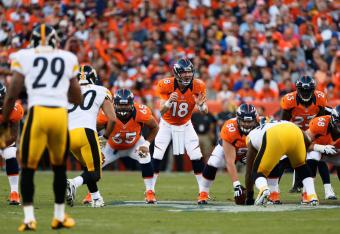 Manning just superb managing his offense against the defensive looks that the Steelers are giving him.
Tamme just gets right by Cortez Allen for a big game. A slight trip by Allen is what freed him up.
Denver is gashing the Steelers defense on the ground. Picking up huge chunks of yardage, running the clock and getting first downs. A good combination as they try to wrap up this game.
Pressure saves Denver from allowing a big touchdown to Wallace, who was wide open after a blown assignment.
Porter with a huge play knocking the ball away from Wallace. Would have been a huge gain.
9:25 remaining the 4Q:
It didn't seem like the Broncos have had the ball for over four minutes here, but it has been enough and they have regained the lead.
Manning hits Jacob Tamme for a one-yard score. Manning then completes the two-point conversion to McGahee.
Good news for the Steelers is they should be able to eat up the rest of the clock on their next drive if they hold serve.
Denver 22, Pittsburgh 19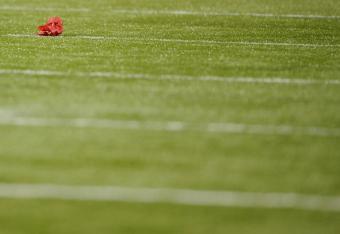 The officials can't do this. A play was already run and they missed it. Sometimes you win and sometimes you lose. By the way, Tomlin will lose this challenge.
The Broncos know how to answer. Manning already has Denver deep in the Steelers' territory and the Steelers are showing no signs of stopping him.
14:11 remaining in the 4Q:
Who needs Wallace to run deep when he can run a slant? Tracy Porter with blanket coverage, but Roethlisberger throws it to the back shoulder and Wallace makes a very tough catch.
The two-point conversion fails, but the Steelers lead.
Pittsburgh 19, Denver 14

Jim Rome agrees with my assessment on Dwyer.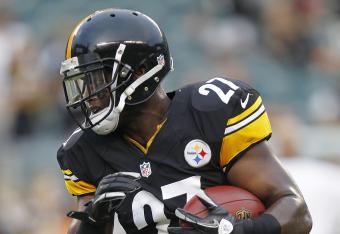 Jonathan Dwyer is showing why I have been pumping him up to get carries and even start. Even though the play is getting called back, he does a great job for a big back at making plays.
Meanwhile, the Broncos' defense has barely had a break and it shows. They have put the Steelers in tough spots and have had penalties kill these situations. They also cannot get off the field on third downs.
Another conversion by Roethlisberger. Simply outstanding tonight on third downs. That makes him 10-for-11 now on third downs.
There's homers and then there's Denver fans. Booing every good call that has been made.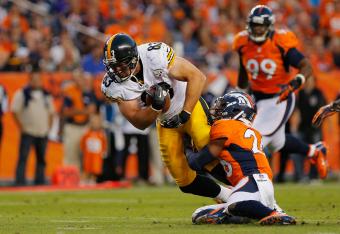 Broncos taking advantage of the banged up Steelers' offensive line. Doug Legursky just beat for a sack, but Roethlisberger answers with a huge completion to the dependable Heath Miller.
Wasted effort by the Broncos after nearly intercepting two passes and having an incompletion on third down. Roethlisberger looks frustrated after the quick answer by Denver.
It should have been a three-and-out, but a bad helmet-to-helmet hit by Rahim Moore. Excellent called by the officials.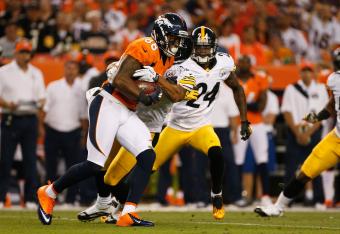 5:29 remaining in 3Q:
Flashback to the playoffs! Demaryius Thomas takes a quick wide receiver screen and runs it for a 71-yard touchdown pass.
The touchdown is Manning's 400th of his career. Just like that the Broncos are in the lead.
Denver 14, Pittsburgh 13
Wait, the Broncos can play offense too? The Steelers have ran 30 of the last 32 plays and Manning has went 57 minutes without touching the football (excluding the kneel downs).
This article is
What is the duplicate article?
Why is this article offensive?
Where is this article plagiarized from?
Why is this article poorly edited?