Philadelphia Eagles vs Cleveland Browns: Live Scores, Highlights and Analysis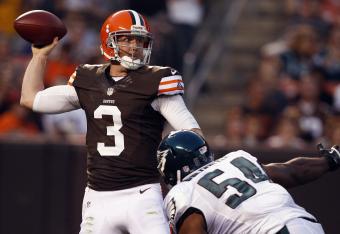 Matt Sullivan/Getty Images
The Browns and Eagles trade field goals in what has been a very sloppy first quarter. The Eagles offensive line is struggling, while the Browns are struggling to get the running game going. The Eagles have turned the ball over twice already. You have to think the Eagles are going to pull away sooner or later, but the longer the Browns are in this game, the more confidence this young team gains.
2:45 2nd quarter: The Eagles defense is holding strong. Trent Richardson is getting much more than a yard per carry and the Browns receivers aren't getting open. The problem for Philadelphia has bene the offensive line. The have three penalties so far in the first half. Once this offensive line settles down, they will start to gain some separation. Browns appear to be just hanging right now.
6:28 2nd quarter: Brandon Weeden looks deep for Travis Benjamin, but Dominique Rodgers-Cromartie leaps over him and picks off the pass. The is the 2nd interception for Weeden today.
7:33 2nd quarter: Eagles drive stalls again around their own 30. Offensive line held on a good LeSean McCoy run. The penalties are really starting to mount for the Eagles. Credit the penetration by the Browns defensive front.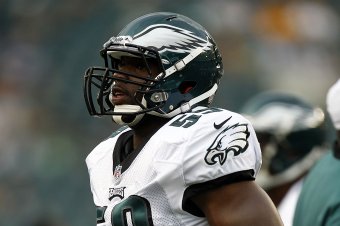 Jeff Zelevansky/Getty Images
10:00 2nd quarter: DeMeco Ryans stuffs Trent Richardson on a 3rd and 1 play. Great sign for the Eagles defense that couldn't get off the field on short yardage situations last season.
11:38 2nd quarter: Eagles drive stalls at they go three and out. Browns defense is getting the job done. They are getting a lot of pressure on Michael Vick through the blitz and with a four man pass-rush.
12:11 2nd quarter: The Browns get into the red zone after a successful reverse, but a tipped pass gets picked of by Eagles safety Kurt Coleman. Another blown opportunity by the Browns as the Eagles continue to play sloppy football.
End of 1st quarter: Eagles offensive line really getting beaten up. Their drive stalls at the Browns 24 yard line. Alex Henery connects on a 42 yard field goal. Tied up at 3.
1:36 1st quarter: Eagles playing really sloppy so far. Browns only have three points to show for it. Two turnovers, poor blocking and a multitude of penaltires for Philadelphia. Eagles defense really stepping up today. Browns offense not looking sharp. Take away one 24 yard yard play and they have done nothing.
2:05 1st quarter: Browns drive stalls and are forced to punt. Reggie Hodges pins the Eagles back at their own four but Browns interfere on the fair catch. Eagles take over at 22 yard line.
3:44 1st quarter: Michael Vick looks like the exact same quarterback he was last season. The defense however, looks much better. Brandon Weeden has been so-so. He is getting enough protection but isn't making crisp throws.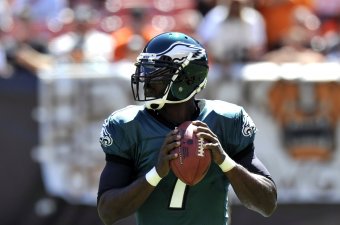 David Richard-US PRESSWIRE
4:32 1st quarter: Vick rolls out and throw off his back foot, throws pick. Vick has looked really up and down so far today. Credit the Browns pass-rush. They have gotten the better of the Eagle offensive line today.
5:36 1st quarter: Eagles converted another third down as DeSean Jackson catches a 18 yard pass against Pro Bowl corner Joe Haden.
8:00 1st quarter: Eagles faced with a third and short, Vick rolls out and hits McCoy short down the sideline. Third and short situations were a problem last year.
9:16 1st quarter: Browns have to settle for a field goal. Eagles defense looked sharp minus the 24 yard reception by Mohamed Massaquoi. Eagles need to answer on offense. Can't get down early on the road. Can't give a rookie quarterback confidence.
9:40 1st quarter: Nnamdi gets beat on the slant, but Eagles run defense looks sharp.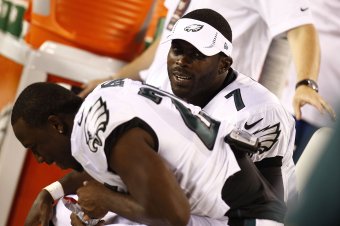 Jeff Zelevansky/Getty Images
12:00 1st Quarter: Eagles offense looking sharp. Overcame a offensive passing interference play on a third down conversion to keep the drive going. Drive ends at midfield as LeSean McCoy fumbles the ball away. Great start ended by poor fundamentals.
Eagles will get the ball first. Look for them to go deep on the first play. They rarely ran the ball on the first play last season.
Browns scored just 26 points in the first quarter last season. Hard to imagine they improve in that today with a rookie quarterback and a banged up running back.
Kickoff is coming up. One quick point for each team. Browns can't give up big plays if they want to win. The Eagles are loaded with players who can take it to the house like including LeSean McCoy and DeSean Jackson. The Eagles just need to play smart. Penalties and blown assignments killed this team last year.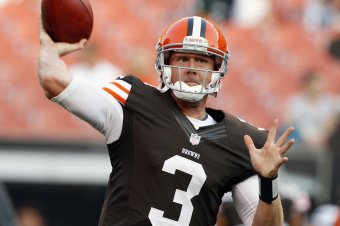 Matt Sullivan/Getty Images
Biggest key for this game for both teams will be to avoid a slow start. Eagles thrive with the lead because of their pass-rush, while the Browns don't want their rookie quarterback to get behind early.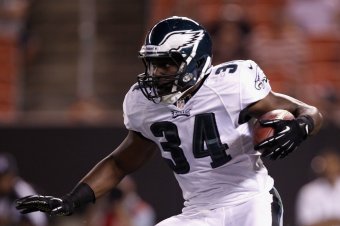 Matt Sullivan/Getty Images
No real surprises from the Browns inactive list but it is surprising to see that Dion Lewis and Demetress Bell are inactive. At least it would be surprising to hear a month ago. Bell was brought in to be the starting left tackle while Dion Lewis was being groomed to be the number two running back. Big game for left tackle King Dunlap and running backs Bryce Brown and Chris Polk.
Matt Sullivan/Getty Images
The Philadelphia Eagles inactives are wide receiver Riley Cooper, running back Dion Lewis, offensive linemen Nate Menkin and Demetress Bell, defensive backs Colt Anderson and Davis Sims and defensive end Vinny Curry.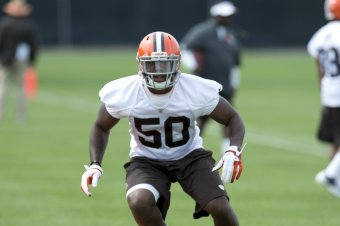 Jason Miller/Getty Images
The Cleveland Browns inactives are quarterback Thad Lewis, wide receiver Jordan Norwood, running back Chris Ogbonnaya, defensive backs Trevin Wade and Usama Young, offensive tackle Oniel Cousins and linebacker James Michael-Johnson.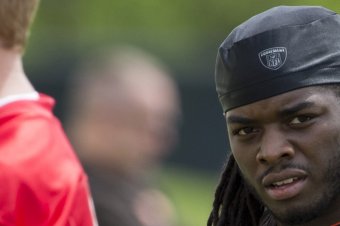 Jason Miller/Getty Images
Trent Richardson and Joe Haden will play today for the Browns. Richardson underwent arthscopic knee surgery just one month ago and is expected to start. Joe Haden was suspend but is appealing his suspension. He is likely to loss his appeal but can play while it is pending.
This article is
What is the duplicate article?
Why is this article offensive?
Where is this article plagiarized from?
Why is this article poorly edited?