Ever since the acquisition of Karim Benzema, one of the more hotly debated topics among Real Madrid fans has been, who should be the starting striker between Gonzalo Higuain and Benzema?
Both are world-class talents with clinical finishing ability and great chemistry with their fellow players. They have also produced big time during their time at Real, with Higuain totaling 107 goals in 225 appearances for Madrid and Benzema recording 67 goals in 128 matches.
Despite similar skill sets, the two have somewhat different styles of play.
Benzema has mastered his movement off the ball, often floating around the box before sliding through the defense. His ability to link up with his midfielders and hold the ball up on the counterattack has been a big reason behind his success at Real.
Higuain, on the other hand, is more of a one-on-one striker, excelling when the ball is at his feet. Since his move to Madrid, he has evolved into a complete striker and his finishing ability is among the best in the world.
However, with manager Jose Mourinho favouring the 4-2-3-1 formation with a solitary striker for the big matches, only one of Benzema and Higuain gets the start. Last season, Benzema seemed to be Mourinho's preferred striker, as he was chosen for Champions League clashes as well as matches against Barcelona.
Incredibly, Higuain outscored Benzema in La Liga, scoring 22 goals to Benzema's 21, despite starting fewer games. Benzema was the more productive striker in Europe, however, scoring seven goals, more than double that of Higuain.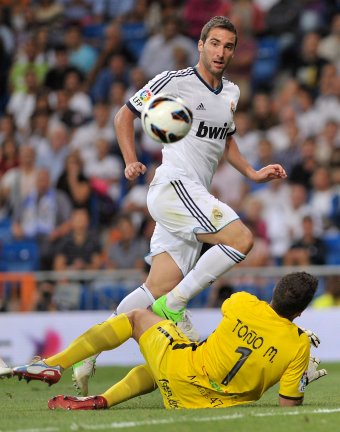 Gonzalo Arroyo Moreno/Getty Images
So far this season, Higuain has been the more dominant player, leading Madrid with three goals in La Liga competition as well as a what turned out the be the decisive goal in the Super Cup against Barcelona. Benzema, on the other hand, has yet to register a goal and he has looked lethargic at times.
It's my belief that choosing a striker as a starter and giving him consistent starting minutes will be beneficial for Real Madrid in the long run. It worked last season when Benzema seemed comfortable as the preferred choice, with Higuain the second choice off the bench.
Benzema had his best season at Madrid thanks in part to Mourinho's choice to field a consistent lineup.
Two seasons ago in Mourinho's inaugural season at Madrid, he opted for a rotation system between Higuain and Benzema, only altering from it when Higuain missed time following lower-back surgery.
This rotation did no favors to either player as both struggled to reach prime form with the lineup constantly changing.
So back to the question at hand, who should start between Higuain and Benzema?
In my opinion, the starter should be Gonzalo Higuain.
As stated before, Higuain has been more efficient than Benzema in front of goal, scoring more often with fewer opportunities.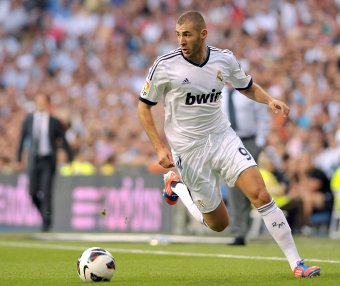 Gonzalo Arroyo Moreno/Getty Images
A lot of people might say that most of Higuain's goals have come against lesser competition, but Mourinho's insistence on playing Benzema in the bigger games means Higuain only gets opportunities against the inferior teams.
However, I believe if Mourinho switched the pecking order and played Higuain against the premier teams and Benzema as the second choice, it would greatly benefit Madrid.
Despite being the first choice for more important matches, Benzema's scoring record in those matches is extremely poor.
When Madrid has really needed Benzema to step up, he simply hasn't performed. In the Champions League semi-finals against Bayern Munich, Benzema disappeared for significant stretches of the game and he has had similar performances in recent El Clasico matches.
Benzema is Mourinho's big-game striker, but he has yet to submit a big-game performance.
Higuain hasn't fared much better in big games, but that is a by-product of limited chances. And as he has shown early this season, when given the opportunity, he can contribute big time for Real.
Another common argument by those who prefer Benzema as striker, is they say he is a much better fit for Mourinho's system.
While this is true, as Benzema is much better at holding the ball up and linking up with the midfield, I still don't believe it is enough to usurp Higuain as starter.
Furthermore, as Madrid so often play on the counter attack, chances come at a premium and having a finisher of Higuain's class is more valuable than a player who is better at link-up play. Not to say Benzema isn't a good finisher, but he is not at Higuain's level when it comes to sealing the deal in front of goal.
Who Should Be the First-Choice Striker?
When going up against the premier teams in European football, good chances on goal are extremely valuable and as was demonstrated last season against Bayern and Barcelona, Benzema struggles to convert those chances.
At the end of the day, Karim Benzema may be a better fit for what Jose Mourinho's formation asks of the team, but Gonzalo Higuain is the superior player and should be the first-choice striker.
Higuain is far and away the better finisher out of the two and his production, despite coming off the bench, illustrates his class.
Benzema is undoubtedly a world-class striker, but due to his inability to perform on the highest stage as well as his inconsistent finishing, I believe he should be the second-choice striker.