Seattle Seahawks vs. Arizona Cardinals: Live Score, Analysis for NFL Week 1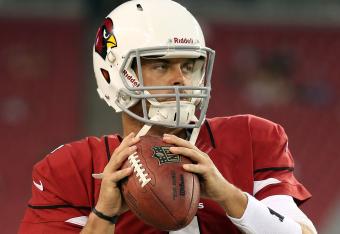 Christian Petersen/Getty Images
Final Score: Arizona beats Seattle 20-16
Kevin Kolb came in for an injured John Skelton and drove the team down the field. His touchdown pass put them back on top after Seattle used defense and special teams to take the lead.
Russell Wilson drove the Seahawks down the field and they had six opportunities to score from inside the Arizona 15-yard-line but Seattle couldn't make a play.
Doug Baldwin couldn't make a fingertip grab on one pass. Wilson was short to Sidney Rice and long to Charly Martin on corner routes.
Rice dropped an earlier touchdown pass but was interfered with earlier in the play to convert a fourth-down play.
On fourth down he threw the ball to Braylon Edwards at the goal-line but the ball went through his fingertips.
Seattle lost six games in 2011 when they had a chance to win late in the game. They've already notched one such game in 2012.
For more information on this matchup please visit: Seattle Seahawks vs. Arizona Cardinals: NFL Week 1 Preview
Cardinals are hoping Skelton has only a high ankle sprain. But sounds like it could be more serious

— Kent Somers (@kentsomers) September 10, 2012
To be fair, I'm sure Arizona is hoping it was a mild sprain and he'll be fine on Monday. But the fear of it being much worse has them leaning towards a high ankle sprain.
As more information is known about Russell Okung we will share it. Hopefully it isn't serious and at least it isn't another high ankle sprain.
Per Carroll LT Russell Okung twisted his knee, WR Doug Baldwin had the wind knocked out of him.

— Liz Mathews 710 ESPN (@Liz_Mathews) September 10, 2012
John Skelton and Russell Wilson both drove their teams down the field at the end of the game.
Skelton made the plays and his receivers responded, securing the go-ahead touchdown. Arizona smartly went into a hurry-up offense to help stem Seattle's pass-rush.
Wilson made several throws and missed on a pair, but Rice, Baldwin and Edwards all failed to catch what would have been go-ahead touchdown throws.
Wilson wasn't spectacular in this game but he was under pressure and his receivers failed to make plays that Seattle needed them to make.
Seattle will look to get even on the season as they host the Dallas Cowboys next week.
Arizona will travel to Boston to attempt to show their defense is legitimate.
Both teams need to work on their offensive line.
Never want to judge one game too much, but if #Seahawks hope to challenge the 49ers, they have a lot of work to do.

— Matt Miller (@nfldraftscout) September 10, 2012
One of several blunders by "The Replacements" today:
Seahawks coaches were smirking on the sidelines because they knew they got an extra timeout twitpic.com/asyw19

— Larry Brown (@LBSports) September 10, 2012
Perhaps the Seahawks should have lobbied for a PI call there. It worked for Arizona earlier.
Good defense, good throw by Wilson, but Edwards doesn't pull it down. Tough loss for Seattle, great win for Arizona.
Gut-check time, take four. Who wants to step up?
Finally...Pereira shows up to let the broadcast crew know what happened.
LOVE THOSE REPLACEMENT REFS!
One thing is certain. One group of fans will be on cloud-nine after this game and the other will feel like they were kicked in the stomach.
Seattle should have lost a TO for the Baldwin injury. They are out. This will result in a 10 second runoff.
Wow. As much as I hated two of the PI penalties on Seattle...OK-he did get there first.
At least they called them both ways.
This was the type of game Seattle lost in 2011. Can they turn it around this season?
Baldwin was the feel-good story of 2011 for Seattle. He could have earned a new pair of glass slippers but couldn't make the tough grab.
Instead he loses his air.
Here's one thought, but likely too late to try.
Do the Seahawks not have any sort of screen pass in the playbook?All this pressure is screaming for it.

— Daniel Gustkey (@gutchecktime) September 9, 2012
Nobody. Both teams botched the play. Rice dropped the go-ahead touchdown pass and Peterson committed a penalty.
Gut-check time goes too...
Seattle's backup tackles is an even thinner proposition than the Cardinals. Frank Omiyale is barely passable at guard.
Every Seahawk fan's heart just dropped to their knees seeing Okung limp off the field.
One observation on Kolb vs. Skelton:
Skelton was running a normal offense...huddling up, calling a play, going to the line and hoping he had time to throw.
When Kolb entered the game Arizona went to a forma I spoke of before the game to curb Seattle's pass rush. They went to the hurry-up offense.
Yes, Kolb had a great series, but it isn't exactly a fair comparison.
Lenon with a big hit but Seattle is driving right now. It is hard not to love the way the NFC West is transitioning to a hearty smash-mouth form of defense.
Perhaps that wasn't vintage Beast Mode, but turning a four-yard loss into a four-yard gain is a HUGE twist on fist down.
Well...it was until Paris Lenon registered that sack.
Kevin Kolb gives the Cardinals the lead! If Skelton is healthy he may have lost the staring job.
Obviously that pass interference isn't going to get called every time. There was a lot more contact in other games that wasn't called.
Sherman had position and didn't push off.
Is Terrell lobbying for a job?
Praying Skelton's injury isn't too serious!!

— Terrell Owens (@terrellowens) September 9, 2012
This article is
What is the duplicate article?
Why is this article offensive?
Where is this article plagiarized from?
Why is this article poorly edited?