Dolphins vs. Texans: Final Report Cards, Player Grades for for Miami
Bob Levey/Getty Images

The Miami Dolphins were uneven in their opening day 30-10 loss to the Houston Texans.
Miami's disaster of a second quarter set the tone, as Houston scored 24 of their 30 points in the quarter thanks to four Dolphins turnovers.
Miami falls to 0-1, while Houston begins the season at 1-0.
Let's take a look at Miami's final postgame grades and evaluations.
Begin Slideshow

»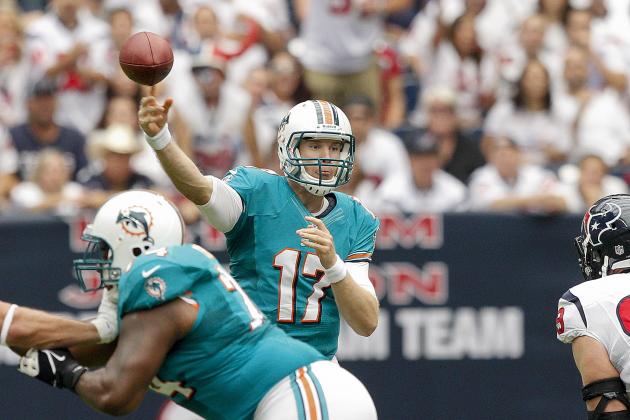 Bob Levey/Getty Images

Ryan Tannehill — C-
Tannehill's grade is lowered by a disastrous second quarter where I probably gave him a little bit more of the benefit of the doubt than I should of. The second quarter produced three interceptions, all coming from tipped passes.
Tannehill had this problem in college and is going to have to work on moving his eyes around better to not communicate to the defensive backs where he's throwing the ball. A pump-fake would also be an invaluable weapon.
Other than his bad second quarter, Tannehill showed confidence and never seemed to let it wane. He led two good drives in the fourth quarter that stalled out in the red zone. On the day he finished 20/36 for 219 yards and three interceptions.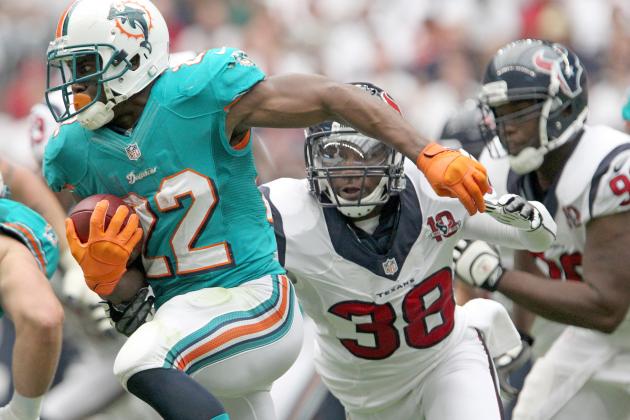 Thomas B. Shea/Getty Images

Reggie Bush — B+
Reggie Bush had 14 carries for 69 yards while adding six receptions for 46 yards. When he had to be he served as a safety valve for Tannehill, who often found him on short passes when Houston's sweltering defense was closing in on him.
Bush was Miami's offensive MVP this afternoon, showing that he's the perfect back for this West Coast Offense.
Daniel Thomas — C+
Thomas deserves some of the benefit of the doubt today since he missed the second half with a concussion suffered on a fumble in the second quarter. However this fumble was the last in a line of turnovers in a second quarter of miscues.
He only had three carries but gained 11 yards on those carries, and also had the fumble where he suffered the concussion.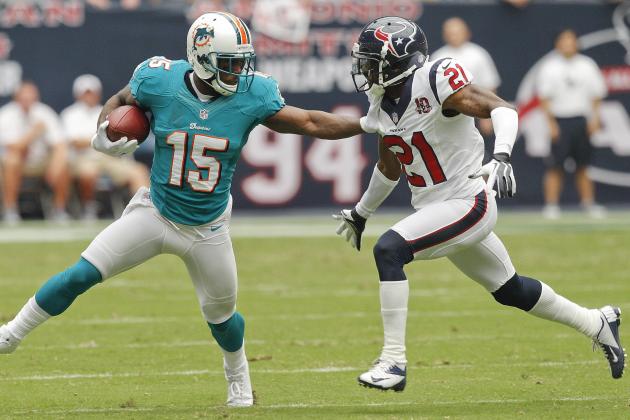 Bob Levey/Getty Images

Brian Hartline — B+
Brian Hartline only had three catches, but showed he could make a big impact as he's integrated into the offense.
The highlight of Hartline's game was a beautiful 34 yard catch on Tannehill's best throw of the game in the fourth quarter. As he gets better acclimated with Tannehill, Hartline will improve this offense ten-fold. Miami's two second half red zone drives got into the red zone partly due to Hartline's work. On the day his three catches netted 50 yards.
Davone Bess — B-
The reliable Davone Bess had five catches for 45 yards on the day but also dropped two passes. He also had trouble seperating himself from Houston's secondary, which actually limited what he could do. In a way, Bess' reliability could be a liability if the other receivers do not improve, as Tannehill showed a tendency to lock into Bess. This caused most of Houston's tipped passes.
Anthony Fasano — C
Fasano couldn't be the safety blanket Tannehill and this offense needed, as he found himself covered for a majority of the game. He still managed to get three catches for 19 yards, but at times seemed missing in action on the Dolphins offense.
Charles Clay, Ledegu Naanee — F
Tannehill attempted passes to both the tight end and receiver, and both managed to drop said passes. Naanee's play in the preseason showed the potential for drops, but Clay's no-show was confounding at times.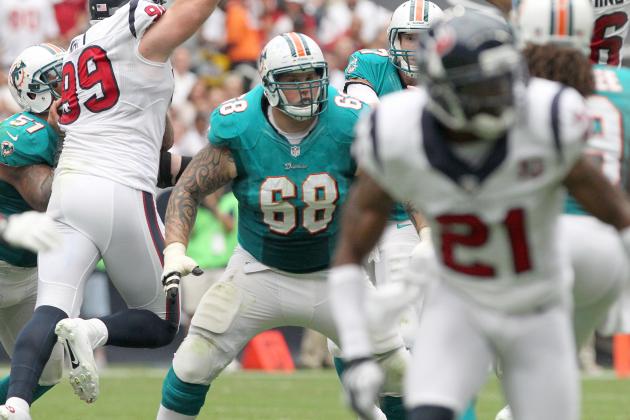 Thomas B. Shea/Getty Images

Offensive Line — D-
Usually I'd grade each starting lineman one-by-one. But this game was such a collective failure by all that I'm grading them as a unit.
Jake Long allowed a sack on Miami's final offensive play of the game. That Jake Long would allow a sack would show just how poor the line play was this afternoon. He was the best lineman of the game, which is why they have a D- instead of an F.
John Jerry continued to be the John Jerry of old, which we know isn't a good thing. On one play he even tripped Tannehill up before he could drop back, forcing him to take a sack.
Jonathan Martin made countless rookie mistakes, and Texans pass rusher J.J. Watt abused him all game long.
Richie Incognito's play would've been passable, however his penalties would only back the Dolphins up.
Finally there's center Mike Pouncey, the second best of the bunch. But this is mainly due to the fact that you never heard his name called at all.
Overall this line has a lot to work on this coming week, as they helped make it hell for the Dolphins offense.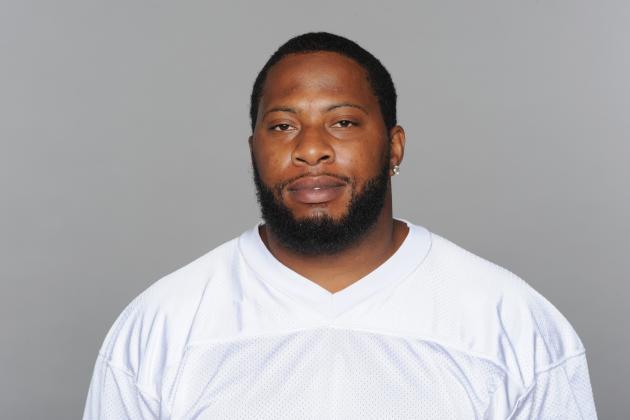 Handout/Getty Images

Randy Starks — A+
Randy Starks was all over the Texans backfield this afternoon. He recorded six tackles (two for a loss) and two sacks. Partly the beneficiary of double coverage on Cameron Wake, Starks took full advantage of that as well as Miami's transition to a 4-3, which turned out to run much more smoothly than the preseason indicated.
Jared Odrick — B
Odrick's stats don't indicate a big impact (two tackles), but the third-year player freed up Starks and Wake to get into to the backfield.
Paul Soliai — B+
Soliai only had two tackles all day, but both came for a loss. The run-stopping stalwart once again excelled in this area, tying up the Texans' lineman allowing the linebackers to get into the backfield. This would also allow them to pressure Matt Schaub, who was under heavy attack for most of the game.
Cameron Wake — A
Cameron Wake was as big of a pest as you normally expect him to be this afternoon. He only managed three tackles, but he was able to get to the quarterback three times (yet recorded no sacks). One of his tackles came for a loss.
Thomas B. Shea/Getty Images

Karlos Dansby — B-
Dansby showed that his preseason injuries weren't going to keep him down today. Thanks to great blocking up front, Dansby was pivotal in Miami's run-defense, getting nine tackles including one for a loss. However like the rest of the linebacking crew, Dansby had problems covering intermediate passes, often letting the efforts of the defensive line go for naught as Schaub was able to find tight end Owen Daniels break free for a catch plus yardage.
Koa Misi — A
Koa Misi recorded 11 tackles. He was a ball-hawk throughout the game, wrapping up anyone in his area who had the ball. Great performance despite the overall uneveness of the linebacking corps.
Kevin Burnett — C

Burnett recorded five tackles and a pass deflection. That was the good part. The bad part was much like Dansby (but to a worse extent), the intermediate passes to the tight ends killed Burnett. He had a hard time keeping up in coverage, something that the Texans used to their advantage.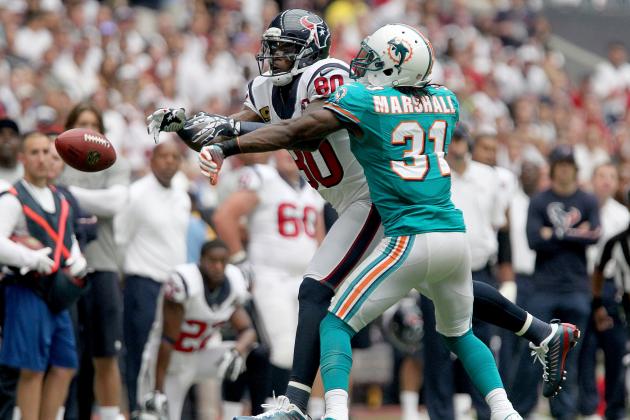 Thomas B. Shea/Getty Images

Richard Marshall — C

Save for a second quarter where the offense's ineptitude lead to a Texans scoring onslaught, Richard Marshall and the Dolphins secondary exceeded all expectations in their coverage. Marshall had five tackles and a pass deflection. Of course when a C exceeds expectations for one player, you know there might be a problem. Johnson abused Miami's secondary once again, but Marshall was the main victim.
However a good question should be posed: why was Johnson single-covered?
Sean Smith — B
Smith's assignment this afternoon was Kevin Walter, who was held to two catches for 16 yards. When Walter made those catches, Smith was there to tackle him. During the game it would've been a good idea to have Smith cover Johnson at least once, as Johnson was abusing Richard Marshall to no end.
Chris Clemons — B

Clemons was a terror at the safety position, getting four tackles. His help in covering wide receivers was also a plus, as Houston rarely went long down the middle.
Reshad Jones — B
Reshad Jones recorded seven tackles, including one for a loss. A solid performance from the safety.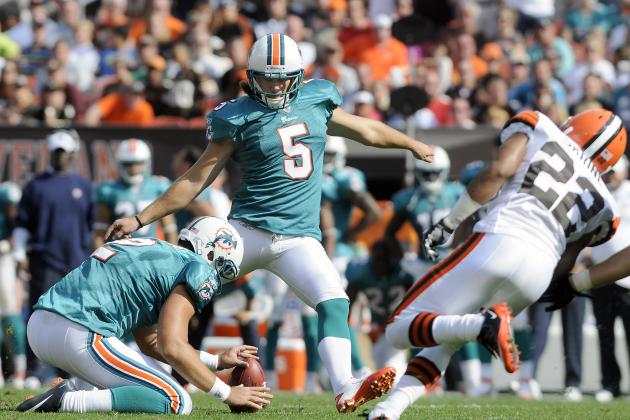 Jason Miller/Getty Images

Dan Carpenter — B+
Carpenter only had one field goal from 39 yards out.
Brandon Fields — B+
Fields had an average day by his standards, with his three punts for a total of 133 yards. Two of those punts were downed behind Houston's 20 yard line, and his longest punt went for 56 yards.
Marcus Thigpen — A+
Marcus Thigpen scored Miami's only touchdown, a 72-yard punt return in the third quarter. On top of that he also returned kickoffs well, with his longest going for 32 yards. Excellent game for Thigpen.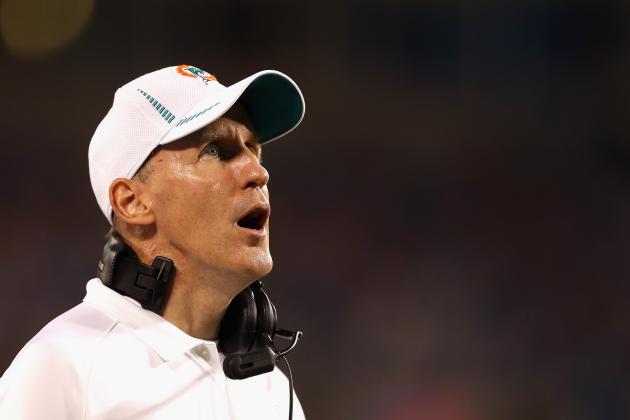 Streeter Lecka/Getty Images

Joe Philbin— C
Joe Philbin's debut didn't go the way he'd want it to. Miami came off to a good start, but a second quarter rife with turnovers would seal their fate.
Philbin did a decent job working Brian Hartline and Anthony Armstrong into the game, however I do wonder why Lamar Miller didn't come into the game after Daniel Thomas suffered a concussion.
The team stated off disciplined, but then broke down. They rallied back in the fourth quarter despite not scoring any points, but execution in the red zone and working with Tannehill on pump-fakes and not getting his passes tipped at the line will be priorities going into Week 2.
.