Reassessing Tennessee's Chances in SEC After Week 2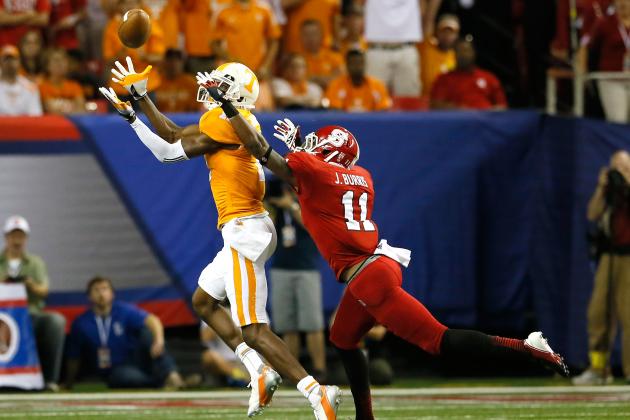 Kevin C. Cox/Getty Images

Tennessee had a great Week 1 outing where they looked better than many of the SEC teams ranked ahead of them. Georgia, Florida and South Carolina all looked sloppy in their first matchups, while the Vols came out and won cleanly and definitively.
That said, let's not crown Tennessee just yet. In Week 2, both Georgia and South Carolina started to look more like top-10 teams than they did in their first outings, and Missouri proved that they were nothing to sneeze at either.
Tennessee plays its first conference game next week when it hosts Florida, and the competition really will kick off. So, with two weeks of college football out of the way, what are Tennessee's chances against their SEC opponents now? Read on for my take.
Begin Slideshow

»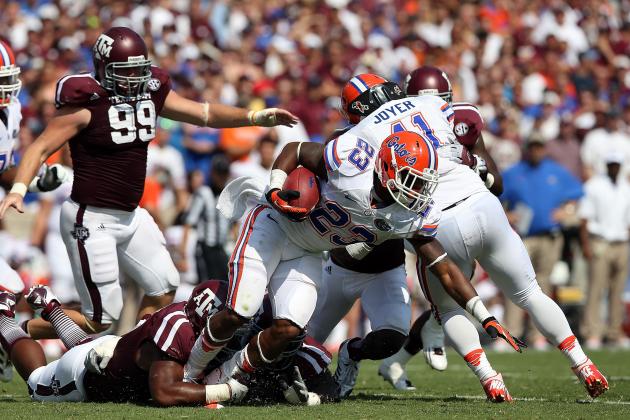 Ronald Martinez/Getty Images

I'm going to go ahead and say that Tennessee should be favored in this one. Jeff Driskel looked awful in the first half against Texas A&M this week, and even though he looked much better in the second half, I'm thinking that level of play is the exception, not the rule.
However, Florida's defense managed to keep Bowling Green and Texas A&M off the board long enough for the offense to get it together. I doubt they'll be able to do the same against Tennessee's offense.
Tyler Bray, Cordarrelle Patterson and Justin Hunter made David Amerson, the nation's top cornerback prospect, look incompetent, so I think they'll have no insurmountable problems scoring against Florida.
On the other side, Florida has struggled against defenses like Bowling Green and Texas A&M. I don't think it's unreasonable to call Tennessee's defense (at least if Curt Maggitt is back in the game) a significantly better group.
Even if Florida's offense rallies late, like they've been doing, Tennessee should have built a comfortable lead by that point.
Finally, there's the fact that Florida is going to have to come into Neyland and beat Tennessee, which is always difficult.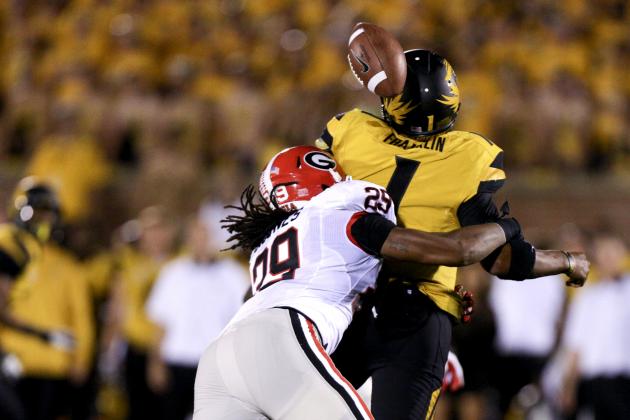 Ed Zurga/Getty Images

At this point in the season, Georgia will likely have all its kinks worked out, and will have all of its players back from suspension. Tennessee will definitely be fighting an uphill battle here.
However, watching Georgia these last two weeks, they've looked far from unbeatable. Aaron Murray looked lost in the first half against Missouri, and the whole team seemed to be on a different page against Buffalo.
In the second half against Missouri, though, Georgia turned it on. Jarvis Jones is going to be a matchup problem, as will massive tackles Kwame Geathers and John Jenkins. Add suspended safety Bacarri Rambo into the mix and there is a lot of talent on defense.
With such a tough defensive unit, this game will be won or lost by Tennessee's defense. Tennessee's passing unit will be able to score on Georgia, but they won't be able to put up 35 points like they did against NC State.
If Tennessee's defense can keep Aaron Murray from keeping up with Tyler Bray in the first half, then they could survive Georgia's second-half surge.
That said, this will probably be the second toughest opponent Tennessee will see this season, and it'll probably be a tough road loss.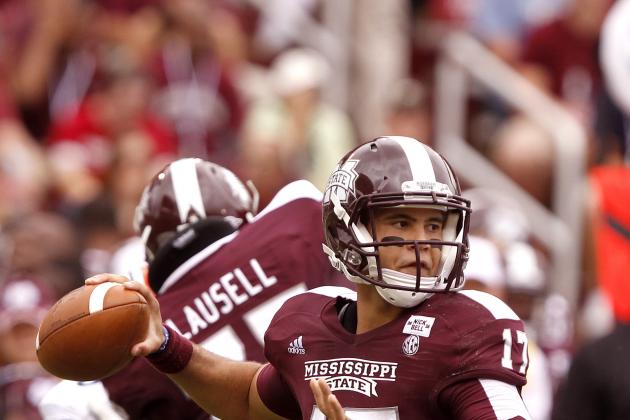 Butch Dill/Getty Images

Mississippi State is looking much better than I thought they'd be. They whooped Auburn this week, 28-10. Furthermore, Tennessee has to play them in Starkville, Mississippi and the more I think about that matchup, the more it worries me.
However, Tennessee will be coming off of its bye week, and will be rested up, so that ought to help, since they'll be coming off of a tough game at Georgia.
I expect this game to be very tough, and Johnthan Banks could be a problem in at least limiting the Vols passing game, and force them to run the ball way more than they'll feel comfortable.
Mississippi State's offense is nothing to brush off either. They put up more points against Auburn than Clemson did. Quarterback Tyler Russell, while young, looks very good.
In my opinion, this will be a hard fought game between two pretty evenly matched opponents, and the determining factor in who wins or loses may simply be who's healthier. Until I see more from both squads, this game looks like a coin flip.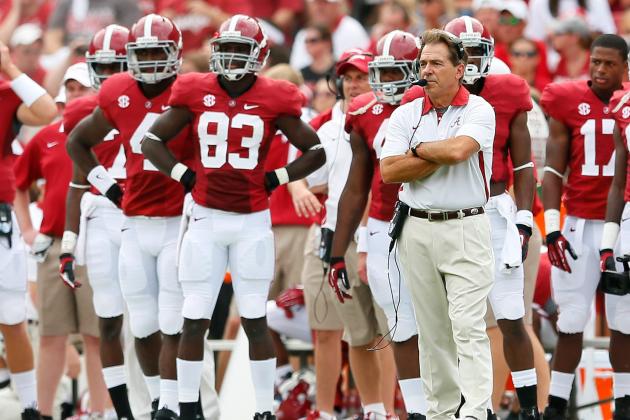 Kevin C. Cox/Getty Images

Alabama looked about as close to unbeatable as any team in college football after their Week 1 dismantling of (then) No. 8 Michigan. However, when Michigan struggled to beat Air Force, it started to look like maybe Alabama isn't invincible.
Now don't get me wrong, unless something crazy happens and Tennessee wins the SEC East or gets a crazy bowl berth, this will be the toughest team that Tennessee will face this season, and chances are, it'll be a loss.
Alabama seems to have no glaring weaknesses. They run well, they pass well, they defend well and they may have the best offensive line in the NCAA.
However, in the history of the long running Tennessee-Alabama rivalry, crazier things have happened. In 2009, Tennessee was a blocked field goal away from upsetting the eventual national champion squad.
Then, last year, Tennessee, despite numerous injuries and playing in Tuscaloosa, kept the game to a tie at halftime. While on paper, Alabama is vastly superior, the history of the rivalry shows that they can lose, even when they're obviously a much better team.
That said, Tennessee will be coming off of two very tough games, and will more than likely lose to Alabama yet again.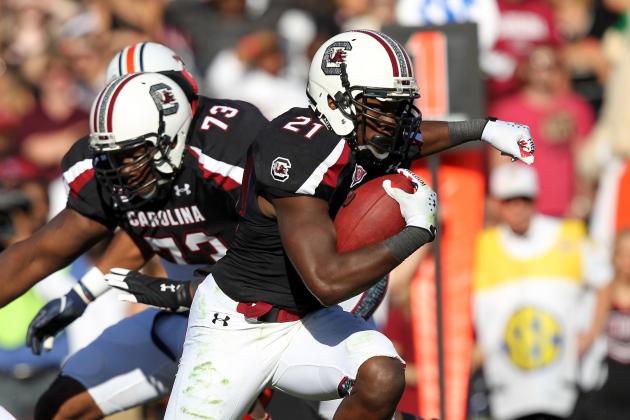 Streeter Lecka/Getty Images

Is there an unwritten rule that Tennessee has to face all its toughest opponents in a row? Because that's how it seems to turn out every year.
South Carolina looked worse than I think they really are against Vanderbilt. Marcus Lattimore was limited, as he's going to be until he gets back into the groove of running the ball, and Connor Shaw injured his shoulder.
Even with their backup quarterback in, they trounced Eastern Carolina, and showed that they are a force to be reckoned with.
If Shaw is healthy and Lattimore is back to his old self, their offense will be hard to stop. Then, on the other side of the ball, there's Jadaveon Clowney, who could be a real test for new left tackle Antonio Richardson.
On the other hand, if Lattimore never gets back to 100 percent and Shaw's shoulder injury is serious, then Spurrier's squad suddenly becomes way less intimidating but will still be no pushover.
It'll be a tough game either way, but I'd bet that the odds are strongly in South Carolina's favor unless Shaw and Lattimore are both limited.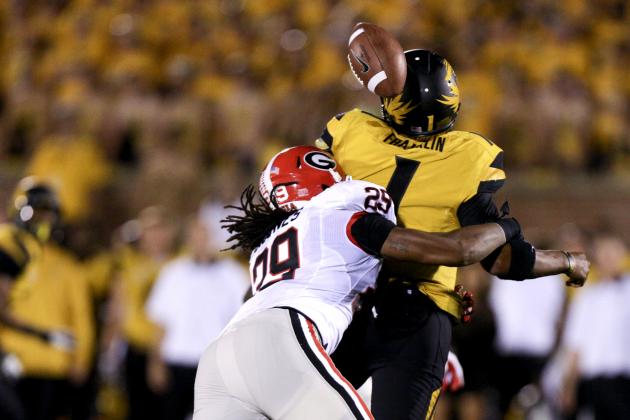 Ed Zurga/Getty Images

Missouri looked pretty good overall against Georgia this week, but they also stumbled out of the gate immediately and were playing at home. They'll look a lot different this late into the season and in Neyland Stadium.
I don't know if Missouri is a sloppy team or if they were just stunned by their first SEC matchups, but a team that can't convert on third downs at all in the first half and misses extra points will have a tough time winning against the high-powered Tennessee passing attack in Knoxville, Tennessee.
Of course, Georgia boasts a pretty good defense as well, so it isn't all on Missouri. But as I pointed out earlier, Georgia is playing without several key defensive players, so they aren't really at full strength right now.
Essentially, Missouri is a very talented team who looks, to me like they're struggling to replace the many starters they lost in 2011 and 2010. By Week 11, I'm sure they'll have themselves figured out and will be a tough team, but I like Tennessee's chances in this one.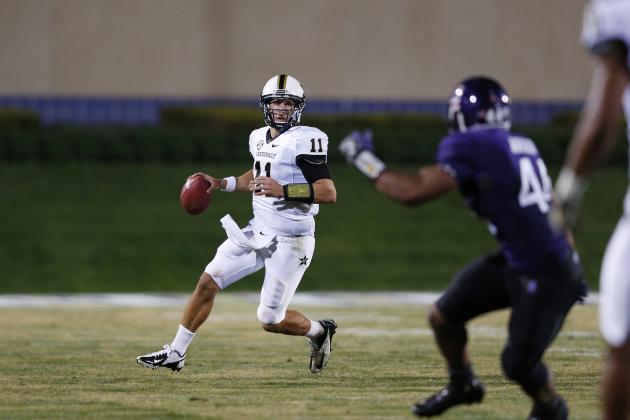 Joe Robbins/Getty Images

Vanderbilt gave me a little bit of a shock in Week 1 when they kept it so close against South Carolina. Really, had it not been for the Gamecocks getting away with a blatant pass interference in the final minutes, Vanderbilt might have come out ahead.
Then Vanderbilt turned back into Vanderbilt when they went and lost to Northwestern this week, despite leading most of the game.
However, despite the fact that Vanderbilt is an inferior team, they always dial it up when they're playing Tennessee, and this could be a trap game if the Vols aren't careful. Vandy gave Tennessee a scare last season in Knoxville, and they get to host the Vols this year.
Vanderbilt's defense looks pretty stout again, but doesn't feature any playmakers outside of maybe Archibald Barnes. However, the offensive combination of workhorse running back Zac Stacy and dual-threat quarterback Jordan Rodgers are always daunting.
Rodgers seems to be struggling with his decision making. At times, he looks like his brother (Aaron Rodgers, of the Packers), but at other times he looks more like what Vandy usually gets at quarterback.
Tennessee will need to avoid getting cocky, but they should come out of Nashville with a win.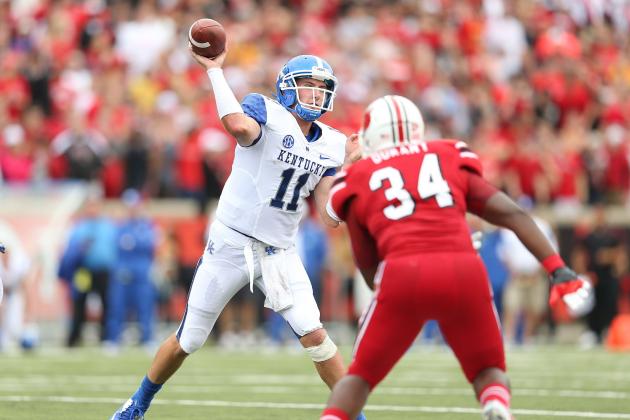 Andy Lyons/Getty Images

This is the only SEC team that I am pretty much 100 percent certain Tennessee will beat. The streak is over, but I think it's time that Tennessee starts a new one.
A lot of fans wanted Derek Dooley fired on the spot when Tennessee lost to Kentucky last season, bringing an end to a 26-year streak of wins against the Wildcats.
This year, Kentucky's defense is a lot more tame after losing standout safety Winston Guy Jr. and All-SEC linebacker Danny Trevathan, so Tennessee ought to have no problem running up the score.
Kentucky's offense shows some promise with sophomore quarterback Maxwell Smith, who has thrown for 634 yards, six touchdowns and no interceptions this season. As a converted wide receiver, he can also run when he needs to.
That said, I seriously doubt he'll be able to keep up with Bray, Hunter and Patterson, who might form the deadliest passing group in college football right now.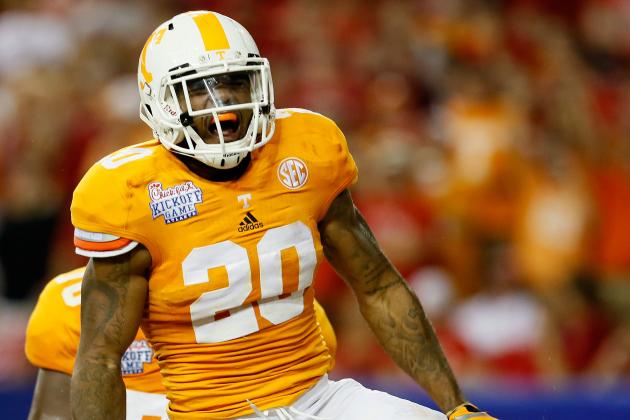 Kevin C. Cox/Getty Images

If you've been counting, I see Tennessee definitely winning three of its future SEC matchups (Florida, Vanderbilt and Kentucky). Then, since I think Tennessee has at least a chance against every other SEC team it's playing, I see them winning two more against the tougher opponents.
If a little luck goes Tennessee's way (which it hasn't been doing recently), Tennessee could see more wins, but any more than six SEC wins would be a lot more than a little luck.
A reasonable result would be for Tennessee to go 5-3 in the SEC. If we presume that Tennessee then beats all of its non-conference opponents (I do), then Tennessee ends the season with a very healthy 9-3 record.
With Alabama and LSU a surefire No. 1 and No. 2 (though not necessarily in that order), and Georgia facing a very easy SEC schedule, that will probably put Tennessee in third place in the SEC East, and probably fifth place overall.
For those of you who'd be curious, fifth in the SEC would get Tennessee to the Chick-fil-A Bowl, or the Outback Bowl if two SEC teams are in BCS Bowls. That would pit the Vols against the second non-BCS pick ACC team, or the second non-BCS pick Big Ten team, respectively.
For the record, I think those teams would be Georgia Tech and Nebraska, as of right now.