Buffalo Bills vs New York Jets: Live Score, Highlights & Analysis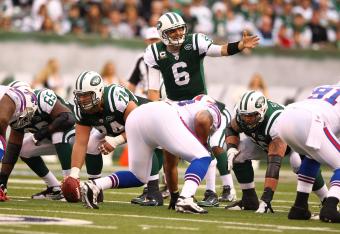 Al Bello/Getty Images
With just a quarter of football to play, this one seems to be wrapped up. The Jets are diving yet again, looking to add to their stunning 41 point total.
While this is great news for the Jets, where does this leave Buffalo? The Bills have struggled in just about every phase of the game, getting almost all of their offensive production from C.J. Spiller.
Meanwhile, the Jets' offensive line was fantastic, giving Sanchez all of the time he needed to find his young receivers. Rookie Stephen Hill had a huge day, catching five balls and scoring a pair of touchdowns.
FINAL SCORE Jets 48, Bills 28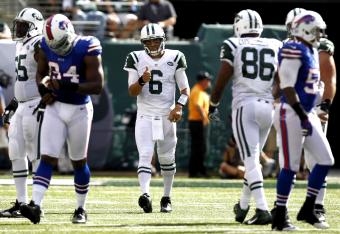 What do you think Jets fans...was this Sanchez's best game as a Jet?
It is hard to overstate how great the Jets line played, Austin Howard in particular. The Bills line was a non-factor all afternoon.
Speaking from a Bills perspective, this is disheartening to say the least. Mario Williams was a total non-factor, and Stephon Gilmore was beat for a touchdown.
To top it all off, Fitzpatrick kept making the same mistakes that cost him team last year.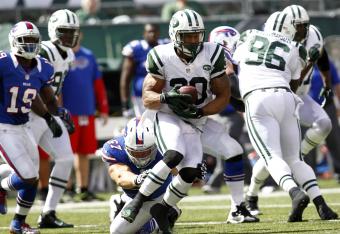 That will do it! Jets dominated the Bills in all three phases, despite a few late-game drives against a lazy Jets defense to make the game look respectable.
For Bills fans, this is the worst-case scenario. None of your new additions flashed, and Fitzpatrick looked more like his December 2011-self than his September 2011-self.
Meanwhile, the Jets in no way resembled the offensively-challenged team that failed to score a touchdown with the starters. Sanchez was brilliant, playing perhaps the best game of his career. The running game was not overly effective, but they stayed with it.
FINAL SCORE: Jets 48, Bills 28.
Thanks for following along!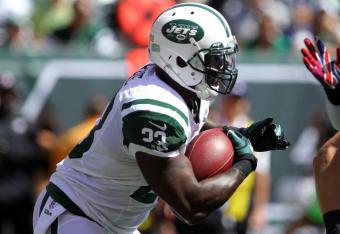 1:54 4th Quarter
TOUCHDOWN JETS
The Jets elect to go with a lead dive play, which results in a Shonn Greene touchdown.
Greene carried the ball 27 times today, which is a good sign for the return of the "Ground and Pound" offense.
Did anyone think the Jets would drop 49 points in the season opener?
Jets 49, Bills 28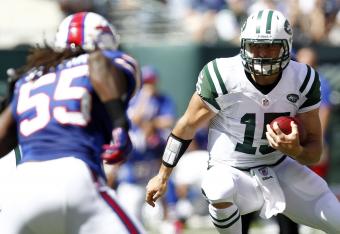 2:40 4th Quarter
Tebow in the game on the goalline. Jets appear to be looking for points here, but a false-start penalty pushes them back.
Will be interesting to see how the Jets play this. Will they take a few knees to run clock and kick a field goal, or go for six?
I would just take the knee and get out of the game. No need to run it in.
6:05 4th Quarter
TOUCHDOWN BILLS
Easy pitch-and-catch from to Steve Johnson. Some head-scratching defensive calls for the Jets, lining up linebackers and safeties on the Bills' best receiver.
Jets 41, Bill 28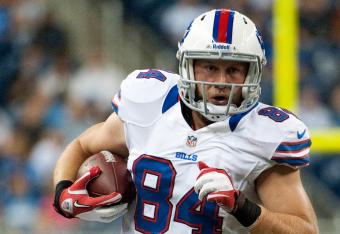 6:15 4th Quarter
The Bills keep looking to Chandler, who is finally defended thanks to a hit by Yeremiah Bell. Tight ends still giving the Jets a hard time.
7:47 4th Quarter
Revis is headed to the locker room with what could be a head injury:
Revis to locker room. Was standing and talking to docs. Makes me think they were checking for possible concussion. But I'm not a doctor.

— Rich Cimini (@RichCimini) September 9, 2012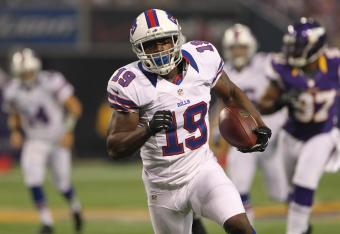 7:57 4th Quarter
TOUCHDOWN BILLS
Fitz hits a quick slant to Donald Jones, who escapes a terrible tackle attempt on his way to the end zone.
This touchdown may not mean much, but you know these late-game points are gives the Jets' defensive coaches heart attacks.
Bills 21, Jets 41
9:27 4th Quarter
Revis slow to get up, but it doesn't look serious. It may be time for Rex Ryan to pull some of his key starters from the game.
Meanwhile, the Bills have quietly put together a nice drive, which is now extended by a roughing the passer penalty by Quinton Coples.
Too bad Rex lost a bunch of weight, or Scott Chandler would have just bounced off him...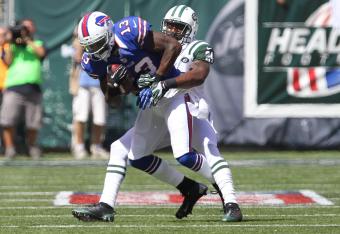 12:20 4th Quarter
That is at least the second time Steve Johnson has had to swat a ball away to prevent an interception. Fitzpatrick needs to start looking at other options, because Revis is not going to let Johnson get a few cheap plays.
If he does, he has to answer questions about it all the way until Week 17.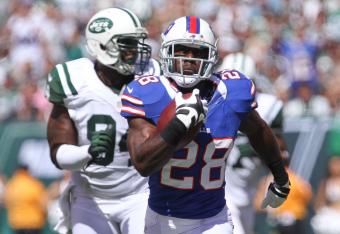 12:46 4th Quarter
Getting critical with the Jets, the need to improve their outside run defense. Spiller has burned them to the edge too many times.
If they can fix those issues, they can be scary-good on defense.
14:47 4th Quarter
Sanchez needs to learn how to take care of the ball when handling. Not sure how the Bills did not fall on that one.
Quick Fred Jackson update:
Fred Jackson done for the day with knee injury bit.ly/Rtu6cO
— Tim Graham (@ByTimGraham) September 9,


The new Jets punter, Robert Malone, pins the Bills deep. Malone was a late add to the team last week, as the Jets were looking to move on from the inconsistent T.J. Conley.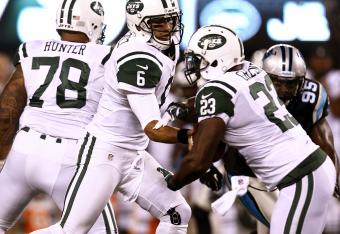 1:46, 3rd Quarter
The Jets get over their short-yardage woes by converting on a third and 1. Remember, they were stuffed over and over again against the Giants in the preseason.
4:26 Third Quarter
TOUCHDOWN BILLS
The Jets send the house, but Scott Chandler easily beats the undersized Isiah Trufant for an easy score.
Bills 14, Jets 41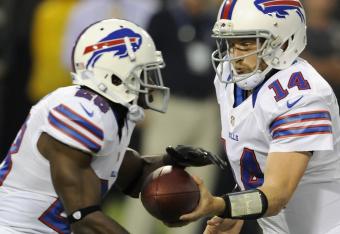 6:30 Third Quarter
Spiller continues to flash incredible ability, turning what would have been a loss into a huge gain to get the Bills inside the Jets' five yard line.
It is worth noting that Antonio Cromartie, of all people, made the tackle.
8:20 3rd Quarter
One thing the Bills can take out of this game is how good C.J. Spiller has looked. Outside of a fumble on a long reception, Spiller has been the Bills' best player today.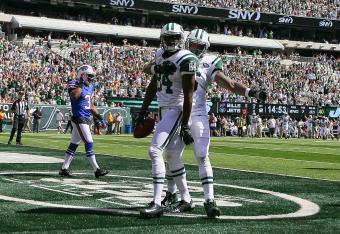 9:38 3rd Quarter
TOUCHDOWN JETS!!!
Rookie Stephen Hill takes a crossing route and turns it into six points. This game is getting out of hand.
Play is under review, but based on these refs' history, it is unlikely to be overturned.
Jets 41, Bills 7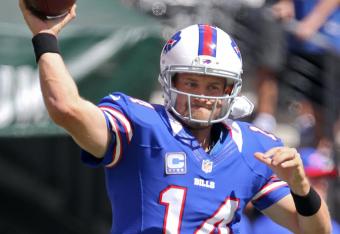 12:15 3rd Quarter
The Bills respond to a pick six by going backwards nine yards...this is turning into quite a disturbing performance for Buffalo.
They are clearly lacking any legitimate threat at receiver outside of Steve Johnson, making them too easy to play against when they are one-dimensional. This contest could get a lot worse.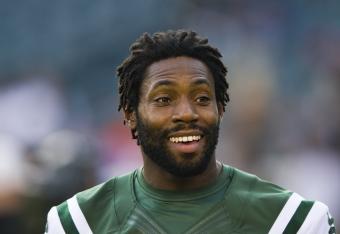 13:41 3rd Quarter
TOUCHDOWN JETS!!!
Fitzpatrick throws an awful pass right into the hands of Antonio Cromartie. He thought it was man coverage and locked onto his receiver, and the Jets made him pay.
Jets 34, Bills 7
14:39 3rd Quarter
Bills are spreading the Jets out and running right at them, with some success. The Bills were running their heads into a wall running out of base formations.
15:00 3rd Quarter
Bills start out with the ball, let's see if they can get back in this game here. Huge drive for Buffalo.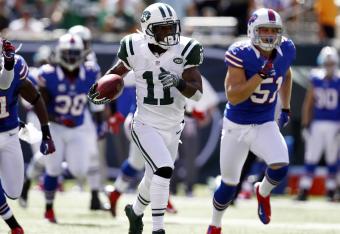 Halftime Thoughts:
Where is the Bills Pass Rush?
Much was made about the impact Mario Williams and Mark Anderson would have on the Bills' defense, but so far, they have been invisible.
The Wildcat and Sanchez's quick decision-making have something to do with it, but they are simply not causing the kind of havoc the Bills were planning on getting. The Bills need more from their defensive line if they want to have a chance to come back in this game.
Heavy on the Wildcat
The Jets are using a ton of WIldcat early on, but it has been sprinkled in just right to remain effective without encroaching on Sanchez's rhythm.
Most importantly, they are keeping the Bills in vanilla looks, giving Sanchez easy reads.
What replacement refs?
There have been some close calls in this game (and plenty of turnovers), but the replacement refs have been rock-sold so far.
0:16 2nd Quarter
Holmes' left hand caused him to be out of bounds, good call by the official.
Nick Folk drills the FG, making the sore Jets 27, Bills 7
This article is
What is the duplicate article?
Why is this article offensive?
Where is this article plagiarized from?
Why is this article poorly edited?