Auburn Football: 10 Things We Learned from the Tigers' Loss to Mississippi State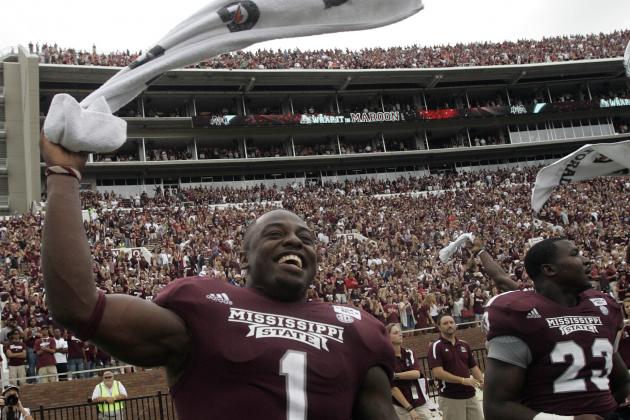 Butch Dill/Getty Images

Auburn fell to Mississippi State by a score of 28-10 on Saturday in Starkville. Kiehl Frazier and the Auburn offense only had 216 yards and struggled all day long.
Auburn will be in Jordan-Hare Stadium for the first time in 2012 next Saturday against Louisiana-Monroe (who just upset Arkansas).
Before we move onto the Warhawks, let's look at 10 things we learned in week two.
Begin Slideshow

»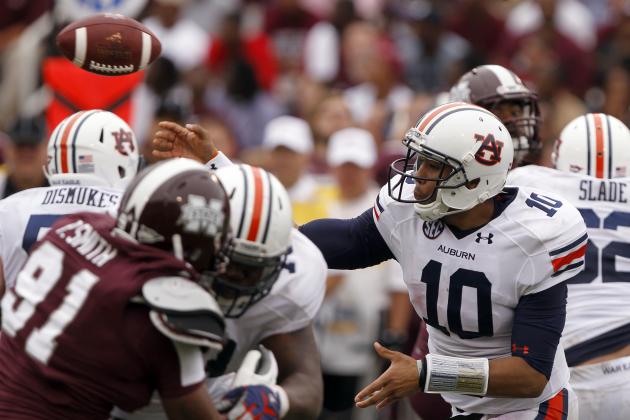 Butch Dill/Getty Images

Auburn rushed the ball 39 times on Saturday. They threw the ball 22 times.
Scot Loeffler did not want to put quarterback Kiehl Frazier in any high pressure situations.
Kiehl Frazier was supposed to be the "Quarterback of the Future" for Auburn. Right now, he looks like anything but that.
It was obvious early on that Auburn wanted to establish the run. They wanted to establish the run because they did not trust Frazier's passing ability.
Frazier threw three interceptions on Saturday. Two came in the first half. The other came in the red zone. Frazier's passing deficiencies are obvious, even to the casual fan.
Frazier does not make decisions quick enough and his tendency the first two games is to lock in on his targets. Frazier must learn to look off safeties with his eyes and not zero in on just one receiver. If he does not learn to do this, there will be a lot more of what happened on Saturday for the young quarterback.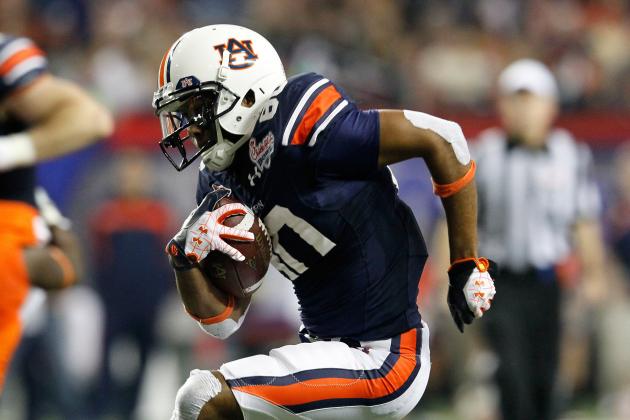 Kevin C. Cox/Getty Images

There was an obvious communication issue on the Tigers' second drive of the game. It was third and long and there was a delay of game. Auburn lined up for the next play and had to call a timeout to avoid another delay of game penalty.
This appears to be a communication issue where the play is not getting from the press box to the quarterback.
Offensive Coordinator Scot Loeffler may want to consider moving to the sideline to mitigate the communication issues that Auburn had on Saturday.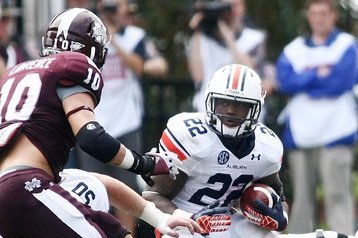 Photo by Trent Penney
After only having one carry in week one versus Clemson, Mike Blakely led Auburn in rushing versus Mississippi State on Saturday.
The University of Florida transfer rushed for 42 yards on 11 carries against the Bulldogs.
At 5'9" and 206 lbs, Blakely provides a little more size than Mason and McCalebb. Look for Auburn to use Blakely more and more as the season goes on.
If this Saturday is any indication, Blakely has a bright future on the Plains.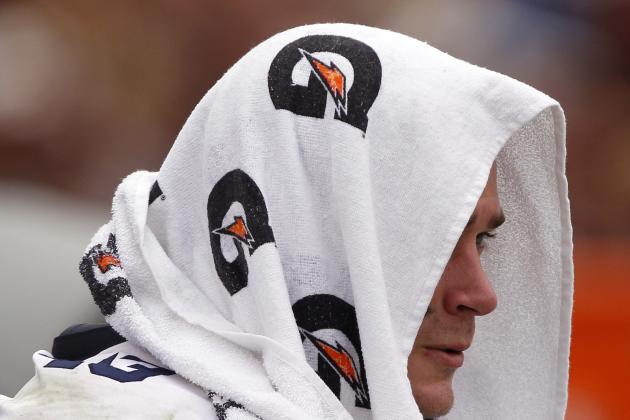 Butch Dill/Getty Images

Auburn has made five trips into the red zone this year. They have yet to score a touchdown.
On Saturday, the Tigers reached the red zone twice and one resulted in three points. The other opportunity resulted in one of Kiehl Frazier's three interceptions.
The play calling by Scot Loeffler was curious at best. Everyone in the Davis Wade Stadium knew what was coming (handoff to Blakely or Mason).
Auburn must find a way to get the ball in the end zone when they get inside the opponent's 20 yard line. They have yet to show they are capable of doing that in the 2012 season.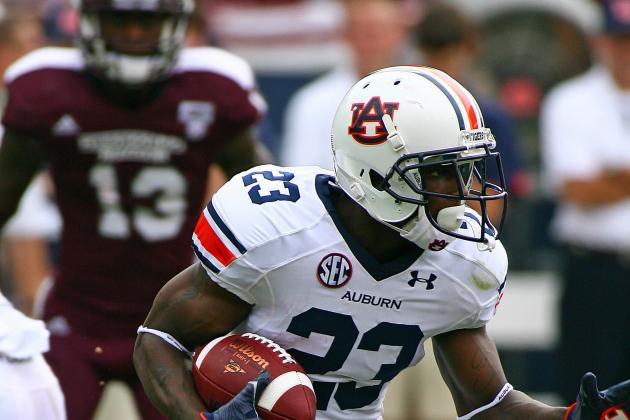 Spruce Derden-US PRESSWIRE

Cody Parkey and Onterio McCalebb provided all of the scoring on Saturday via special teams. Onterio McCalebb returned the opening kickoff of the second half for Auburn's only touchdown of the day.
Steven Clark continued to prove why he is a Ray Guy finalist by flipping the field multiple times on booming punts. Clark punted six times for a a 41 yard average.
Auburn got a big field goal block late in the second quarter to keep the game within reach going into the second half.
Butch Dill/Getty Images

The Auburn linebackers are not SEC-caliber and do not give Auburn a chance to win. It may be missed tackles, not getting aligned or not adequate in pass coverage. Regardless of the event, changes will probably be made by the end of the season.
The tackling improved from last week, but there were once again bad angles being taken by the Auburn linebackers. Jake Holland allowed Marcus Green to slip right behind him while he was in pass coverage for the Bulldogs' first touchdown of the day.
Both Auburn safeties led Auburn in tackling and that is a direct reflection on the linebackers. Ball carriers are getting to the third level of the defense and that usually means a minimum of a three to five yard gain.
Brian Van Gorder knows what he is doing, but his current stable of linebackers will not give him the defense that can be successful in the Southeastern Conference.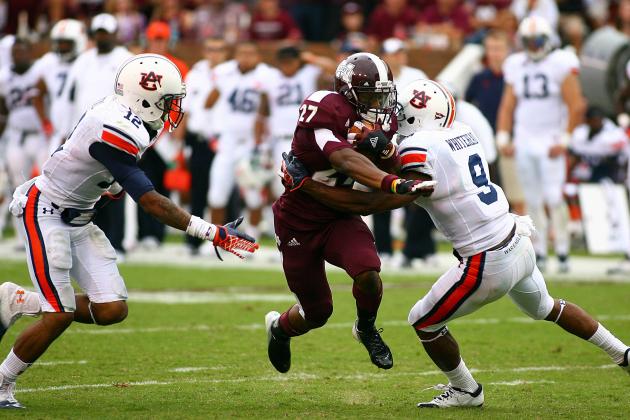 Spruce Derden-US PRESSWIRE

Five yards here, five yards there. The Auburn secondary will let you have it. Mississippi State threw for 222 yards on Saturday.
The cushion that the Auburn secondary has been giving to the first two opponents is not working.
Defensive back coach Willie Martinez needs to get his group to tighten up. Auburn is trying to make every quarterback into a Heisman candidate.
The secondary needs to get in the face of the receivers and not let them run a five to 10 yard curl and get yards any time they want.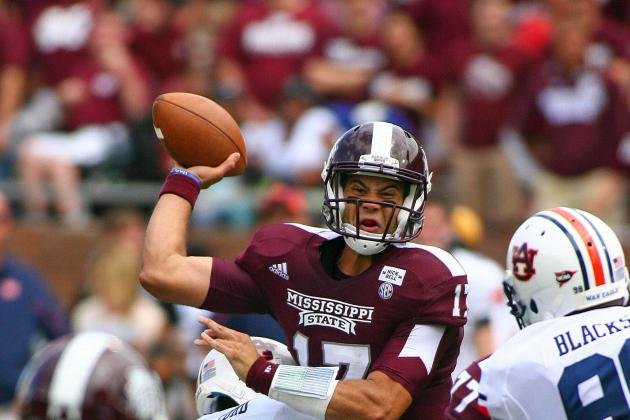 Spruce Derden-US PRESSWIRE

For three quarters on Saturday, the fundamentals of tackling appeared for Auburn. The Tigers were swarming to the ball and wrapping up. This was a comforting sight after last week's performance against Clemson.
Auburn lost these fundamentals in the fourth quarter and the tackling issues reared their ugly head once again.
The Auburn defense must learn to be good at the small things like form-tackling and taking the right angles toward the ball carrier. They are simply not good enough to not have good fundamentals.
Spruce Derden-US PRESSWIRE

It pains any Auburn fan to read this, but Gene Chizik did not have his team ready to play on Saturday. The Tigers were outplayed and out-coached by Dan Mullen and Mississippi State.
Auburn made mental mistakes and committed big penalties throughout the game. After a not so strong showing against Clemson, most people would have thought that Gene Chizik would have fixed the deficiencies throughout the week.
The old adage that football teams improve the most from Week 1 to Week 2 did not pertain to Auburn. They took a step back.
Chizik had a solid record following a loss before today's game but it was not apparent in the loss to Mississippi State. He simply did not have his team ready to play and there are already some that wonder if he will keep his job for the remainder of the season.
He will keep his job through 2012, but more performances like this during the season and he will put a lot more pressure on himself.
Auburn fans will want to see a well-coached football team next Saturday in the home opener. If they don't, it could be an ugly home opener for the Tigers.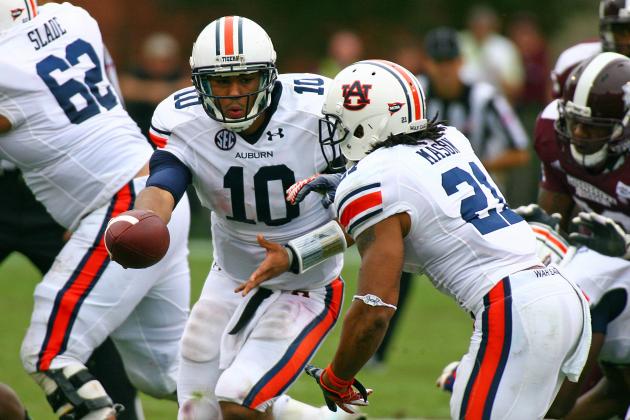 Spruce Derden-US PRESSWIRE

Some questioned the hire of offensive coordinator Scot Loeffler when he was brought on to the Auburn staff by Gene Chizik at the beginning of the year. Loeffler was bringing in a completely new system and offensive philosophy.
After the first two weeks, it is obvious that Loeffler will have to work some magic for his offense to be successful this year.
For most of the game, the Auburn offense looked absolutely lost against Mississippi State. There were communication issues, delays of game and other negative events that occurred.
The Tigers have yet to score a red zone touchdown and they have a hard time moving the ball through the air.
Today was just another example that Scot Loeffler has his work cut out for him this year as the Auburn offensive coordinator.