Predicting Every AL Silver Slugger Award Winner for 2012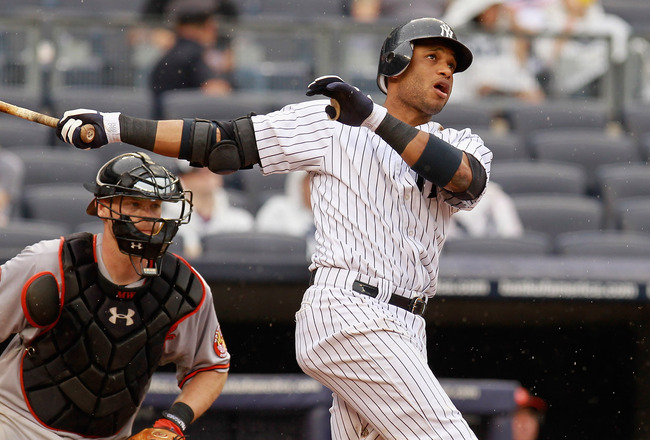 Mike Stobe/Getty Images
We may all be immersed in all the excitement surrounding the playoff picture as we wind down the regular season, but it's never too late to look towards October and beyond, when the postseason picture will take shape and end-of-season awards will be handed out.
Countless stories have taken shape this season, and while some of the old staples have been their old selves in the batter's box, there has been no shortage of surprising performances from the game's stars, young and old.
Here are some players that could very well be hoisting some hardware when the 2012 American League Silver Slugger trophies make their way to their rightful owners.
Catcher: Joe Mauer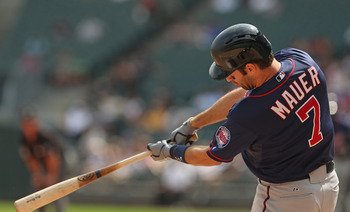 Jonathan Daniel/Getty Images
After a down season in 2011 where he fought to stay healthy, Joe Mauer is once again showing signs that he's the best all-around catcher in baseball.
He's batting .319 this season with the Minnesota Twins and leads the league with a .414 on-base percentage.
Though Mauer hasn't shown the same power that he did during his MVP campaign in 2009, he is approaching 80 RBI for the season and has 41 extra base hits.
First Base: Albert Pujols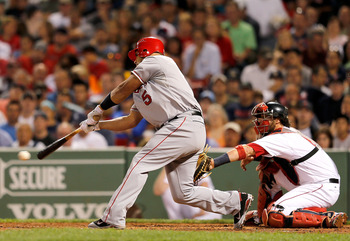 Jim Rogash/Getty Images
Transitioning to the American League for the first time in his career, Albert Pujols got off to a tremendously slow start to the 2012 season and no doubt had some of the Angels faithful a little bit worried.
Luckily for Halos fans everywhere, Pujols came back in a big way, and even though he's setting himself up for career lows in batting, he's sitting at .286 and with power numbers back where they should be (29 home runs, 95 RBI), he's helping the Angels on a nightly basis.
Second Base: Robinson Cano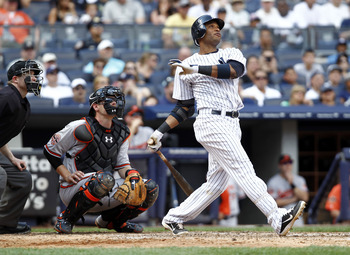 Jeff Zelevansky/Getty Images
Having already matched his career high in home runs with 29, Robinson Cano is headed for another year to remember, as he's found a way to once again bat over .300 while still posting power numbers that aren't always seen from infielders.
He's in the thick of a playoff race with the New York Yankees and his .907 OPS and .537 slugging percentage will no doubt play a big role down the stretch.
Third Base: Miguel Cabrera
Gregory Shamus/Getty Images
Transitioning to a new position isn't always easy on a player, especially a beast like Miguel Cabrera.
That doesn't seem to have phased him in the least, however, as Cabrera is once again looking like one of the game's best power hitters, leading the league in slugging and OPS with .590 and .981 marks.
He's nearing 40 home runs this season and it won't be out of the question to see him hit 130 RBI for the first time in his polished career.
Shortstop: Derek Jeter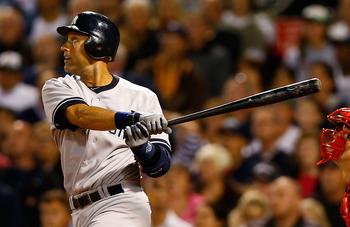 Jared Wickerham/Getty Images
After a somewhat down season in 2011 in which he hit only six home runs and notched his fewest hit total since 2003, Derek Jeter proved that age is nothing but a number as the seasoned veteran came back in a big way this season.
He's the first player to 200 hits in 2012, and with a .323 average at this stage in the game, a batting title isn't out of the question for the captain.
Left Field: Josh Willingham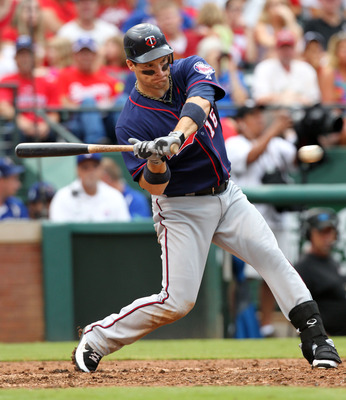 Layne Murdoch/Getty Images
The Minnesota Twins made a very tough decision last offseason when they opted to let longtime fan favorite Michael Cuddyer walk, and in turn signed Josh Willingham to a three-year contract.
Willingham came into Target Field and has been one of few bright spots for the Twins this season, notching career highs in home runs (33) and RBI (112).
It wouldn't have been out of the question to see the team move him at the deadline this summer as he would've represented one of the best bats on the market, but the Twins have their sights on keeping him around for years to come.
Center Field: Mike Trout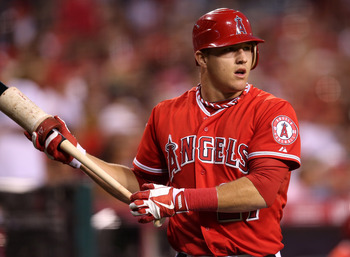 Stephen Dunn/Getty Images
There isn't much that can be said about Mike Trout that we don't already know, so we might as well just sit back and enjoy something very special.
Barely 21-years-old, Trout leads the league in runs scored (114), and with 27 home runs and 77 RBI he's clearly one of the best young power hitters to come into the league in quite some time.
As if that's not enough, he's also got blazing speed, something he's parlayed into the league with 45 stolen bases.
Right Field: Alex Rios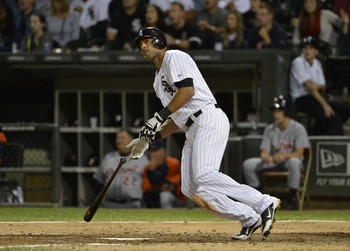 Brian Kersey/Getty Images
Just one year ago, Alex Rios looked lost in his own shoes, owning a meager .227 batting average while failing to live up to the nearly $13 million annual contract the Chicago White Sox were handing him.
Whatever he discovered during the offseason certainly worked, as he's come back in a huge way in 2012.
Currently batting .293, Rios is just one home run shy of his career high (24) and his .834 OPS is something he hasn't seen in his stat line since 2006.
Designated Hitter: Billy Butler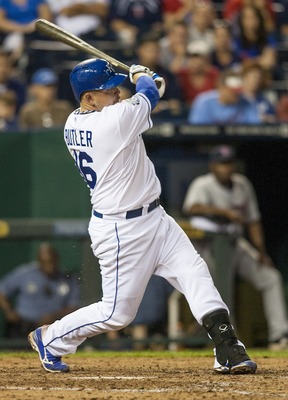 Tim Umphrey/Getty Images
He may have been the most notable snub from this year's All-Star home run derby, but Billy Butler has done plenty of slugging when it counts as he remains the most dangerous offensive option for the Kansas City Royals.
Butler is enjoying a career year across the board, and with his first 30 home run season within reach, he's working his way to what will no doubt be a big payday when he hits free agency in 2015.
Keep Reading