Lucas Matthysse vs. Ajose Olusegun: Live from the Hard Rock Hotel in Las Vegas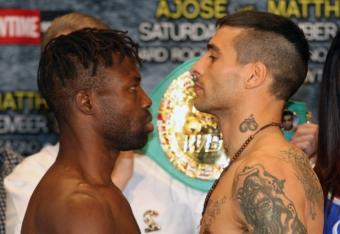 Courtesy of: BoxingScene.com

Saturday night knockout artist Lucas Matthysse and Olusegun Ajose will battle it out for the WBC interim junior welterweight title live from the Joint inside the Hard Rock Hotel and Casino in Las Vegas, Nev.
I will be there live to report the action as it happens in Sin City, so stay tuned to this blog as it will be updated throughout the night.
Matthysse has won by KO in 29 of his 31 fights and will look to continue his early stoppages as Ajose will look to keep his undefeated record intact while adding a quality win to his unblemished resume.
Matthysse could set up a fight with one of the other top junior welterweights with the win, mainly a fight with the current title holder, Danny Garcia.
Ajose could also net a title fight with Garcia with a win, as he was supposed to be the mandatory challenger for Garcia before Erik Morales was awarded the spot for the October 20 card in Brooklyn, N.Y.
Catch the action live on Showtime beginning at 9 p.m. EDT.
Round 10: Ajose looking to attack the body, and then tips and hits the canvas.
As the ref was going to break up a hold, Matthysse catches Ajose and he staggers his way to the corner and the Ref gives him time to recoup.
Matthysse is looking to end the fight now, and lands a serious left-right-left-right combo to the head of Ajsoe, but Ajose flexes his strong chin yet again, and stays on his feet.
Matthysse is landing power shots at will again and is dominating the round.
As the bell sounds Matthysse finally lands the shot he was looking for in Ajose's corner knocking him out cold with a straight right hand.
Wow. What a fight. Ajose took as many power shot as I seen a fighter take in sometime, showing heart in the loss.
Round 9: Matthysse comes out looking to pick the pace up once again, throwing shots almost immediately as the bell sounds to open the round.
Matthysse lands a four-punch combo to the head and body, but the punches don't have the snap they did earlier in the fight.
Matthysse lands three left hooks in succession, but doesn't follow them up with any other punches.
Matthysse ends the round with a strong left hook, getting Ajose attention.
89-82 Matthysse
Round 8: The round opens up with the two fighters trading combo's and gives the crowd the best back-and-fourth action in a few rounds.
Matthysse seems to be taking a breather now, and is throwing very few punches and is dodging the majority of punches thrown by Ajose.
Neither fighter is landing much since the flurry that opened up the round.
Matthysse lands a couple of decent shots, but the pace is again at a slower pace.
79-73 Matthysse
Round 7: Matthysse comes out swinging to start the round, then slips and gets caught with a two-punch combo.
Matthysse fires back an even better combo, backing Ajose up once again.
Matthysse gets Ajose on the ropes and opens up a combo to the body and the head.
Matthysse lands two straight right hands, and is looking less tired as the two previous rounds.
69-64 Matthysse
Round 6: Matthysse starts the round rather slow and has yet to throw a solid punch through the first minute.
Neither fighter is doing very much half way through the round, as fatigue looks to be setting in for both fighters.
Matthysse lands a solid left hook counter, the biggest shot of the round.
Matthysse lands an even better counter left and stole the round right there, as the action was not as frequent this round.
59-55 Matthysse
Round 5: Matthysse lands more power shots and still Ajose stays on his feet, but he is taking a serious beating.
Ajose is still throwing power shots, landing one here and there, showing great heart.
Matthysse pushes Ajose to the canvas and it is not ruled a knock down and rightly so.
49-46 Matthysse
Round 4: Ajose swings for the fences, but misses, then comes back and lands his best combo since Round 1.
Ajose finally hits the canvas, but on a slip, his chin continues to withstand Matthysse's power.
The two trade power shots, as Matthysse seems to be getting tired from the amount of power shots he has thrown.
Let's see if fatigue becomes a factor.
39-37 Matthysse
Round 3: Ajose is more mobile now, not opting to stand and trade with Matthysse, which is the smartest thing he can do at this pint.
Matthysse lands a big shot again, but Ajose stays up once again.
Overhand right lands flush , and Matthysse begins to batter Aljose once again.
Ajose tries to wrestle Matthysse, but the ref breaks it up, only to have Matthysse land a flurry of power shots.
Can't say enough about Ajose's chin. He can take a punch.
29-28 Matthysse
Round 2: Ajose is definitely not afraid of Matthysse's power and continues to fire shots at will.
Matthysse catches Ajose with a strong hook, let's see if he respects his power now.
Matthysse lands a heavy combo and has Ajose on the ropes.
Matthysse is pummeling Ajose, but to his credit he has not went down yet.
Wow, it's amazing that Ajose is still standing. He has a very strong chin, but he can not continue to take that kind of abuse.
19-19 even.
Round 1: Ajose landing solid shots to Matthysse's head and body and is the more active fighter early in the round.
Matthysse picked the action up later in the round, but not enough to steal the round.
We'll see of this pace continues as the fight moves on.
10-9 Aljose
Here we go the main event is about to begin. I don't expect this one to last very long.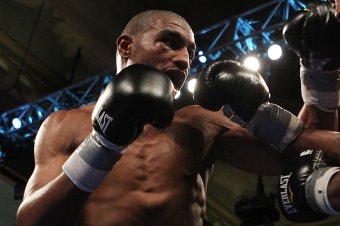 Al Bello/Getty Images
J'Leon Love (13-0, 7 KOs) defeated Ramon Valenzuela (7-2, 1 KOs) vie ROund 8 disqualification, as Valenzuela wanted to turn the bout into a wrestling match after Love nearly knocked him out.
As Love began to mount a near fight-ending assault on Valenzuela in Round 7, Valenzuela tried to lift Love off his feet and over the ropes as as the bell sounded to end the bout and was deducted one point for the foul.
As Round 8 began, Love again pressed Valenzuela and nearly had him out again and Valenzuela did his best WWE impression and tried to lift Love over the ropes again, causing the referee to stop the bout.
Love commented on the fouls after the fight saying, " I knew I had frustrated him... I was laughing, but come on bro, get it together."
Love was impressive in the bout, despite the circus-like ending and looks to be ready to take a step up in competition in the middleweight division and begin his quest for a possible title fight a year or two down the line.
This article is
What is the duplicate article?
Why is this article offensive?
Where is this article plagiarized from?
Why is this article poorly edited?