Georgia Bulldogs Must Answer Questions for 2009 Season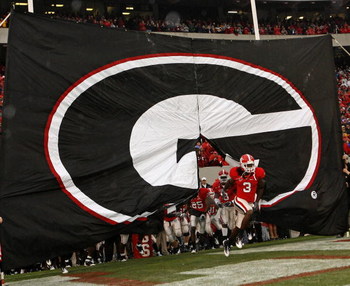 With National Signing Day come and gone, the Georgia Bulldogs seem to have set themselves up very well for the upcoming years. But what really matters is this 2009 season—the season following the tremendous disappointment of 2008.
After entering last season with a No. 1 preseason ranking in most national polls, the Dawgs found themselves on the disappointing end of a three-loss campaign.
And those losses included beatings at the hands of both Alabama and Florida and a crushing blow from Georgia Tech.
Each season begins a brand new chapter, though, and the 2009 edition will look to truly step into the nation's elite. And the new season comes with several unanswered questions, some strategic and some mental.
In that vein, the following is a sort of Top 10 questions for the Dawgs to answer this upcoming season. Keep in mind that these are not in rank order, but taken as a whole, they encompass the major questions surrounding the upcoming edition of the Bulldogs.
Who Will Step Up As a Leader?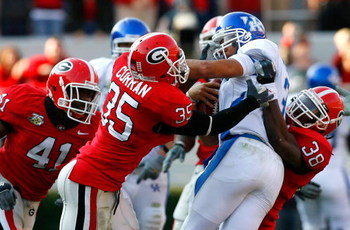 Nobody can deny the wealth of talent the Dawgs entered with for the 2008 campaign. But the one thing they obviously lacked was strong leadership.
As great as statistical leadership by players such as departed QB Matt Stafford is, vocal and emotional leadership was blatantly absent. Leadership has been the focus of the whole offseason, with Second Team All-SEC LB Rennie Curran (No. 35, pictured) talking constantly about it.
Fifth-year QB Joe Cox—entering his first season at the top of the depth chart—has already established himself as a much more vocal leader of the offense.
But with a perceived drop-off in talent for this season, effective leadership will be even more important in the Dawgs' hopes for another 10-win season.
Will "Evil" Mark Richt Make an Appearance?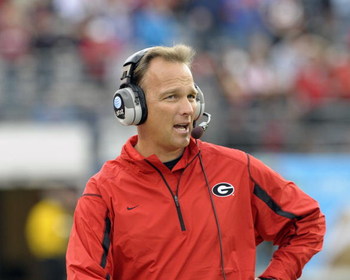 The nation was stunned at The Celebration against Florida in 2007. And they were surprised to see Coach Mark Richt taking shots at the BCS and other schools that same season in his lobbying for a national title berth.
But last season, the old conservative CMR showed his true colors.
I would not put him on the proverbial hot seat just yet, but he does need to rediscover the fire under that seat if he is to satisfy the Dawg Nation. A good effort is no longer good enough, Coach.
We want to compete for a title.
How Will the Quarterback Battle Turn Out?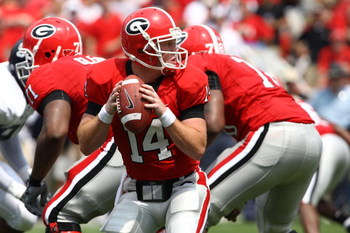 Fifth-year senior Cox (pictured) is the unequivocal leader of the depth chart to date. He has played the role of former Dawg QB D.J. Shockley for his tenure at the University, but 2009 will be his chance to shine.
The starting job is his to lose, much like it was Shockley's nearly four years ago. But—unlike Shockley—Cox has three nationally prominent QB recruits nipping at his heels.
Redshirt sophomore Logan Gray spent time on special teams last year, both returning punts and covering kicks, and his athleticism could and should be used as a quick change of pace behind center.
Gray just does not have the muscle mass or overall size to take consistent hits from SEC defenders.
Early enrollees Aaron Murray (Rivals and Scout.com No. 3 QB recruit) and Zach Mettenberger (Rivals.com No. 11 QB recruit) will be studying both veterans constantly, itching for their chances to take snaps.
Who Will Take Over the Reins at Running Back?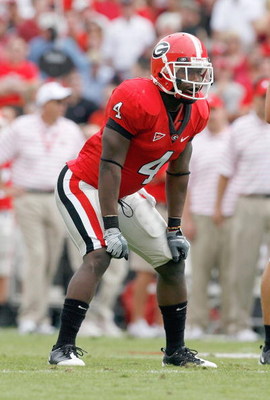 And "reins" is a fitting term here. Georgia has a history of relying on its RB horses to carry the team through a rough SEC schedule.
But Knowshon Moreno's 1,400 yards rushing, 392 yards receiving, and 18 total touchdowns will all be heading to the NFL this season. The Dawgs will be losing their most dependable and electrifying offensive playmaker.
Redshirt sophomore Caleb King (pictured) is the obvious choice to take over the handoff duties, as he has shouldered the lion's share of second-string snaps. But his inconsistency and lack of progress through the season are both disconcerting.
King battled through a broken leg during his senior year of high school, and Dawg fans hope that the former Scout.com No. 4 ranked RB recruit will live up to his hype in the fall.
True sophomore RB Richard Samuel will also compete for the job, but his late-season fumbling was the most frustrating aspect of his game. Samuel is a bona fide hoss, though his size especially giving him the ability to hit both holes and LBs hard in the SEC.
Will Mike Bobo Go Back To Using the Tight End in Our Offensive Strategy?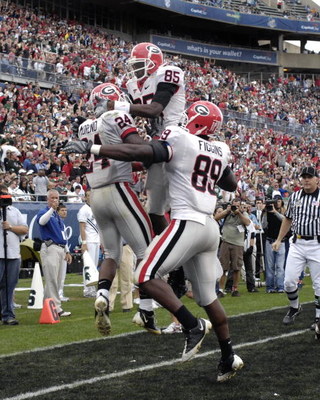 Georgia has a history of developing strong tight ends—witness the New England Patriots' Ben Watson and the Arizona Cardinals' Leonard Pope most recently. But last year, graduated TE Tripp Chandler and the stable of targets behind him seemed to all but disappear.
With a runner such as Moreno being the focus of the offense, much of the disappearing act was due to blocking schemes. With the question marks at RB this season, however, Offensive Coordinator Mike Bobo should open up the passing game to give Cox more receivers to find.
Though Figgins has not seen the field as a receiver frequently in his tenure with the Dawgs, he has all the tools to be a consistent producer on the field. His size will match up well with defensive ends in blocking schemes, and he has shown flashes of soft receiver hands.
The possible addition of Plant High School senior Orson Charles (Rivals' No. 7-ranked receiver recruit) could shore up this position for years to come as well.
Which Freshmen Will Make an Early Impact?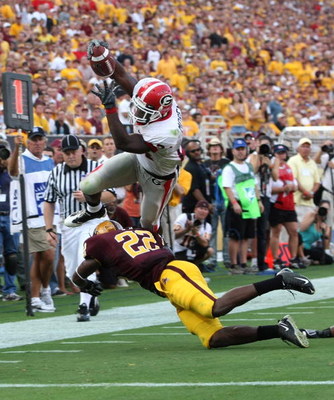 We all know the story of A.J. Green, a true freshman starter. And then there is Knowshon Moreno (pictured), redshirted his freshman year.
Coach Richt has stated that he will carefully investigate his redshirting policy, mostly because of Green's production last year.
Incoming wide receiver Marlon Brown (Scout.com No. 2 ranked WR recruit) will surely get a lot of time playing opposite sophomore A.J. Green. At 6'5" and 200 pounds, Brown presents a nightmare for defensive coordinators deciding which side of the field to concentrate on with their safeties.
RB recruit Washaun Ealey (Rivals' No. 11 RB recruit) comes in with all the hype of a small-town stud. With the lingering questions at RB and Knowshon's lack of production freshman year because of his redshirt, Richt should give this freshman a chance to prove himself early.
The highest impact freshman, however, could be defensive tackle Abry Jones (Rivals' No. 9 DT recruit), as the Dawgs try to find any way to pressure opposing QBs.
Will the Junkyard Dawgs Defense Ever Return?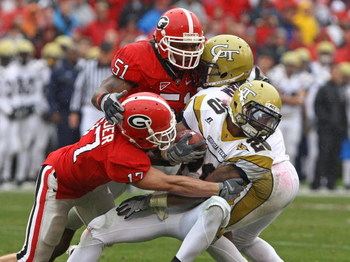 This was a point of serious frustration for the 2008 season. Giving up 38 points to a mediocre and QB-less LSU offense was disappointing. But surrendering 45 points to in-state rival Georgia Tech was simply inexcusable.
No SEC defense should be upstaged by a one-trick pony like Tech's triple option.
Defensive Coordinator Willie Martinez has come under much deserved pressure from the fans for his efforts. Last season's Dawgs surrendered by far the most points (24.5 ppg and 319 points overall) I have seen in my years as a Georgia student.
Last season was also the first time in Georgia history to give up 38+ points thrice in a season in the history of modern college football. Injuries certainly played a part, but Martinez must find a way to rediscover the Georgia defense of old if the Dawgs are to exceed expectations.
Can We PLEASE Get Some Pressure on the Quarterback?!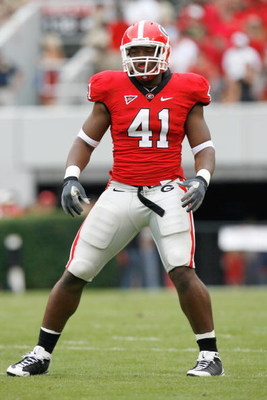 Defensive pressure was one of the most glaring weaknesses of the 2008 edition of the Bulldogs. A team that led the SEC in sacks in 2007-'08 with 42.0 tallied a grand total of 23.0 in the 2008-09 campaign, finishing eighth in the final conference rankings.
Only 15.5 of those sacks came from the defensive line, and the Dawgs consistently struggled to pressure opposing QBs for whole games.
Senior DT Roderick Battle (pictured) will try to anchor the D-Line, aiming to improve on his meager 0.5 sacks from 2008. And former preseason All-SEC DT Jeff Owens will return from a season-ending injury to bring his veteran presence to the line.
Redshirt sophomore DE Justin Houston showed several flashes of brilliance last season, and DT Abry Jones will look to make an early impact. But with a fairly depleted D-Line already, the Dawgs may unfortunately have to look to the second-level LBs to shoot the gaps and terrorize the opposition.
Can't We Just Kick the Ball In-bounds?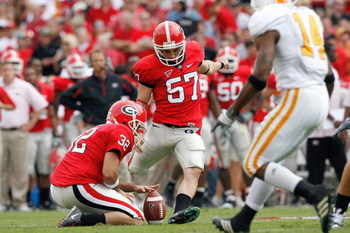 You would think this should be a fairly easy request, especially with a highly recruited scholarship placekicker in sophomore Blair Walsh (pictured). But directional kickoffs, missed field goals, and poor opponents' starting field position were thorns in the Dawgs' collective side all year.
At the risk of sounding jealous, Florida coach Urban Meyer uses some of his best athletes on special teams, and Richt may want to kindly suggest this strategy to Special Teams Coach Jon Fabris.
And Fabris will have to replace Second Team All-SEC punter Brian Mimbs. Mimbs was often a steadying hand—or foot—on the field, with a 44.0-yard average boot in 2008 and a spectacular 77-yarder against South Carolina early in the season.
How Will A.J. Green Respond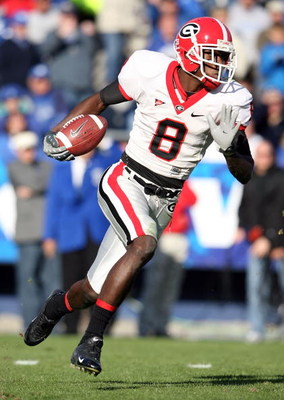 He took the SEC and the nation mostly by surprise in the 2008 season, but this year sophomore wideout A.J. Green (pictured) will be the focus of every defensive coordinator's game plan.
The key to maintaining Green's production level is to ensure multiple weapons around him. Yes, he can jump higher than defenders to the ball. And yes, he has the best hands Georgia QBs have seen in years.
But he cannot produce yards and TDs on his own.
Freshman Marlon Brown and sophomore split end Tavarres King should find relatively large holes in opposing team's secondaries, at least for the first few games of the season.
Once those holes begin to close, A.J. will realize that he finally has the open field to work with, and the balls will start flying his way more consistently.
He simply has to concentrate on his routes and his blocks for the first few weeks, developing his all-around skills before he gets to highlight his receiving abilities again.
Keep Reading

Georgia Bulldogs Football: Like this team?