Nebraska vs UCLA: Live Scores, Analysis and Results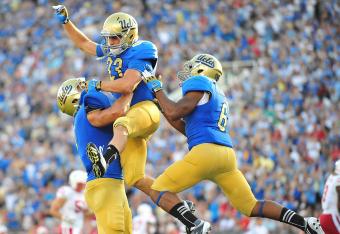 UCLA 36 Nebraska 30, Final
A hard fought battle for both sides, UCLA ultimately found their rhythm on defense come the second half and sealed their fate. Victorious over Nebraska, the Bruins have proved they may just deserve a little Top 25 love.
UCLA QB Brett Hundley found a way to make his offense keep working with a lot of help from RB Joseph Franklin. A total of 568 yards for the Bruins, plus the 435 yards for the Huskers, made for a big offensive night all around.
Bruins fans needed this win. One to be remembered for a long time, UCLA deserves to feel good about this one. For Nebraska, it's back to the drawing boards as the defense continues to plague an otherwise strong offense. As long as Nebraska QB Taylor Martinez can learn to stay cool under pressure, the Huskers are still in contention to make a mark in the Big Ten this season.
For UCLA? Teams like USC may want to take notice. Upset alert may need to be considered throughout the entire season now for the Bruins. Hundley and his teammates look up to the challenge.
Thanks for joining me tonight, everyone. Whether you are a Nebraska or UCLA fan, I enjoyed live blogging this game with you all. Take care and enjoy the rest of your nights!
Final Stats
Nebraska
Rushing: 259
Passing: 179
First downs: 20
Time of possession: 22:20
Turnovers: 2
Penalties: 7/59yds
UCLA
Rushing: 344
Passing: 309
First downs: 27
Time of possession: 37:40
Turnovers: 1
Penalties 11/126yds
And that's the ball game, folks.
UCLA 36, Nebraska 30
Maher's kick is good. Gives Nebraska hope, but only there is defense can step up.
UCLA 36, Nebraska 30
Just like that, Bell loses a great pass in the lights. You win some, you lose some.
Kenny Bell should be proud of that return. You can tell his ankle is affecting him. A small limp, but the WR gets it done.
UCLA scores. "The Mayor" takes the ball into the endzone.
UCLA 36, Nebraska 27
And just like that, the momentum swings back to UCLA. Bruins are back in business.
Nebraska sacks Hundley when it's most crucial. HUGE moment for Nebraska. Absolutely HUGE.
Lucien with a GIANT play for the Bruins. This really is it for Nebraska. Want to win, Huskers? Stop this drive now. Otherwise, any points for UCLA and you can call this game done.
Nebraska still has three timeouts. There is no reason this team should be panicking. Plenty of time, plenty of timeouts. Take a deep breath, Huskers.
Bleacher Report's own Adam Jacobi sums it all up nicely:
This Nebraska-UCLA game is a slugfest where occasionally the fighters just fall over mid-swing.

— Adam Jacobi (@Adam_Jacobi) September 9, 2012
I personally don't think Stafford did much to break up that pass, but that's neither here nor there.
Fairbairn had a chance to put the Bruins up by 5 but misses the field goal.
Momentum swing?
Lot of broken tackles for Franklin. Good run for him. The momentum has definitely swung in UCLA's favor.
Well, that's what I meant, but that was a safety. UCLA gets two points because this game can't get any more ridiculous.
UCLA 29, Nebraska 27
Someone has to break away eventually, right?
RIGHT?
Nebraska was one yard from the first down. Yet, the third down strikes again and the Huskers don't get it.
Maher hooks the kick. What a deflating moment for the kicker who was doing so much better.
Nebraska 27, UCLA 27
Third Quarter Stats
Nebraska
Rushing: 6
Passing: 30
First downs: 2
Time of possession: 5:48
Turnovers forced: 0
Penalties: 1/3yds
UCLA
Rushing: 55
Passing: 35
First downs: 5
Time of possession: 9:12
Turnovers forced: 1
Penalties 2/30yds
End of third quarter. Still tied.
Those cats? That's how I feel watching this game. I'm going to get whiplash watching it.
For those wondering: Kenny Bell was back in the game during Nebraska's last drive. Ankle may hurt tomorrow, but he's sure going to play through it tonight.
Remember when I said someone's defense would have to step it up?
Yeah, UCLA's has done so.
UCLA's Fauria got away with a major push on that last play. Worked out for Nebraska regardless.
UCLA is methodically picking the Blackshirts apart.

— DN Sports (@dnsports) September 9, 2012
Bingo bango.
This article is
What is the duplicate article?
Why is this article offensive?
Where is this article plagiarized from?
Why is this article poorly edited?