Miami Dolphins vs Houston Texans: Live Score, Highlight & Analysis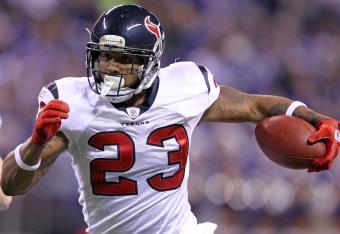 Andy Lyons/Getty Images
The Dolphins' nightmare of an afternoon is finally over as the Texans secure a 30-10 win.
After a tightly contested first quarter, Ryan Tannehill imploded, tossing interceptions on three consecutive drives. Houston capitalized with 24 unanswered points in the second quarter, a deficit far too great for Miami's talentless wide receiver corps to overcome.
Although the Texans struggled to contain Reggie Bush and couldn't get Arian Foster or Ben Tate running lanes, they gathered considerable momentum as they embark on a Super Bowl run. Their defense was dominant and Matt Schaub posted a 102.4 quarterback rating.
The Dolphins, meanwhile, have a bevy of issues to address moving forward, namely Ryan Tannehill's deliver, the lack of the depth in the secondary and wide receiver corps, and inconsistency along the offensive line.
Tannehill finished the game with a dismal 39.0 quarterback rating. But, remember, Tannehill is an inexperienced rookie playing with one of, if not the league's worst supporting casts.
This game was perfectly indicative of where these teams stand—the Texans on the rise and the Dolphins in decline.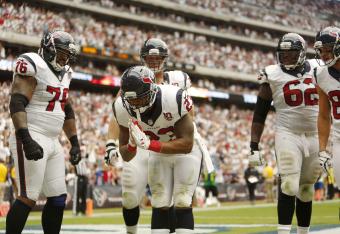 4Q - 0:00
The Texans have officially defeated the Dolphins by a score of 30-10 in one of the most lopsided games you'll see all year.
Personally, I'm not sure the Texans looked like a Super Bowl caliber team today. The Dolphins gave Houston this game on a silver platter, and while it capitalized on every opportunity, it was shutdown until Ryan Tannehill imploded in the second quarter.
Arian Foster and Ben Tate combined for just 85 rushing yards on 31 carries, and Andre Johnson and Owen Daniel accounted for more than 50 precent of Matt Schaub's completions.
Meanwhile, Reggie Bush ran surprisingly well, racking up 69 rushing yards on 14 carries and 46 receiving yards on four receptions.
At the end of the day, though, this was a dominant effort by the Texans.
Former scout Russ Lande before the draft on Tannehill's tipped pass problem:
"He holds the ball low on his chest while going through progressions. Further, he has a low release point at shoulder height, which causes him to pass like a shorter quarterback. Consequently, his passes get tipped at the line."
— Ben Volin (@BenVolinPBP) September 9, 2012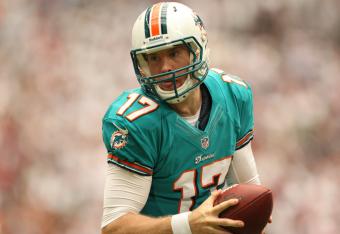 4Q - 4:10
After losing a challenge on a completion that would've brought the Dolphins to the one yard-line, Tannehill has a pass batted down at the line of scrimmage on fourth-and-goal from the five yard-line.
The Texans' defensive line has batted down four passes today.
Concerns about Tannehill's delivery are only amplifying as this game wears on.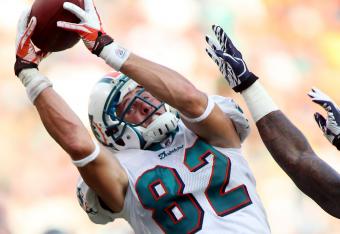 4Q - 4:30
Brian Hartline is really coming alive in the fourth quarter.
He just caught a beautiful 34-yard pass from Ryan Tannehill over Kareem Jackson.
Hartline now has three receptions for 50 yards, making him the team's leading receiver. Jackson had great coverage on the play, but Tannehill dropped the ball in perfectly.
The Dolphins are now threatening to score.
Dolphins fans, if it makes you feel any better, Brandon Marshall has three drops today...
...He also has seven receptions for 85 yards and a touchdown.
4Q - 8:16
Ryan Tannehill leads the Dolphins into the redzone, but falters on fourth down. With the pocket collapsing, he dumped a pass off to Anthony Fasano well shy of the first-down marker, and two Texans defenders were able to bring him down with ease.
After a promising preseason, Tannehill was dragged back down to earth today.
He looked like a rookie, which is to be expected from a player who made only 19 collegiate starts.
Temper your expectations for Tannehill in 2012.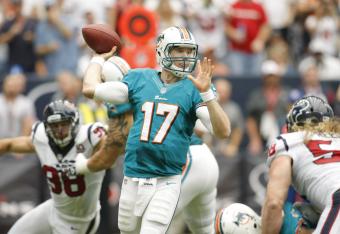 Brian Hartline has finally surfaced, reeling in two consecutive receptions as the Dolphins march into Texans' territory.
Before Hartline caught his first pass, Davone Bess was the only wide receiver to register a reception.
The weapons surrounding Ryan Tannehill are simply inadequate, but we knew that well before this game began. Jeff Ireland and Joe Philbin can't realistically expect to win games with such a dismal supporting cast.
Miami can only hope that Hartline, Anthony Armstrong or Legedu Naanee step up. Otherwise, Tannehill is going to struggle mightily this season.
FIELD GOAL TEXANS
4Q - 14:10
The Texans get a favorable matchup for Andre Johnson again. This time, Jimmy Wilson is the victim of a big play that brings the Texans inside of Miami's five yard-line.
Wilson didn't get help from a safety over the top despite the obvious mismatch. The Phins are lucky Johnson didn't keep his balance and reach the endzone.
Miami's front seven comes up big again, though, stuffing the Texans on three consecutive plays to force another field goal. Houston now leads 30-10.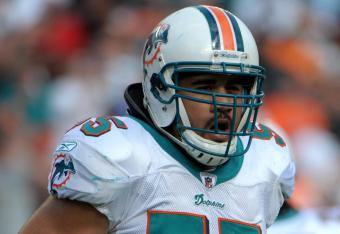 The score might not reflect it, but Miami's defense has been most dominant in the second half. Had it not been forced to defend a short field on four consecutive drives, the Dolphins' defense could have held the Texans' offense in check.
One reason behind the defense's success is Koa Misi, who has racked up 10 tackles today. But, there's a caveat:
<blockquote class="twitter-tweet">
Koa Misi has 10 tackles so far. Not sure if that's a good or bad thing. Need to watch the film.
— Omar Kelly (@OmarKelly) September 9, 2012
J.J. Watt is having the game of his life.
He just registered his second sack of the game, seamlessly blowing by Jonathan Martin. Watt also has three pass deflections, two of which resulted in interceptions.
The Dolphins' offense is completely futile against this Texans defense right now, and whatever momentum Marcus Thigpen generated is all but gone.
<blockquote class="twitter-tweet">
Tony Sparano apparently just called a flea-flicker with his team up 27 points.
— Armando Salguero (@ArmandoSalguero) September 9, 2012
FIELD GOAL TEXANS
3Q - 6:30
Offseason superstar Reshad Jones finally makes a big play. On third-and-2, Jones flew into the backfield and brought Arian Foster down for a loss of four.
The Texans settle for a field goal, extended the lead to 17.
With 6:30 remaining in the third quarter, the Texans lead the Dolphins 27-10.
<blockquote class="twitter-tweet">
Thigpen 72 yd punt return - first for Dolphins since Ted Ginn Jr against Philly in '07. Not to bring up '07 parallels
— Dave Hyde (@davehydesports) September 9, 2012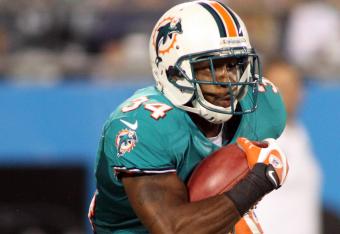 TOUCHDOWN DOLPHINS
3Q - 13:12
Don't count the Dolphins out yet.
CFL import Marcus Thigpen returns a punt for 72 yards and strolls into the endzone, cutting the deficit to 14. Thigpen was on the roster bubble throughout the offseason, but the Dolphins clearly made a wise decision to hold onto him.
Not a bad NFL debut for the 26-year-old rookie.
3Q - 13:35
With a chance to catch its breath, the Dolphins' defense returns to first quarter form, forcing a three-and-out on the first possession of the second half.
Karlos Dansby has looked excellent in coverage today, and he broke up a pass intended for Owen Daniels over the middle on third-down.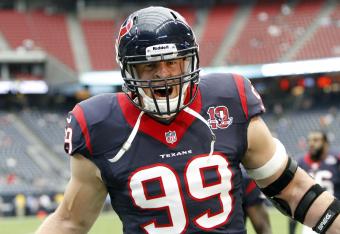 Thoughts from the first half:
Ryan Tannehill had some passes tipped at the line during the preseason, but it didn't appear to be a major issue. Now, however, it's a paramount one. Tannehill had three passes tipped at the line of scrimmage, two of which were intercepted.
The only positive takeaway for the Dolphins is Reggie Bush, who has rushed for 53 yards on 12 carries.
Both Dolphins RB Daniel Thomas and Texans LB Brian Cushing left the field early with injuries. It looks like Thomas may have suffered a concussion, which would likely sidelined him for the remainder of the game. Cushing appears to have tweaked his shoulder.
Despite surrendering 24 unanswered points, Miami's defense isn't playing poorly. The Texans have received tremendous field position from the Dolphins' turnovers. Subsequently, the Dolphins' defense hasn't had a chance to catch its breath.
The Texans' defense is flexing its muscles today, and Miami's lack of weapons is making them look strong. Brian Hartline and Anthony Armstrong have been invisible, and Davone Bess has just 25 yards receiving.
<blockquote class="twitter-tweet tw-align-center">
Ummm, what happened in the Dolphins-Texans game?! Looked up at the screen -- and it appears Houston managed the elusive 24-point touchdown.
— Jeff Darlington (@JeffDarlington) September 9, 2012
TOUCHDOWN TEXANS
2Q - 0:07
After Daniel Thomas' fumble, Matt Schaub connects with Andre Johnson for a 14-yard touchdown pass with just seven seconds remaining the half.
Sean Smith maintained decent coverage but couldn't make a play on the ball.
The Texans have scored 24 unanswered points in one of the most dominant quarters of football I've ever seen. After stumbling out of the gate, Houston is finally exposing all of Miami's weaknesses—thin secondary, suspect offensive line and Tannehill's low delivery.
2Q - 0:35
This is literally unbeliveable.
Daniel Thomas fumbles on the first play of the Miami's drive.
The Dolphins have committed a turnover on four consecutive drives.
Yes, you read that right.
On top of that, the Dolphins have turned the ball over on their last three snaps.
This has to be some kind of record.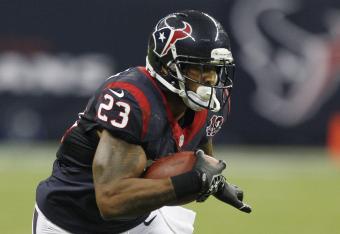 TOUCHDOWN TEXANS
2Q - 0:43
After a pass interference penalty brought the Texans inside of the five-yard line, Arian Foster punches in his second touchdown of the game.
This one is getting out of hand quickly.
The Dolphins are imploding and Texans are exploding.
2Q - 1:36
Oh boy.
Ryan Tannehill throws an interception on the third consecutive drive. Once again, Tannehill had a pass tipped at the line, an issue that is now officially a major concern.
On the ensuing play, Richard Marshall is flagged for pass interference on Kevin Walter, bringing the Texans to the two-yard line. It was an ugly play by Marshall, who was out of position to make a play on the ball.
Not a good debut for him.
TOUCHDOWN TEXANS
2Q - 1:53
Arian Foster finally makes his presence felt with a nine-yard touchdown scamper, putting the Texans ahead of the Dolphins for the first time this afternoon.
We'll now get a chance to see Ryan Tannehill run a two-minute offense and see how he responds after throwing his second interception of the day.
The Dolphins lack the firepower to play from far behind. Surrendering another unanswered score could prove devastating, so Miami's offense has to be firing on all cylinders from here on out.
2Q - 2:00
At the two-minute warning of the first half, the Texans have a fresh set of downs inside the red-zone.
The Texans haven't had issues moving the ball today, but they have had issues finishing drives off. Expect a heavy dose of Ben Tate and Arian Foster here. And, if Andre Johnson is matched up with Nolan Carroll, Matt Schaub won't hesitate to attack.
2Q - 2:30
The Texans get the matchup they wanted all day—Andre Johnson vs. Nolan Carroll.
Johnson runs a sharp post route and reels in a 24-yard reception as Carroll trails in the distance.
This brings the Texans inside of Miami's 30-yard line.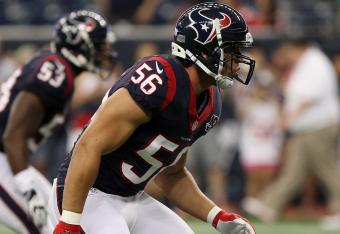 Ryan Tannehill consistently struggled with tipped passes at the line this preseason, and it comes back to haunt him.
J.J. Watt deflects a pass on 3rd-and-10 and Brian Cushing reels in the INT.
That's Tannehill's second interception of the day.
It's only a matter of time before Houston's offense begins turning these turnovers into points.
This article is
What is the duplicate article?
Why is this article offensive?
Where is this article plagiarized from?
Why is this article poorly edited?