Washington vs. LSU: Live Scores, Analysis and Results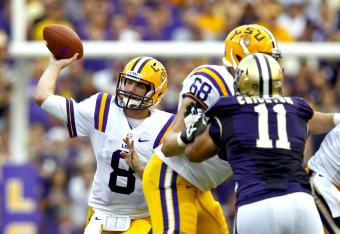 Final Score: LSU Tigers 41, Washington Huskies 3
The Bayou Bengals started off slow but managed to overcome an opening kickoff turnover and quickly regained the lead.
Les Miles' dynamic running game simply smashed Washington's defensive front to control the line of scrimmage, and we can't overlook the impressive howitzer displayed by LSU quarterback Zach Mettenberger.
Washington was blasted off the field for 3.5 quarters and this was a clear mismatch. Nevertheless, thank you for tuning in and we'll catch everyone next time.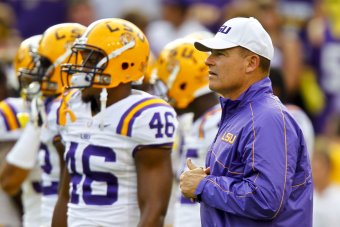 Derick E. Hingle-US PRESSWIRE
Final Summary
We saw how much better the SEC is against average BCS schools. Occasionally an upset against teams like this can occur, like what we saw with Oregon State and Wisconsin.
But the SEC is just far too talented to get upended and it showed in Baton Rouge.
After kicking off to open the contest, Washington forced and recovered a fumble. It was converted into three points and the Huskies led 3-0 in less than a minute.
Well, LSU proceeded to score 41 unanswered points and hold Washington to just 26 rushing yards on 24 attempts (most of which came in garbage time). The Bayou Bengals proved to be much more disciplined and the ground attack compiled 242 yards.
All together the Tigers outgained Washington 437-183 and the scoreboard is quite evident of that. In short, expect LSU to obviously be in the national title hunt while the Huskies fight for a winning record throughout 2012.
Here's an interesting fact putting this game into perspective.
Washington was given 23.5 points according to Covers.com and still couldn't win when given the benefit of the doubt.
LSU pummeled Washington and this is just more evidence toward the SEC's dominance.
And Lynn Swann gets a reference.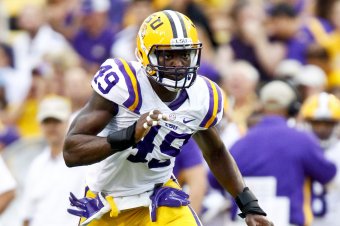 Derick E. Hingle-US PRESSWIRE
You know a commentating crew is getting desperate and bored out of their minds when the discussion of a player's name lasts longer than five seconds.
LSU gang tackles so well on kickoffs and defense I question whether Washington is actually playing LSU.
I think the Huskies are playing real Tigers, because these hard hits are getting ridiculous.
A fourth Hamptonality commerical followed by Guy Fieri promoting Dr. Pepper and then Reese's?
Consider me intrigued by those going consecutively.
Touchdown LSU, Kenny Hilliard with his second score of the day from one yard out. Bayou Bengals lead 41-3.
LSU is eating Washington's defensive front alive.
It's rare to see a team get fatigued to this level but LSU is making it happen.
Just...wow.
And we got the hat-trick for "Feel your Hamptonality"!
I'm officially on board as this being an awesome catch-phrase.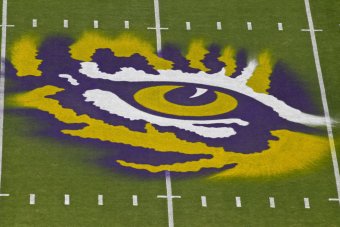 Derick E. Hingle-US PRESSWIRE
One of the best pieces of art we'll ever see on a football field is the eye of Mike the Tiger.
Sure it's a cliche punning to "Eye of the Tiger", but that's much better than just the school's abbreviations at the 50-yard line.
Beautiful shot of Tiger Stadium with the light on at night.
Can't imagine how electric that place get against SEC teams.
No surprise there as LSU takes over after stopping Washington on fourth-down.
And the common miscues continue to haunt Washington.
Dropped passes, missed blocks and penalties are a big part that have lead to this 34-3 score.
The good news is that we have seen the Huskies move the ball much better this second-half.
What a day for Mettenberger and you can put him on the sleeper list for Heisman Trophy candidates.
This guy has a arm as good as anyone in the nation and has solid accuracy as well. Provided that LSU's receivers don't drop passes early on like this contest and Mettenberger will rack up insane yards.
With a 6'5", 222-pound frame and this guy is your prototypical pocket-passer.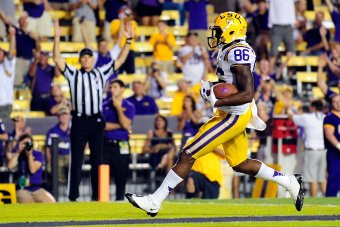 Stacy Revere/Getty Images
Touchdown LSU, Mettenberger to Kadron Boone, Tigers lead 34-3.
To really put LSU's defensive depth in perspective, that last interception was by freshman Jalen Mills:
#LSU freshman Jalen Mills registers first career interception of Washington's Keith Price.

— Will Weathers (@TigerBaitWill) September 9, 2012
Bayou Bengals secondary looking reliable down the road as expected.
After an interception LSU really trying to put the icing on with that half-back pass.
Although it failed, a first-down courtesy of Spencer Ware was a foregone conclusion on third-and-short.
At least I'm not the only one to recognize the impressive development of Mettenberger:
#LSU 27, #Washington 3 after Hilliard 3-yd TD leap. The potential of Mettenberger is becoming reality. He's throw some bullets tonight.

— Jacques Doucet (@JacquesDoucet) September 9, 2012
This kid is going to be really legit if he stays for his senior season.
If Washington can feed Sankey the rock more on the ground and set up some kind of play-action, the Huskies can move the ball.
After getting nice yards after the catch and run in consecutive plays, Sankey's moving the chains quite well now.
Glimmer of hope perhaps for Washington?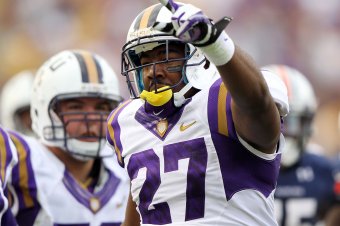 Jamie Squire/Getty Images
Touchdown LSU, 3-yard-run by Kenny Hilliard. Tigers lead 27-3.
And once again the Huskies fail to move the ball and LSU gets it back in excellent field position.
This contest is only getting worse and the Tigers continue control the tempo. Sooner or later Washington has to catch a break, but that's looking unlikely.
As we get prepped for the second half, here's some more food for though about LSU-Washington.
Washington clearly needs to get the ground game working. With zero yards in the first-half, we'll find out if the Huskies have a shot during their opening second-half possession.
A field goal or touchdown must happen, though, otherwise the Bayou Bengals will turn this game even worse. Washington's defense must lockdown in man coverage and stack the box to stop LSU's rushing attack.
Taking chances at this point is needed, because down 17 points against the No. 3 team on the road is already a tough situation.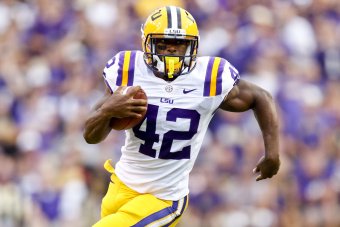 Derick E. Hingle-US PRESSWIRE
The most amazing stat here is Washington's offense.
Only 81 total yards and numerous dropped passes have plagued the Huskies in Louisiana.
Also, Washington has zero rushing yards on eight attempts and six penalties for 47 yards.
LSU is simply playing more disciplined and with 103 rushing yards for the Bayou Bengals thus far, expect Les Miles to slam the rock in the second-half.
Tough way to finish a drive there for Washington.
If there's anything Husky fans can take from the punt, however, is that at least Washington didn't fumble or throw a pick.
Washington has a nice little drive going here.
It's certainly the first time we've literally seen the Huskies move the rock in this game.
Any kind of score to finish this drive will suffice also. Washington gets the ball to start the second half, so even a field goal here would be huge.
This article is
What is the duplicate article?
Why is this article offensive?
Where is this article plagiarized from?
Why is this article poorly edited?