Georgia vs. Missouri: Live Scores, Analysis and Results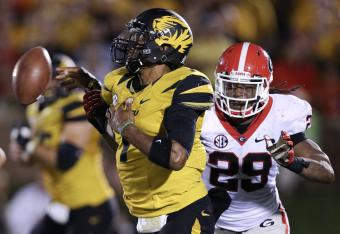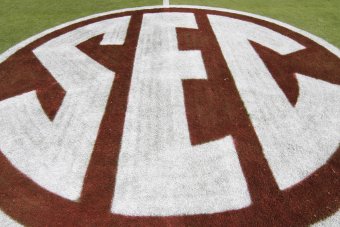 Brett Davis-US PRESSWIRE
Thank you so much for joining us tonight.
Look for follow up articles about this game here on Bleacher Report.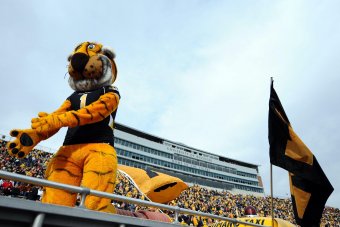 Dak Dillon-US PRESSWIRE
The Tigers are members of the SEC.
They may not of won the game tonight, but they look like they belong.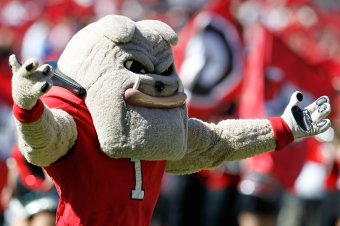 Kevin C. Cox/Getty Images
This game was sloppy in the first half, but exciting in the second.
Let's hope for Missouri's sake Elvis Fisher is okay.
Jarvis Jones stepped up in a big way for a Georgia team that is missing four starters on defense. Think about that.
Georgia will get four of their key defensive players back. Look out SEC.
Heck, look out Nation...
Stewie Mc Donnell looking like a genius right now.
His prediction: Georgia 38 Missouri 21
Another touchdown gives the game to the Bulldogs.
Georgia 41 Missouri 20 5:16 4th Quarter
Brett527 says:
"Jarvis Jones for prezz!!!! Love it!"
No kidding....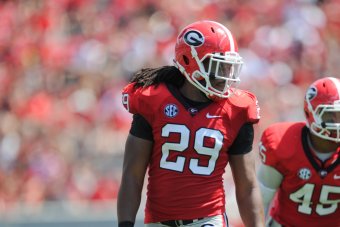 Kevin Liles-US PRESSWIRE
PLAYER OF THE GAME
Jarvis Jones?
He has my vote...
CRAZY
Ball hacked out of the hand by Jarvis Jones then fumbled how many times?
Georgia recovers.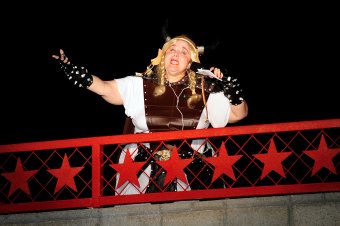 Rusty Jarrett/Getty Images
Pick your song...
It may be time to sing.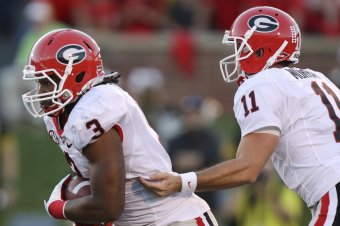 Ed Zurga/Getty Images
Now, that is a TOUCHDOWN!
Georgia goes up BIG.
Gurley scores making it 33 to 20 in favor of the Bulldogs. Extra point is good!
Score: Georgia 34 Missouri 20
Not much....
1st and goal inside the 1 yard line for the Bulldogs.
Looks like a touchdown to me, but what do I know?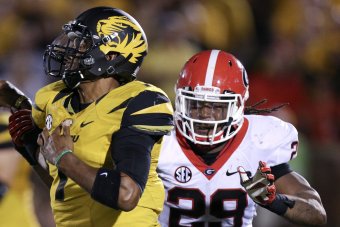 Ed Zurga/Getty Images
INTERCEPTED BY GEORGIA
Jarvis Jones does it!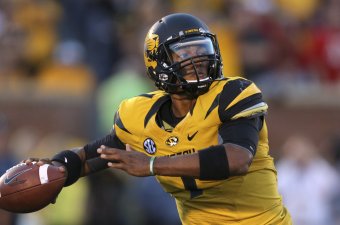 Ed Zurga/Getty Images
Missouri will have 89 yards between them and a touchdown...
Can they do it?
Third drop for Bennett...
Not good, this guy was supposed to be a key for the Bulldogs success tonight.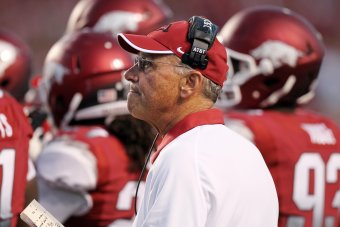 Nelson Chenault-US PRESSWIRE
Off topic: But, how does Arkansas lose to Louisiana Monroe?
Overtime loss 34-31 for the No. 8 ranked team in the nation....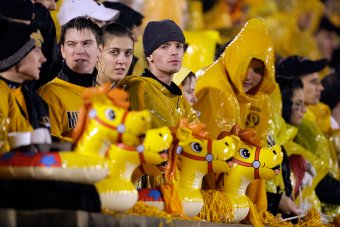 Jamie Squire/Getty Images
Mizzou made the right call that time...
PUNT
Georgia takes over with 9:40 left in this game.
BIG 4th DOWN HERE
Timeout... Georgia, their last one.
Take a deep breath.
Missouri advancing...
An overtime game for their first SEC battle?
That would be something.
Mizzou is fortunate to only have allowed Georgia a field goal keeping this game within 7.
Georgia 27 Mizzou 20
Mizzou needs to go old school right now...
Maybe they should try Student Body right or left.
If they don't do something, they could lose their first ever SEC contest.
Still questioning that fake punt...
I just don't think at home down by 4 that you do that.
Do you agree? Disagree?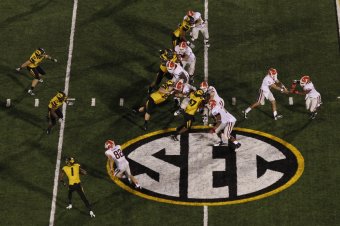 Ed Zurga/Getty Images
This puts a huge burden on Missouri now.
If Georgia gets a touchdown on this drive it could be HUGE.
FAKE PUNT
However, Missouri is stopped well short....
Nerve? Yes! Smart? No!
This game started sloppy, but has turned into a good one.
Let's hope it doesn't go back to sloppy...
This article is
What is the duplicate article?
Why is this article offensive?
Where is this article plagiarized from?
Why is this article poorly edited?