USC vs. Syracuse: Postgame Grades from the Trojans' Win over the Orange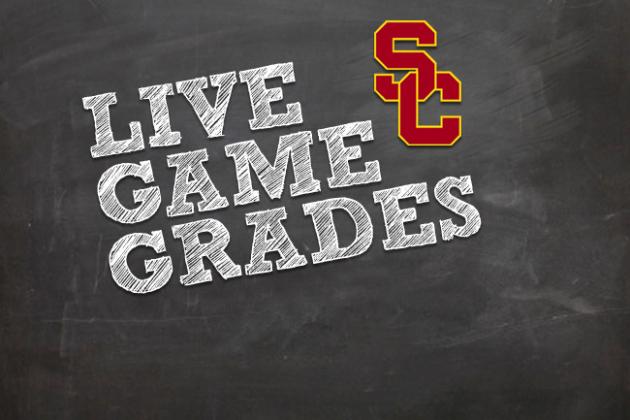 The weather slowed the game down at the half, but not the Trojan offense. In fact, the offense started firing on all cylinders in the second half as the Trojans shut down the Orange 42-29 with a victory that was mostly decisive.
Matt Barkley had a school-record six touchdown passes on his 22nd birthday. Wide receiver Robert Woods showed his ankle is healthy as he darted and dashed around, through and over Syracuse's defense making big plays when USC really needed him to be.
Sophomore tight end Xavier Grimble went pure beast mode on the Syracuse D, battling his way through four defensive linemen on his way to a TD.
Marqise Lee further solidified his superstar status with 11 catches and three touchdowns, but in this outing, it was Woods who took the full glare of the spotlight in front of New York Media.
Begin Slideshow

»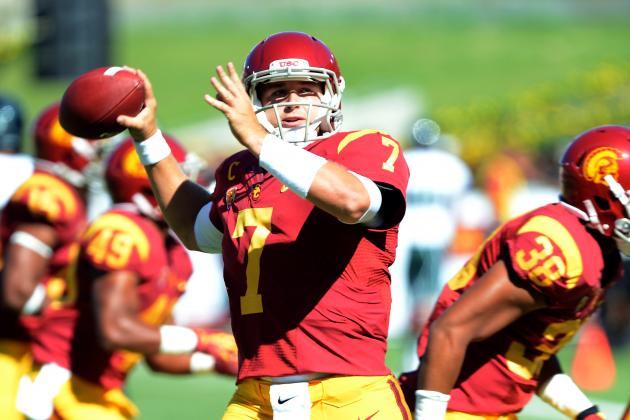 Harry How/Getty Images

Matt Barkley had a record-setting day with six touchdown passes to lead the Trojans over the Orange 49-29. He finished the game 23-for-30 with 187 yards, advancing his Heisman campaign on his 22nd birthday.
Barkley's 187 yards were not typical of his prolific arm, which is what earns him a B overall rather than the A tying his own school-record for touchdown passes in a game would normally warrant.
Grade: B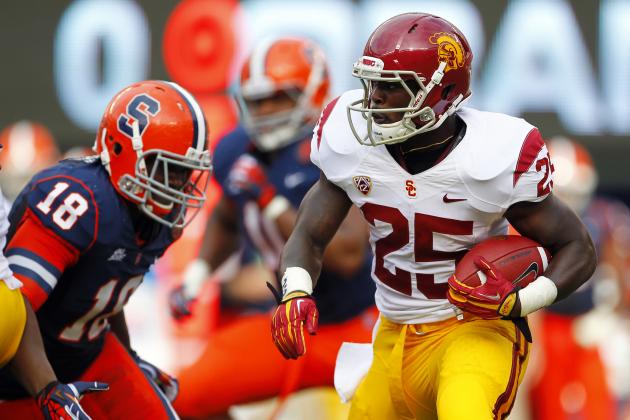 Rich Schultz/Getty Images

Last week against Hawaii, USC did not have much (if any discernable) ground attack. Saturday against Syracuse at MetLife stadium Silas Redd and Curtis McNeal burst onto the field to let the fans know that USC's offense is, in fact, as varied and talented as we'd hoped it would be.
Redd led all RBs with 107 yards on 15 carries against a Syracuse defense known for their defense against the rush. In 2011, the Orange allowed only two 100-yard RBs.
Curtis McNeal had 63 yards on 11 carries and as a team the Trojans averaged 7.8 yards per carry on 258 total rushing yards – a vast improvement from week one's 81 yards.
Grade: A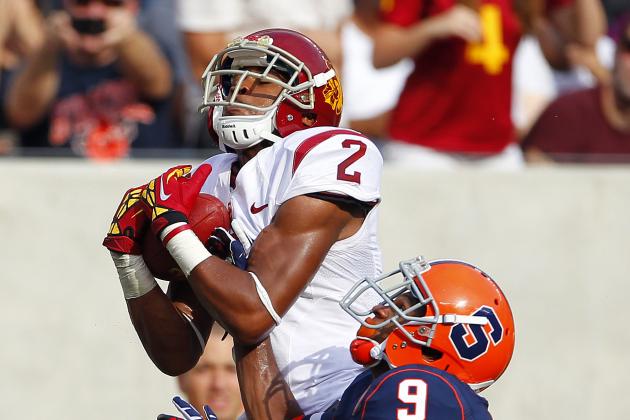 Rich Schultz/Getty Images

Robert Woods burst into the game with a vengeance. He ran and cut left and right and doubled back on his way to 200 all-purpose yards, 10 catches for 93 yards, and two clutch touchdowns in the Trojans' victory over Syracuse on Saturday.
Marqise Lee had 11 catches and three touchdowns, but Woods' plays were the ones that set the momentum for the offense and the win.
In the second quarter Woods made a grab over a defender for a 29-yard TD, showing how well he works in tight, confined spaces. Go ahead and double cover Woods, USC opponents, he will leap up and grab the ball right out from under your defensive maneuvers.
Woods shut the naysayers who worried about the strength of his ankle when he took a reverse around the left end from the USC 20, cutting across the field to race 76 yards down the sideline before being pushed out of bounds.

Grade: A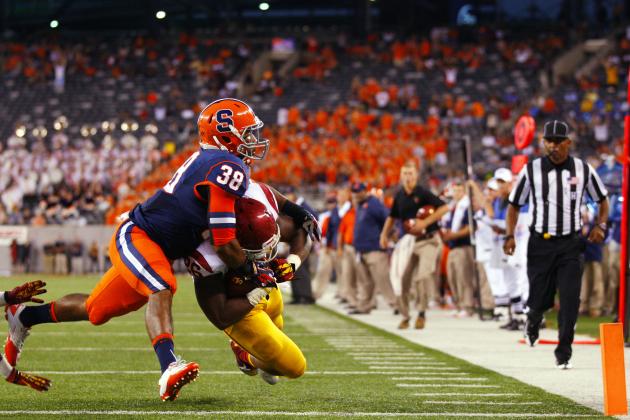 Rich Schultz/Getty Images

Xavier Grimble was in pure beast mode as he charged through and broke free of four tackles on a 22-yard touchdown reception early in the fourth quarter. For a moment, it actually looked like he was going to drag all for Orange defensive players into the end zone with him.
Grade: A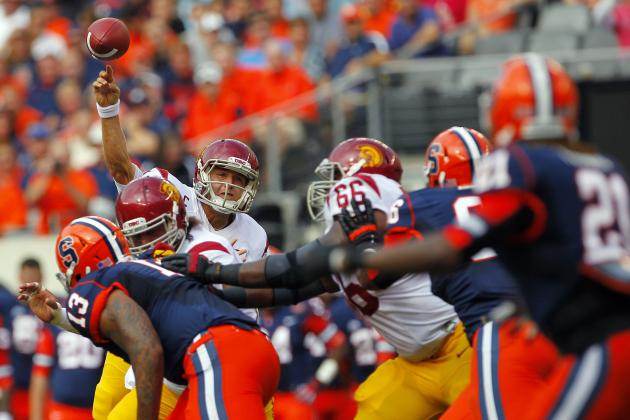 Rich Schultz/Getty Images

The O-Line needs work. They are fine. They are serviceable. They have cracks that defenses can exploit. They allowed the Orange to sack Barkley on Saturday.
Of even more concern in this group is the injury suffered on Saturday by senior center Khaled Holmes who was carted off the field midway through the fourth quarter after his leg got caught under another player. He was reportedly seen on crutches with a boot on his lower leg in the locker room later.
Redshirt Freshman Cyrus Hobbi took over for Holmes.
Grade: C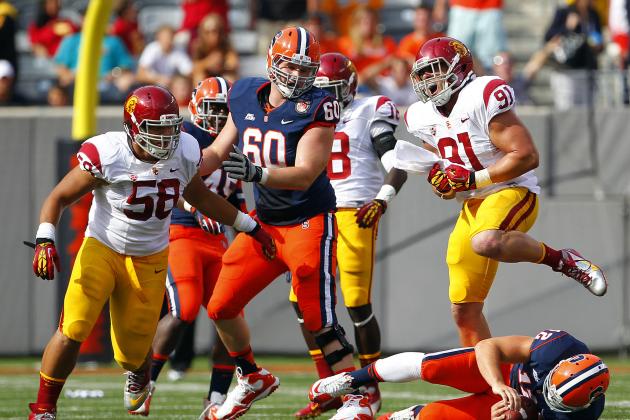 Rich Schultz/Getty Images

The defensive line did a good job of holding a Syracuse offense who the prior week posted 41 points. However, Dion Baily and Morgan Breslin are the absolute key to this defense. Bailey had two interceptions and Breslin continues to show why he is a great all around back for the Trojans.
Cornerback Torin Harris continues to be the weak link and Syracuse exploited that by running right at him on their way to a touchdown.

The Trojans desperately need to find a better second corner soon.
Grade: B-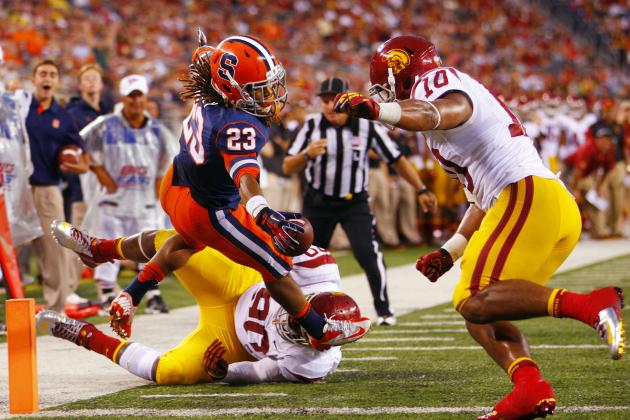 Rich Schultz/Getty Images

The Defense had better days. They looked slow and tired. However, the overall grade of B is going out for a very specific reason
Major kudos have to go to USC's defense for recovering both of Syracuse's onside kicks, giving the USC offense more opportunities to score and the overworked and tired USC defense a chance to rest.
Grade: B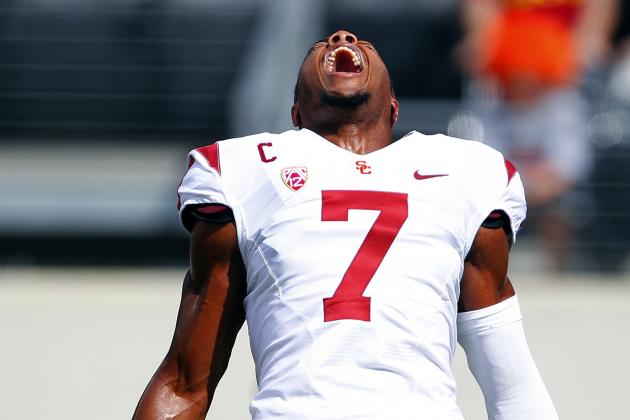 Rich Schultz/Getty Images

Once again, the truly experienced part of this USC defense lies in its secondary, who had a good, but not great game against the Orange on Saturday. The health of this group needs to remain good or I fear the entire USC D could implode.
Grade: B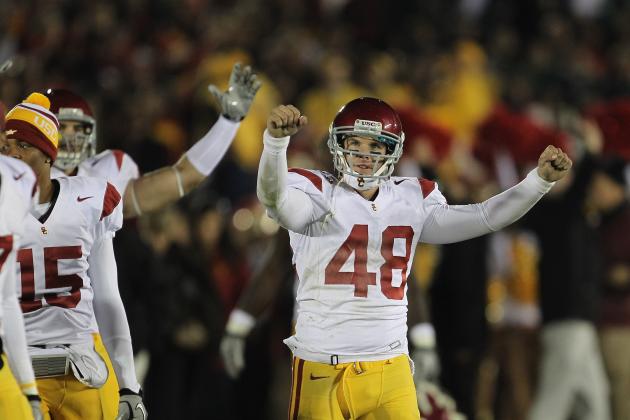 Jonathan Daniel/Getty Images

The kicking game remains a concern with Andre Heidari injured again. Freshman Alex Wood did fine with the PATs.
The punting game behind Kyle Negrete and Curtis McMahon is strong.
Grade: B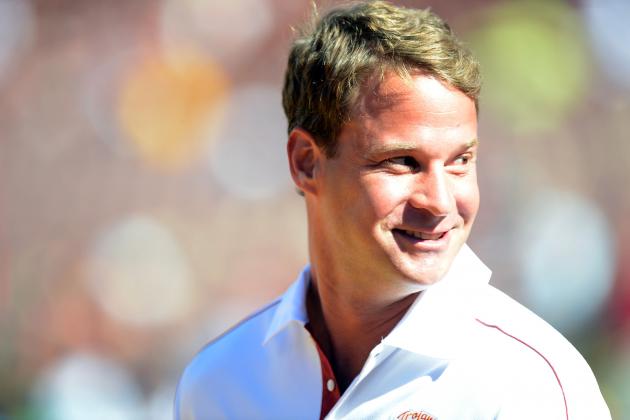 Harry How/Getty Images

A win is a win, even when it isn't pretty.
While the offense showed a more balanced attack on Saturday, Coach Lane Kiffin's playcalling felt forced and predictable and seemed to slow the explosive nature of this offense for most of the game.
With Stanford looming on the horizon, Kiffin is going to have to pull out all the stops earlier in the game if this team wants to remain undefeated.
Grade: C