Florida vs. Texas A&M: Live Scores, Analysis and Results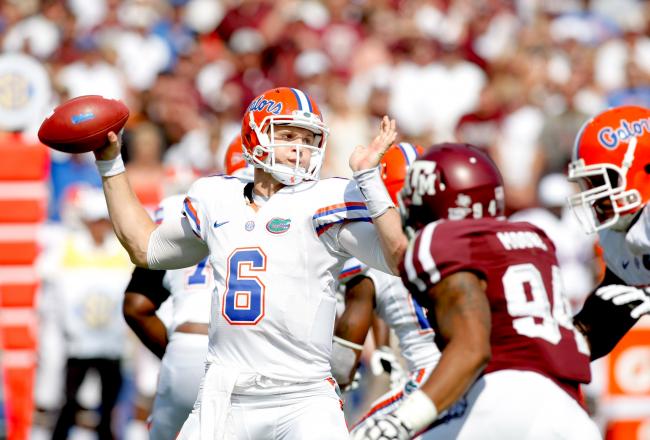 Florida 20 Texas A&M 17, FINAL
Once again, Texas A&M comes out strong only to fade at the end of the game.
Aggie QB Johnny Manziel made Florida sweat in the first half as the Gator defense couldn't figure out how to stop the redshirt freshman. However, Will Muschamp and the Gators made the necessary adjustments and shut down what was a hot A&M offense.
Florida QB Jeff Driskel didn't have a pretty game, but he did enough to get his Gators the W at Kyle Field, and that's no small feat.
Still, for a whole new team, Texas A&M should still feel good about their future.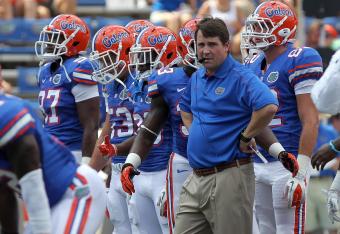 I have new found respect for Will Muschamp and the Gators. I wasn't sure how good they were going to do after they struggled with Bowling Green last week. However, they made great adjustments in the second half to take down A&M on the road.
That's no small task.
Anyway, thank you for checking out this live blog! And make sure to keep it right here for live analysis of college football here on Bleacher Report!
And it's just gone final. Florida wins 20-17.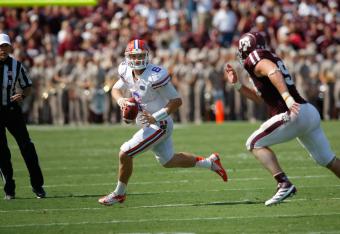 And Driskel scampers for a first down and gets the first down.
Game over, man. Game over.
And now Florida is running down the clock. Unless A&M can stop Florida from making one more first down, this game is over.
Manziel makes quite the effort, but he just can't get the first down.
Costly false start penalty made it 3rd and 13.
3:13 is all that there's left in this one. It's only a three point deficit, but unless the Aggies can get something going in a hurry it just might be enough.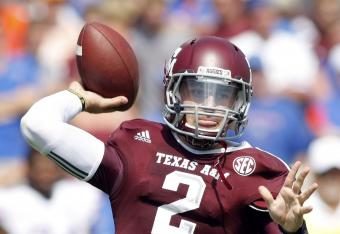 Man, if Manziel keeps running into the pile like that he's going to get hurt.
It may not happen in this game, but can you imagine what's going to happen if he does this against Alabama or LSU?
Yikes.
Still, A&M is finally putting together a drive.
The Aggie defensive line comes through again!
A&M holds Florida and they get the ball back. However, they've got to do something with it this time! Texas A&M haven't moved the ball more than 10 yards in any of their drives in the second half.
The A&M defense gets the ball and the offense gives it right back.
That'll tick off that unit.
Sure, there's still time, but it's quickly running out for the Aggies in this one.
The Aggie defense steps up huge in a critical situation.
They hold Florida to a three-and-out and now they've given the offense another chance.
Let's see if they take advantage.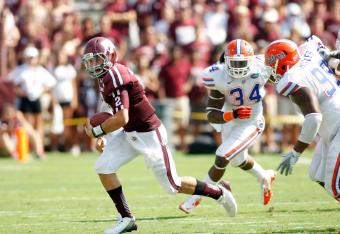 Sorry Aggies, but this seems rather familiar.
Last season,Texas A&M was famous for getting up in the first half and falling apart in the second half.
Johnny Manziel was great to start the game, but he's fallen as this game has gone on. Florida's in control and they need to get a stop.
Florida 20 Texas A&M 17
How big is Texas A&M's wasted drive at the end of the first half?
Florida puts together a solid drive capped off by Mike Gillislee 12 yard touchdown run. A&M hasn't been able to move the ball in the second half and they are in trouble.
Florida is winning the field position game. That's not got for A&M.
In a close game like this, that's going to be huge.
That's the first real costly mistake by a member of the Aggie offense.
Late hit in the back. There's just no excuse for that.
None.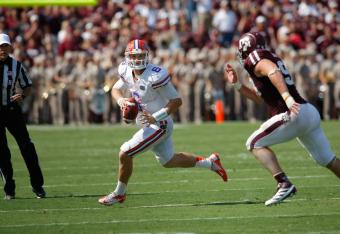 Driskel continues to run for his life and he can't pick up the first down this time.
I think the Florida QB will have a word or two to say to his offensive line, but he's also holding onto the ball way too long. He's counting too much on his primary receiver and he isn't going to plan B early enough.
He's young. He'll learn.
The first half had a Big 12 flavor as offense ran the day.
The second half has more of a SEC feel as defenses, particularly Florida's, has stepped up.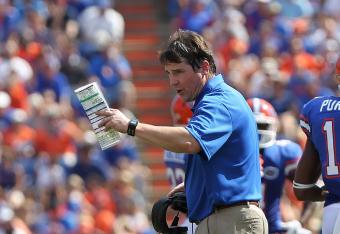 Three-and-out for Texas A&M. That's two in a row.
Will Muschamp has made some great adjustments and has brought more pressure on Johnny Manziel.
I'd say that Muschamp just earned his paycheck.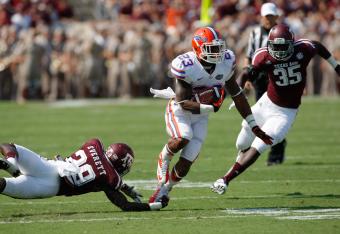 And that's yet another sack for A&M.
Yeah, some of that is on the offensive line, but Driskel isn't getting rid of it fast enough.
And A&M just sacked Driskel again as I'm writing this!
Clearly, the defensive line for the Aggies is winning the battle
Yet another Gator get some cramping.
Shouldn't Florida be used to playing in high heat and humidity? I mean, they play in Florida.
Just don't get it.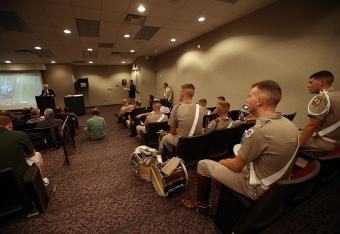 I'm sure Mike Slive is patting himself on the back even more after watching this game unfold.
And he deserves it. Getting A&M from the Big 12 was a steal.
Terrific move for the SEC commish.
And lo, Texas A&M is forced to punt for the first time in the game! Looks like Muschamp's adjustments have worked thus far.
Man, this game feels like a roller coaster, doesn't it? This is exactly why I missed football so much!
Florida 13 Texas A&M 17
So, Florida drives the length of the field but just can't find the end zone. And after the earlier 51-yard field goal, a 25-yard one is all too easy for Caleb Sturgis.
Now, let's see how Florida has adapted to the A&M offense.
Maybe Florida shouldn't run the Wildcat.
I'm just saying....
Now Driskel shows us that he can make a run!
It certainly wasn't a thing of beauty like some of Manziel's runs, but still...
Florida has seemed to have calmed down and is putting together a solid opening drive of the third quarter.
As good as Texas A&M was in the first half, Florida gets a chance to tie the game with their first drive of the second half.
The Aggies would do well to remember that.
This article is
What is the duplicate article?
Why is this article offensive?
Where is this article plagiarized from?
Why is this article poorly edited?

Texas A&M Football: Like this team?