UCF vs. Ohio State: Live Scores, Analysis and Results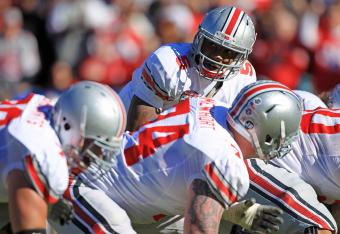 Scott Halleran/Getty Images
Ohio State 31 UCF 16 Final

That's a wrap.
In Urban Meyer's second game at the head of the program, Braxton Miller carried OSU to victory.
Miller rushed for 140 yards and three touchdowns, and threw for another one as the Buckeye's pulled out the win against a decent UCF squad.
OSU's defense was stout, forcing three interceptions, and holding UCF's deep rushing attack to fewer than 100 yards.
UCF had a couple of chances in the fourth to make it interesting, but could not convert the into points.
In spite of the win, it was not all peaches and cream for the Buckeyes.
They coughed up three turnovers, including a really bad interception thrown by Miller.
On top of that, starting running back Carlos Hyde sat out the entire second half after suffering a knee injury late in the second quarter, and stud cornerback Travis Howard missed a large chunk of the second half.
If either of those injuries is significant, it will impact OSU's gameplan heading into their meeting with Michigan State on September 29.
UAB is up next for OSU, in what should be a blowout, while UCF heads back home to face FIU.
Postgame Stat Wrap:
OSU -
408 total yards, 24 first downs, 5-12 third down conversions
240 rush yards
Miller 19/25 168 yards, one touchdown, one interception, 140 yards rushing, three touchdowns
UCF -
352 total yards, 17 first downs, 6-14 third down conversions
Bortles 25/41 two touchdowns, two interceptions, 253 yards
Johnson 12 rush, 75 yards
That's the game. Final - OSU 31 UCF 16
Oops, bad exchange leads to third Buckeye turnover of the day.
In the hands, and out on Bortles' pass. This offense is struggling to get any sort of production generated.
1,100 iPads! Great way to spend that money, OSU!
3:14 left in the 4th Quarter:
The Golden Knights need a miracle of epic proportions to get back in this one. Two scores in just over three minutes is possible, but not at all probable.

Really, Purdue to win the Big Ten, this is where the announcers are desperately searching for filler.
A pass, really? I know it was a screen, but still.
Turn out the lights, the party's over for UCF.
Travis Howard joins Carlos Hyde in street clothes on the sidelines, if he is out for any length of time, big blow to OSU's secondary.
That looked like a legit throw away to me, that RB was right there.
That was OSU's first punt of the day.
O'Leary with the wardrobe change, adding the UCF ball cap.
And he finally runs out of time. Miller really needs to get that ball out of there.
Followed by an ugly ovethrow.
Nice looking pass by Miller, with his body behind the throw.
Ohio State fan of the day...
Did Bortles just not see that guy? Man, that's a killer for the Knights.Buckeye ball
Last OSU quarterback to run for three scores was Art Schlichter back in '78. Yes, that Art Schlichter.
Miller has got to figure out his footwork. The lack of proper steps in his last throw led to that interception.
Upset Alert?: UCF just keeps hanging around. With the ball deep in OSU territory, this one is is going to become very entertaining in the next few minutes.
Harvey is a beast...that is all.
Wow! Worst. Throw. Ever. Tim Tebow status for Miller on that one.
Miller and Company better not check out now.
Scratch that, extra point was blocked, 31-16
This article is
What is the duplicate article?
Why is this article offensive?
Where is this article plagiarized from?
Why is this article poorly edited?

Ohio State Football: Like this team?