10 Bold Predictions for the 2012 NFL Season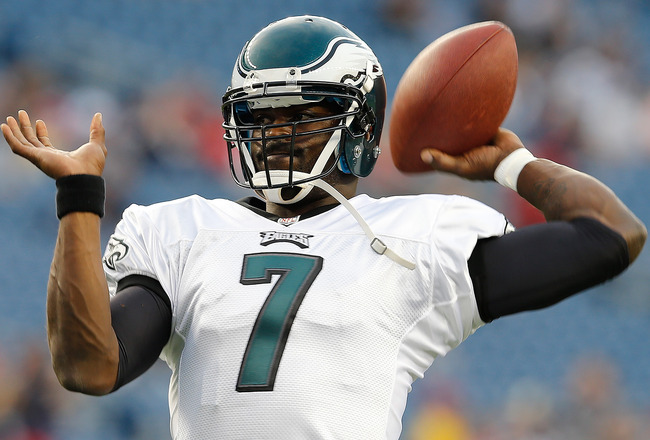 Jim Rogash/Getty Images
With one day to go until the first football Sunday, the smell of football is in the air. Fans are excited, players are pumped up and the owners just can't wait to make money again.
One of the most popular things to do in the off-season is make season predictions. The problem with most predictions is they are too basic and boring. How many people are going to gloat in February about the Patriots beating the Packers?
But, lets say you predicted a Titans versus Panthers Super Bowl and got it right. Don't you think people would be pretty impressed?
In this slideshow I will make ten bold predictions for this NFL season. I don't necessarily believe that any of these will happen, but if they do, at least I can say I took a shot in the dark and got it right!
Cam Newton Has a Disappointing Sophomore Season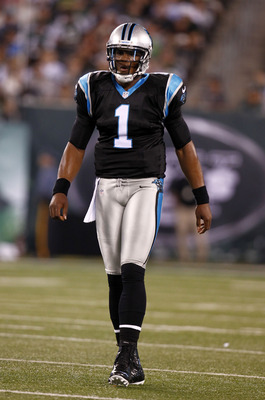 Jeff Zelevansky/Getty Images
Cam Newton had an amazing rookie season last year. He set record after record for rookie quarterbacks, but what if I said he'll take a step back? Newton started the season red-hot with three 370 yard or more games, but he really came back down to earth after his bye week. From week nine on, the offensive rookie of the year threw for over 220 yards only twice. In one of those games, he did threw for 280 yards vs the Detroit Lions, but he also threw a season high four picks.
The 14 rushing touchdowns were definitely impressive, but most of the passing yards came early in the year when teams didn't have a lot of film on him. It's yet to be seen if Newton will repeat his amazing NFL debut, but I think it's a strong possibility that he doesn't.
The San Francisco 49ers Miss the Playoffs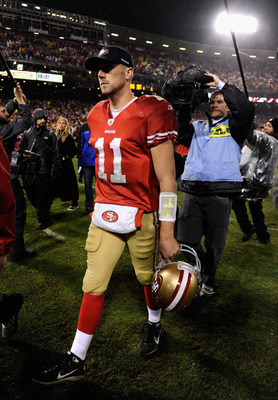 Thearon W. Henderson/Getty Images
Not too many people saw the amazing season the San Francisco 49ers would have last year. The defense was amazing, not allowing a rushing touchdown until game No. 12. David Akers had the most points by a single player in NFL history, and Alex Smith was the perfect game manager on offense. All of those circumstances helped shape a very successful season for the 49ers in 2011, but I believe that will change in 2012.
They brought in Mario Manningham and Randy Moss in the off-season to help add to the receiving game. However, I don't think that's a smart idea since the 49ers succeed so well as a field position team. I still have many questions on how good of a QB Alex Smith really is, and making him throw more may be a huge mistake.
I still really like the defensive unit, which is pretty much still intact, but what they did last year is going to be really hard to repeat. People are sleeping on the Seattle Seahawks, who I think may be in for a nice season.
Tim Tebow Never Gets the Starting QB Job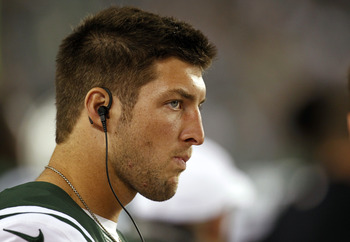 Jeff Zelevansky/Getty Images
I'm sorry ESPN, but I don't think Tebow is going to get enough playing time for you to talk about him this year. Mark Sanchez is not given enough credit for taking the Jets to two AFC Championship games. He's shown flashes of being a solid QB, has some 4th quarter fight in him and is still fairly young.
If you compare Mark Sanchez's first years in the NFL with Eli Manning's, you'll see that they are fairly similar. I think Sanchez may show people that he deserves to keep the job, but he needs to make smart decisions with the football.
Tim Tebow is an average player at best anyways. This media attention needs to end and I believe Sanchez will help end the discussion of a QB controversy.
The Pittsburgh Steelers Finish Below .500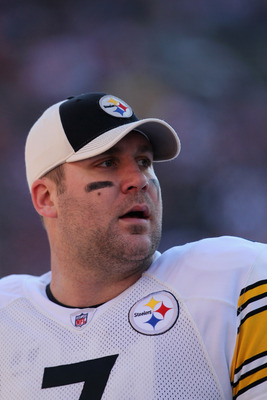 Jeff Gross/Getty Images
The Pittsburgh Steelers have been the class of the AFC for many years now. It seems like every year they are competing for the Lombardi trophy. However, I believe this is the year that that trend changes.
Ben Roethlisberger has played through many injuries in his career and already has two before the season even starts. He's going to wind up breaking down and not be able to play eventually.
Rashard Mendanhall is still recovering from an injury he got late last season, Mike Wallace reported to camp late after holding out for a new contract, the defense is older, James Harrison is banged up, the offensive line is pretty bad, they have a new offensive coordinator who has already had issues with Roethlisberger and they play in one of the toughest divisions in the game.
Too many question marks, not enough potential; I think the Steelers can easily finish under .500.
Michael Vick Starts and Finishes All 16 Games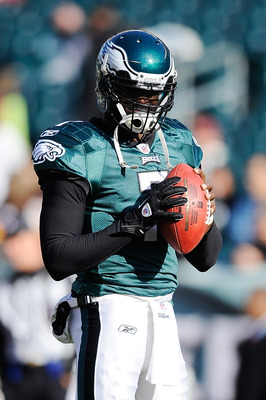 Patrick McDermott/Getty Images
Michael Vick is such an amazing talent but he can never seem to stay on the football field. Every year it seems like he gets hurt at least three times each season and misses a few games. Vick already got injured twice in the preseason, so everyone already expects this year to be more of the same for the Eagles' star QB...but what if it isn't?
I'm going out on a limb to say Michael Vick will start and finish all 16 regular season games for the Eagles this year. Is that a crazy prediction? Maybe. But this is bold predictions for a reason!
The Replacement Refs Will Be in Place All Year and Do a Solid Job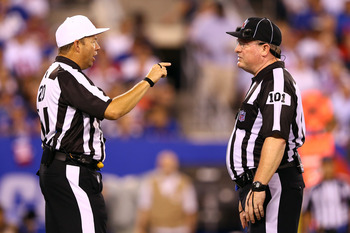 Al Bello/Getty Images
Everyone is waiting for the new refs to mess everything up. This weekend everyone is going to be looking for the slightest mistake that the new guys are going to make. I say let's give them a chance.
We never really payed too much attention to what the refs did and did not call until this summer.
Roger Goodell and his staff seems pretty confident in the referees, and it doesn't look like any agreement with the old refs will be made anytime soon.
I say lets give the new guys a chance before we jump to conclusions!
The Titans Win the AFC South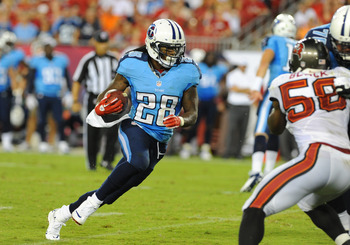 Al Messerschmidt/Getty Images
I haven't seen too many people pick against the Houston Texans in the AFC South. They did lose two important offensive lineman and their former number one overall pick, Mario Williams, in the off-season.
The Texans had a great 2011 season, but I think people are underestimating the Tennessee Titans. Second year QB, Jake Locker, was named the starter and will look to surprise the league and take this division.
Chris Johnson will look for a bounce back year, and rookie Kendall Wright has looked pretty solid in the preseason. The Titans have talented skill players that could help them have success but the key to this team is the defense.
The Titans lost veteran Cortland Finnegan to the Rams, and their secondary could be an issue.
However, with all of this said I think the Titans have a legit shot to overtake the Houston Texans as AFC South champions.
Joe Flacco Becomes a Top 5 Quarterback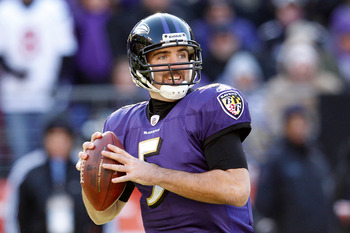 Rob Carr/Getty Images
Jim Caldwell.
What significance does that name have to Joe Flacco? That is his new QB coach.
After spending many years with Peyton Manning and the Indianapolis Colts, Caldwell now looks to work magic on Ravens QB Joe Flacco. He has already helped Joe Flacco implement a no-huddle offense, which will help slow down and tire defenses.
The past few years, Flacco has been held back by offensive coordinator Cam Cameron. If the preseason is any indication, the Ravens seem to be finally letting Joe Flacco loose. He'll be allowed to throw more and will become a top five QB in the league when he leads the Ravens to a Super Bowl victory this February.
Terrelle Pryor Is the Raiders QB by Season's End
Otto Greule Jr/Getty Images
Who knows with Carson Palmer. He's been throwing interceptions left and right since taking over as Raiders' QB late last season.
In the preseason Palmer has still been turning the ball over too much. If he doesn't start limiting the mistakes, Terrelle Pryor may be given a shot to play QB.
Pryor is a superior athlete at the QB position who would excite the Raiders' fan base and could possibly be the quarterback of the future.
Brett Favre Un-Retires for the 3rd Time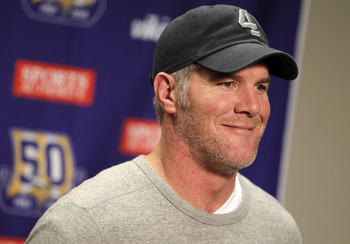 Gregory Shamus/Getty Images
I don't really believe he'll ever come back again...but I thought the same way the last two times.
He's coaching a high school team right now, so you never know if he'll get an itch to play while there. If a team around the league has their starting QB go down, No. 4 may be there answering the phone.
It may sound ridiculous, but this is Brett Favre we're talking about! Nothing is normal.
Keep Reading