Miami vs. Kansas State: Live Score, Analysis and Results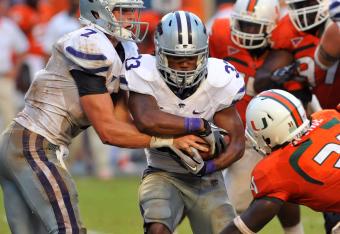 Al Messerschmidt/Getty Images
This was no contest from the start as Kansas State put it on Miami early and often. The Hurricanes had no answer for the Kansas State rushing attack as the Wildcats racked up 289 yards on the ground.
The Hurricanes had question marks after giving up 32 points to Boston College last week and unfortunately for Miami, those questions didn't get answered today.
Wildcat quarterback Collin Klein lit up Miami with three rushing touchdowns as Kansas State beat the Hurricanes, 52-13.
Miami's only touchdown came in the fourth quarter when backup quarterback Ryan Williams hit tight end Clive Walford in the end zone.
Ugly game for Miami and a beautiful game for the Wildcats.
Final notable stats.
Stephen Morris completed 19 of 25 passes for 214 yards but no touchdowns. Backup quarterback Ryan Williams completed both passes he threw for seven yards and a touchdown.
Mike James and Duke Johnson combined for just 48 yards on 15 carries.
Kansas State quarterback Collin Klein completed nine of 11 passes for 210 yards and a touchdown while running for another 64. Klein finished with three touchdown runs.
John Hubert rushed 19 times for 107 yards and a touchdown.
Well that's the game.
Thank God it's over.
Final-Kansas State 52 Miami 13
Eric Crouch just said that Miami "might be embarrassed". Might?!
I am embarrassed and I don't even play for the Canes!
About a minute to go into the game. I appreciate all of you who are actually reading this still.
Anyone?
Hello?
Hurricane defensive line has completely given up. They aren't even moving anymore.
Dang, Kansas State put a third string quarterback in, ha!
Run up the middle for another nine yards. Whew.
Just like I said all preseason long, Miami needs to get the ball into the hands of the playmakers and tight ends.
Duke needs more touches and they need to utilize their tight ends like they did today.
Kansas States ball with 3:45 left to play.
Third and goal.
Touchdown! Clive Walford.
Great pass by Williams and good catch by Walford!
Kansas State 52 Miami 13
Miami tossed in its subs too. Ryan Williams now at quarterback.
Hurricanes to the Wildcat three yard line.
Miami needs to just run the clock out before Kansas State gets to 70 points.
Finally! Duke takes it to the Wildcat 17-yard line.
Great 76-yard return by Duke. Golden, GET HIM THE BALL.
Kansas State is going for blood. Sams scores again!!
Miami gave up over 50-points. Congratulations.
Kansas State 52 Miami 6
This game will answer if Miami should take a self-bowl ban this year.
Absolutely yes, if they qualify.
Kansas State at Miami's 38.
Sams breaks 19 tackles for a 21-yard run. The Hurricanes still have their starters in and a backup true freshman quarterback is rolling on them.
Sickening.
Still over eight minutes left in this game!?
Another 12 yards on a run up the middle. Worst defensive line in school history? Possible.
Here we go.
Hubert gets another 11 yards on an outside run. What do they have, like 600 yards rushing?
Seems like it.
For those who aren't watching this game, the offense has made good plays, but the defense is outright hideous.
Morris has looked great.
Fourth down and two, Miami punts. Guess Golden doesn't want to see a 50-spot on the board?
Miami needs to score just to take something good away from this game!
Finish strong Miami.
So, how's everyone doing?
Can we talk about something else besides this game? Maybe the weather?
They take out Klein and the backup, Daniel Sams, runs it up the middle for a touchdown.
Wow.
No comment.
Kansas State 45 Miami 6
An offensive lineman backed into Morris, fumble.
Kansas State's ball at the Hurricanes 15.
Now it's fully an embarrassing game. Reminds me of the Bad News Bears.
Looking at the scoreboard, blow-outs look to be the theme so far this week.
Duke gets the kick and returns it 17-yards. Miami's ball, first down on its own 20.
FYI, people.
If I wasn't writing this blog as my job, I would be outside doing yard work instead of watching this so-called football game for Miami.
You may think I am being unfair Hurricane fans, but this is NOT acceptable in Miami.
Kansas State isn't THIS good.
Touchdown John Hubert!
Takes 11 defensive linemen with him into the endzone. Come on Miami, even Missouri State put up a better fight than this.
Kansas State 38 Miami 6
Deon Bush strips the ball from Hubert, but of course Hubert gets his own fumble.
Miami can't catch a break.
Scratch that, 58-yard pass from Klein to the Miami 5.
This article is
What is the duplicate article?
Why is this article offensive?
Where is this article plagiarized from?
Why is this article poorly edited?